In Japan, there is a special train called, sightseeing train.
The difference between local train and sightseeing train is that sightseeing train is focused on entertaining travelers by suggesting sightseeing view from the train or offering a special lunch box.
Usually, foreign travelers need to go to ticket office called "Midori no Madoguchi" at the JR station, but you can reserve "Yufuin no mori" ticket via online.
There is English website of JR Kyushu, so I will instruct you how to purchase ticket via JR Kyushu site.
Search Google
If you are not familiar with Japanese character, you can type "JR Kyushu" on google and search.
You can click on "JR九州".
In Japan railway companies are separated into 4 companies; JR Hokkaido, JR East, JR Central, JR Shikoku, and JR West.
You can only purchase or exchange train ticket at the station where its ticket belongs to.
If you are taking the train from Osaka to Okayama, then it belongs to JR West.
If you need to refund your ticket or change the time, you need to go to JR West ticket office.
No other JR ticket office will take care of it.
Anyways, click on JR kyushu site.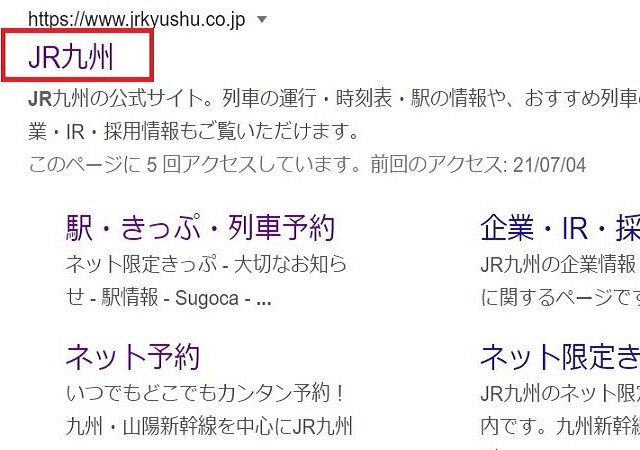 JR Kyushu website
JR Kyushu website appears in Japanese, so click on "Language" and select English.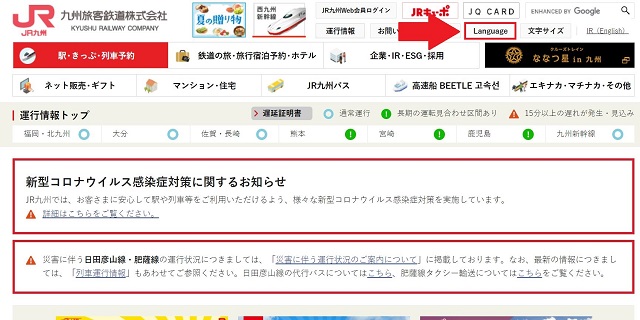 JR Kyushu English Site
JR Kyushu English site appears as below, so scroll down.
The same page can be visited via this link.
https://www.jrkyushu.co.jp/english/
You will see "Timetable & JR-KYUSHU Train Reservation", so you can Enter departing station and destination station.
Enter your preferred timetable
In my case, I have purchased a sightseeing ticket from Yufuin to Hakata for Yufuin2, so I have entered Yufuin as a departing station.
You can also enter your preferred date.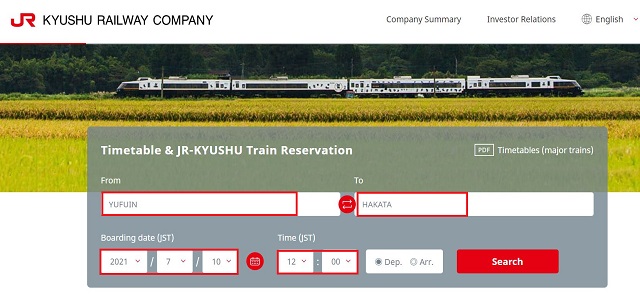 If you don't know the exact departing time, you can refer to the timetable below.
I wanted to get a ticket from Yufuin to Hakata, and the first train will depart Yufuin at 12:08.
So to avoid to purchase a wrong ticket, I suggest you set a departing time as to be close to the actual departing time.

For the latest timetable, you can refer to JR Kyushu Yufuin no Mori official site (sorry Japanese only).
Yufuin no Mori Info: https://www.jrkyushu.co.jp/trains/yufuinnomori/
Enter the number of people traveling
After clicking "Search" button above, a new page will appear as below.
You can select the number of people who are taking Yufuin no Mori.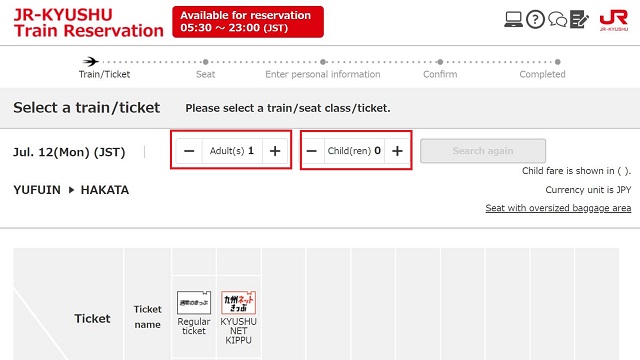 Select the ticket
In this page, make sure you are boarding to "Yufuin no Mori".
There is a normal express train called "Yufuin2", so don't pick the wrong one.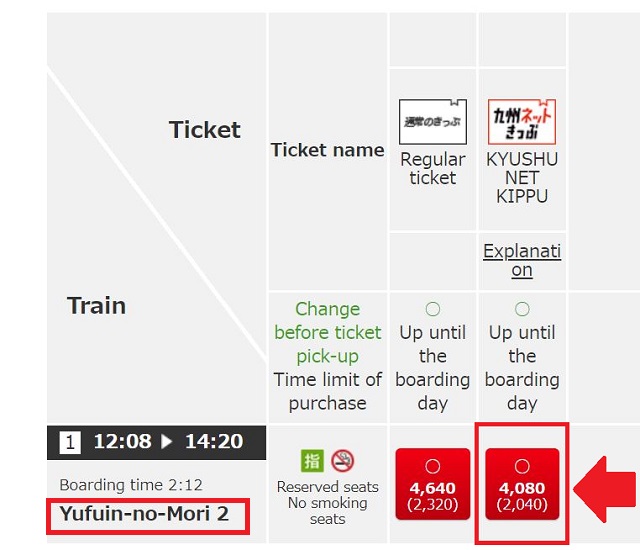 In this page, 2 types of tickets will be offered; Regular ticket and KYUSHU NET KIPPU.
If you make a reservation online, I recommend you select KYUSHU NET KIPPU.
I don't know the exact difference, but as far as I have used this site, KYUSHU NET KIPPU was cheap and enough.
I assume that Regular ticket is for people who wants to pay by cash or wire transfer.
Select Window seat or Aisle seat
On the next page, you can choose if you prefer a window seat or an aisle seat, or no preference.
You probably want to choose a window seat to enjoy the view.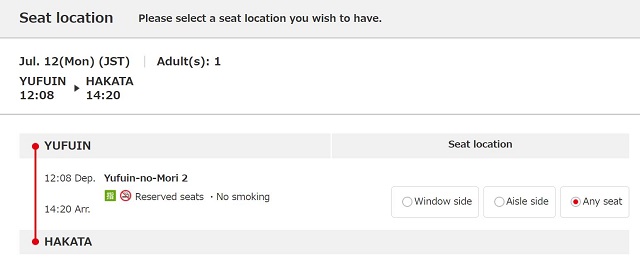 If you could not purchase the ticket
On the same page below, you get to asked if a requested seat is not available, you can take another seat of the same class or don't reserve any seats.
If you can go to JR Kyushu ticket office, you can choose "Do not reserve any seat" then go to the ticket office in case your preferred seats was not reserved.
Otherwise, I recommend you choose "Reserve another seat of the same class" and press "Next".

Enter your personal information
On the next page, you can enter your personal information.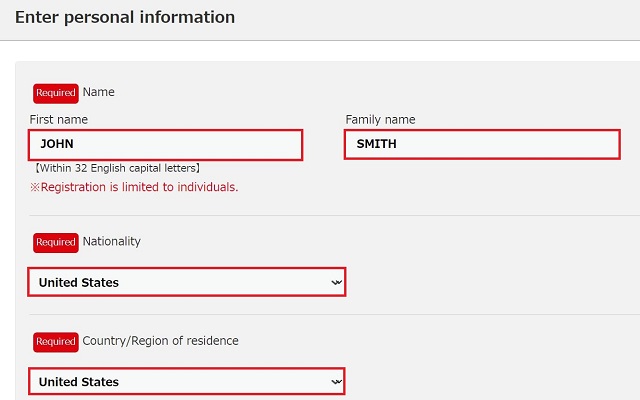 Then along with DOB and other information entry, you need to select 4 digit identification number.
Don't forget this number you have decided.
You will need this number when you issue the ticket.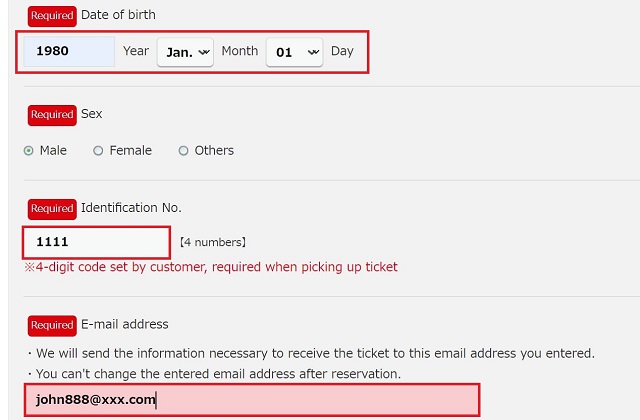 You will be entering credit card number and agree on some regulations.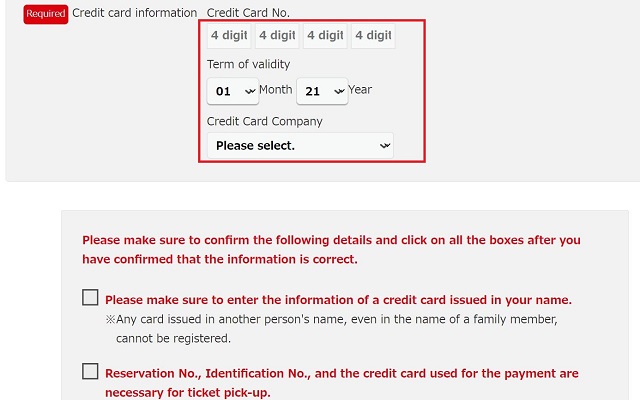 If all information is filled, then you can click "Confirm reservation" button.

The final confirmation screen appears, so double check confirm reservation details.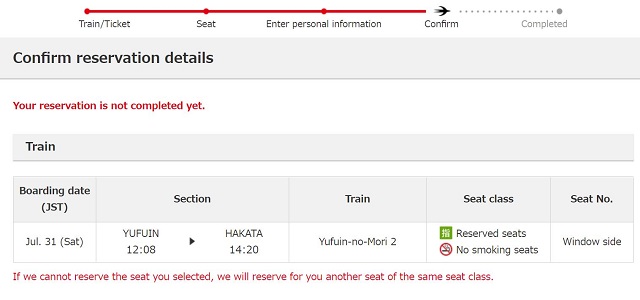 At the middle of the same page, there is a link to list where you can pick up your ticket for Yufuin no Mori.
You can pick up at any ticket office of JR Kyushu called "Midori no Madoguchi".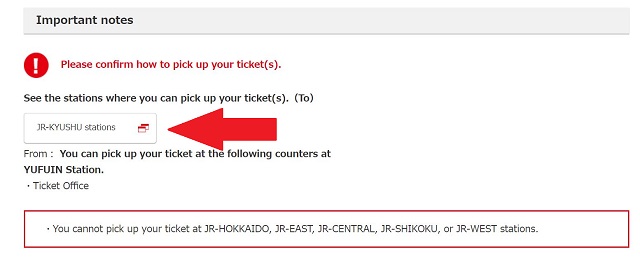 At last, you click on the agreement below and click "Purchase" button.
You have completed the purchase.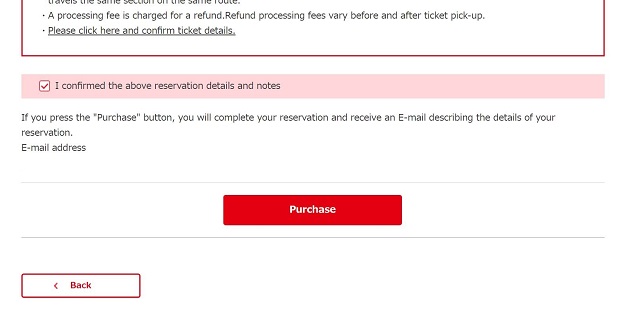 Later you will receive confirmation copy by email.
The seat number will also be assigned.
When you issue the ticket at the ticket office, please make sure to remember your identification number you have assigned and the credit card you used for the purchase.
Enjoy your trip!