Going to Kiyomizu Dera 清水寺 at early moning
I can stay in Kyoto only for 18 hours!
Yesterday evening, I wen to Fushimi Inari Taisha.
Related Articles:Staying Kyoto for 18hrs! Do sightseeing without the crowds (Evening)
It is weekend, but I don't want to be in crowds.
I don't have enough time, but I want to do sightseeing!
To satisfy all of my needs, I decided to go to Kiyomizu dera, 清水寺, before my breakfast.
It feels very good to go to Kiyomizu dera at early morning!
Kiyomizu dera is only 15 minute away from my hotel by bus.
関連記事:京都の野乃「天然温泉 蓮花の湯 御宿 野乃京都七条」に宿泊しました!
There is a bus stop across the street of my hotel, so it was very convenient.
It is 2 minute walk to the bus stop from the hotel.
The name of the bus stop is "Nanajyo Kawara Machi".
The first bus starts from 5:30.
You can take the bus number 206 to go to Kiyomizu dera.
This is the sign of the bus stop.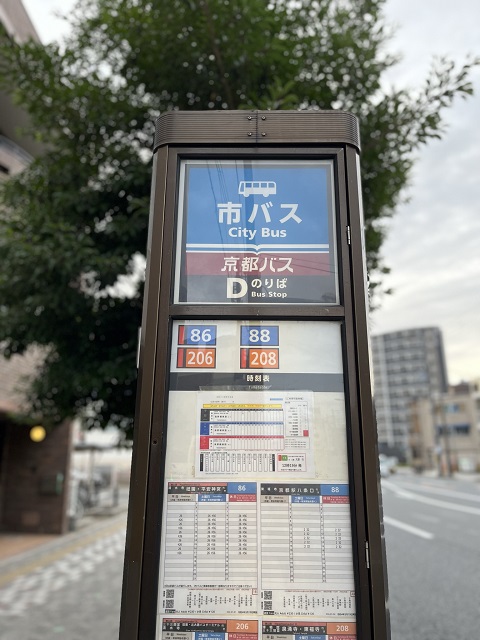 I took the bus leaving this bus stop at 6:15.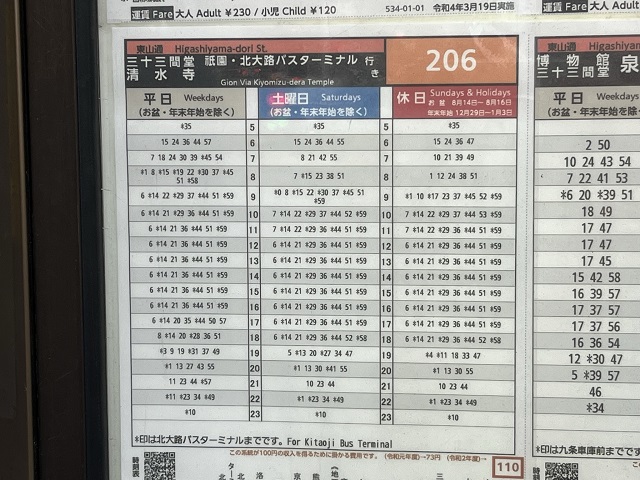 Since it was still early morning, the bus was not crowded.
I could find a seat.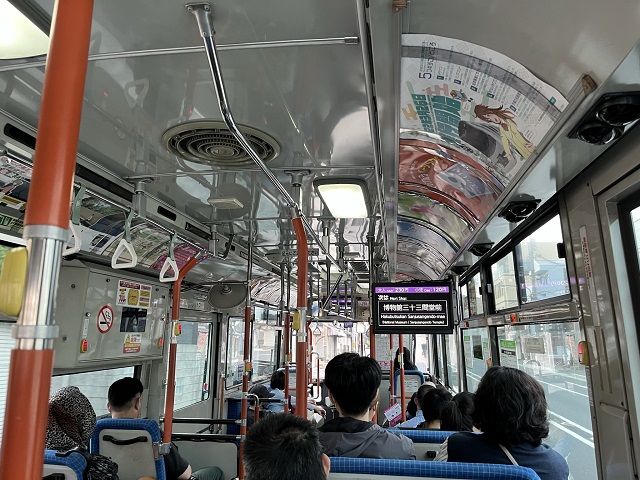 This 206 line passes Kamogawa and Sanjyu sangen dou 三十三間堂.
If I had more loose schedule, I would definatelly get off there, but this time I only have 18 hours.
So, I decided not to visit those.. Maybe next time.
I got off the bus at "Kiyomizu Michi"「清水道」.
It is at the 6th bus stop from where I got on the bus.
4 people including me got off.
Here is the picture of the Kiyomizu Michi bus stop.
It is in front of Kyoto Bank.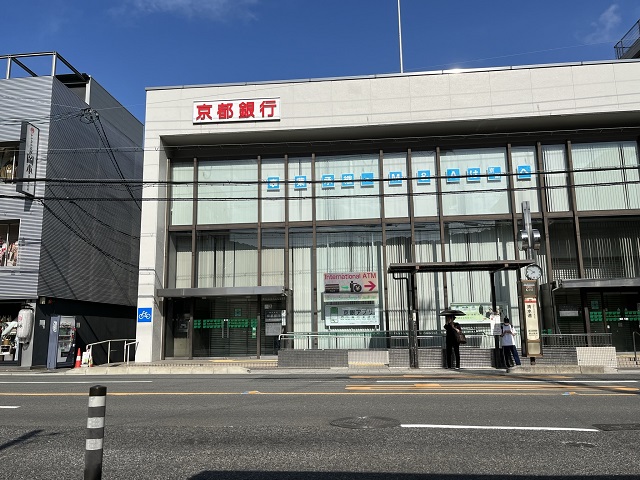 If you walk to the direction where the bus came, there is a Seven-Eleven.
I suggest you buy some drinks here.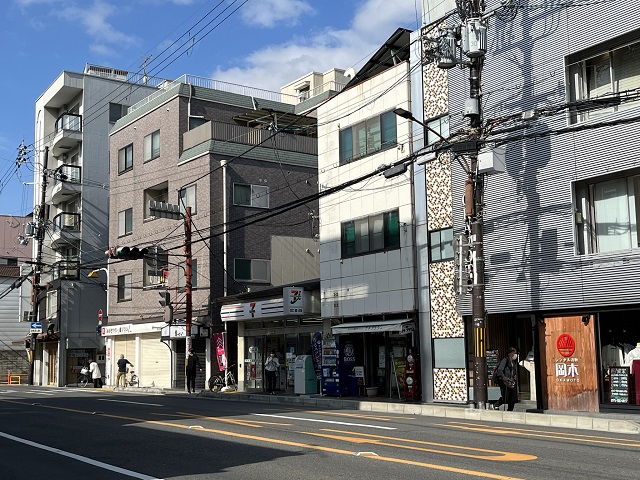 After passing this Seven-Eleven, you cross the road at the signal.
Then you can see the a hilly road to go to Kiyomizu dera.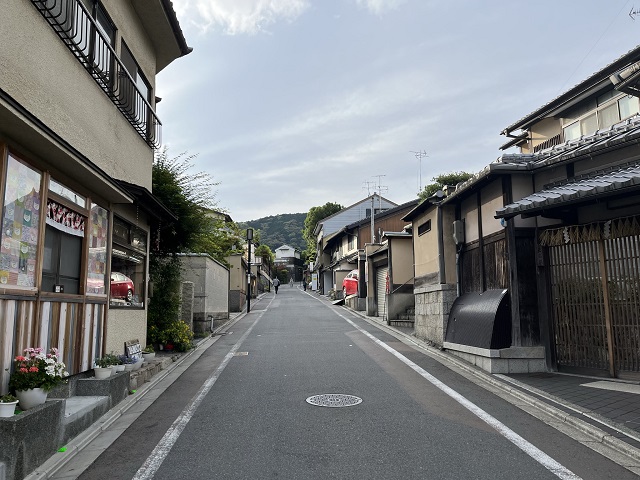 Beautiful Gate "仁王門" is only for you
A street which continues to Kiyomizu dera has a lot of survenior stores.
But it was still an early morning, no shops were opened.
But you can take the view of the entrance gate called "Niou mon" by yourself.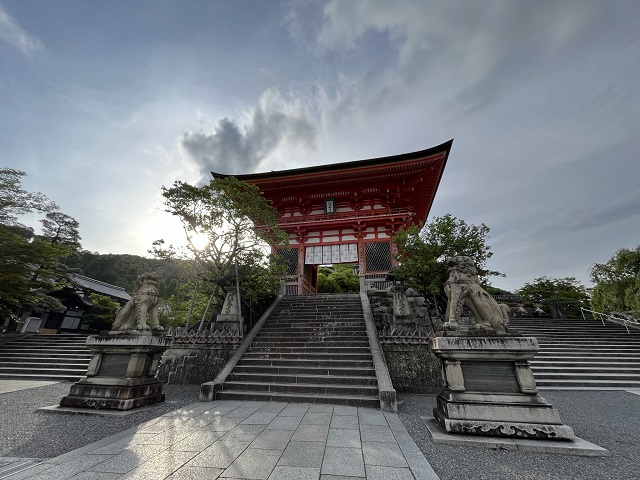 There were still little people coming to Kiyomizu dera, so I could spend time as much as I want to observe Niou mon, and then I walk up stairs.
A three-level tower from a littke bit far was also beautiful.
You can take such an exciting picture.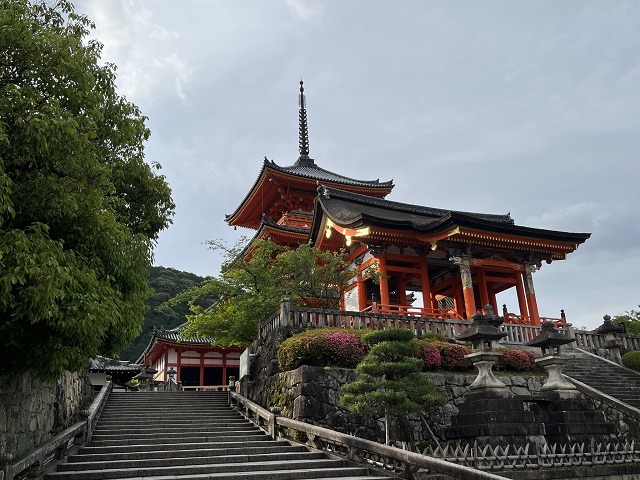 Usually ticket counter is before this wooden gate, but maybe it was because still early morning, I bought a ticket after passing this gate.
I think it was 600 yen for 1 adult.
After passing the gate, you will enter the inside of Kiyomizu dera.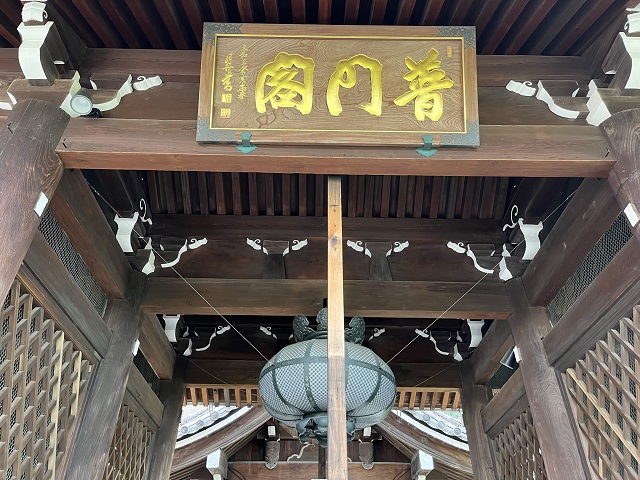 This is considered as a national treasure, so we need to treat this build with respect.
I think I was here 15 years ago, but I did not remember anything.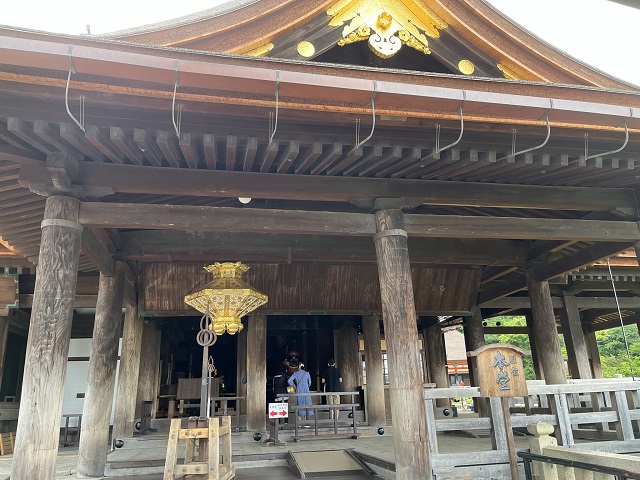 At the hall of Kiyomizu dera, there is a big metal boul.
It is called "Shinobu rin" and you use this tool to pray by hitting it with a special stick.
It says you can make a sound of Shinobu rin, so I hit Shinobu rin once and prayed.
The deep deep sound was very sacred.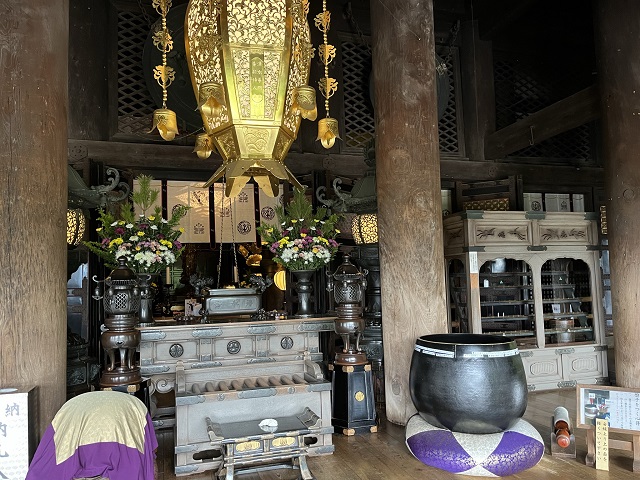 The terrace of Kiyomizu dera
After I pray, I went to the terrace of Kiyomizu dera.
This is the most popular place of Kiyomizu dera.
This Kiyomizu dera was build in around 1631 to 1633.
It is all made by wood, but it is very strong and this terrace is as high as 12 meters.
I wonder how ancient people build such building that time.
You can see a picture of the terrace of Kiyomizu dera without anyone, but many people are here to take pictures.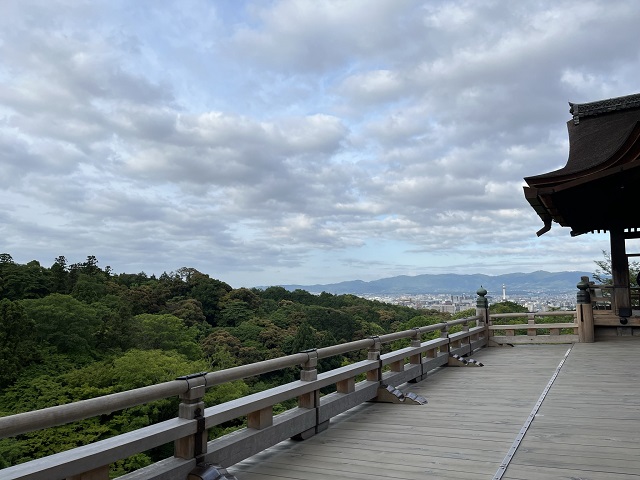 At the other side, you can see other building called "Amida dou".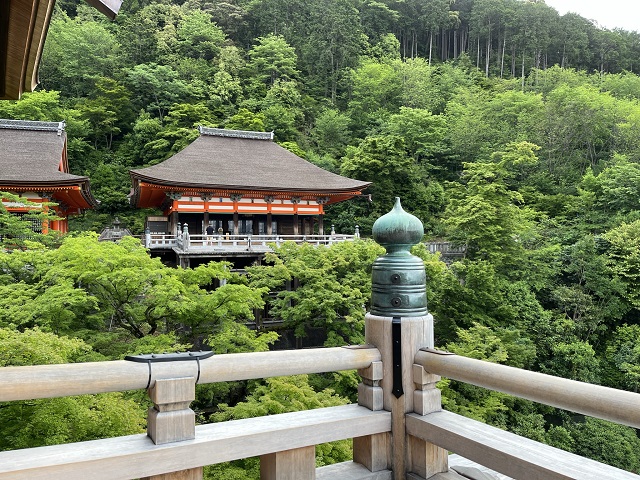 And if you view below the terrace, you can see a water fall called "Otowa no taki".
I will go there.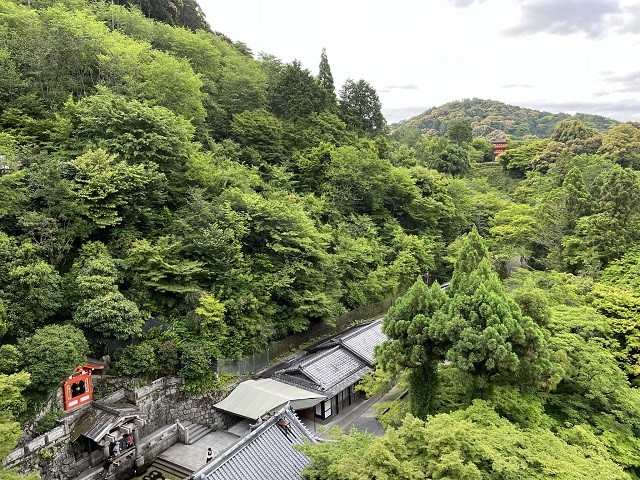 You can trust me that there are usually a lot of people visiting Kiyomizu dera, so you cannot relax and take pictures as you want.
But if you come here at very early morning, you can enjoy this atmosphere and take picutres as you want.
At the back of the Kiyomizu dera, there is a shrine called "Jinushi jinjya".
It is popular for giving you a good relationship.
The relationship can be that you can find a good boyfriend or girlfriend.
Or you can find a good business partner, etc.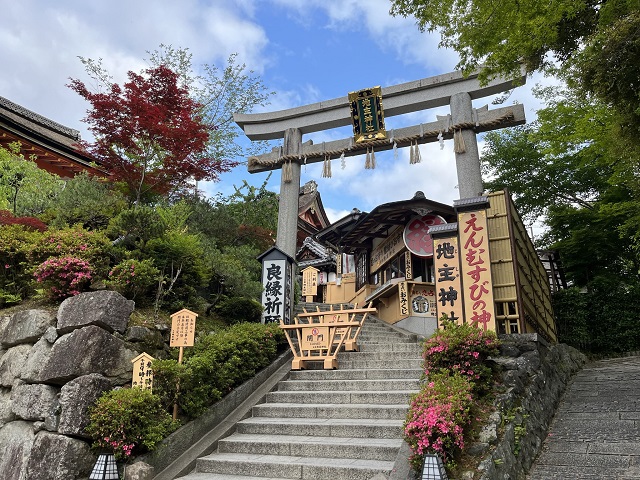 You can take the best picture of Kiyomizu dera from Amida dou.
If you continue your walk, Amida dou will appear.
This is also the national treasure, so please treat it with your respect.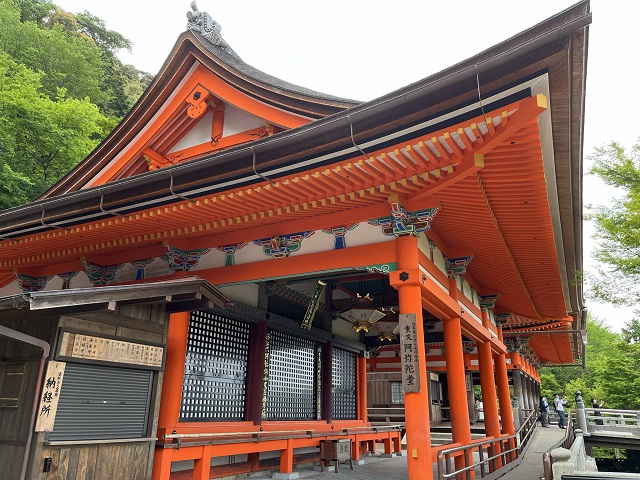 I pray here as well.
The next building of Amida dou is called "Okuno In".
There is also a small terrace, so you can view the while figure of Kiyomizu dera from there including a beautiful shape of top roof.
Or you can see the base of Kiyomizu dera.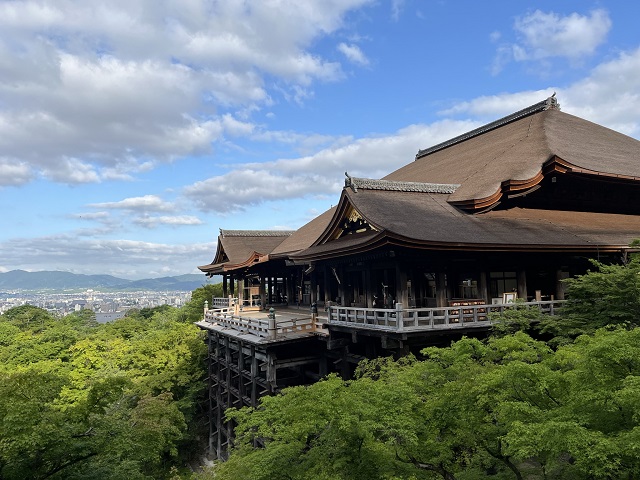 A very nice spot to remember the beauty of Kiyomizu dera.
I spend enough time to observe Kiyomizu dera and take some pictures.
Going to Otowa no Taki 音羽の滝へ
On the way to go to Otowa no Taki from Okuno In, there is a small walk road.
By the sideway, hydrangea was in season.
This flower is popular in June in Japan.
It is rainy season in June in Japan, so this hydrangea is popular as a rain flower.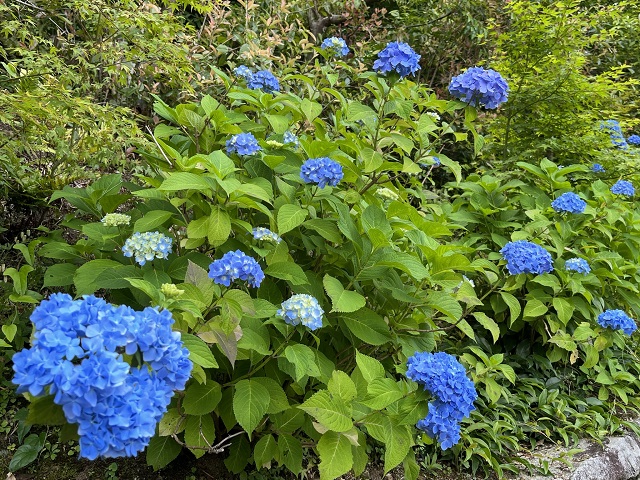 In the middle of the road, I could hear a beautiful bird song.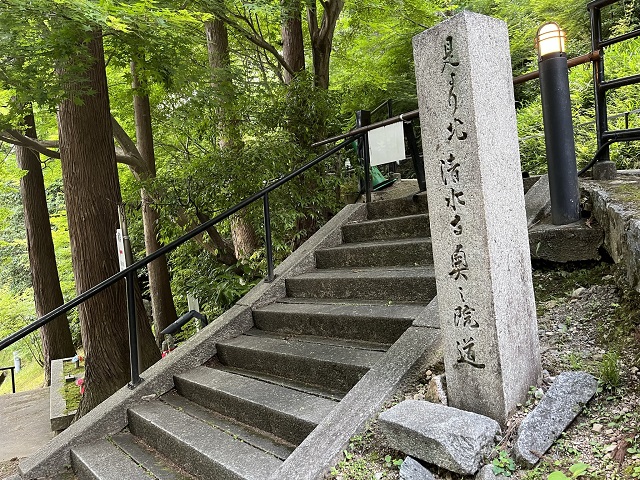 This bird is called "Uguisu" in Japan.
Their song sounds very relaxing.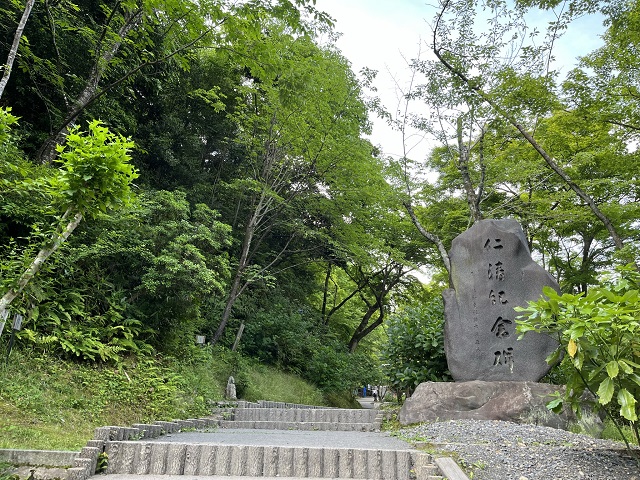 Just before Otowa no Taki, there is a traditional cafe.
It was still closed that time, but you can sit on the floor at your left and you can enjoy some Japanese tea and traditional Japanese sweets.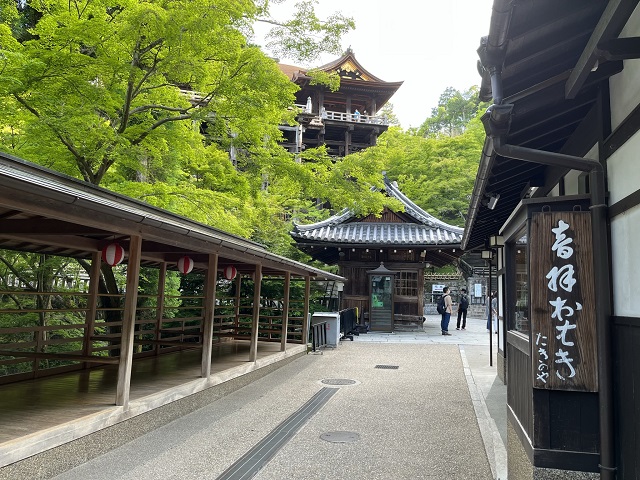 Then finally you can see Otowa no taki.
This water is different from the water you wash your hands and mouth at a shrine.
This is believed as a spiritual water so that you can receive some power from the God.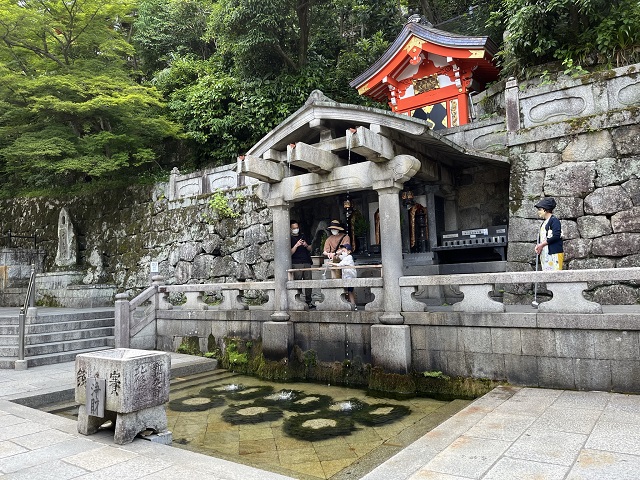 The big point of this Otowa no Taki is this 3 line water fall.
It has a meaning of each water fall.
You face Otowa no Taki, and the right one is a wish for your health, the middle is a wish for your love or beauty, and the left one is a wish for your study or success in business.
If you pick one water fall, and drink one slip of the water.
If you become greedy to drink water from all of the water falls or drink too much water, your good luck will dissappear.
You should be very humble.
Plus, you should behave and show your respect to the god who is protecting this water fall.
So, first you need to pray.
The god is actually located at the back of the water fall, so some people don't pray and grab a ladle and drink water.
It is a manner that you pray for the god by putting some money as a holly money, then you grab a ladle and drink water.
Maybe most of the people visiting here are tourists including me, so people don't understand the meaning or a rule to pray there.
I didn't know its manner well, but I was lucky to pray for the god with some holly money first, and then I had a water.
But I didn't know that each water fall has a different meaning and luck, so I picked the water fall at the most left, which stands for study and a sucess in business.
I wanted to have a luck of health, so next time I went to Kiyomizu dera, I will probably pick the right water fall.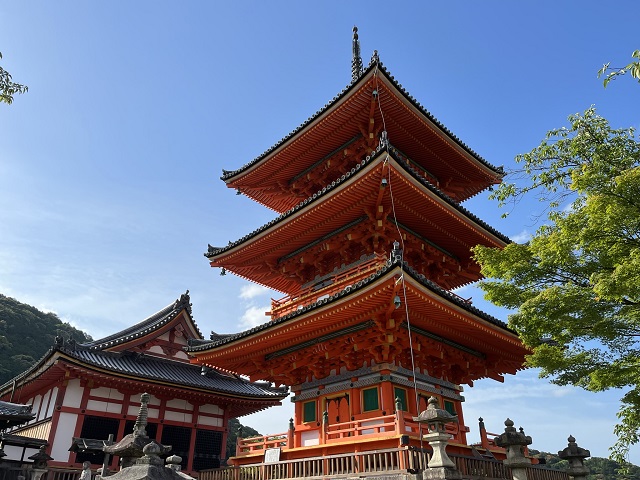 Before I go back to my hotel, I wanted to take another picture of 三重塔.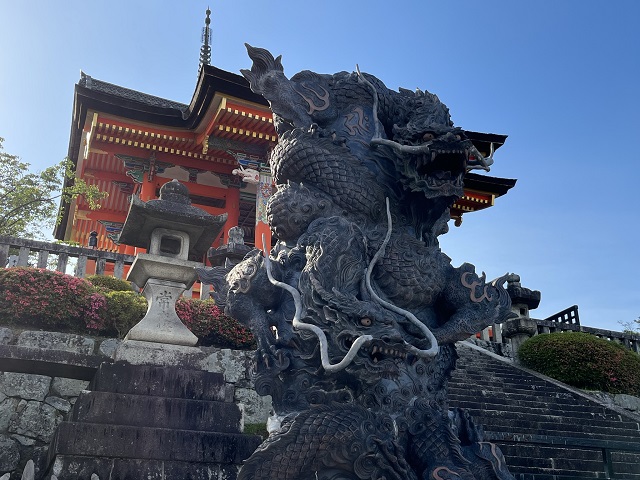 And this is the wild dragon stature in front of the gate.
I really enjoyed this morning routine.
Kiyomzu Dera 清水寺
Open Hours: 6:00~18:00 or 21:30(depends on the season)
Closest Bus stop:五条坂下(Gojyou Sakashita)  or 清水道 (Kiyomizu michi)
Entrance Fee: Adult 400 yen Elementary or Junior High school students 200 yen
Kiyomizu dera HP:https://www.kiyomizudera.or.jp/
My Memo:Open hour starts from 6:00, so I recommend you arrive at Kiyomizu dera at 6:00 to avoid crowds. You can do sightseeing even on weekends.
Becareful that there is no parking lot, so I recommend that you take a public transportation.
I only had 18 hours to stay in Kyoto this time, so I could only visit 2 sightseeing spots.
But each spot was very impressive and I really enjoyed the stay.