Ikaho Onsen is 2.5 hours from Tokyo Station
If you are traveling Japan and have a JR pass, you might be interested in going to "Ikaho Onsen".
It is 2.5 hrs away from Tokyo station, and it is at top of the mountain.
So it is guranteed that you can see a nice mountain view with full of nature.
My trip has started from Omiya station.
At south concorse, there is a standing sushi restaurant.
I was going to eat Khao Man Gai, but it was crowded, so I can to this sushi restaurant becuase it was in front of it.
Also the good thing about a standing sushi restaurant is "fast" and "cheap".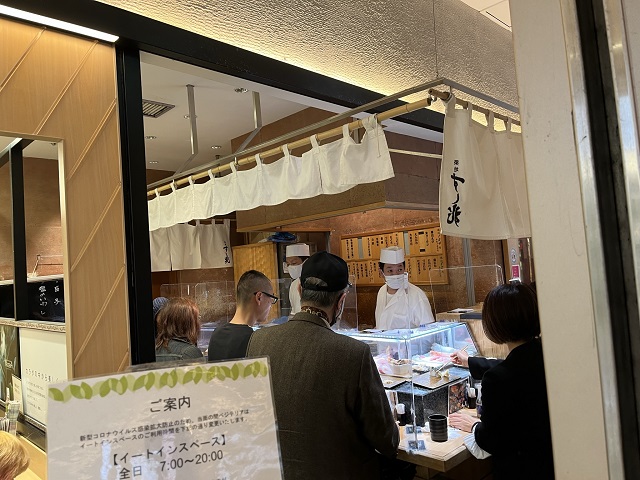 There are 8 spaces inside.
When entered inside, I was the first customer, but soon most seats are filled with other customers.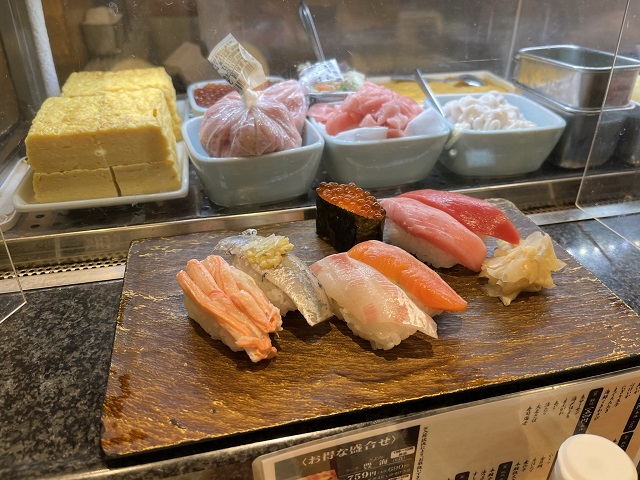 I ordered 8 pieces set. In this picture, it is 7 pieces, but later "Anago" conger eel has come.
For all pieces, it costs you only 1,300 yen.
If you want more reasonable set, you can order it about 800 yen.
I spent only 10 mimute for sushi.
Then I headed to the platform where "Swallow Akagi" was coming.
Swallow Akagi is an express train which goes to Kusatsu Onsen.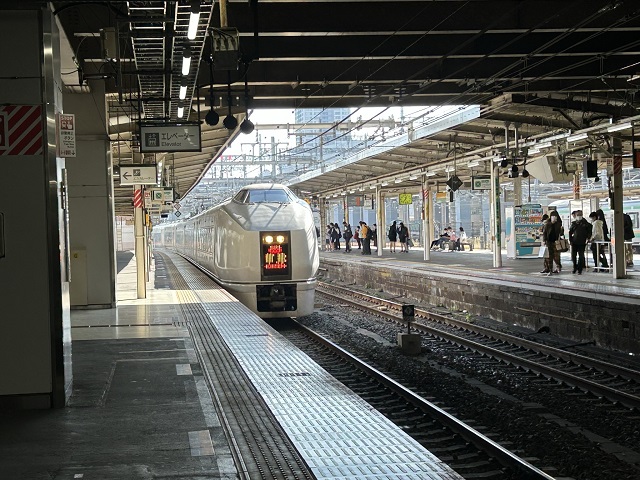 I recommend you buy tickets at JR train ticket office called, "Midori no Madoguchi".
I ordered ticket online, but you actually need to issue a paper ticket before you get in, so it was a bit complicated.
You can get off at "Shibukawa station", which takes about 1.5hrs from Omiya station.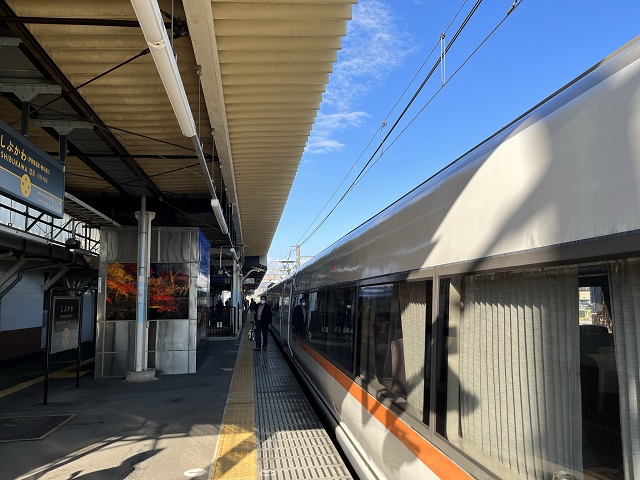 This is the station sign at Shibukawa Station.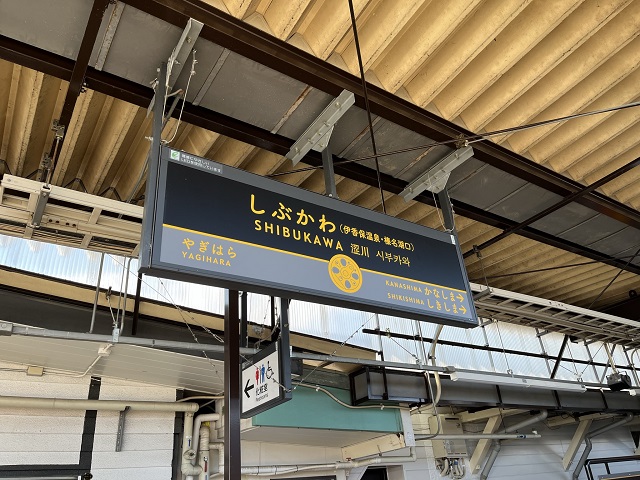 After you get out of the Shibukawa station, you can go toward your left for a bus.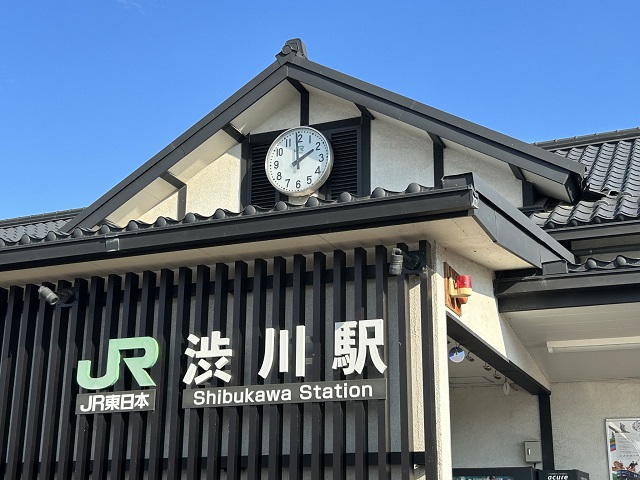 The bus will depart from the bus stop #3.
There is a guide board, so you can simply follow it.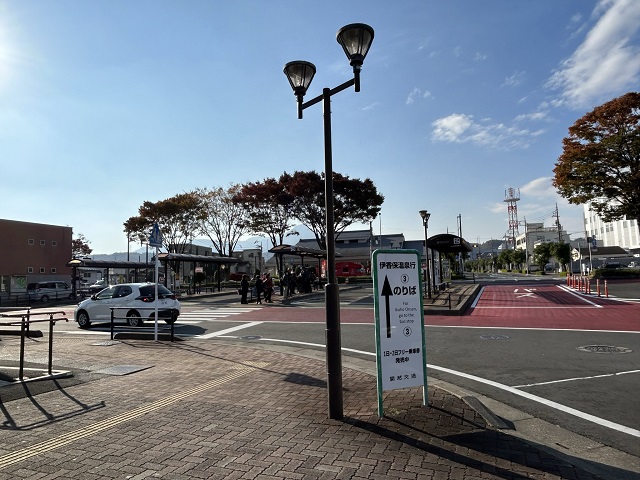 The bus has arrived sooner after I arrived at Shibukawa Station.
From Shibukawa station to Ikaho Onsen, it takes about 30 minutes.
At beginning, the bus drives in the city yet it climbs up on the mountain little by little.
You will get off at "Ikaho Bus Terminal".
There is a wide round-about on top of the mountain, so you will notice where to get off.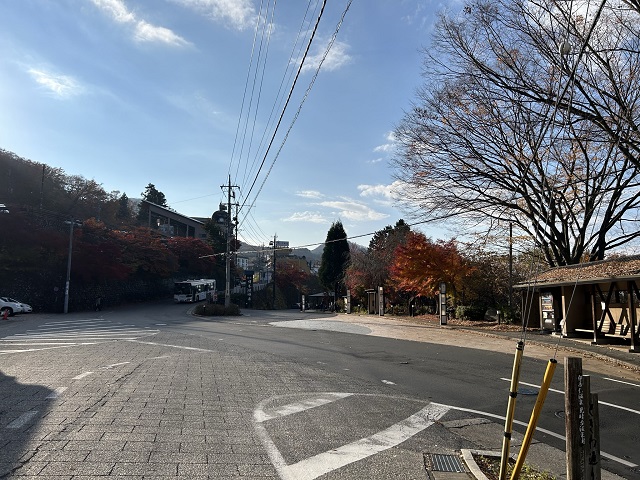 These are the trees at the Ikaho Bus terminal.
It has a beautiful colored leaves.
It is just a season or perhaps it's a bit too late for the season.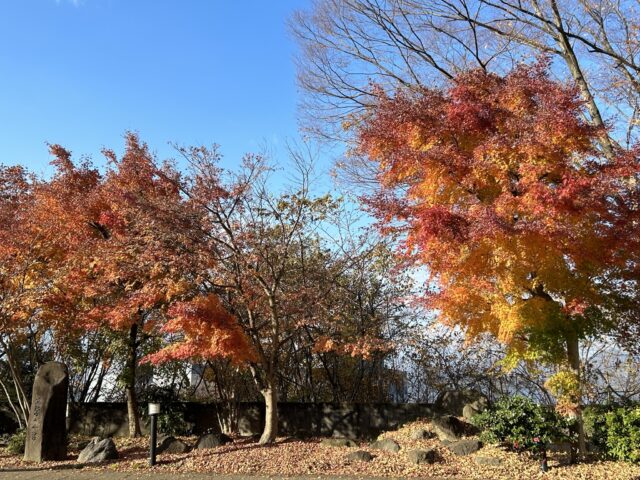 Welcome to "Ikaho Shusui-en"
From the bus terminal, you will walk to your left hand side.
There is a big archade, so you will notice it.
It takes about 2 minutes from the bus terminal to the hotel for today, Ikaho Shusui-en.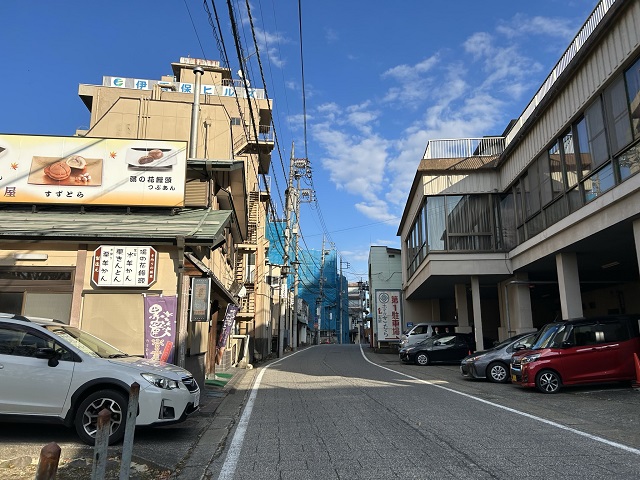 This is the outlook of Ikaho Syusui-en.
I have arrited here around 2:45pm.
It is a bit early for the check-in, but I saw a lot of cars already parked at in front of the hotel.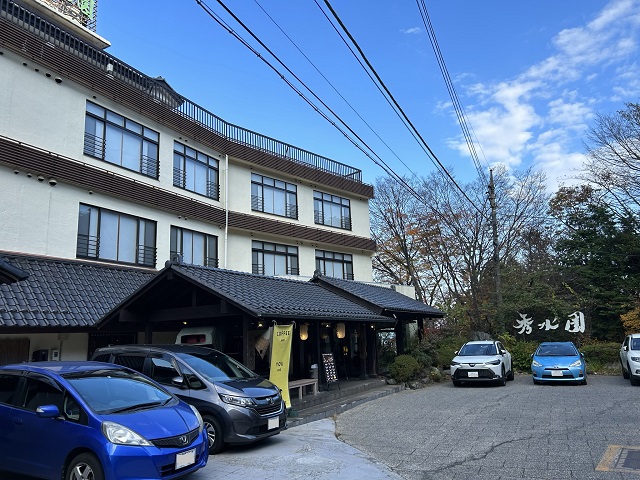 When I enter the hotel, an energetic owner cheered me.
And they a receptionist asked me to come to the lounge.
I wait for the check-in at this nice view lounge.
Recently, there are some Vietnamiese staff at a ryokan, and this place was not an exception.
They helped me to do check-in with their fluent Japanese.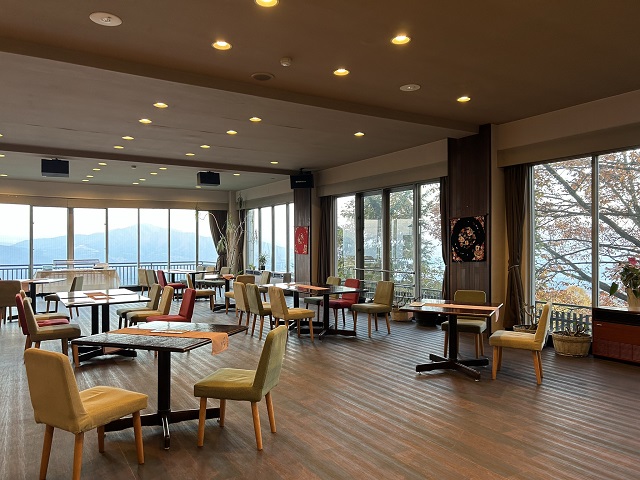 It does not have a welcome drink, so you can either buy a water at a bending machine or there is a cafe at the lounge, so you can buy a coffee.
I have ordered a cafe-latte at the coffee shop.
As I used a tourism campaign due to Covid-19 called "Zenkoku wari", I need to do ID check and show them a proof of vaccination.
This is 3,000yen coupon I have recieved as a reward.
I can use it for restaurant, buying souveniors, or anything.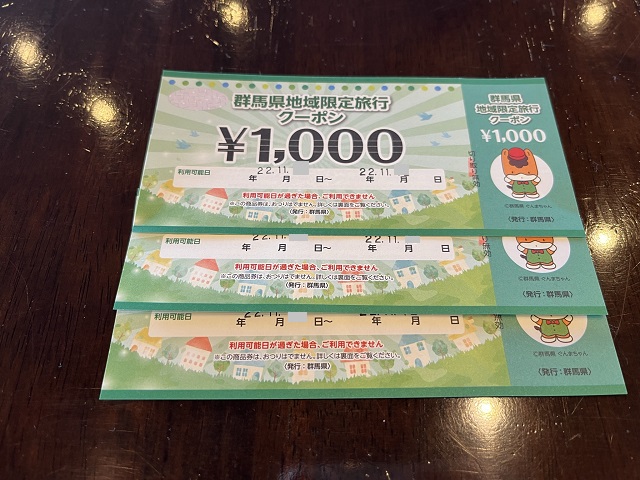 This is my room for tonight
Since it is still Covid-19 era, the hotel staff comes with me till the elevator.
From there, I needed to go to my room by myself.
My room was located at the storange place, it was located at the hallway between stairs, so I could not find my room for the first place.
I reserved for a non-smoking room.
Inside a room, a traditional Japanese tatami room was there.
It was a quite big room.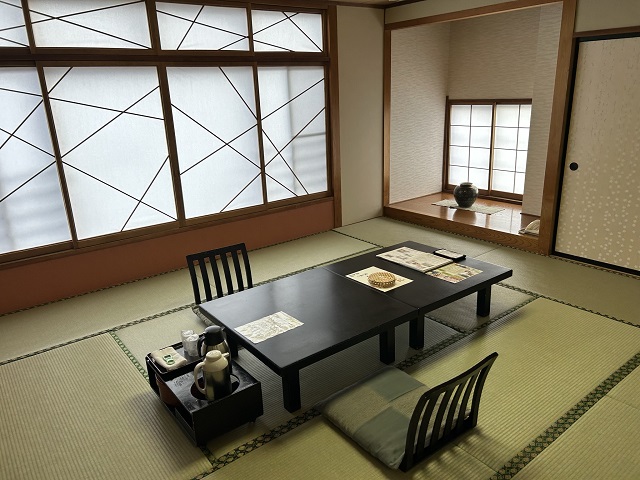 My room was just above the parking lot at front, so the view was not perfect, but I could see some trees changing colors.
This is the view from my room.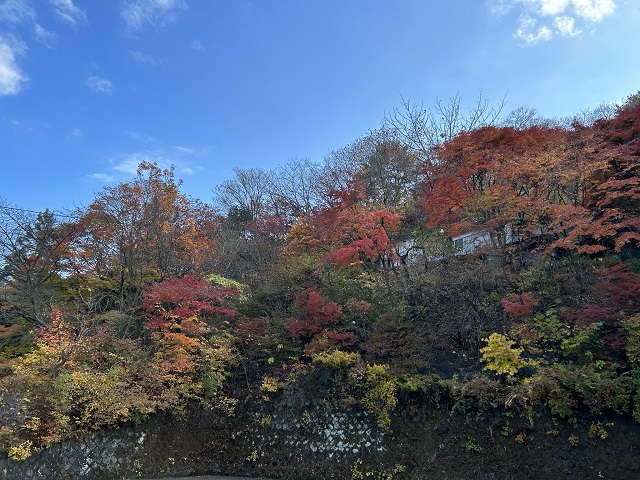 My room was separeted from the restroon and bathroom.
If you need a washlet, don't worry.
They had one.
And Yukata is prepared inside of the closet.
It comes with towels and toothbrush.
If you a lady and prefer a designed Yukata, some samples are available at next to the front office.
Sightseeing Ikaho Shrine and Stone stairs before dinner
As soon as I check in, I left my heavy stuff and wear extra jacket and go sightseeing nearby.
In here, autumn trees are popular, but stone stairs called "Ishidatami" is popular.
At the elevator, the owner found me and she told me a way to go to viewing point of autumn trees and Ishidatami.
She draw a route on the map, so it was easy to follow the route.
She told me that it takes about 10 minutes to Ikaho shrine.
And if you walk its side walk, you can see the beautiful autumn trees.
So, I went to Ikaho shrine first.
Oh, it is so beautiful.
You need to wask your hand before you enter the shrine and pray.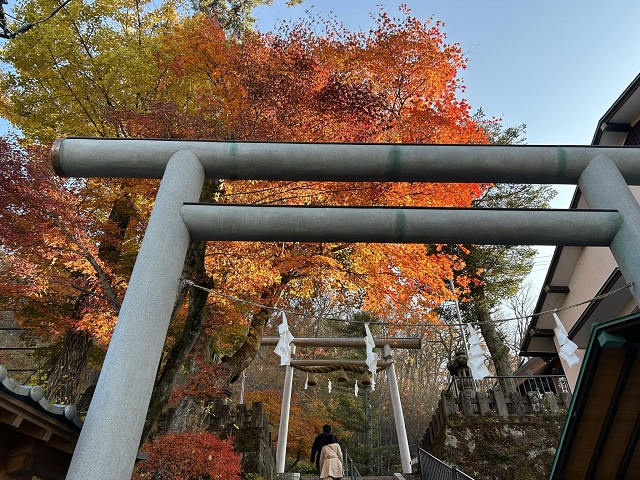 This is the designed manhole.
It comes from a popular Japanese manga called "Intial D".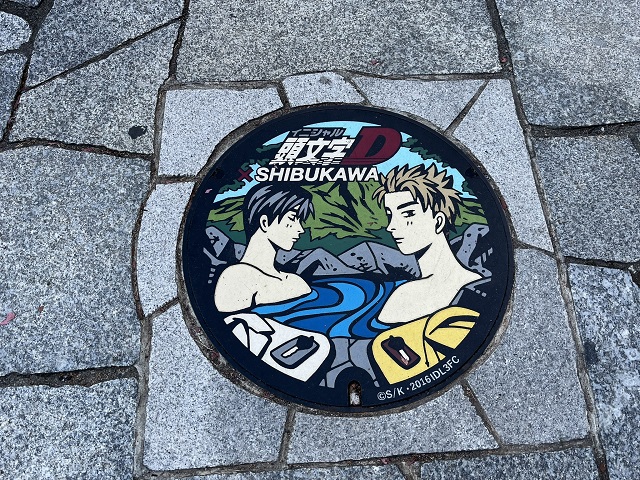 This is the Ikaho shrine.
I pray for everyone's health and continue my way to this side way at left.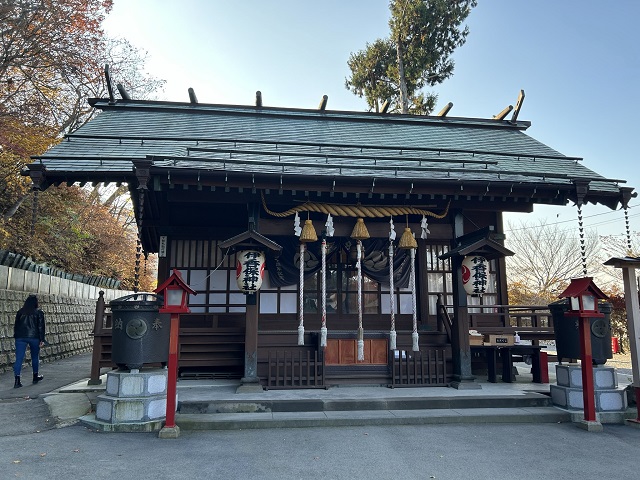 As she told me, there was a nice view after nice view.
So many people were taking pictures of colorful leaves and mountains.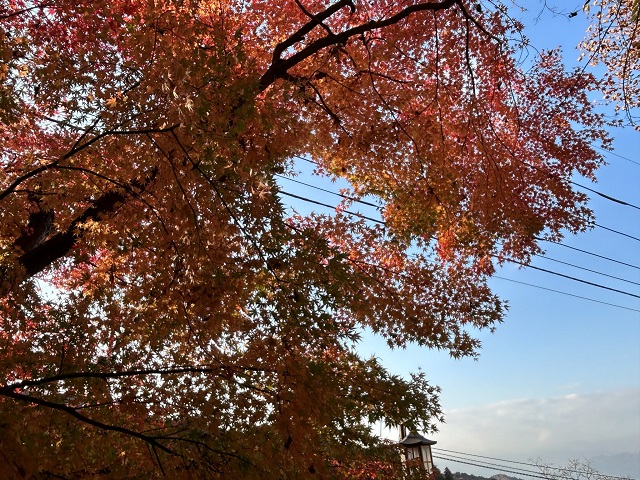 These trees have 3 colors, green, yellow and red.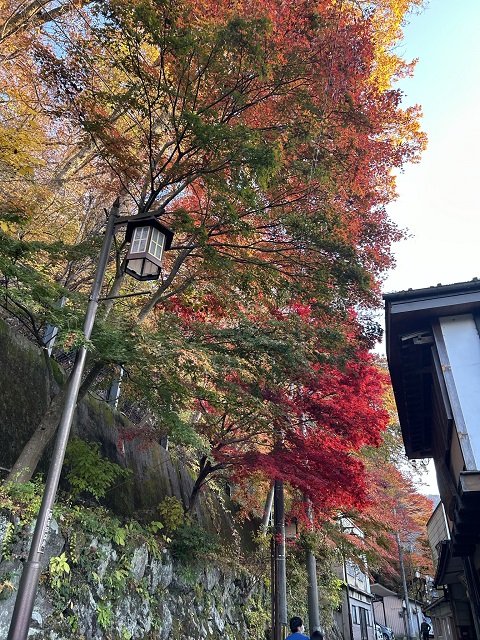 And here I am.
This is the briedge called "Kajika bashi".
Wow!
So beautiful!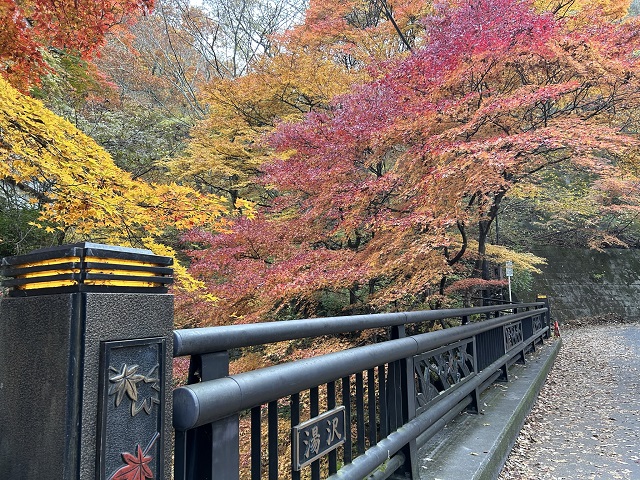 Here is another popular bridge nearby.
So many people wanted to take a picture on this bridge, so I could not stay there for a long time.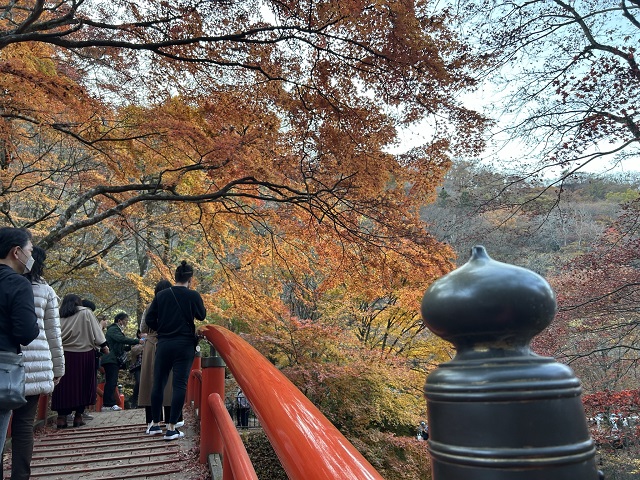 There was a board for the lightup during night time only for a limited season.
During my stay, it seemed that lightup for the night was available, but I didn't go because I knew it would be super cold and I would be super lazy to move after dinner.
Stone stairs "Ishidatamigai"
OK, I enjoyed autumn trees, so I will go check Ishidatami.
It seems this ishidatami is the center of this small town.
I came bac to the shrine, and climbed down the stairs.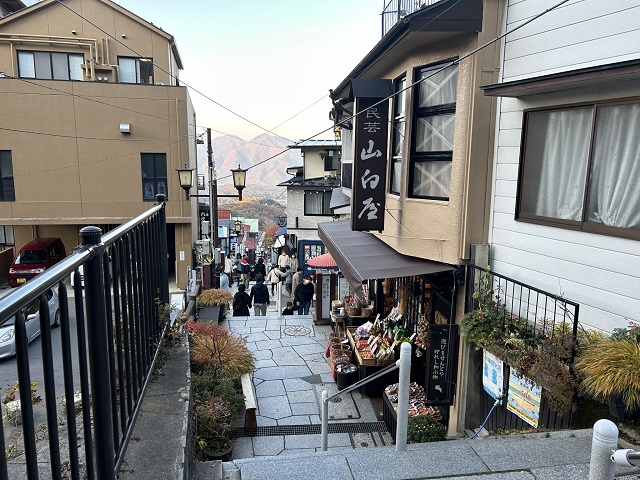 There was some sourvenior shops, cafe, restaurants, and small hotels.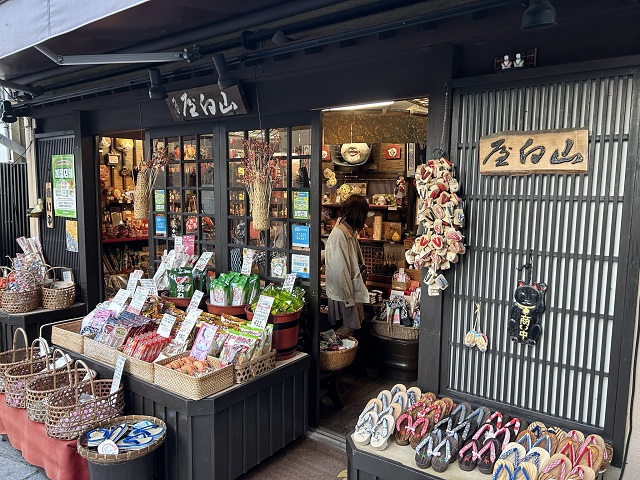 This is the middle of the stairs.
The space is a bit widen.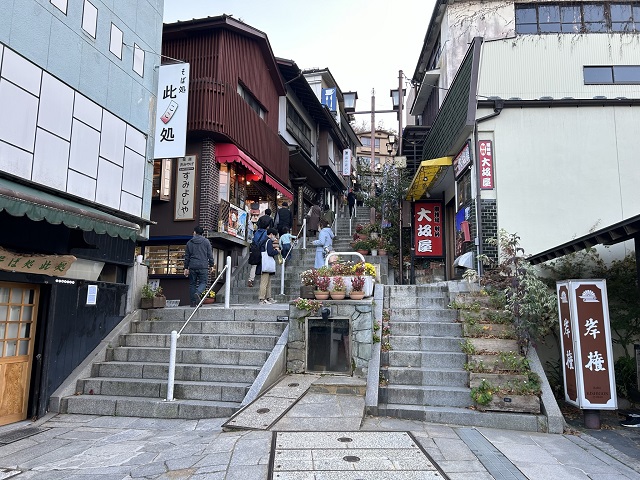 Between the stairs, there is a small stream.
Using this stream, hot water from the source is distributed to each hotels.
By making use of its hot water, there was a free foot bath.
If you get tired of climbing up stairs, you can rest here with a relaxing hot foot bath.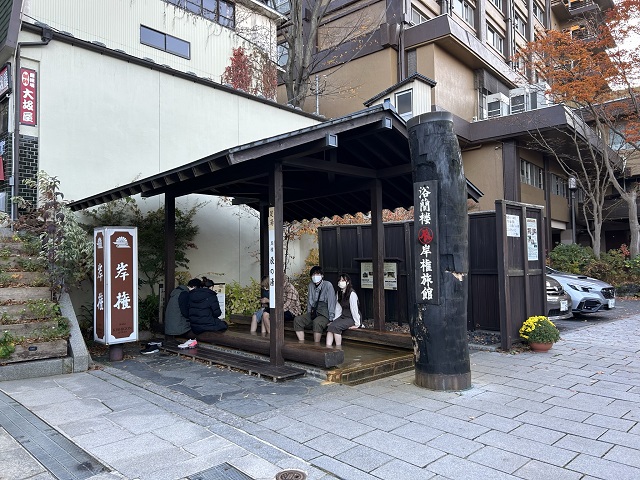 Nearby foot bath station, there was a history of this town written on the stone.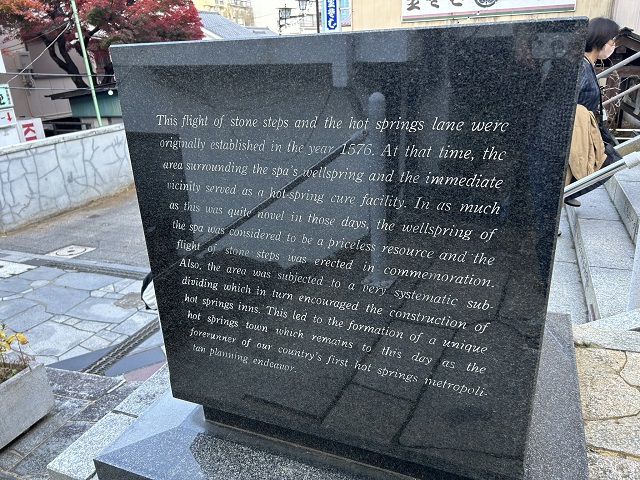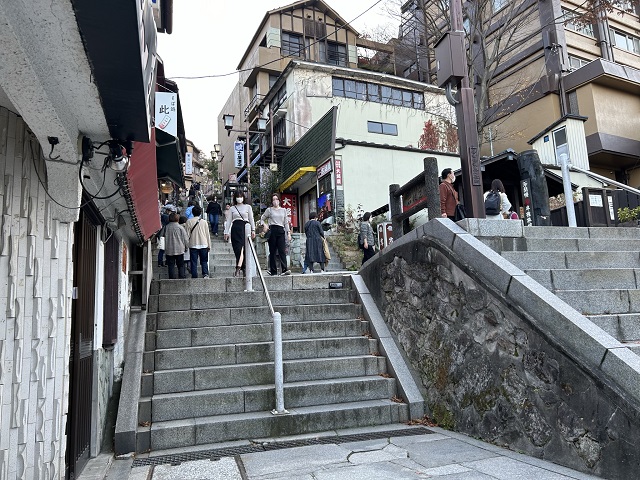 This is the picture of the same place more than many decades ago.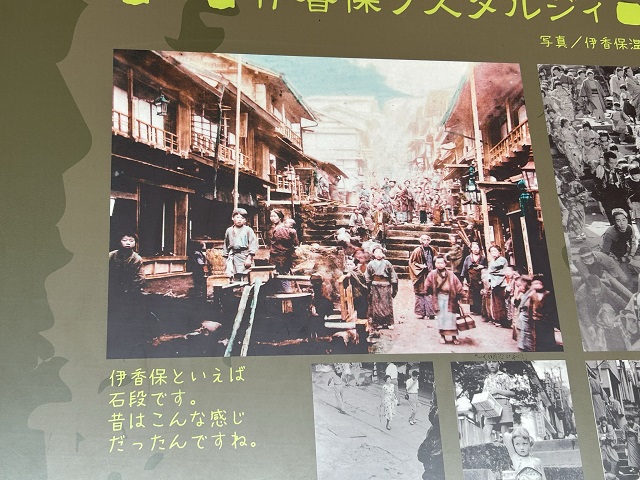 "Rotenburo" outside bath before dinner
Japanese people love onsen, hotsprings.
Especially, enjoying hotsprings at outside called "Rotenburo" is very popular.
At this hotel, they also have inside hotsprings and outside hotsprings.
I went to enjoy this onsen before dinner.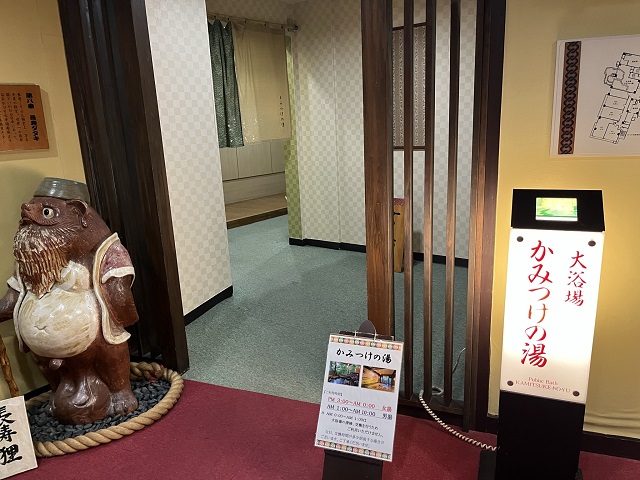 There are 2 onsens, one is for men and the other is for female.
It gets changed between night time and morning time.
When I went to onsen around 5pm, there was nobody.
So I was quite lucky to use inside bathtub as well as outside hotsprings.
I wash my hair and body before I sank into a hot water.
I could enjoy nice hotsprings by myself, so it was very relaxing time.
Another person came right after I came out of the bath, so I noticed that I was so lucky.
After bath, you can calm down at this place right next to the hotspirngs.
You can also get a free cold Japanese tea.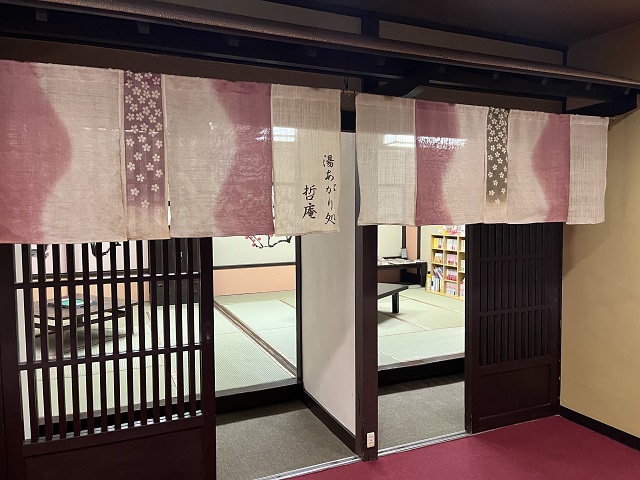 Dinner is at a semi-private room
It's 6pm now.
And it is my dinner time.
I will go to a dining floor.
The hotel staff found me and escoted me to the dinner place.
Each room was separated by a wall, so you don't need to see other people.
You can enjoy dinner at a private atmosphere.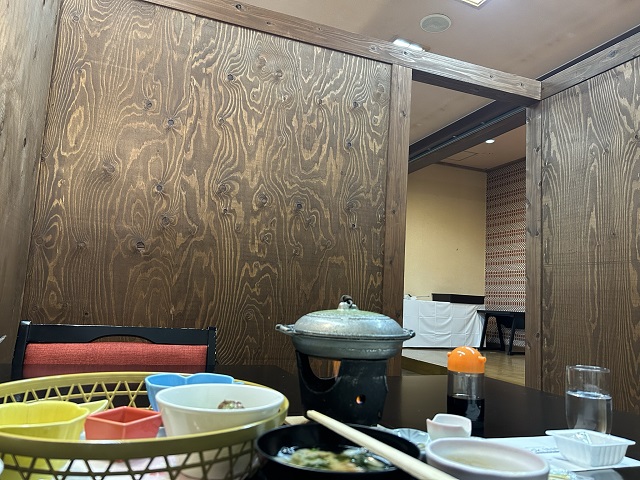 This is my dinner for tongiht!
I get so excited with so many dishes.
It has Sashimi, tofu, meat ball, and especially their local beef called "Jyoshu-gyu".
This place is popular for Japanese mushrooms, so the hotel staff fired the small cook and they told me to cook beef and mushroom with butter.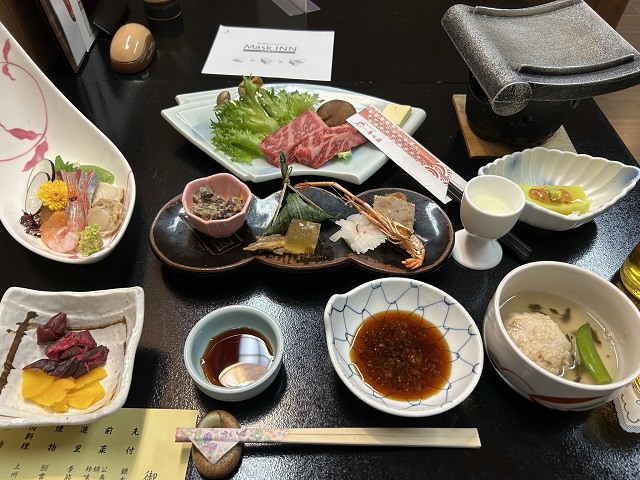 Ikaho onsen is in Gunma prefecture.
Gunma is popular for Kon nya ku.
I think in English, it is konjac.
It is made of konjac root and its texture is like jelly fish, very chewy.
If you are in Gunma, you should try at least once.
Then, I thought the dishes are all, but steamed fish, Sawara, with sea urchin came!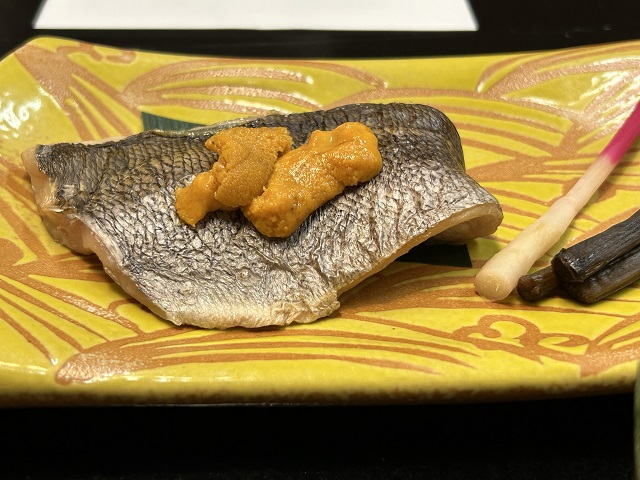 It was a big volume for me.
It was delicious, but I could not finish all.
And another dish came.
This is Lotus root tempura called "Renkon".
Bet renkons, there was a minced meat.
You put some salt and eat.
This is also very nice.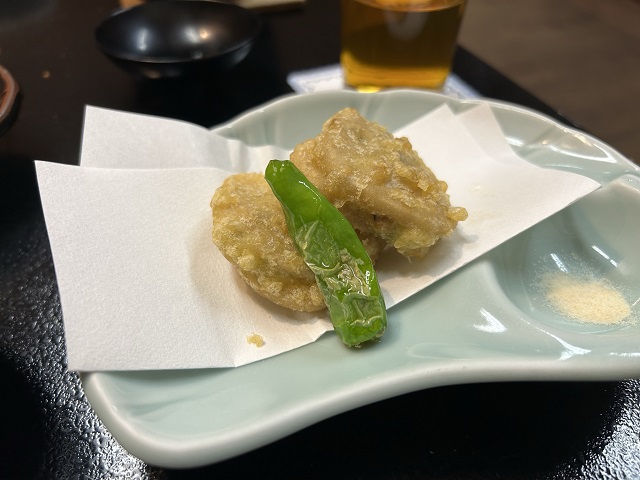 OK, another dish came.
This is Japanese steamed egg custurd with clear sauce, called "Ankake chawan mushi".
It tasted very soft and I really like this chawanmushi.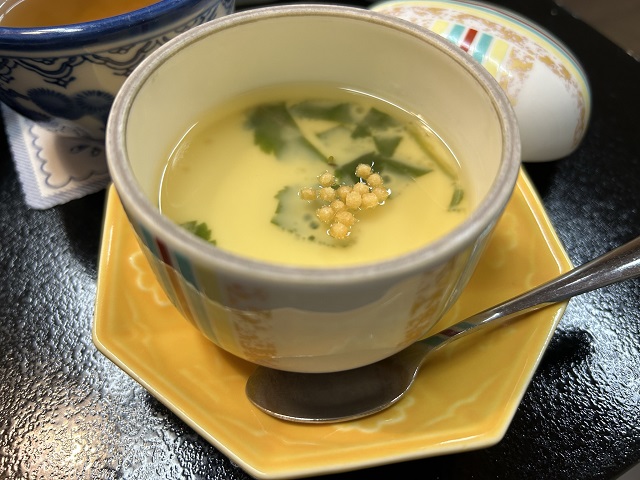 I forgot to take a picture, but the hotel stuff served me a steamed rice and miso soup with full of local mushrooms.
I get stuffed by the time I ate all of the food.
Then it's no surprise.
The dessert has arrived.
It was milk pudding and some fruits.
Pudding was not too sweet, so I liked it.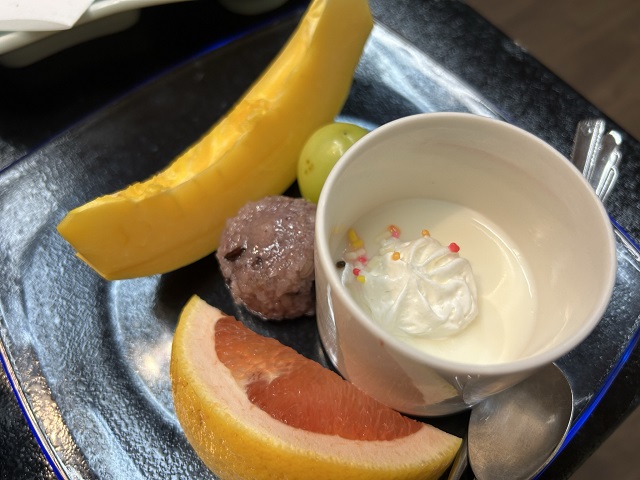 Breakfast at private room
last night, I was laying down on the futon bed in my room after dinner, I felt asleep.
I came to wake up at night a couple of times because my back harts.
Maybe I was not used to sleep on futon, or the matress was too thin.
After I wake up, I enjoyed morning onsen then I came to the breakfast.
I reserved a breakfast at 7:30.
I went to the same place as yesterday.
The hotel staff found me and told me to go to the same place as yesterday.
This is the brekfast for today.
It seems that it is the traditional Japanese ryokan brekfast.
It has a steamed rice, miso soup, salad, egg, cooked fish, and natto.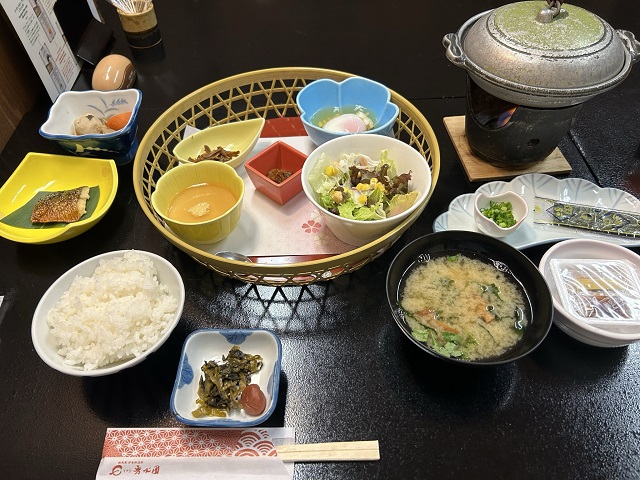 This is tofu, salad, and some miso based picles.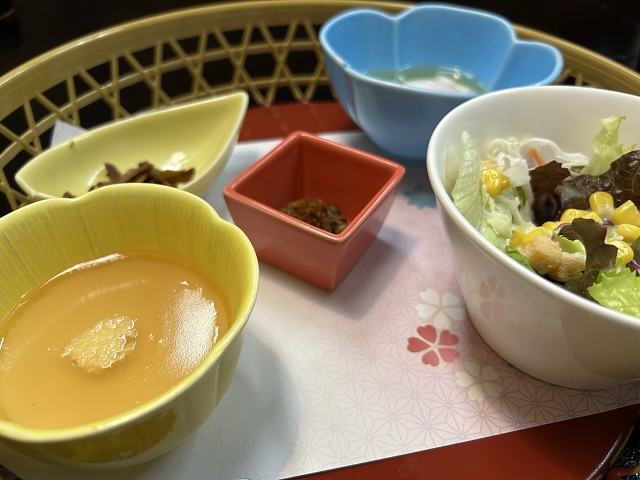 For the cooking dish, bacon and mushroom butter saute.
You put some soy sauce.
You can cook by yourself, so you can eat as it it still hot.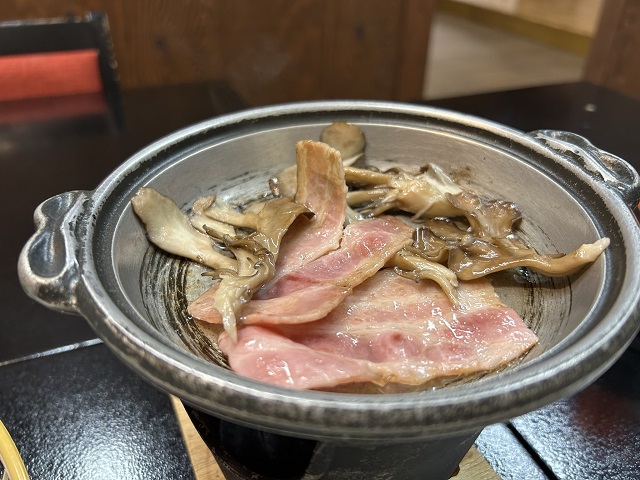 After eating breakfast, the hotel staff introduced me for a morning coffee at a lounge, so I went there.
Free coffee and a nice scenary.
It was very nice.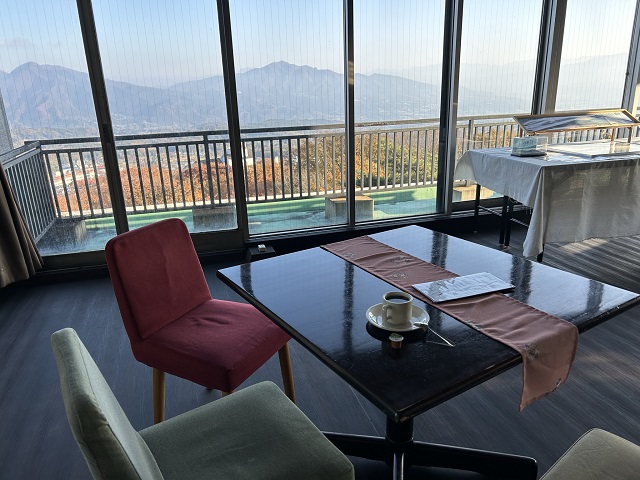 Ikaho Ropeway in the morning before it gets crowded
I checked out the hotel before 9:00am because I wanted to try Ikaho Ropeway before I head home.
Ikaho ropeway is only 2 minute walk from the hotel.
I knew that it will open at 9:00 am, so I wanted to get on the Ikaho Ropeway and enjoy the mountain view from the top of the mountain before it gets crowded.
The fee is 850yen for round trip for adult.
You pay at the 4th floor and it is cash only, so bring some cash with you.
I thought that I might be the only one to take the ropeway, but there were some families waiting for the ropeway already.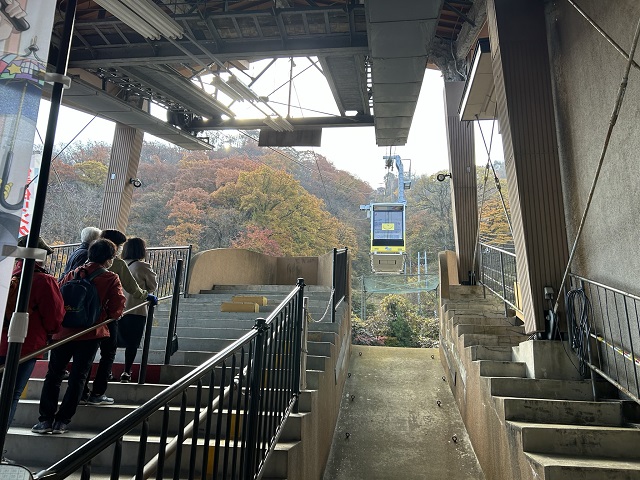 You will be on the ropeway for 4 minutes.
At the top of the mountain, there is a natural forest and ice skating rink.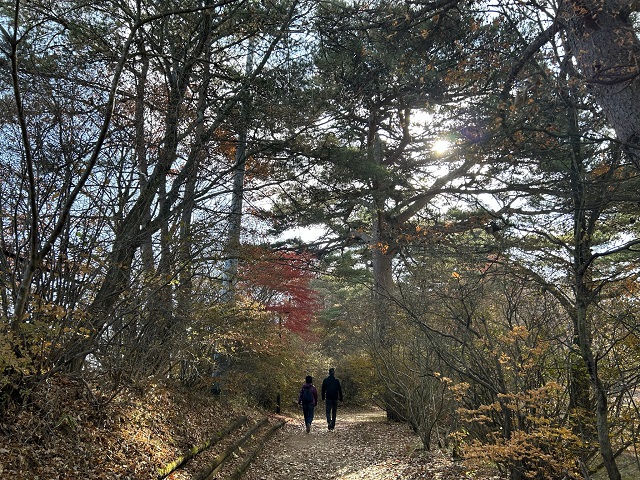 Most of the tourists were heading to the observatory.
And wow! This is the scenary from the observatory.
It was a little foggy because of morning mist, but you can see a lot of mountains.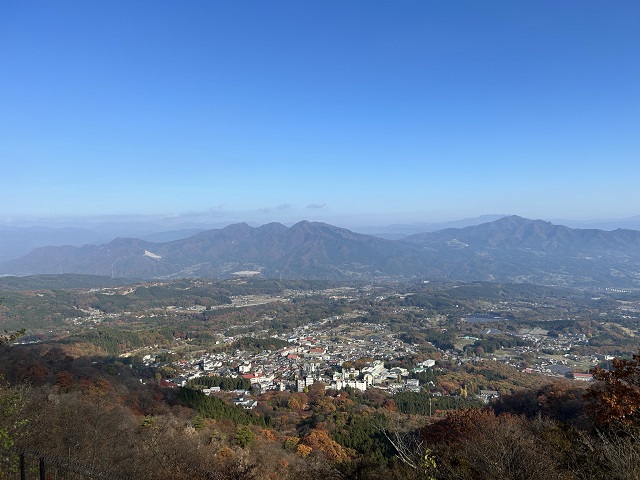 It was of course expeced a nice view, but you can also enjoy the fresh morning air.
If you look back from the observatory, there are a natural park so that you can enjoy a little hiking.
Here again, you can enjoy such a beautiful autumn trees.
There are many small walking path, so you pick your way as you want.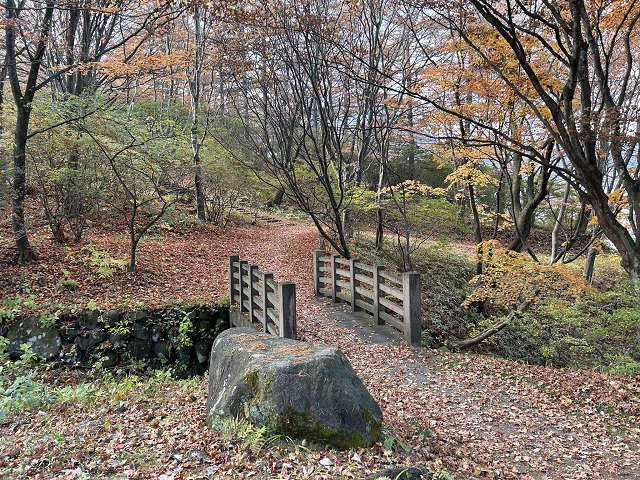 I enjoyed mountain hike for about 30 minutes, and I came down to the ground.
When I exit the door, so many people were waiting for the ropeway!
My choice to take the first ropeway was a good choice to avoid crowds.
At the same bus terminal I used yesterday, I took a bus and came back to the Shibukawa station.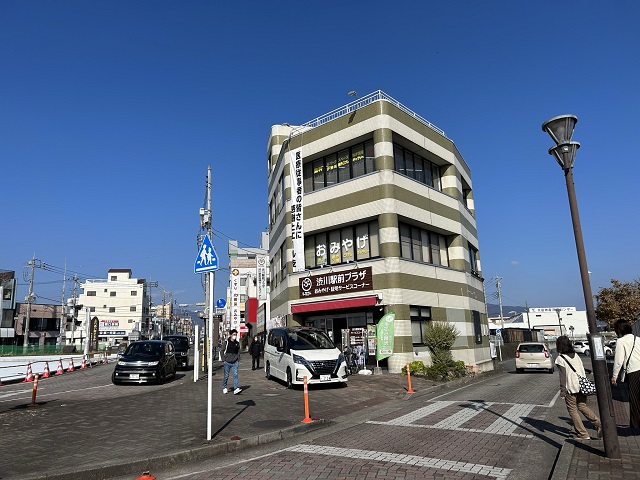 I stopped by a souvenior shop in front of the station because I had not used up the coupon I got yesterday.
Also, I took a flyer from the hotel which was available in the room.
Because it said that if you bring the flyer, you can get 10% off, so I thought "why not bringing the flyer with me?".
I spend about 2,300yen, but I got 10% off from the local flyer and 2000 yen coupon from the hotel, so I only spend 100 yen.
This is the gift I bought at the shop.
It was the very good deal!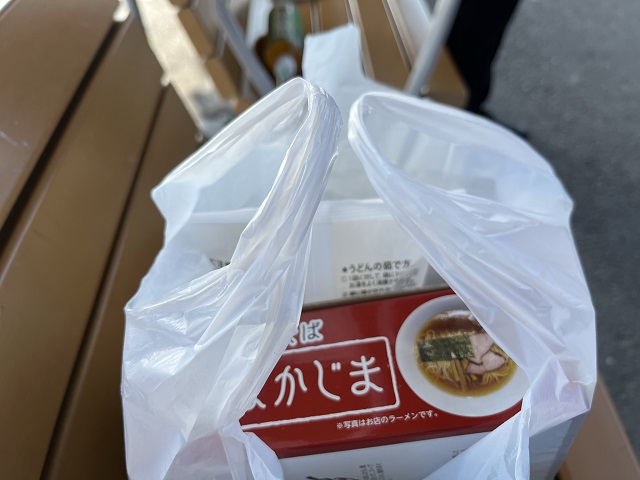 いかほ秀水園 Ikaho Shusui-en
Address: 群馬県渋川市伊香保町伊香保557   Ikaho 557, Ikaho-machi, Shibukawa-city, Gunma pref.
TEL:0279-72-3210
Hotel Homepage:syusuien.com
Tip from me:The price varies depeding on the day, so checkout the cheap day! It is a nice location. If you prefer a private dining room, this place is good for you. There is no family bath. Free parking lot. Wifi was a bit weak. People working there was very nice. There were some Vietnamies staff, so they can speak Vietnamies and maybe English.
If you check agoda, you can see availability with the price calendar, so it is easy to find the cheap day.
Check room availability and price calendar at Agoda
If you are not sure if you are going or not until the last minute, you might want to make a reservation via their hopepage.
You can cancel till 1 day before your stay.