Boarding the "Sunflower Murasaki" which has started service in April 2023
"Sunflower Murasaki" has just debuted.
The service has start from Osaka on April 14, 2023 (Friday).
"Sunflower" is also in service in other areas, but "Kurenai" and "Murasaki" are in service on the Osaka-Beppu route.
Kurenai will enter service in January 2023.
In April 2023, "Murasaki" will go into service, and both will be LNG-powered ferries from Japan.
It operates between Osaka and Beppu in about 12 hours, and while "Murasaki" is sailing from Osaka to Beppu, "Kurenai" is sailing in the opposite direction from Beppu to Osaka.
You can decide which ferry you want to ride when you make a reservation, so if there is a ferry you want to ride, you can aim for it.
For example, Sunflower's "Murasaki" and "Kurenai" service dates for June 2023 are posted on the Sunflower website like this.
You can see that it operates Osaka ⇔ Beppu on a daily basis.
Kurenai=K. Murasaki=U.
This route is a very convenient means of transportation, as it arrives the next morning after boarding in the evening.
As of May 2023, the departure from Osaka is around 19:00.
Also, from July 2023, the departure time on Fridays and Saturdays will be partially changed.
I heard that a discount will be applied as a "bullet ferry" that is used for 3 days and 0 nights, so I would like to use such a plan someday.
In this article, I would appreciate it if you could tell me about the useful information of the ferry terminal and the atmosphere of the ship.
Osaka Ferry Terminal looks like this
Regarding the information on the Osaka Ferry Terminal, it will be "Sunflower Terminal 1".
The nearest station is "Trade Center Mae Station" on the Osaka Metro New Tram Line.
Sunflower's website also has access information, but please note that the nearest station is not "Cosmo Square Station".
As for how to get to Trade Center Mae Station, it will be roughly like this from the main station.
Basically, I'm going to the port, so there's no direct route.
From Shin-Osaka Station: 2 transfers, about 40 minutes. 340 yen.
From Kansai Airport: 2 transfers, about 1 hour 20 minutes. 1,740 yen.
From Osaka-Umeda Station: 2 transfers. It takes about 35 minutes. 290 yen.
I headed for the ferry from the center of Osaka, so I changed to the New Tram Line from "Cosmo Square Station" and arrived at "Trade Center Mae Station".
As soon as you get off the station, there is a guide sign to the ferry terminal, so you won't get lost.
On the way to the terminal, enter the building labeled "ATC".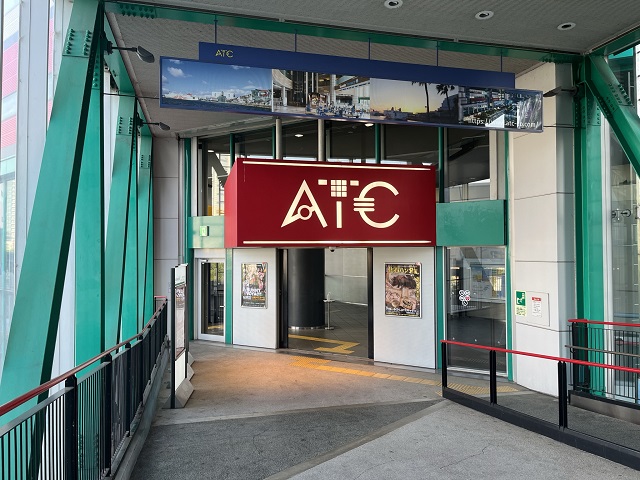 You will have to go down the escalator, but there is a signboard each time, so you can access without worry.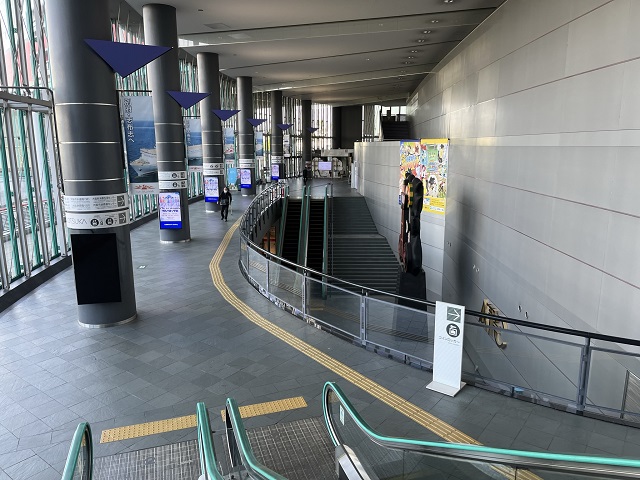 When I got off the escalator, I saw Sunflower anchored at the port.
I am a little excited when I think that I will ride this from now on.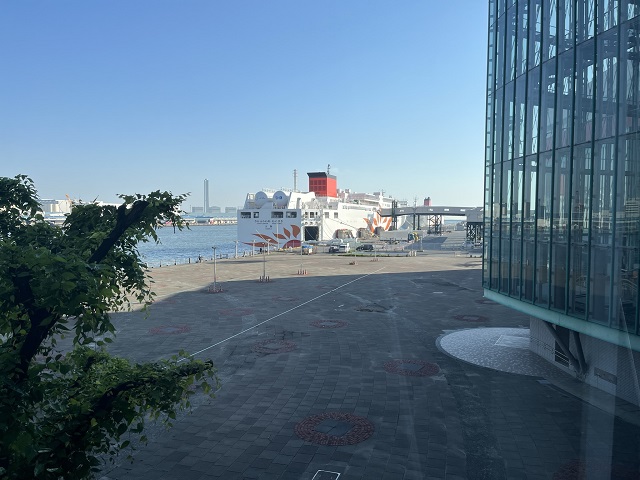 Sunflower will depart at 19:05, but I arrived at the Sunflower window about two hours before departure, so there weren't many people yet and the process went smoothly.
I made a reservation online in advance, so I will tell you the reservation number described in the email and receive the ticket.
The ticket has a room number and a QR code, and you need this QR code to unlock your room on board.
Actually, if you take a picture of this QR code with your smartphone, you can unlock it on the smartphone screen in case of emergency, so take a picture as soon as you receive it.
If you take a picture of the QR code on the right side of the photo below, you can use your smartphone even if you forget your ticket in the room. it's recommended.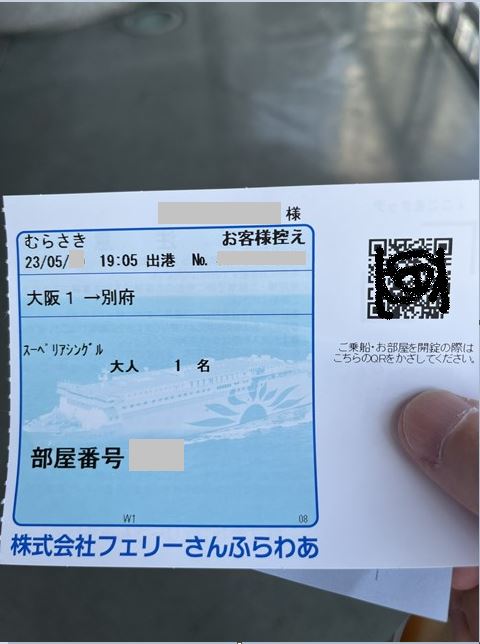 I was informed of the boarding time at the reception, but it was around 18:00, so I decided to take a walk because I had more than an hour.
There is a waiting room in front of the reception, but there are only a few dozen seats.
Before boarding, it was quite crowded.
There was also a smoking area in front of this waiting room.
The odor does not reach the waiting room, so don't worry if you don't like smoking.
As a restaurant, this Gusto seems to be available.
I wanted to use the onboard restaurant, so I put up with it.
There is also Lawson, so you can buy various things before boarding.
I bought a beer that doesn't seem to be on board.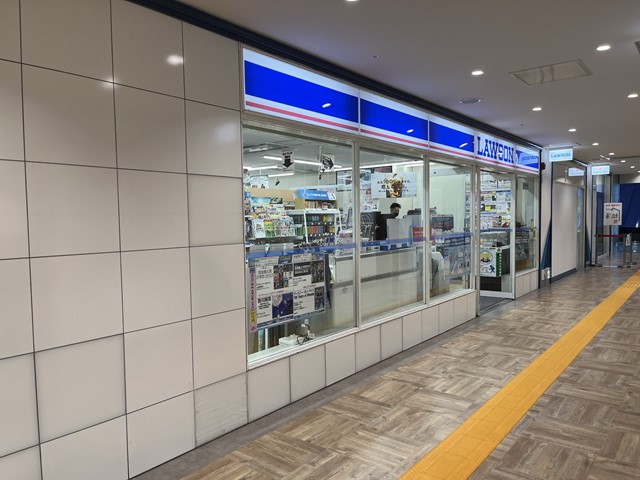 Unfortunately, I forgot to take a picture, but there is a large 100 yen shop Daiso.
I bought sandals for the ship here.
I think it was 300 yen instead of 100 yen, but it was very useful because I didn't want to wear shoes barefoot after taking a bath on the ship.
I recommend it.
Actually, I wanted to move to the parking lot and shoot the exterior of Sunflower, but there was a sign saying "Pedestrians are not allowed to enter the parking lot", so I gave up. I will try to take pictures when I board.
It's time to board
It's boarding time, so let's get on board immediately.
If you cross the long passage at the back of the reception, you will cross the road, cross over the parking lot and enter the ship.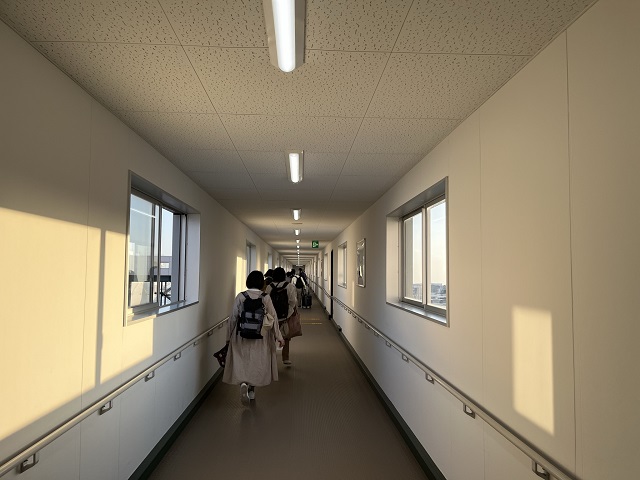 This is the appearance of Sunflower taken from the aisle.
I couldn't take a full picture, so I took a picture of the front and back separately. It's shiny, isn't it?
If you enter from the aisle, you will be on the 6th floor inside the ship.
The area that can be entered during operation is the 3rd floor from the 6th to the 8th floor.
A staff member will welcome you at the entrance.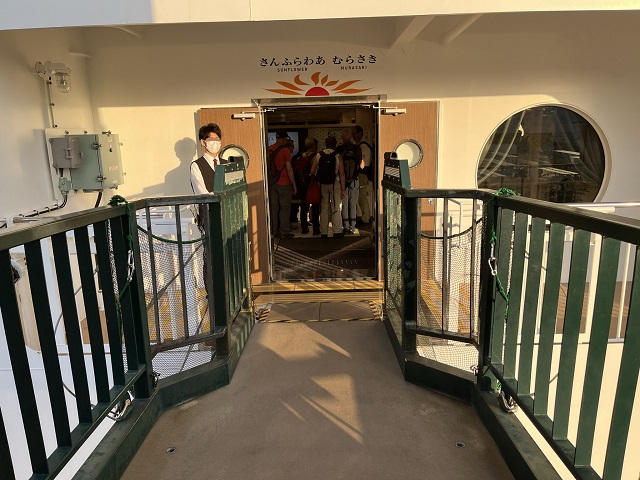 When you enter the ship from the entrance, you will be on the 6th floor of the ship.
The area that can be entered during operation is the 3rd floor from the 6th to the 8th floor.
The lobby is brand new and clean. It was quite busy while on board.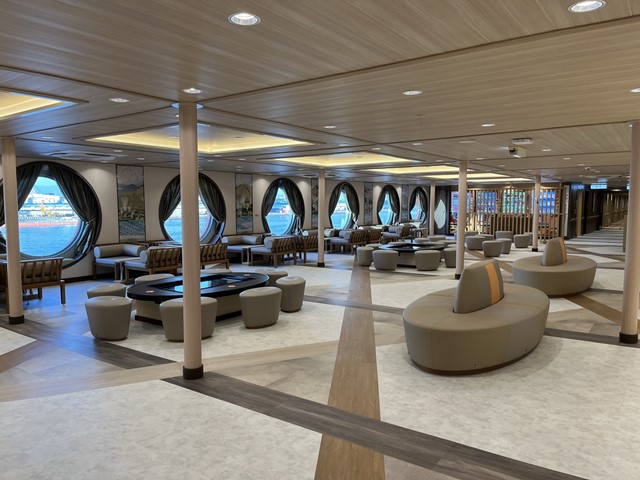 This is the atrium from the 6th floor to the 8th floor.
The ceiling is projected by a projector and it is very beautiful.
It seems that there was also a projection mapping event around 20:30.
Unfortunately I was eating so I didn't get to see it.
The 6th floor has a reception, a shop and a lobby. There is also a restaurant and kids corner.
At the back of the reception, there was a valuables box, a smartphone charging station, and a money changer.
If you don't have a private room, I think it's safer to store your valuables here.
After that, I headed to the superior single room I reserved. I will update the blog later.
Related Article:New Ferry: Sunflower Murasaki (From Osaka to Beppu) Episode2