Natural Hotspring Onyado "Nono Asakusa" is only 2-minute walk to "Sensouji" and 1 minute walk to Asakusa Hanayashiki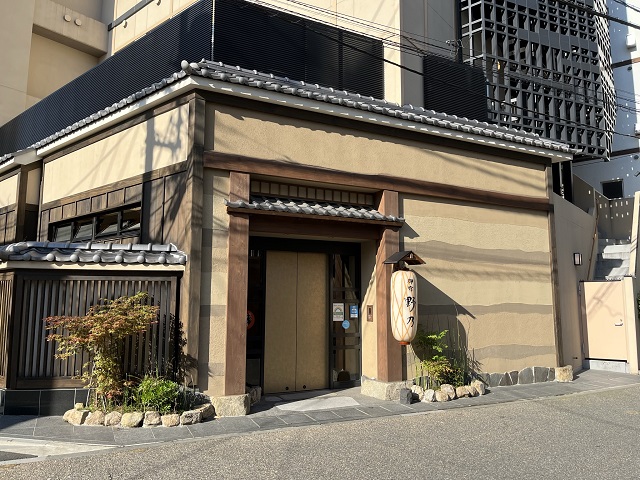 I stayed at "Nono Asakusa" located right next to Sensoji in Asakusa.
Sensoji is a symbol of Asakusa.
This hotel is so called "a business hotel", just like a motel in the United States.
However, the good thing about this hotel is that you can stay with a reasonable cost yet you also can enjoy natural hotsprings in a big bath tub.
If you like "Onsen" and enjoy hotspirngs with others, this is the place to stay.
The nearest train station is "Asakusa Station" for Tsukuba Express line.
Or if you use Tokyo Metro, you might want to use "Asakusa Station" for Asakusa line or Ginza line.
Ginza line is direct line from Shibuya.
This hotel does not include dinner, so I ate dinner before I checked in.
This "Nono Asakusa" is a Japanese style buisness hotel, so you need to take off your shoes at the entrance, and then put it to a shoes box there.
The entire floor in this building is Tatami floor, so you can enjoy the feel of Tatami.
If you want a slipper, you can ask for it at the front desk.
Here is how the front desk looks like.
There is a "Oshibori service" at the dormy Inn. Oshibori is a wet towel.
The front office staff directly serve you a Oshibori or Oshibori box is at your back when you check-in.
Before you take the elevator, there is an amenity stand.
You take what you need for your amenities and an instant Japanese tea if you want.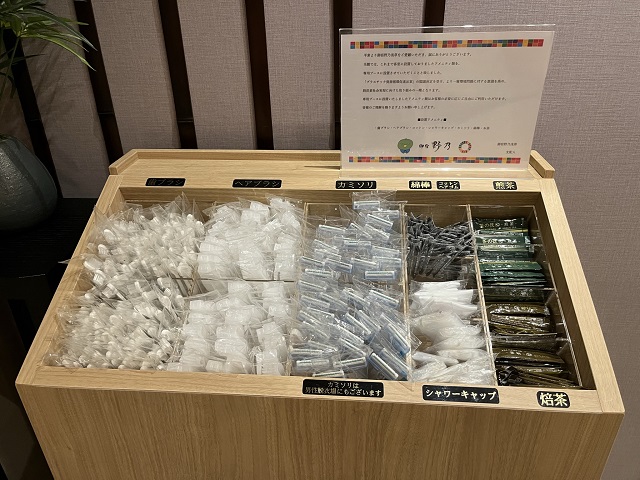 Here is the elevator hall.
You can sit on the chair while you wait for the elevator.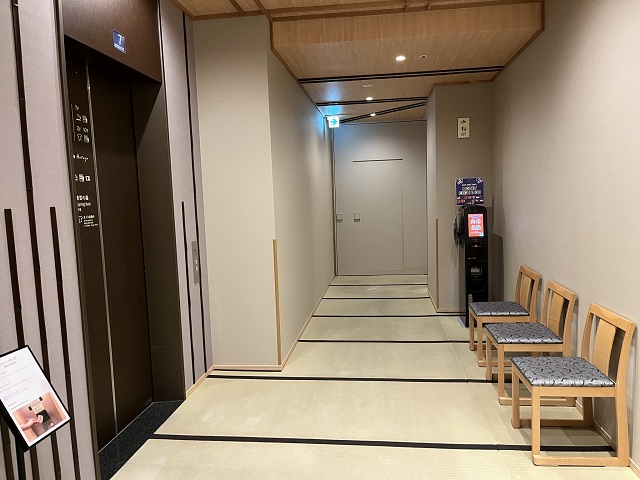 If you need to exchange your money, there is an exchange machine by the elevator, so you can try to use it.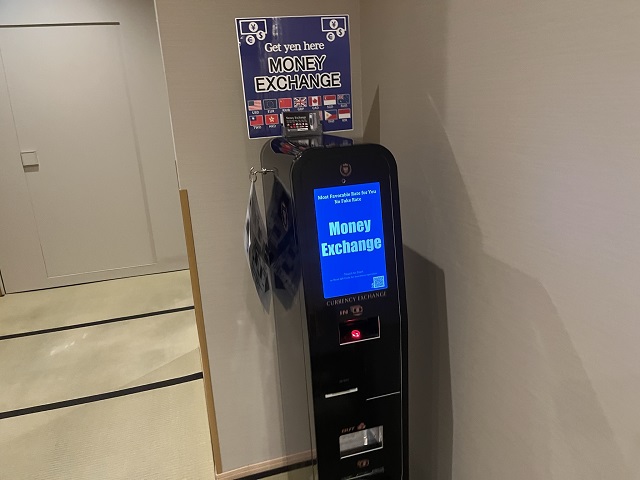 Let's go to my room for tonight
The room I made a reservation is a single room for 1 person.
It's not a super big room, but enough for 1 person.
There is Tatami floor on a hall way, too.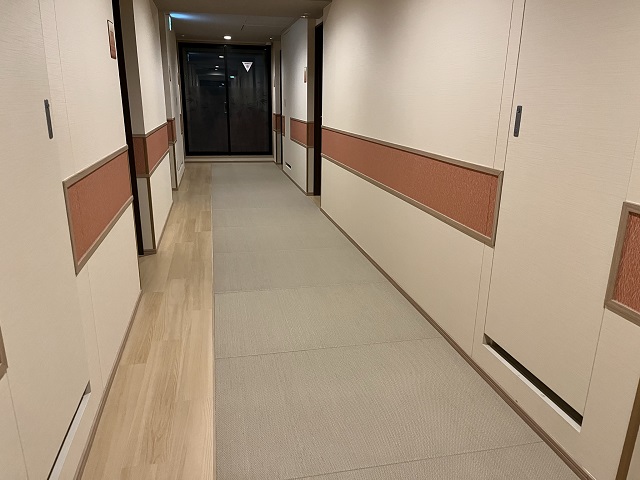 Inside of the room, there is a small closet and a washing space with a small area.
Everything besides bedroom is all combined in this area.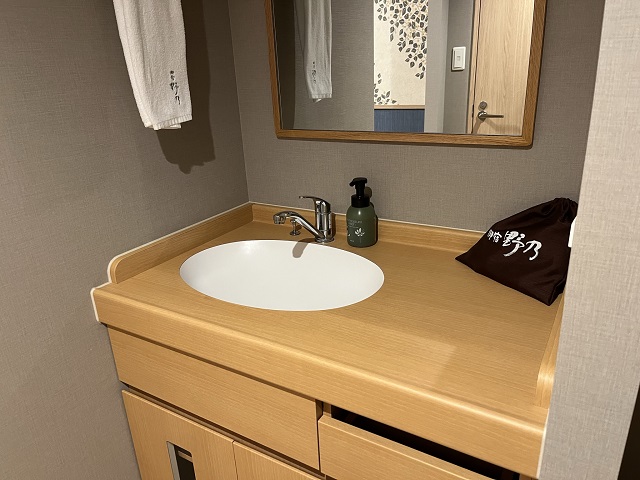 This room and bedroom is separeated by a door, so when you close the inside door, you can feel like you are in your own room.
So, you can feel releaxed.
Here is my room for tongiht.
There is a double bed, and a low chest and a small table and a TV.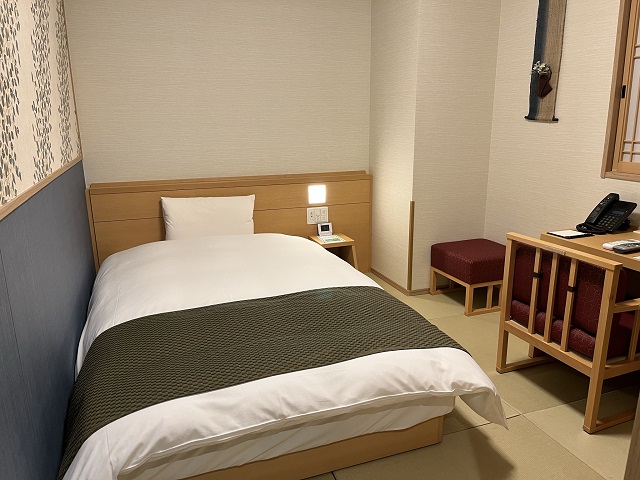 Compared with other Dormy Inn I stayed, this room is a bit too cozy for me.
But thinking about the location and the fact that I am in a center of Tokyo, I should not complain.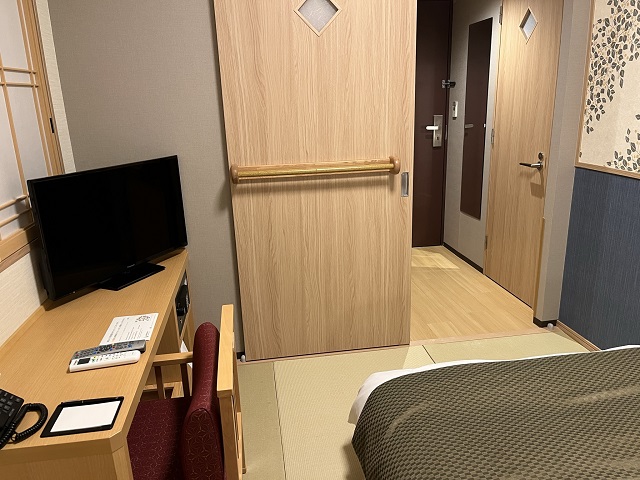 I made a reservation from thier official site this time.
I  am not sure it is because of that or not, there was a free water botle and a free fruit in a refrigerator.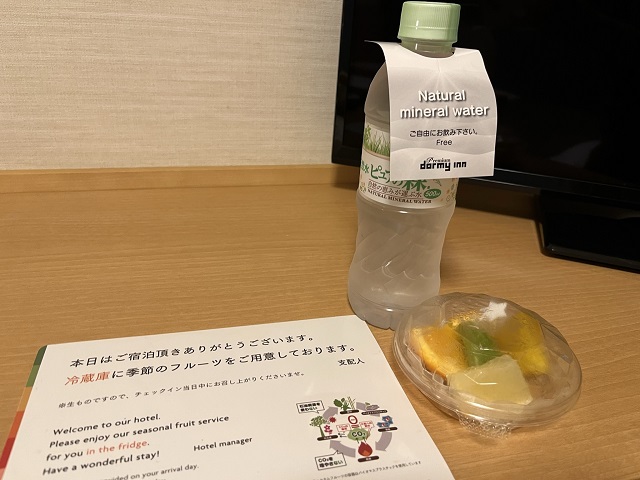 Then what I should highlight the good thing about this "Nono Asakusa" is that there is a room wear available in a room, so as soon as you check-in and be in a room, you can change it to a relax wear.
You can wear it and walk around insdie of the hotel, so it is very convenient.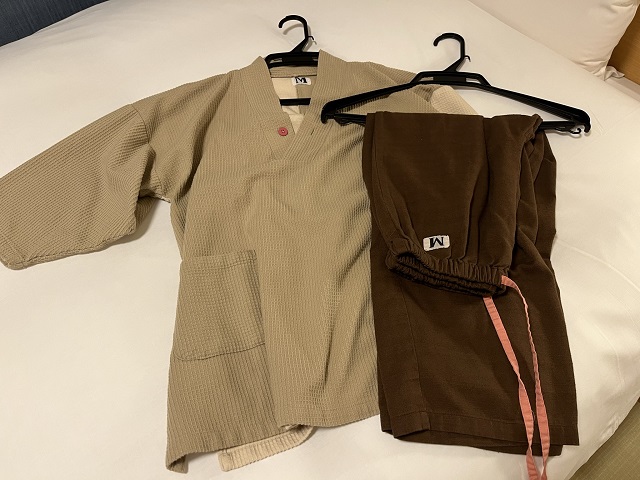 All controller and outlets are besides your bed, so you can manage it without moving out of the bed. Hehe.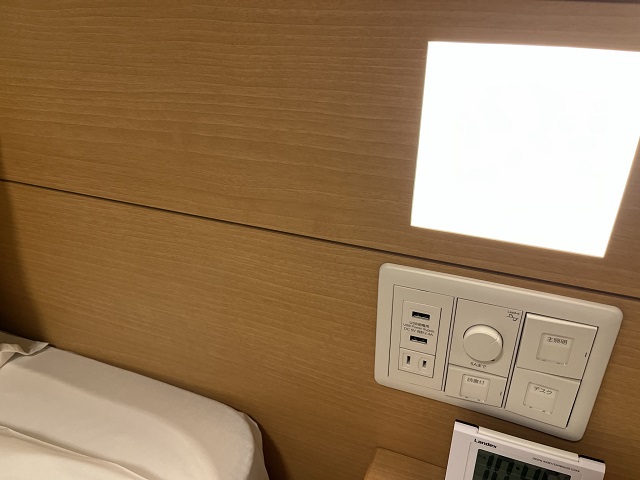 I forgot to take a picture, but there is a shower room and a clean toilet with a washlet.
You can try a free Ramen called "Yonaki Soba"
I ate dinner, but I still had some space in my stomach, so I went to get a free Ramen at a cafeteria on 1F.
Between 21:30~23:00 everyday, Dormy Inn serves you this Yonaki Soba.
If you want to taste how Ramen is like, you can try it in here.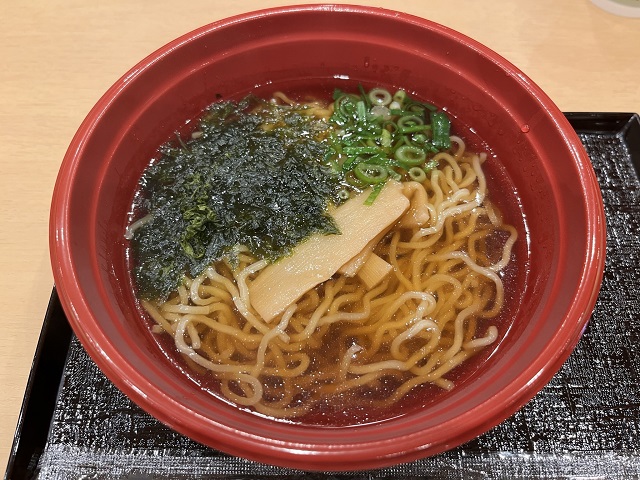 I saw many people eating Ramen.
People seemed to be waiting and enjoying this free ramen.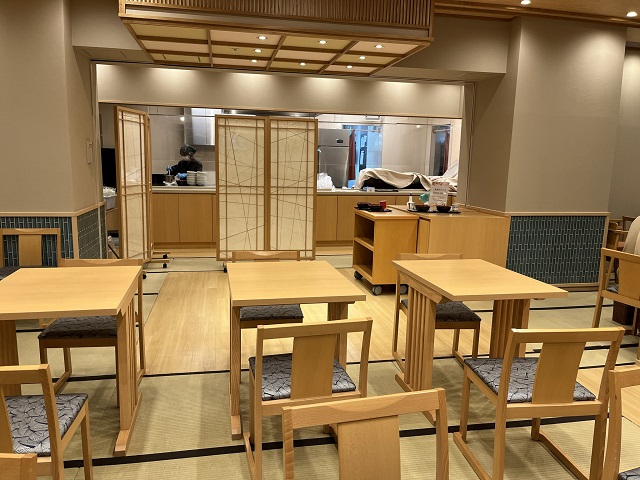 There is also a free drink machine here.
I am not sure if it is served 24 hours, but at least you can acess here till 23:00.
There is a take-out cup, so you can take it to your room.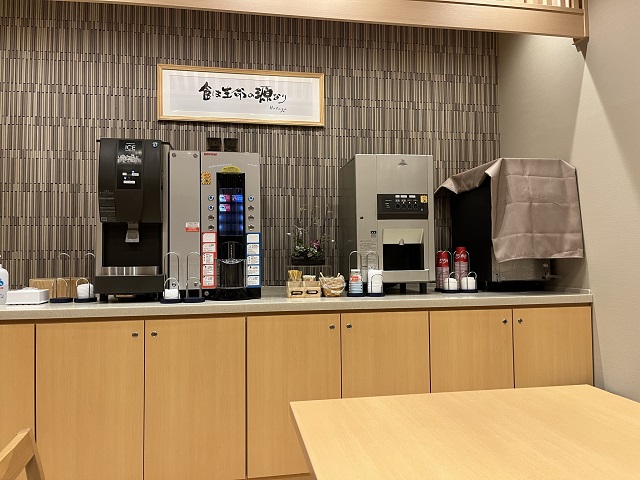 Tokyo's historical hotsprings is "BLACK"
As I mentioned earlier, this hotel has a natural hotsprings.
Hotspirings is located at the basement, so you need to take an elevator.
If you are female, you need a passcode to enter the door at the hotsprings, so don't forget to bring your passcode and your key card.
I could not take a picture of inside of the hotsprings, so I put picture taken from their official website.
As you can see, there is 1 big bathtub, and a few individual bathtub.
Can you see that Onsen water is black?
This is the color of natural hotsprings in Tokyo.
There was no hotsprings outside.
If you prefer a sauna, there is a sauna room inside of
Next to the hotsprings, there is a vending machine, an ice machine and washing machines.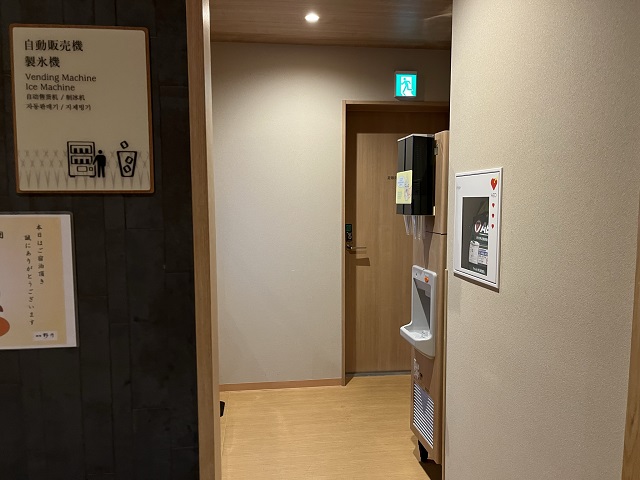 If you travel for a long time and you need to wash your clothes, it is very convenient.
Make sure you bring some 100 yen coins.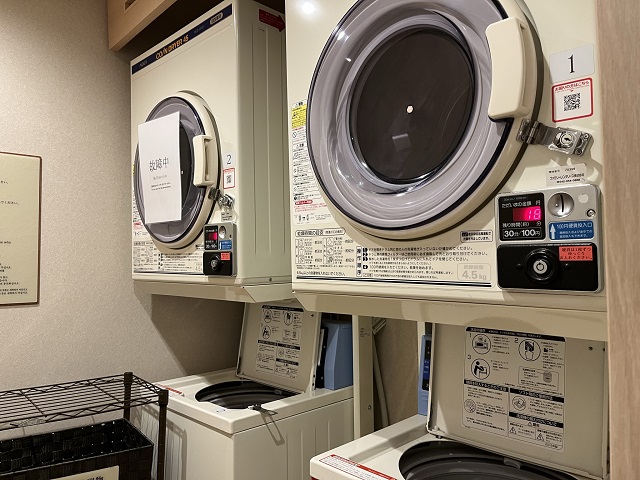 Dormy Inn privides you lots of free stuff.
This small icecream is one of them.
There are some flavors, so you can pick what you like.
It helps you to cool down your body.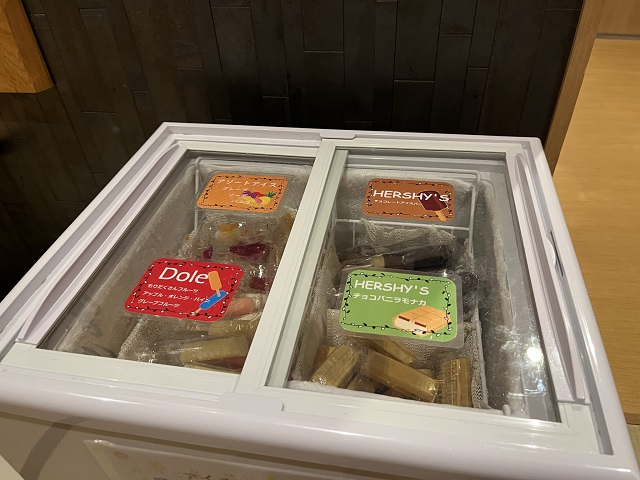 Other dormy Inn hotels have some massage chairs, but "Nono Asakusa" did not have those facilities.
You can start sightseeing from very early morning
"Nono Asakusa" is located very close to the Sesoji, so even before your breakfast, you can start your sightseeing.
Here is the very popular "Kaminari-mon".
This is one of the symbol in Asakusa.
I know that there are so many tourists taking pictures in front of it, but when I visitied Kaminari-mon, it was still 7 o'clock, so I could take a picture of quiet Kaminari-mon.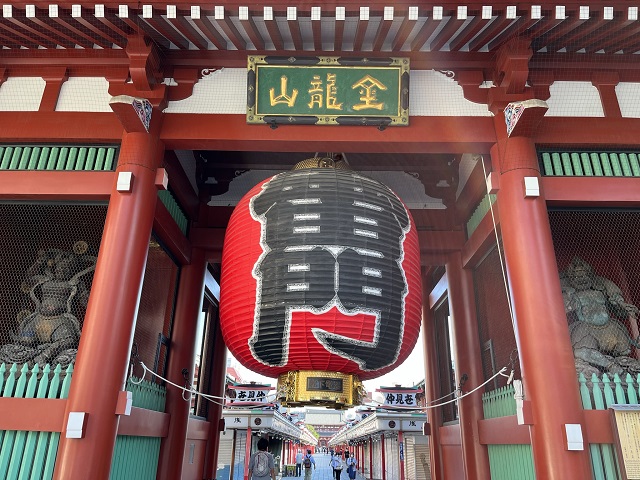 Since there was few people, I could take a pictures of Kamnari-mon as much as I liked.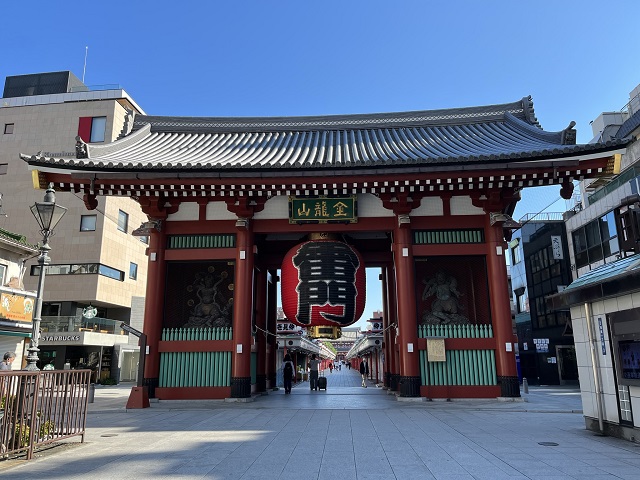 This is the artifical sculpture at the bottom of Kaminari-mon.
Very beautiful.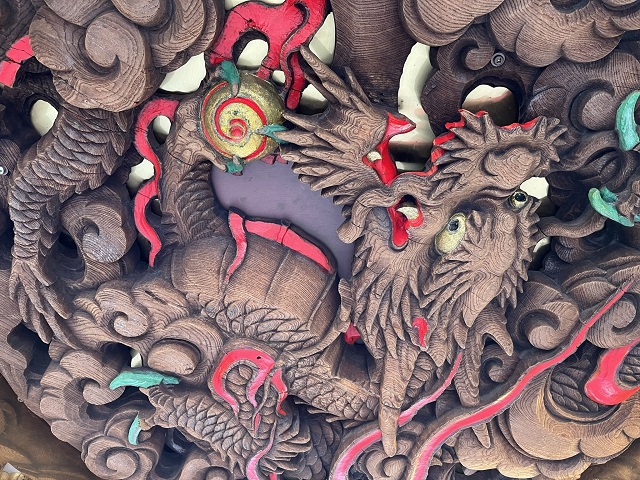 Survenior shops at Sensoji were still closed.
If you want to do some survenior shoppings, it's better you come back after 10 o'clock or so.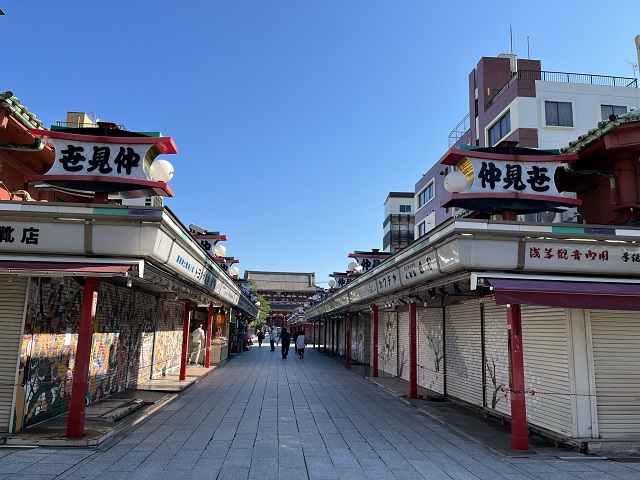 This is a traditional Japanese paper lantern called "Cyo-chin".
It seems that each shop will decolate this paper lantern when they open their shops.
After passing suvenior shops, there is a traditional arche called "Niou-mon".
This arche store a God to protect a temple to avoid evil things to enter the temple.
This is a traditional Japanese shoes called "Waraji".
You can touch this waraji wishing for a good fortune.
The bigger the waraji, the more foretune it brings you.
Here is the backside of "Niou-mon".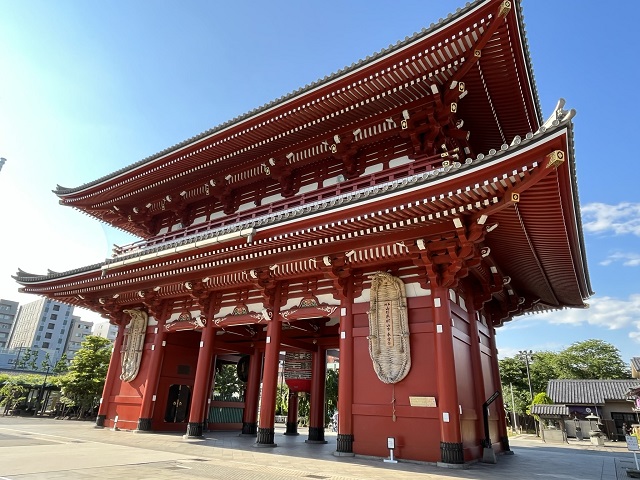 When I look ahead, there was a main temple.
It is still a quiet hours, so there are few people.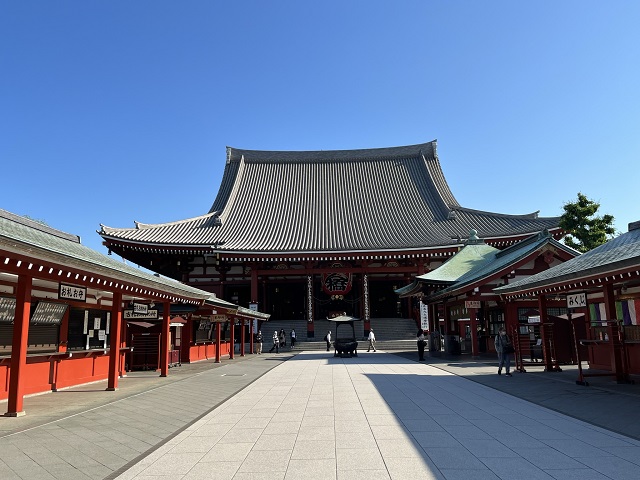 Before you approach to the main temple, there is usually a place where you can wash your hands and  clean your mouth.
This is a traditional rule that you clean yourself before you face a God.
Here is a place you bask a saint smoke to clean your body one more time.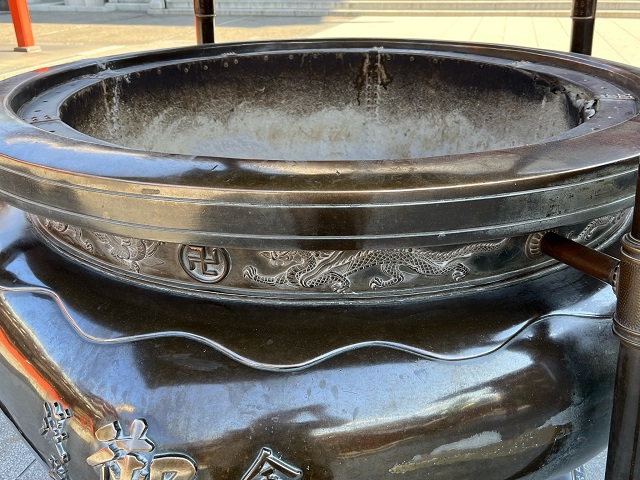 Here is the main temple.
Another lantarn was displayed.
It was built in 628 D.C., so it is more than 1400 years ago!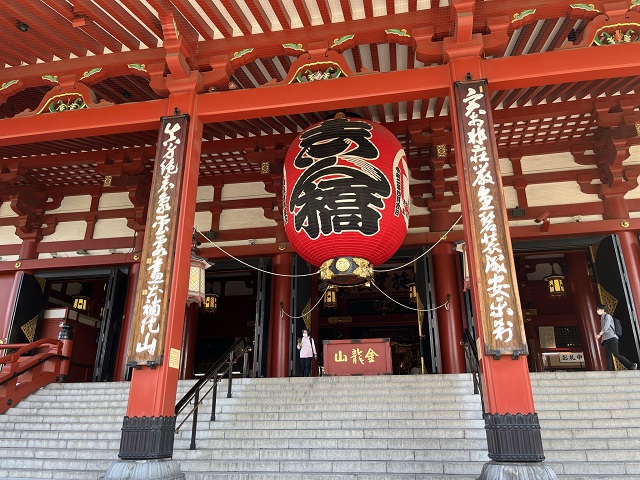 You can pray here with some donations.
It's not always the same, but if you do below, it would be ok:
You throw some money
Bow twice
Crap your hands twice
Close your eyes and both your hands attaching each other in front of your face and pray
Bow after you pray
After you pray, you can go insdie of the main temple.
If you look up the ceiling, this beautiful paintings would be there.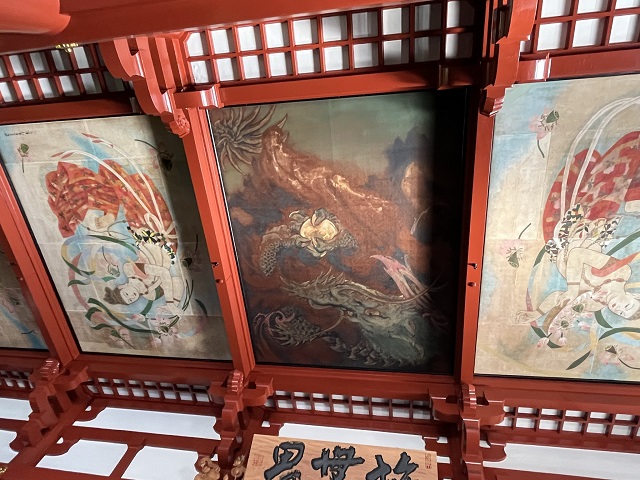 You can usually buy a fortune amulet, but when I was there, it was a bit too early to open.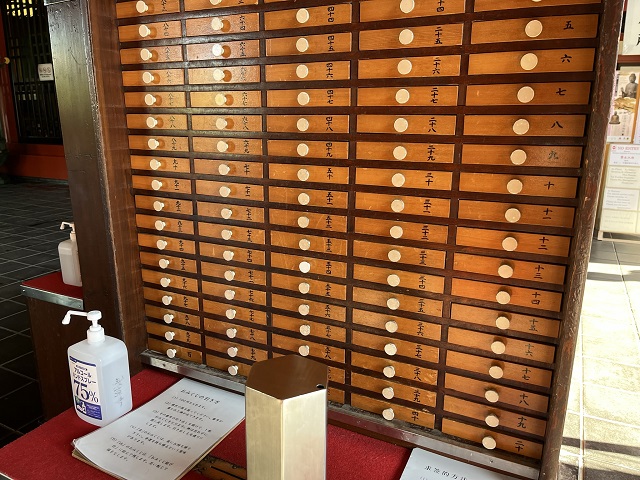 Right next to the main temple, there is a 5-story-tower called "Gojyu-no-tou".
It is very special to see such a traditional building inside of Tokyo.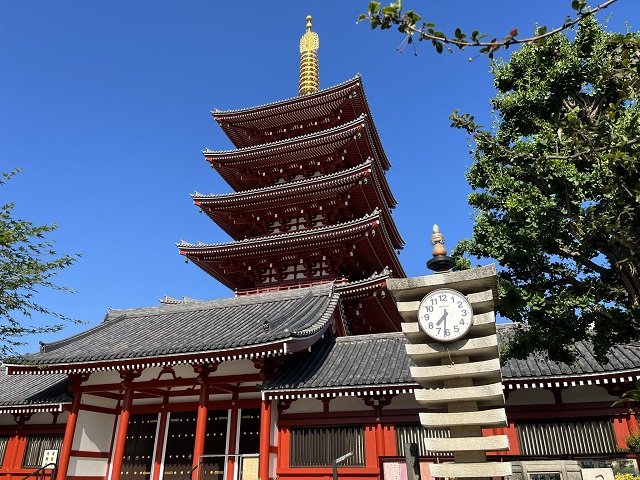 You can almost completed a sightseeing "Sensoji" in Asakusa before breakfast.
But if you have more time, I recommend you look around the Japanese garden inside of Sensoji.
There is a small stream and you can see colorful carps.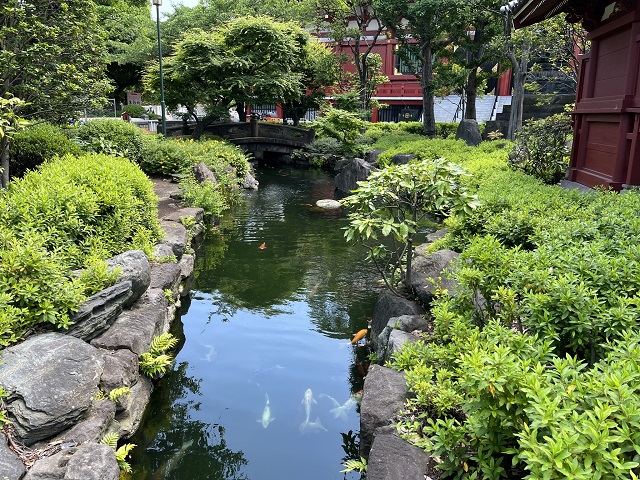 Breakfast is another reason to stay at "Nono Asakusa"
I like to eat breakfast at Nono, so I asked the front desk to include breakfast.
They said that if I pay extra money, then I can eat breakfast, so I did.
Sometimes you need to make up your mind at the time of check-in, so please be careful.
Seafood bowl called "Kaisen-don" is one of the thing which makes "Nono Asakusa" popular for gogeours breakfast.
If you like Ikura, fish eggs in Japanese, here is all you can put Ikura to your bowl.
This is my breakfast menu.
They have many small dishes, so I picked almost everything.
And I made my own Kaisen-don, Seafood bowl.
They say "You can put as much as Ikura you want", but my recommendation is that you put Ikura enoug to enjoy a bite.
If you put too much Ikura, it would be too much. Really.
Don't be too greedy.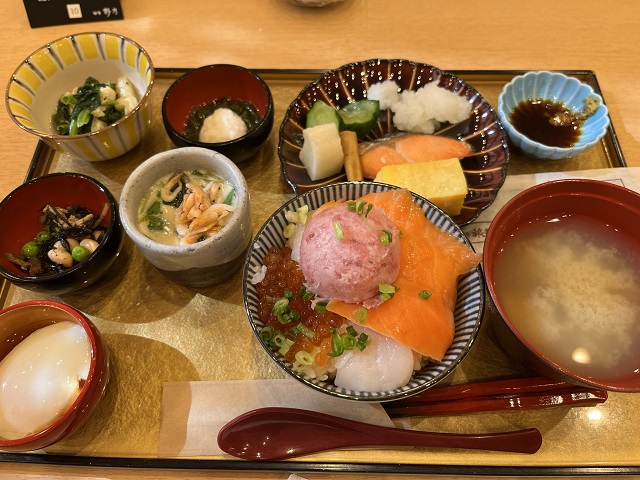 For seafood bowl, I put fish eggs called "Ikura", scallops called "Hotate", Salmon, and fatty tuna.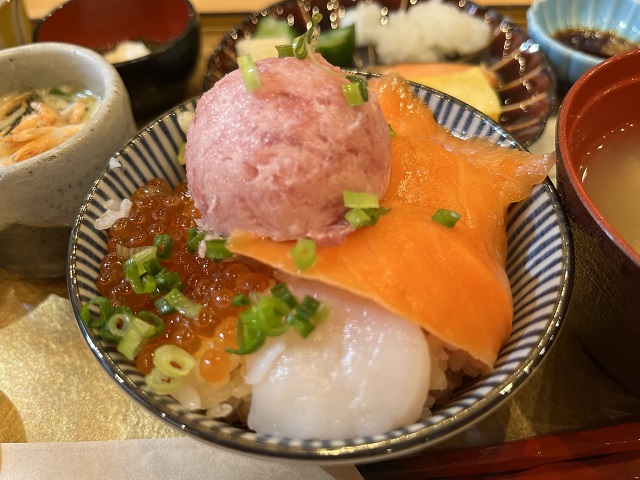 They serve you a miso soup.
I enjoyed all dishes and I ate a lot!
I was not hungry any more, but I decided to have some desert.
I picked fruit and yogurt, chocolate cake, and hot coffee.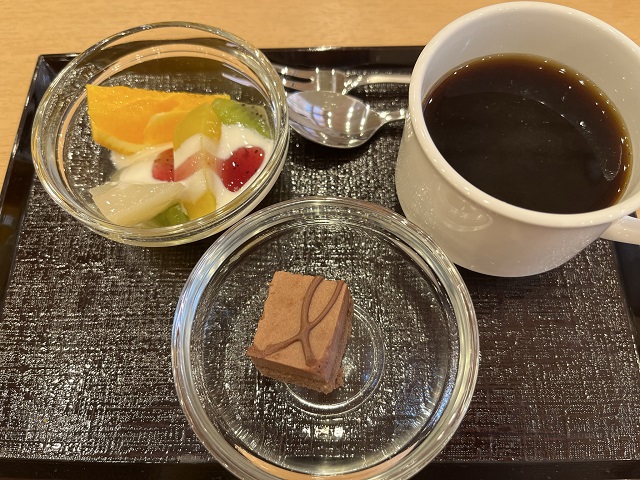 I was very stuffed.
The last hotsprings before I check-out
Before I check-out, I will go take a bathtub again.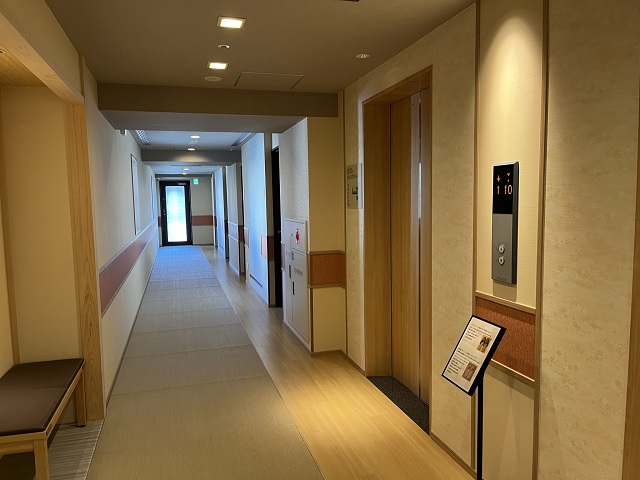 This time, I could use another bathtub.
What I think about "Nono Asakusa"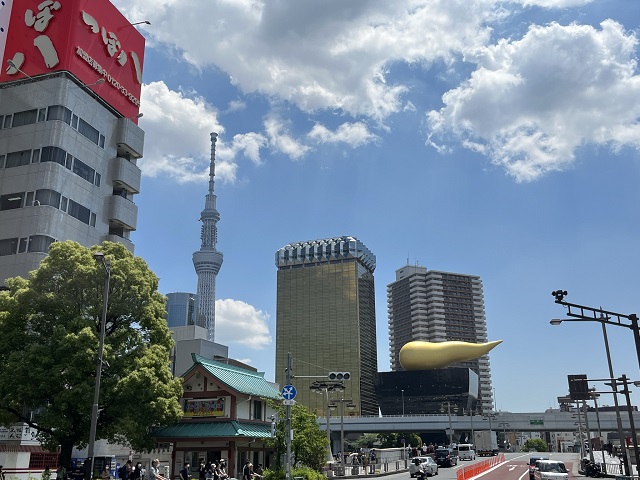 The room was cozy, but I really enjoyed a lot of free service and a lot of amenities.
I like Onsen, so I really liked that I could enjoy natural hotsprings in Tokyo.
When I stayed, I could hear a sound of road construction, so if you stay, you might want to ask for a higher level floor room.
That was a bit annoying, but the breakfast was delicious and I enjoyed a lot.
The best thing about this Nono Asakusa is the location.
You can walk to Sensoji in 1 minute and you can start sightseeing.
If you stay a couple nights in Tokyo, and if you are with a little kid, there is a small amusement park near the hotel called "Hanayashiki".
Your kids may enjoy spending some time at Hanayashiki.
Also, there are some restaurants on the same street as the hotel, so it is very convenient.
Family mart (Convenience store)is also nearby.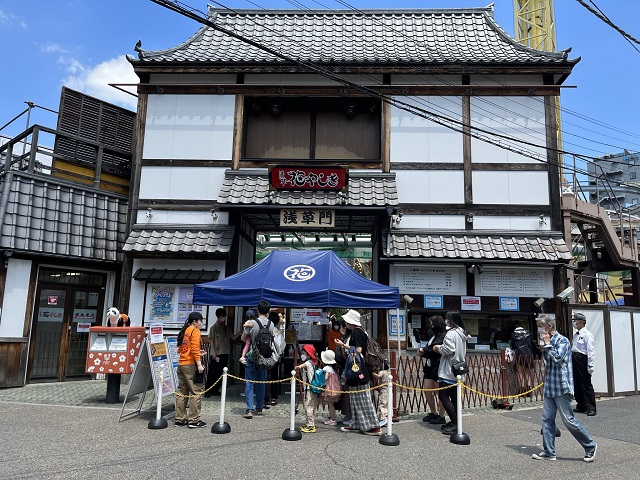 Nono Asakusa Info
Address: Asakusa 2-7-20, Taito-ku, Tokyo.   〒111-0032 東京都台東区浅草2丁目7−20
TEL:03-5830-0510
Check-in:15:00
Check-out:10:00
The closest station:Asakusa Station (Tsukuba Express) or Asakusa Station (Ginza line or Asakusa line).  Please be sure that those 2 stations are not the same.
Official Homepage (JA):天然温泉 凌雲の湯 御宿 野乃 浅草トップページ
Check Room Availability on Agoda: Agoda's site