Dormy Inn Premium Sapporo
I stayed at Dormy Inn Premium Sapporo which I wanted to stay in Sapporo.
This time, Dormy Inn Premium Sapporo is an inn that I used when I got an exciting ticket for Vanilla Air and stayed in Sapporo for 2 nights and 3 days.
Please refer to the related article in ↓ for a stay in Sapporo!
Related Article: 夏の札幌で花火とラベンダー畑と夜景 (Sorry, under translation)
Breakfast at Dormy Inn Premium Sapporo is by far the most popular!
I'm already looking forward to it.
This time, it was not possible to book for the number of days I would stay, probably due to the time.
(I couldn't make a reservation on Saturday! Other hotels are fully booked … what's going on there …)
Therefore, it is a review for one day when I was able to stay.
Normally, it seems that if it is around 10,000 yen or cheap, you can stay at 7,000 yen to 8,000 yen, but the time I stayed this time was 20,000 yen per night, which was extremely expensive.
Dormy Inn Premium Sapporo in the shopping district
There are several nearest stations to Dormy Inn PREMIUM Sapporo, but the easiest way to understand from Sapporo Station is to get off at Odori Station on the Namboku Line. Walk about 5-6 minutes from the station.
Depending on the route, it takes 5-6 minutes to walk from Susukino station.
I mentioned in the previous blog that there is a limousine bus for moving from New Chitose Airport to Sapporo city, but if you stay at this Susukino such as Dormy Inn PREMIUM Sapporo, around Odori Station, it will come to Susukino by limousine bus It may also be an ant.
You can come without getting wet by coming through a covered shopping street called Tanukikoji.
The exterior of Dormy Inn PREMIUM Sapporo is full of wood and has a lodge-like structure.
I ate dinner, so check-in was a little late.
Check in now!
Done Check-in!
I completed check-in and entered the room.
Dormy Inn has stayed at Dormy Inn Premium Kitahama, but there seems to be a concept that you want to feel like you are in your own room, and there are doors in the washbasin and bedroom.
There is a bedroom behind this door.
I thought that the room itself was a little larger in Kitahama, but
The beds are double and large enough to sleep in one or two people.
The area is about 16 square meters.
The bedside has an air conditioner remote control, an electric switch, and a USB charging port, so it's convenient because you can operate everything by hand.
The table is equipped with a LAN cable and a set of charging cables.
There is also free water, which is very helpful.
Also, there was an indoor wear that was always on the Dormy Inn PREMIUM.
Since it has a large public bath, it is helpful to have indoor clothes.
I am happy that the top and bottom are separated and the bottom is pants style.
It's also nice to have a pocket.
We did not use this time, but there is a massage service on site.
It wasn't that expensive, so it's a good idea to go for a massage in your room wear.
Relax in the big bathtub
The way to spend the night here is fixed, and we will finish the bath in the large communal bath by 23:00.
The dressing room is reasonably large and has a washing machine, but Kitahama has more space overall.
The public bath was quite crowded.
As expected, I could not take a picture of the public bath, so I will introduce the image from the hotel's HP.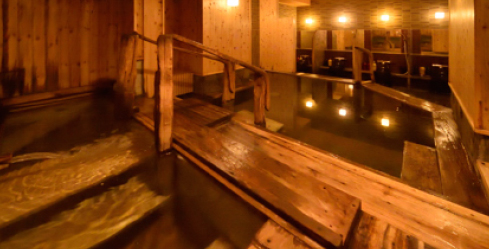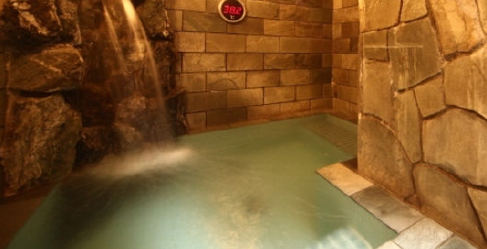 The indoor bath is a little hotter at 41-42 degrees. The outdoor bath was at 38.5 degrees so that you could enter slowly.
I don't think it's a natural hot spring, but I'm glad it's just immersed in a big bath.
After taking a bath, you can use your computer in the break room, read comics, and watch TV.
I wrote it in the last review of Kitahama, but you can take this manga back to your room and read it in your room.
By the way, I took a bath and was refreshed, so I was a little hungry.
At Dormy Inn PREMIUM Sapporo, Nakisoba will be served for free from 21:30 to 23:00.
I will also give you crying soba at night.
Get off to the first floor and head to the cafeteria.
Although it was past 22:00, it was quite crowded with people asking for barking noodles at night.
There were many Chinese tourists.
It's an ordinary ramen, but I'm glad that warm food fills my stomach.
I'm full, so I'm ready for tomorrow!
All-you-can-eat seafood bowl at breakfast
The best selling point of Dormy Inn Premium Sapporo is breakfast.
You can enjoy as many seafood bowls as you like, using plenty of Hokkaido seafood.
As expected, breakfast seems to be popular, and I tried to get off at about 8 o'clock with a little time difference, but it was crowded.
(You can see the crowded situation of the bathhouse and breakfast hall on your own TV)
I was told to wait for about 15 minutes, so once I returned to the room and waited, the telephone in the hall purposely let me know that there was an empty seat.
There are many kinds of breakfast, so I was wondering what to eat.
My seafood bowl looks like this.
The salmon roe is a little conservative.
I forgot to take a picture, but the dessert was quite substantial such as bite cake and mango.
There were soft cutlet soft drinks that are famous in Hokkaido, so it was delicious.
Summary of staying at Dormy Inn Premium Sapporo
Like the Dormy Inn Premium Kitahama, the Dormy Inn Premium Sapporo also had a large communal bath and night crying soba, which was very appreciated.
There was an impression that the area of the hall was slightly wider in Kitahama.
→ I am writing an accommodation review for Hotel review of Kitahama Dormy Inn in Osaka!  (Sorry under translation)
Please refer to it.
I was hoping that everywhere Hokkaido is wide, so I was a little surprised (although it was a selfish imagination).
In the case of Kitahama, there was a drink service at night, so I could have a coffee at night, but in Sapporo, the free coffee service was over by the end of night barking.
The bath was a little small.
However, I was overwhelmed by the large number of breakfast items and the volume that I had to supplement.
It is highly evaluated that it is easily accessible from Sapporo Station.
As mentioned above, if you want to go around Sapporo city for various sightseeing, we recommend going around Odori Station.
This hotel was convenient to move on the subway as it was within walking distance to Odori station.
If you prefer a cheaper place, there is Dormy Inn ANNEX across from the Dormy Inn Premium Sapporo.
ANNEX has to come to PREMIUM for the night crying soba and breakfast, but it seems that the price setting is several thousand yen cheaper than Dormiin PREMIUM Sapporo.
(The room seems to be a little smaller than PREMIUM)
But both are good.
There is no doubt that this is an inn you would like to stay again when you come to Sapporo!
I will come again!
↓↓↓Let's check hotel availability of Dormy inn Premium Sapporo!↓↓↓
Room availability