Just opened on March 15, 2022
This time, I stayed at the newly opened "Oyado Nono Sendai" in Sendai.
I have stayed at other Nono at Kyoritsu Resort, so I knew the atmosphere and amenities.
Last time, I stayed at Nono in Kyoto just after it opened.
For that reason, I decided to stay here this time to fully enjoy the shiny interior that just opened in March 2022.
Related Article: Casual Onsen Hotel "Kyoto Nono Kyoto 7jyou" with hotsprings!
When I stayed in Kyoto, I made a reservation from the official website, but this time I made a reservation through Jalan because the expiration date of the Jalan points was approaching.
I'm planning to go around Tohoku this time, and spend the first night in Tohoku in Nono.
12 minutes walk from Sendai Station
Nono in Sendai is 12 minutes on foot from Sendai Station, but you can walk halfway through the underground passage, so it's a 5-minute walk from the nearest exit "North Exit 6".
Nono in Sendai is 12 minutes on foot from Sendai Station, but you can walk halfway through the underground passage, so it's a 5-minute walk from the nearest exit "North Exit 6".
Let's check-in!
Arrival time is around 16:00.
Check-in time is from 15:00, so you can check in anytime.
The appearance looks like this, and the shape is the same as a general rental apartment, but a little Japanese flavor is added.
Maybe it was originally an apartment building that was converted into a hotel.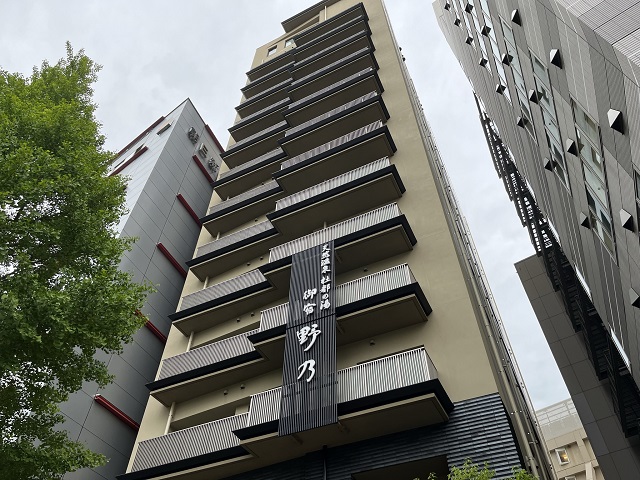 The entrance has an atmosphere of a noren and a small Japanese garden, so you can immerse yourself in the feeling of being in a Japanese-style inn.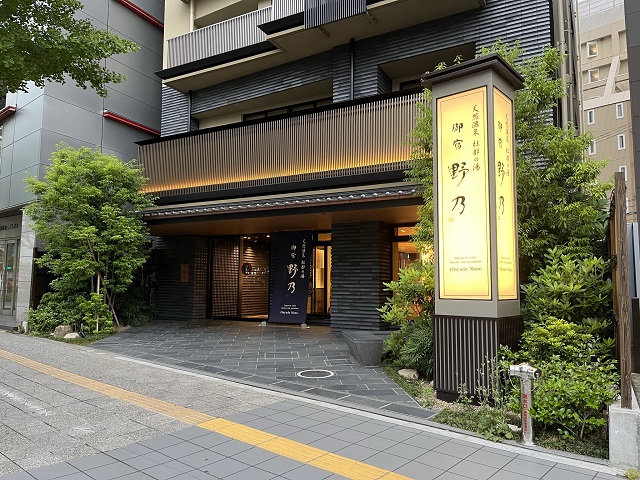 Nono imitates the style of a Japanese-style inn, so you take off your shoes at the entrance and put them in a locker.
She uses tatami mats in the hall, so she wears bare feet, socks, and indoor slippers.
The check-in staff will also welcome you in a uniform similar to that of a ryokan's waiter, in order to create a Japanese atmosphere.
After checking in, pick up the necessary amenities from the amenity stand.
I didn't use it, but at other Nono's you can have a wet towel service and a welcome drink bar with coffee, so I think this facility has a similar service.
If you are traveling alone, I recommend the "universal room".
Now, take the elevator to your room.
The entire building is covered with tatami mats, and the corridors are also like this, giving you a Japanese atmosphere and calming down.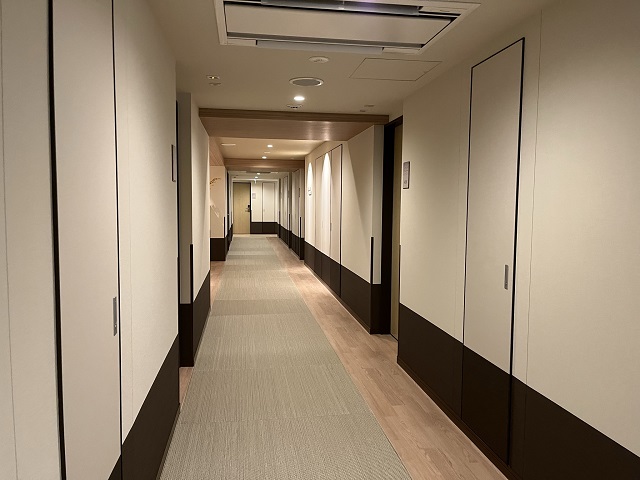 Since I am traveling alone this time, I booked a universal room.
It will be a room on the 4th floor.
The room size is about 18 square meters.
It's a decent size.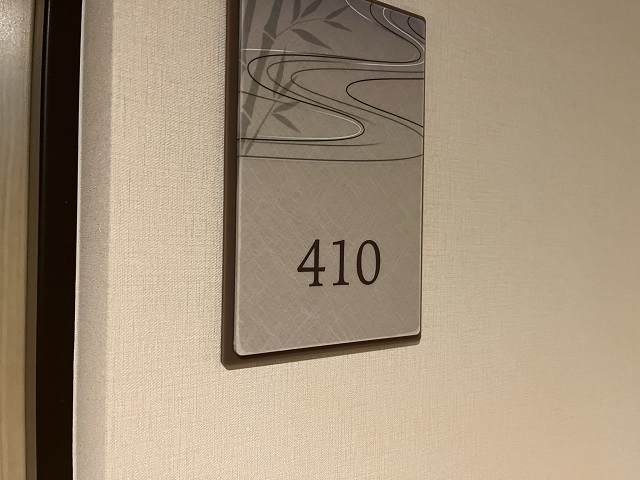 When you enter the room, there is a spacious living room and washbasin space, where you can put your luggage and jackets and hang your clothes.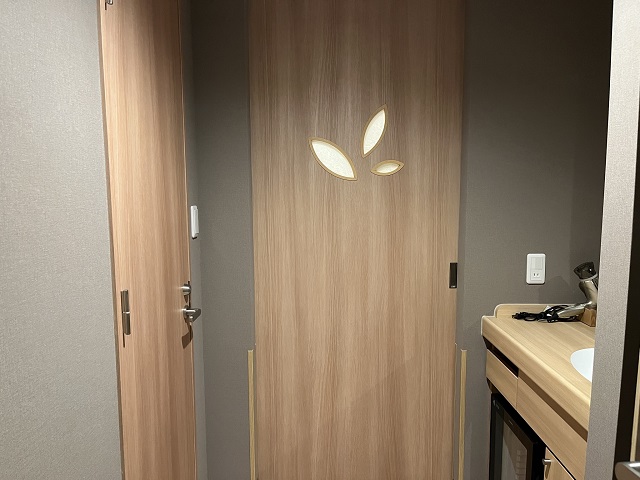 It is characteristic that the washbasin is independent and that it is separated from the bedroom by a door.
Although not shown in the photo, there is also a hanger next to the washbasin.
The indoor clothes are also hung here.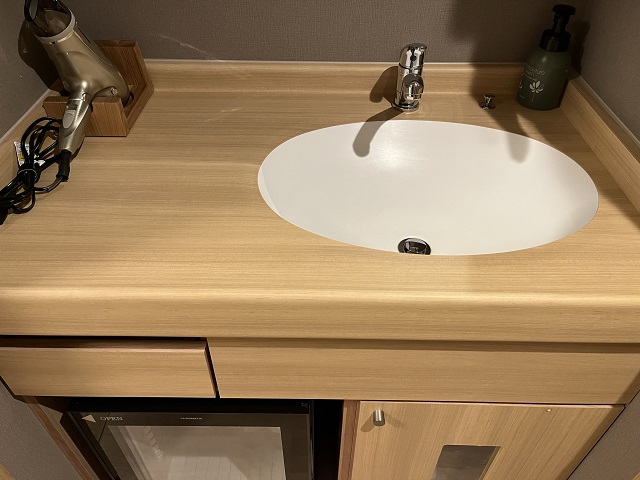 The bedroom part looks like this.
It will be behind the door next to the washbasin.
The bed is double size, so it's enough space for one person.
The bed is made by Serta, and the size is 1,400cm x 1,950cm.
Probably two people can sleep on the bed.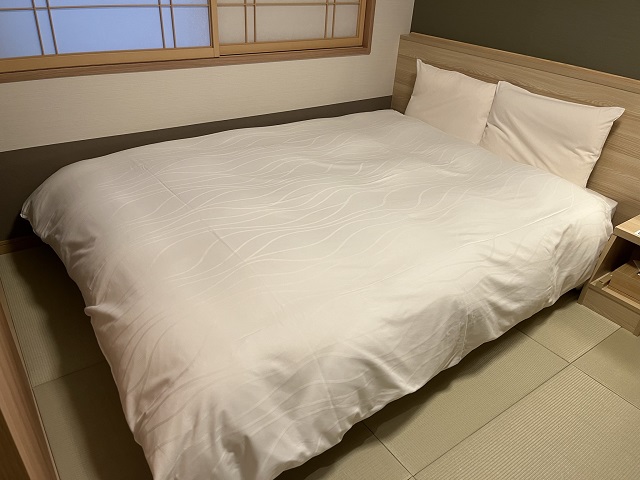 There is also a compact TV space, a tatami mat seat and a small desk.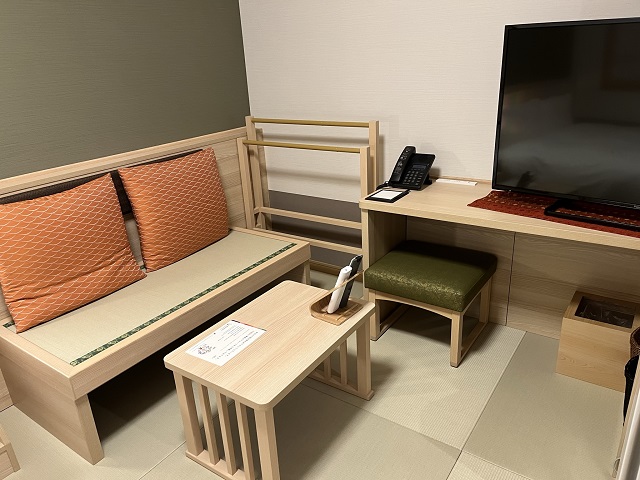 The room was also equipped with an air purifier, which is appreciated at this time of year.
The TV is also quite large.
You can feel the depth of the room by leaving the door open until you go to bed.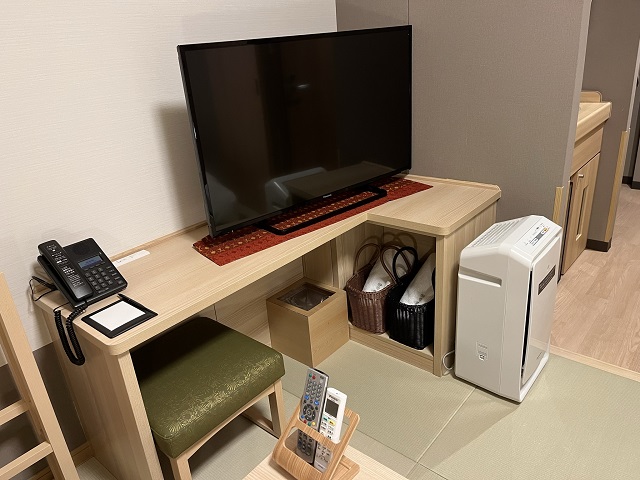 The windows have imitation shoji doors.
It plays a role in creating a Japanese-style atmosphere.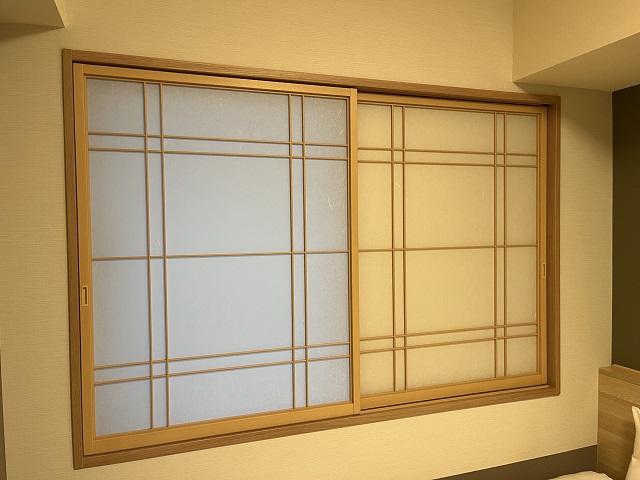 Basically, Dormy Inn affiliated hotels can't expect much from the exterior.
If you want to see the disappointing scenery, it might be better to keep the windows closed and block the exterior with shoji doors.
The indoor wear is a loose upper and lower separate type.
It's my personal favorite loungewear because it doesn't cover my stomach when I'm sleeping.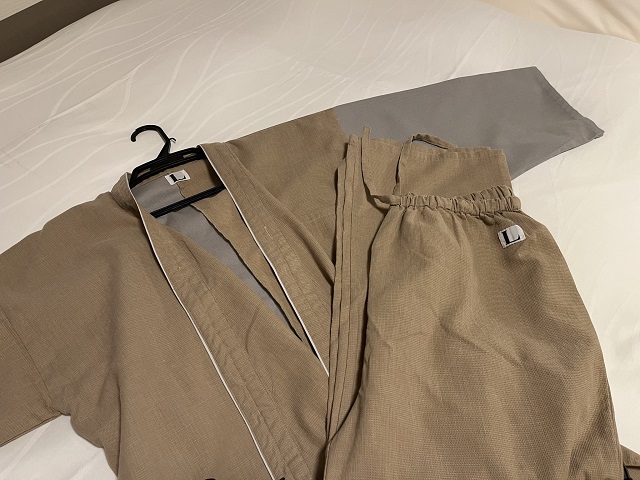 And the restroom and shower are like this.
It's still new, so it's shiny and clean.
The shower is a compact type of half tatami mat size.
There is basically a large public bath, so there is no problem.
In the summer, it's convenient to have a simple shower in the room so you can wash off your sweat quickly.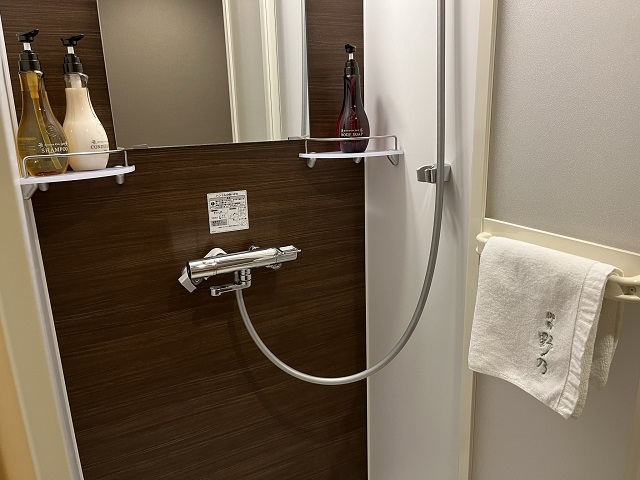 The mini-refrigerator under the washbasin had cold fruit and water.
I'm really happy with the thoughtfulness of the fruit in the service.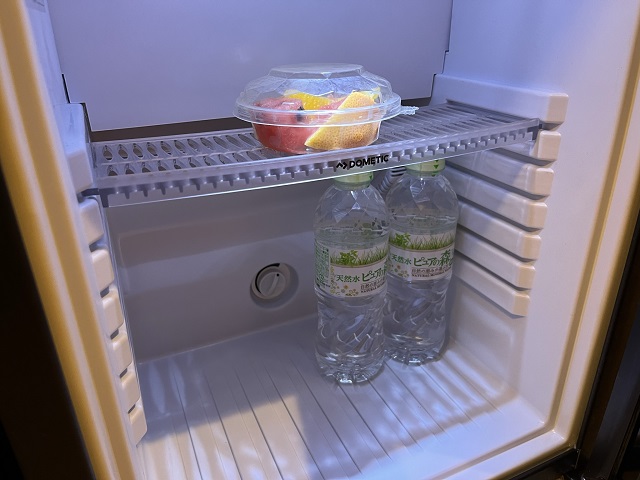 Soothe away the fatigue of your trip in the public bath
Sendai Nono's public bath is located on the top floor, the 14th floor.
There is a bath set in the room, so you can enjoy the natural hot spring as soon as you go to the large public bath with the bath set in your loungewear.
Ladies, don't forget to bring the key code for the public bath.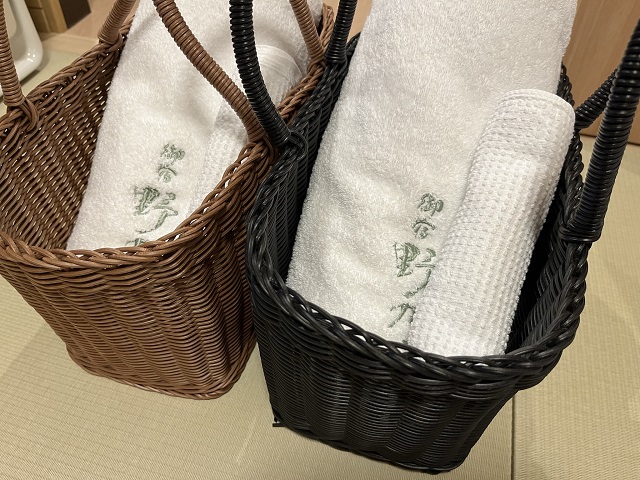 Nono in Sendai is "Morito no Yu".
Sendai City was originally called "Mori no Miyako".
About 400 years ago, Lord Date Masamune advised his vassals to plant trees with fruits such as chestnuts, plums, and persimmons, as well as bamboo, on the grounds of their mansion in preparation for famine. rice field.
It is said that he also encouraged the planting of cedar trees on the boundary between neighbors.
Due to the trees and forests that were created in this way, the entire city of Sendai has long been surrounded by greenery.
I think it was named Morito no Yu because of this historical background.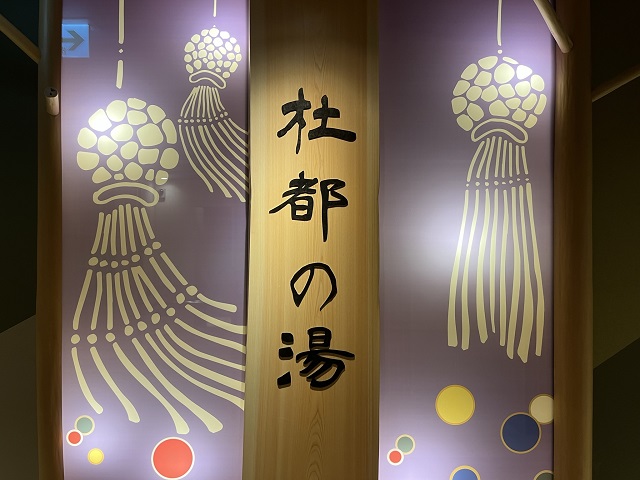 The public bath has an indoor bath and an open-air bath.
This is introduced from Sendai Nono's HP.
There is also a sauna floor in the public bath.
It is a facility you want to use for a sauna that you want to be prepared with a sauna and a hot spring.
There is also a coin laundry on the same floor as the public bath, which is a great facility for long-stay business users and long-term travelers.
From 15:00 to 25:00, ice cream is provided free of charge as a post-bathing service.
Cold ice cream after taking a bath is one of the pleasures.
During the morning hours from 05:00 to 10:00, a free lactic acid beverage is provided as a service after bathing, so this is also recommended for those who use the morning bath.
Also, don't forget Sendai Nono's recommended service Yonaki soba.
Sendai Nono has a restaurant on the second floor, and half-size soy sauce ramen is served free of charge every day from 21:30 to 23:00.
Breakfast buffet full of local dishes
One of the pleasures of staying at Nono in Sendai is this breakfast.
You can arrange salmon roe rice freely by yourself.
There were many small bowls of the ground, and it was delicious no matter which one I ate.
There was also tempura and fried chicken.
It was morning, so I kept it a little low-key.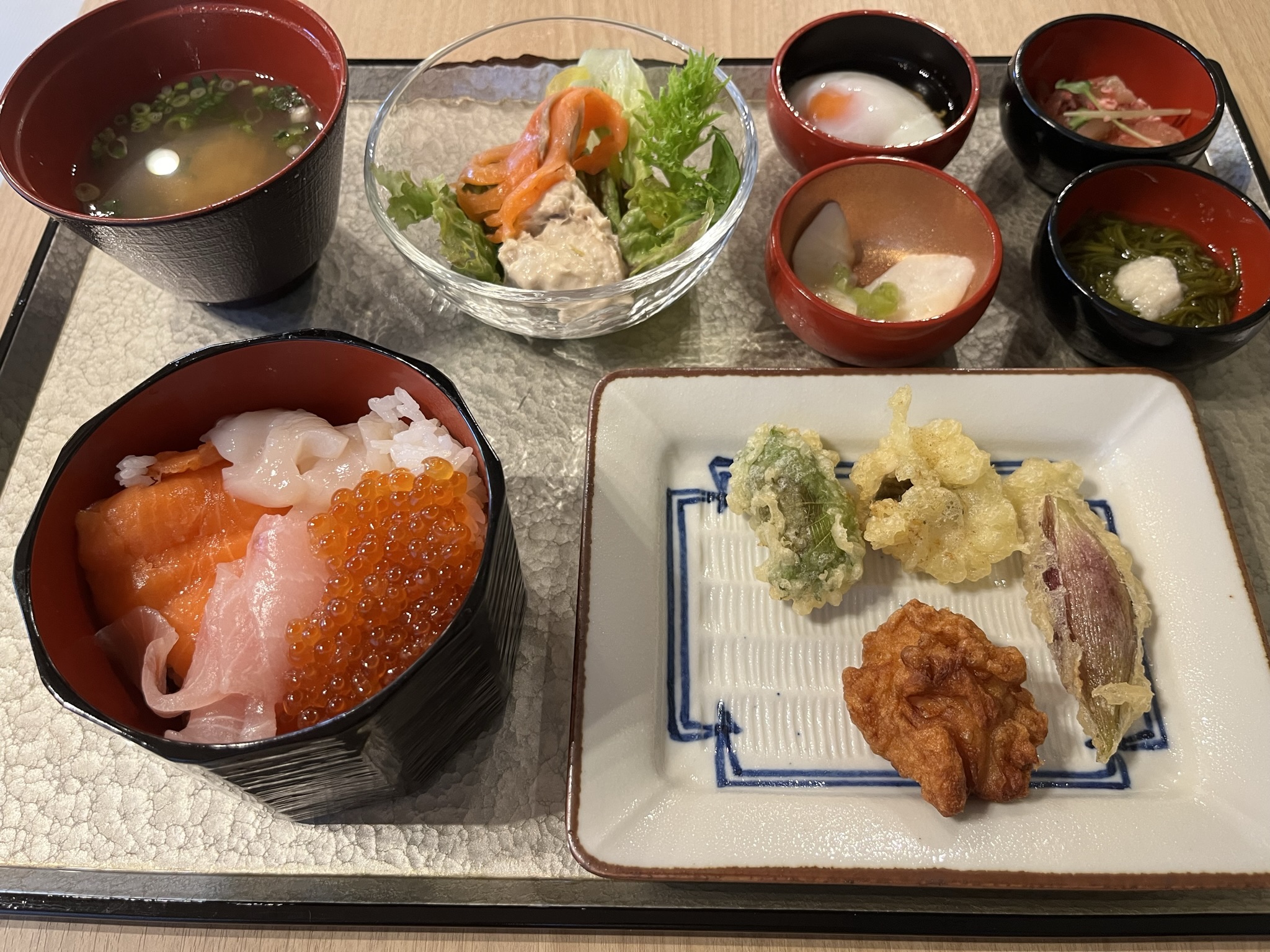 There may be no plans that include breakfast on the official website, but if you tell them you want to have breakfast at the time of your stay, you can have it without any problems.
2,300 yen for adults, 1,100 yen for children aged 3 to elementary school age, and free for children under 2 years old.
For those who want to enjoy alcohol, a plan with lounge service is recommended.
During my stay, I ate dinner outside and drank enough alcohol at that time, so I didn't use it, but there is a plan called "Lounge Service".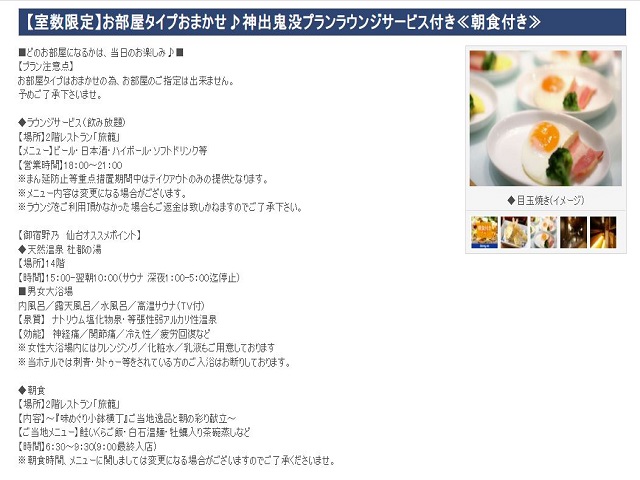 You can choose a plan from the official website, but if you add the lounge service plan, you can enjoy highball, shochu, juice, etc. for free at the restaurant on the 2nd floor from 18:00 to 21:00.
If you want to enjoy Nono after checking in, you can combine the lounge service and sauna plan to enjoy the sauna, then use the lounge service until 21:00 to enjoy alcohol, and then from 21:30. You can fill your stomach and go to sleep with Yonaki soba.
Impressions of staying at Nono in Sendai
I was able to spend a relaxing time with the quality and hospitality that I expected.
It's within walking distance from Sendai Station, and it's nice to have various free services.
Of course, the breakfast was delicious, and I was satisfied with my heart, body and stomach.
As time goes on, I feel that people are gradually returning to the city, and I feel that the city has regained its vitality.
Sendai is also close to Tokyo, so it seems that Nono's new opening will increase the number of opportunities to visit.
There is also a dormy inn Annex near Nono, so I want to use them depending on my mood and budget.
Depending on the date, there are days when it costs less than 5,000 yen for a room without meals, so I would like to visit again for a cheaper day.
Jalan also offers discount plans for residents of the six Tohoku prefectures and Hokkaido, so please look for them.
Here is the plan I used.
【大浴場×サウナでととのう!】ドーミーインスタンダードプラン!!ラウンジ利用なし≪朝食付き≫