I stayed at Kyoto Nono Hotel with Natural Onsen (Hotsprings) called 天然温泉 蓮花の湯 御宿 野乃京都七条
Nono is one of the Japanese casual onsen hotel I like and I usually stay at. This hotel Nono is a group hotel managed by Kyoritsu Resourt.
This hotel is a business hotel, but it has an natural hotsprings.
This hotel is not a Ryokan (usually you need to stay with at least 2 people with dinner and breakfast), but you can feel an atomosphere of Onsen.
If you want to try Onsen, but kinda hesitate to stay at Ryokan with a Tatami room, you can first try this Nono in Kyoto.
I have stayed at another Nono in Toyama before. I have blog about it. If you are interested, you can check my blog first.
Related Articles:畳が心地いい富山「天然温泉剱の湯 御宿 野乃」に宿泊
I said that this Nono hotel is a group hotel managedby Kyoritsu Resort.
Kyoritsu Resort's another hotel brand is called Dormy Inn.
This Nono is similar to Dormy Inn.
Their policy is that they prepare a room just like you come home.
So you can feel very relaxed.
Their breakfast is very gourgeous and big volume!
Plus, they have a small night snacks and lots of free sweets!
You should try all of them.
Kyoto Nono in Kyoto 7jyou 天然温泉 蓮花の湯 御宿 野乃京都七条 is only 5 minute walk from Kyoto Station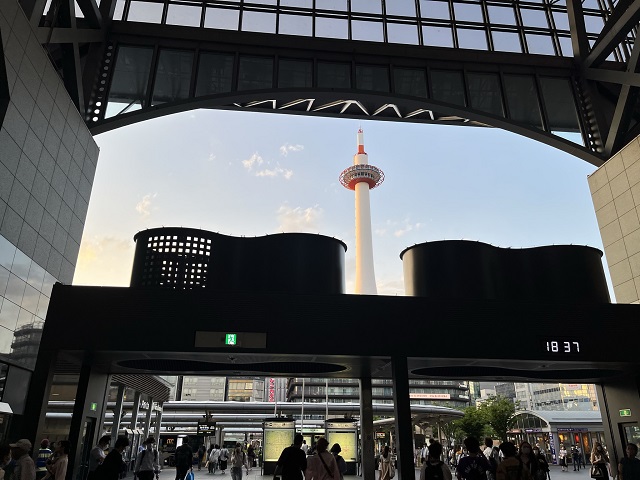 When I first got off at Kyoto station, you can see Kyoto Tower in front of you.
You face toward Kyoto Tower and you walk 45 degree North-east direction, you can find Nono Kyoto 7jyou.
I think this is quite a nice location.
Here is the outlook of Nono Kyoto 7jyou.
It's quite new and it looks like a big condo.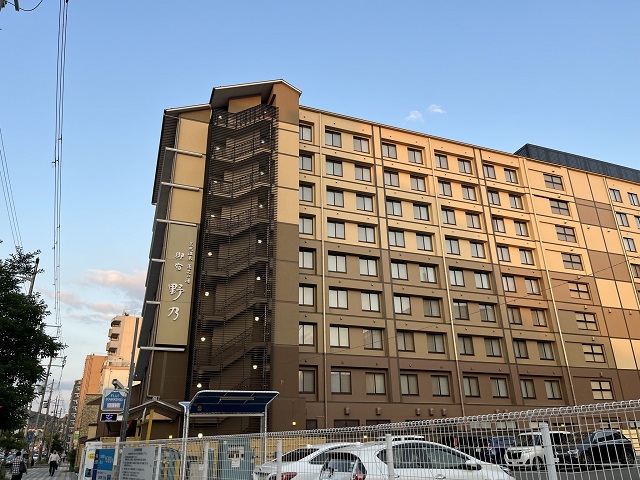 This is the Japanese style entrance.
You can feel that you came to Kyoto, old city.
I arrived at the hotel after 18:00.
I will enter and do check-in.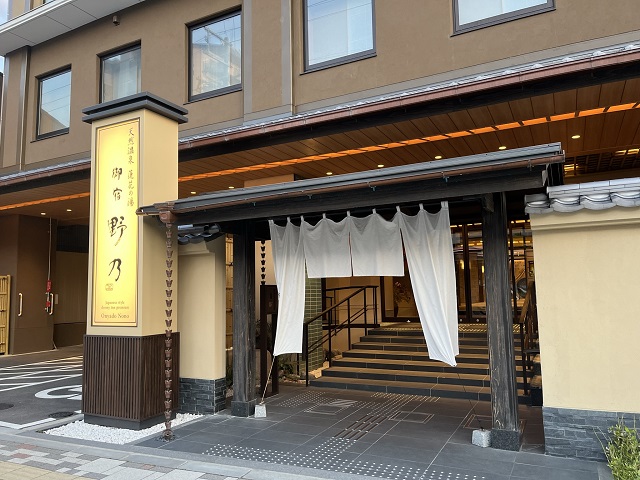 At the entrance, you need to take off your shoes becuase this is the traditional Japanese style.
You take your shoes and put it into a locker at the entrance.
You need to give its key to the receptionist for check-in.
I made a reservation via Kyoritsu Resort's official site, so they didn't have a plan with breakfast.
I wanted to try their breakfast, so I asked them during check-in.
"You can decide if you want to have a breakfast tomorrow morning. If you feel like eating it tomorrow, you can just show up to the cafeteria and tell them you want to eat breakfast. That's it!"
It was very flexibile.
Becuase when I stayed at another Nono in Ueno, they asked me to decide if I want to eat breakfast at my check-in.
I wanted to have some time to decide, but they sounded that I have no choice.
It was kind of rushing.
You can have a welcome Oshibori (a wet hand towel. It is hot in Winter, and it is cold in Summer) at the corner of Cafeteria.
It will fresh your mind, so I recommned you use Oshibori.
If you don't speak Japanese, there are some staff who can speak English, so don't worry.
At the same corner, you can have a welcome drink.
I had a hot coffee.
I took some time at the lobby, drinking a welcome coffee.
This Japanese style lobby makes me feel good.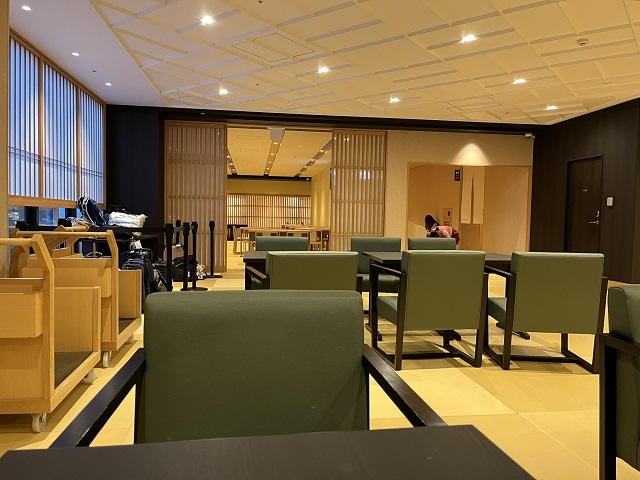 At the check-in, they gave me a room card.
At the elevator, you swipe your room card so that you can press the floor you want to go.
Here is the picture of hallway.
Japanese style flower arrangement is very beautiful!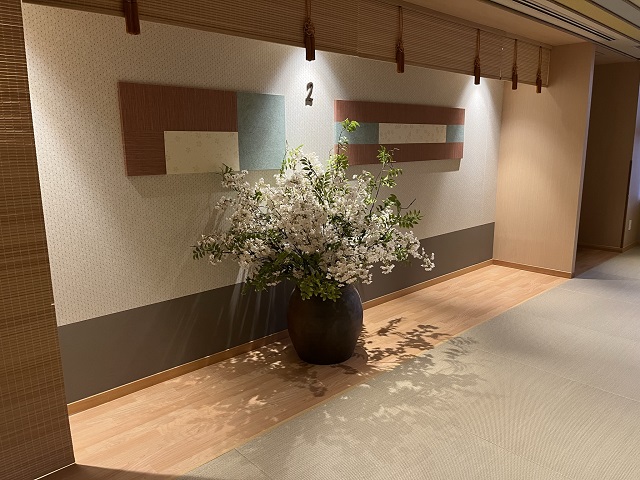 As you can see, the inside of Nono is all Tatami floor.
You can stay with your socks on, bear foot, or you can ask for slippers.
This is my room for tonight
This time, it was only myself, so I reserved a double room.
This Nono is categorized as a business hotel, so don't expect a nice view from your room.
My room is about 16 sq meters.
If it is only 1 person, this room size is good enough.
It has a big bed, a single chair and a small desk.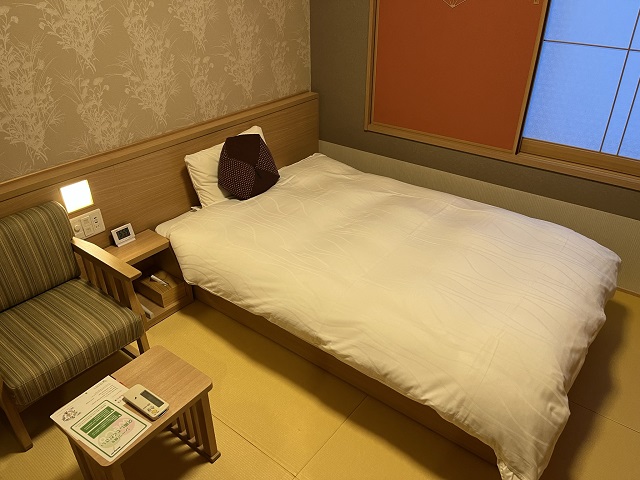 There is a TV in the room, and it is small, but you can have a low desk to do some PC work, if you want.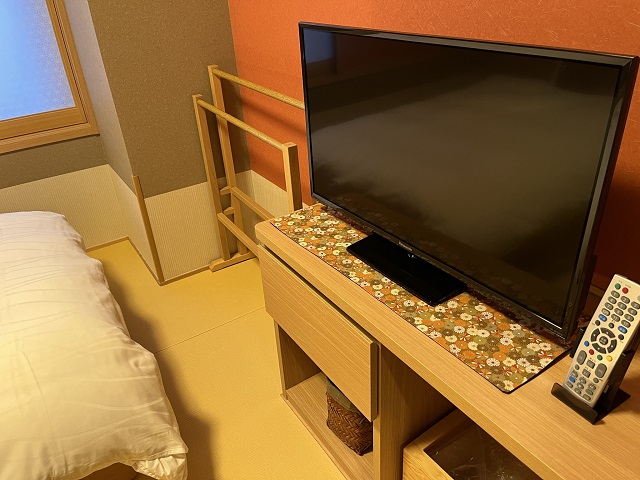 And this is the room wear.
I don't like Yukata, Japanese style night wear because it will be loosen if I move.
This is one of the reason I like Nono and Dormy Inn.
All Nono and Dormy Inn has a room wear so you don't need to take your night wear with you.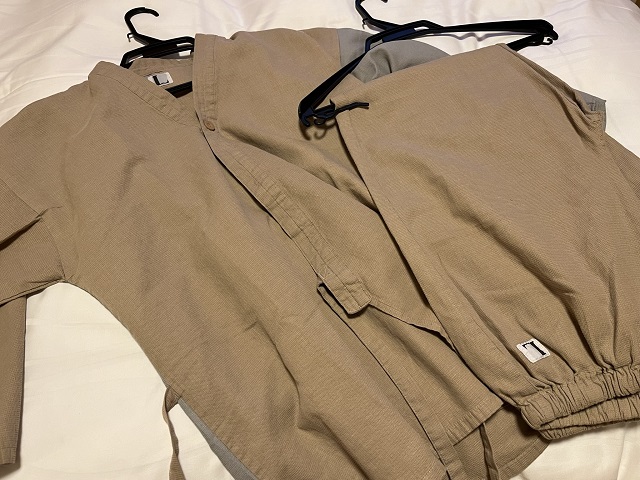 Plus, they prepare a hotspring set for you.
In the room, they prepare a bath towel, a face towel, toothbrush, etc.
All you need for hotsprings are in this bag.
So, you can take this Hotspring set to the Hotsprings, you are all set.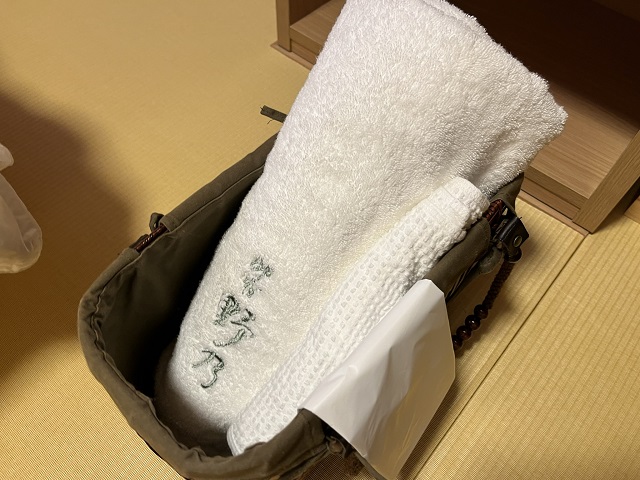 It's too bad, but if you feel uncomfortable to become naked in front of other people, don't worry.
There is a shower in the room.
It is quite new.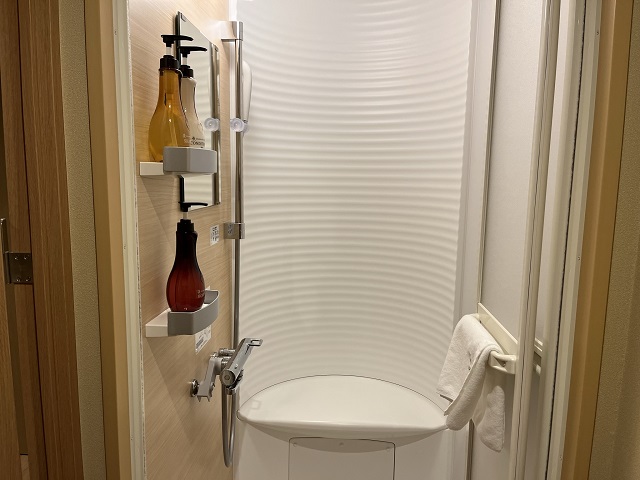 Maybe I made a reservation from their official site, when I checked into my room, there was a free fruit and a free bottled water.
It is a small courtesy, but I really like it.
Now I go to try Onsen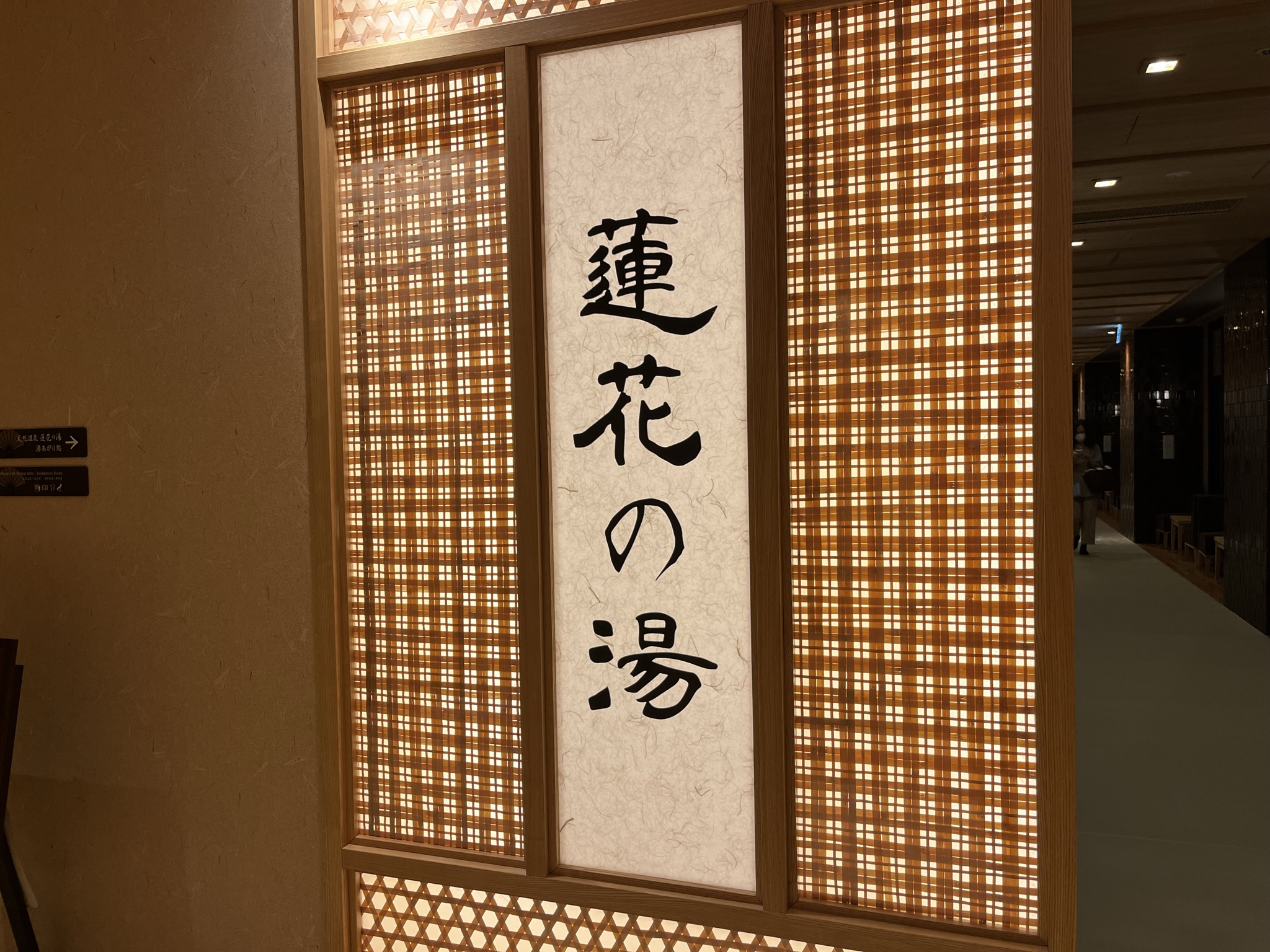 Onsen is a big bathtub filled with a natural onsen water.
Its water is coming from more than 1000meter below the ground, and it is good for skin trouble, or if your body feels really cold, it warms you up from the center of your body so that warmness will last long.
I will change it to my room wear and go to Onsen.
Onsen is located at the first floor.
It is the same floor as a check-in lobby.
You walk this long tatami hallway to Onsen.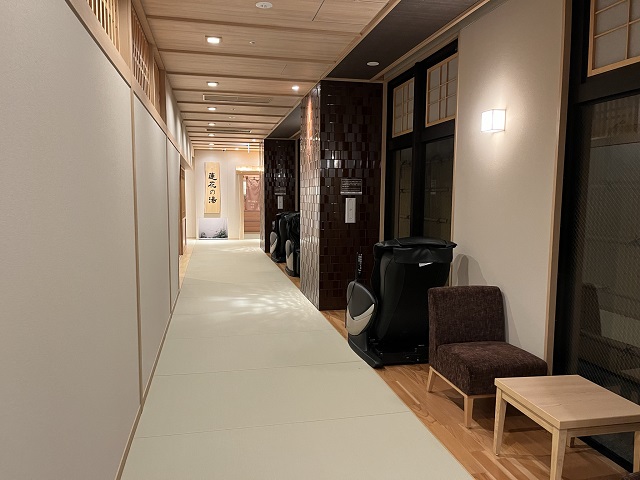 I really like this building.
It is wide and very relaxed.
You can use a free chair or a massage chair.
It is free.
Onsen is separeted by Male and Female.
If you are female, you need a pincode to enter Onsen for security, so bring your pincode.
The hotel will give you a pincode at check-in.
This is the Onsen entrance for female.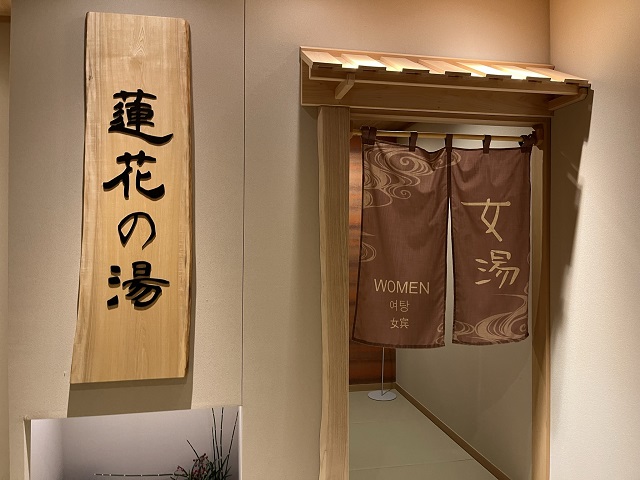 Here is the Onsen entrance for male.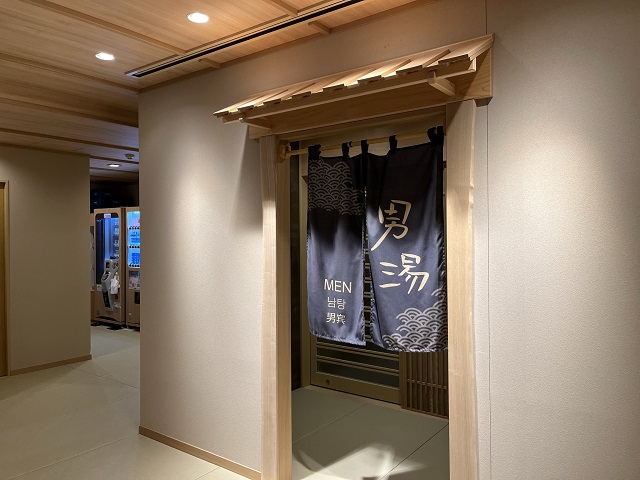 Besides Onsen entrance, there is a lundry and microwave.
I was wondering why there is a lundry for male and female.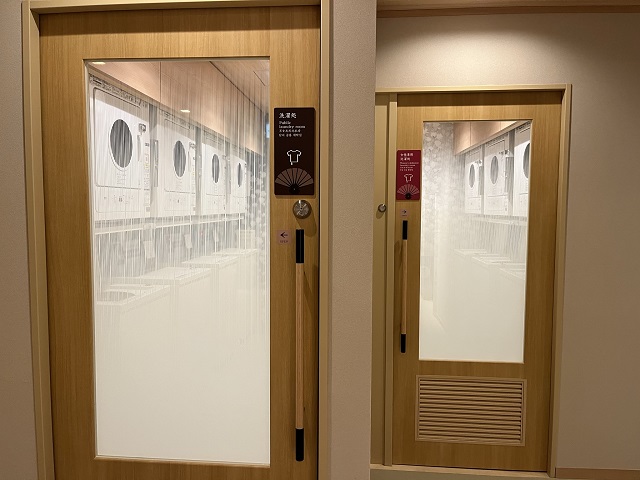 But I noticed that it is for security purposes and to care a privacy of female customers.
If you are female and use a lundry, then you go out for a while.
If you come back and a stranger was touching your underware, you feel unconfortable. Right?
There is also a bending machine.
If you want to buy some soft drinks, you can buy it in here.
It is cash only, so bring some cash.
In Japan, there is a culture that you drink milk or coffee milk at Onsen or Sentou (a casual hotsprings).
So there was a milk stand as well.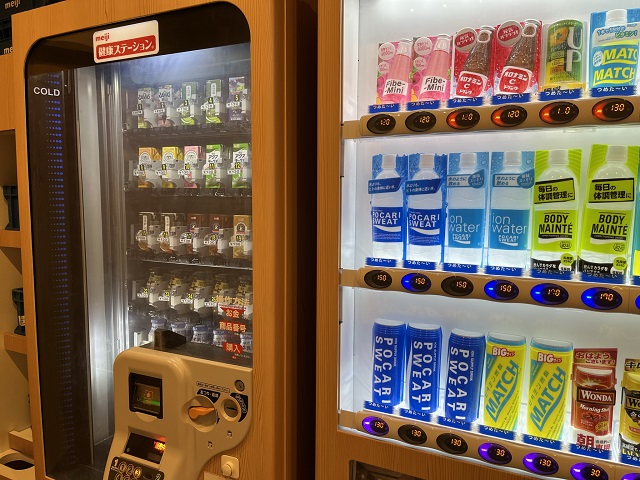 If you are interested in Hotsprings, I recommend you can check their website for a picture because I could not take a photo.
But there were 5 big bath tubs, and it was very big.
If you don't want to share a bath tub with someone else, there is a single bath tub called "Tsuboyu", so you can try.
If you like Sauna, they also have Sauna facilities.
After onsen, there is a free space called "Yuagari dokoro".
This place is for you to cool down.
At Yuagari dokoro, there is a free ice cream, so you can take it and use a free massage chair!
You can try "Yonaki soba"
Another free service of Nono and Dormy Inn is a free night noodle called "Yonaki Soba".
If you like Ramen, you can try this Yonaki soba.
They will serve free mini Ramen from 21:30~23:00 everyday for FREE!
You can go to cafeteria called "Hatago" and eat Yonaki soba.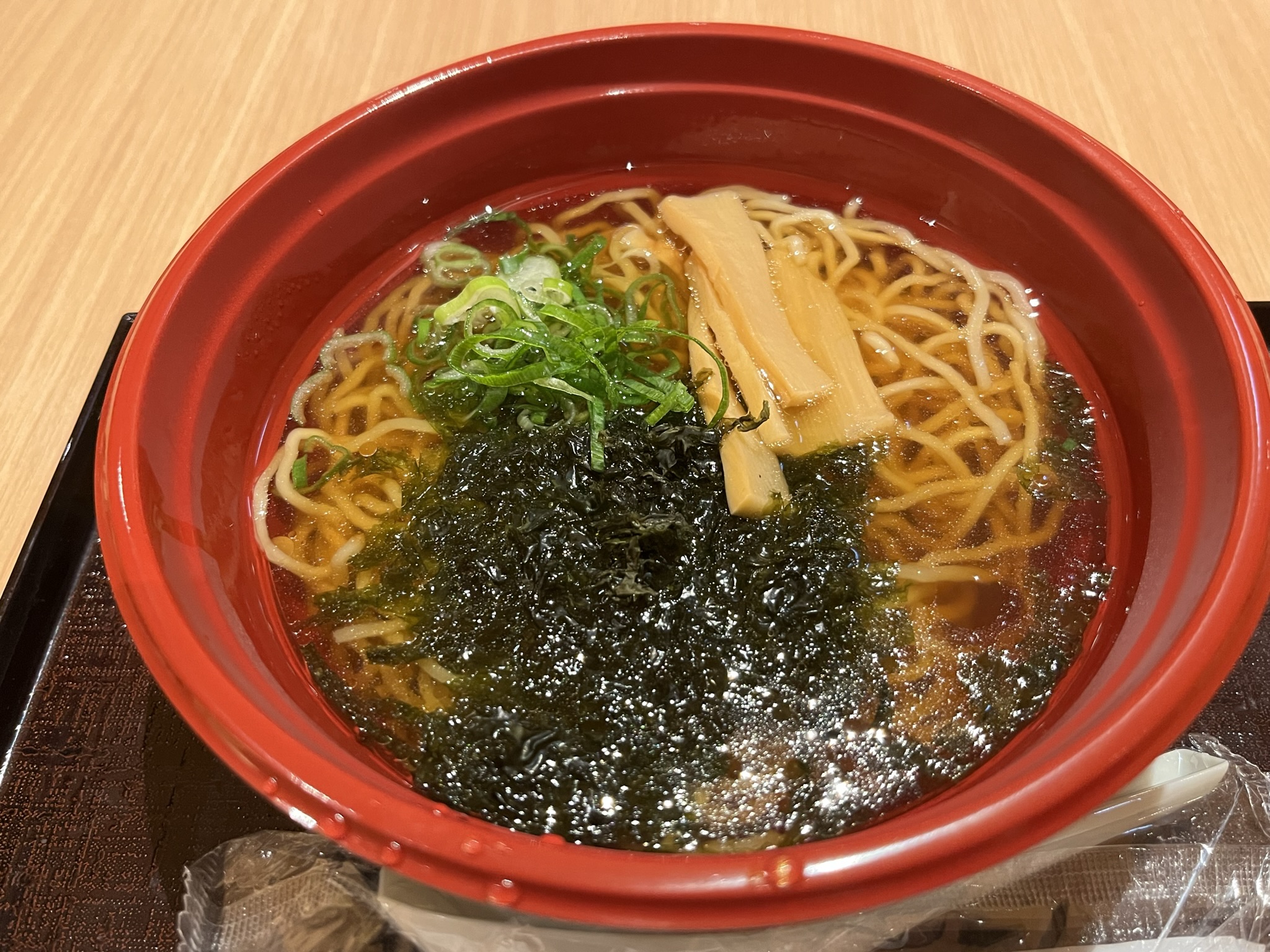 You should try their Breakfast. It is amazing!
Now that it is a time for a breakfast.
I actually woke up very early and went to sightseeing of Kiyomizu dera. 清水寺.
It was very quiet and I really liked this morning sightseeing.
They will close their breakfast at 9:00, so I came back before they close the gate of my breakfast.
I am soo hungry.
As I was instructed yesterday, I went to a frontdesk at Hatago, a breakfast area, I tell them I want to have a breakfast and my room number.
At Hatago, you can choose your seat.
There are so many tables, so you don't need to rush to take a table.
The reason I wanted to have their breakfast is because Nono and Dormy Inn usually prepare breakfast of their local food and lots of seafood.
Kyoto is popular for "Obanzai" a small dish with many kinds of appetizers.
So I picked all kinds of Obanzai.
They also have "Chawan mushi" (Japanese style salty egg custard)茶碗蒸し, Japanese style beef stew called Gyuniku-ni 牛肉煮, Tenpura 天ぷら, Nimono, cooked vegetable 煮物, Tamagoyaki, Japanese style omolette 玉子焼き, cooked fish 焼き魚, and Japanese picles お漬物.
Compared to other Nono and Dormy Inn, this Nono Kyoto has 2 or more dishes.
If you pick all of them, it will look like this.
Very gorgoues!
They are also popular for "Kaisen Don", seafood bowl.
You can put as many Ikura (salty fish eggs) as you want.
Ikura is kind of expensive, so I feel lucky!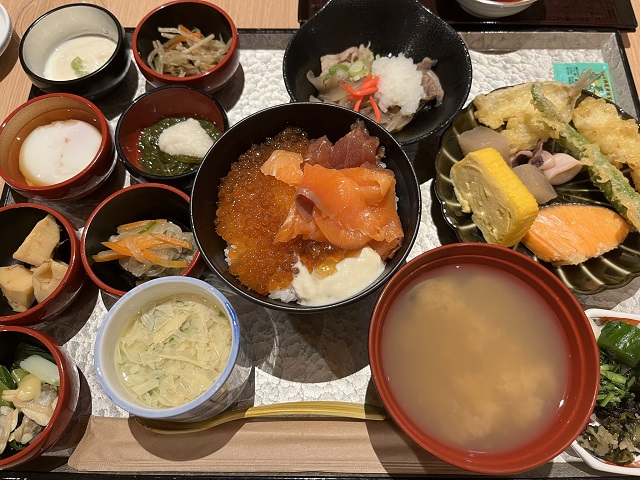 I think I put a lot of Ikura.
You can also put salmon and fresh Tuna.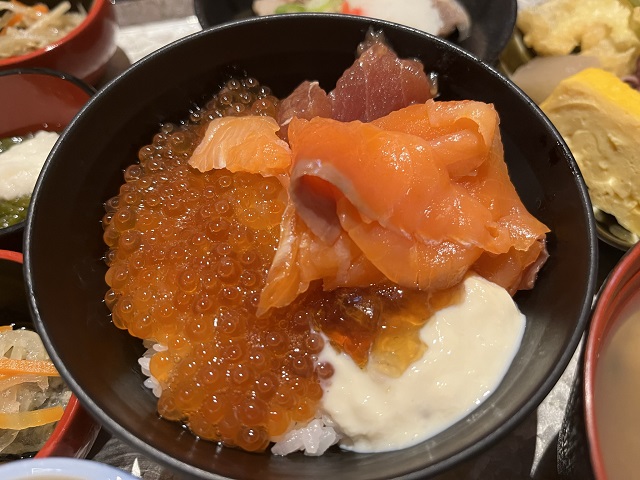 Kyoto is also popular for Tsukemono, Japanese pickles.
It is a little bit salty, but it is good with rice, so you should try it!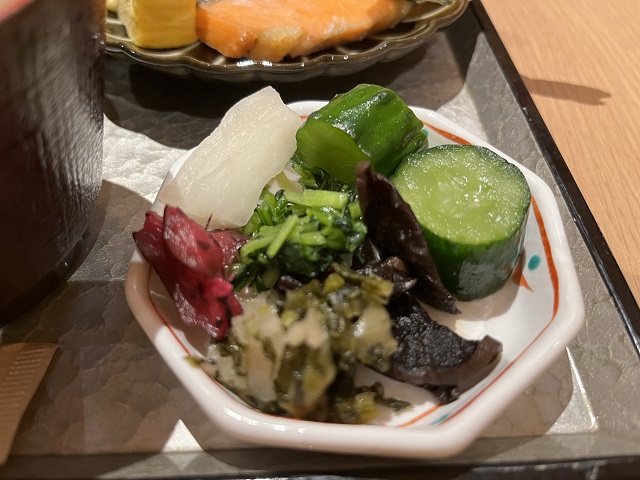 Every single Tsukemono has a different taste.
You can find your favorite Tsukemono here.
Don't forget your desert!
I think you will be very full with your big breakfast.
But don't forget to have your desert.
I was almost full, but I picked some desert from the desert section.
I also had a hot coffee.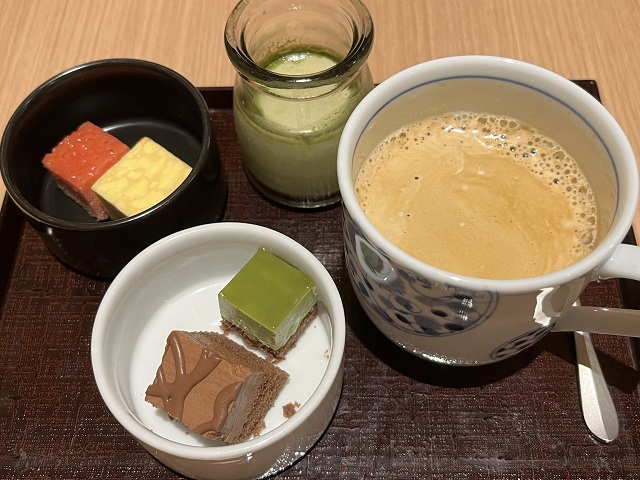 This is only some of the desert they have, but Kyoto is popular for Maccha.
So they had a Maccha pudding, Maccha cake, etc.
After enjoy your desert, you will be really full.
I really want you to try this breakfast.
My review of Kyoto Nono 7 Jyou
I really enjoyed the stay!
Since they have just opened, everything was clean and new.
The building was big, so I feel very relaxed.
You don't need to rush to find your seat.
It is a business hotel, so you cannot expect a view from your room, but it has Onsen with Tatami floor, so you can feel a kind of Japanese style hotel.
Plus, they have lots of free food service, so you will be never hungry during your stay.
It is also close to the station and lots of sightseeing spots in Kyoto.
I recommend you stay this hotel and do Kyoto sightseeing.