How can you do sightseeing in Kyoto without bumping into crowds?
This time I can stay in Kyoto only for 18 hours.
I stayed at Kyoto Nono in Nanajyo which is very comfortable, so I could spend time there being relaxed.
But I wanted to do some sightseeing, so I will introduce some sightseeing spots you can visit in such a limited time.
There are some 24-hour open Temples and Shrines in Kyoto.
As you may know already, there are some temples and shirines you can go visit any time.
I totally thought that you can go those places during day time.
It is a good information to know.
One of the places I found and I would like to recommend is "Fushimi Inari Taisha". 伏見稲荷大社.
This place is popular for lots of arches with bright orange-red color.
You can reach to Fushimi Inari Taisha by train easily.
When I arrived at Kyoto Station, it was already 18:00.
I was wondering if there is any place I can go from that time, and I searched on google.
I fould that I can go visit this Fushimi Inari Taisha after 18:00, so I decided to go.
Actually, Fushimi Inari Taisha is located at very convenient place; it is only 3 stations away from Kyoto Station if you take Nara-line from Kyoto Station.
It takes you only 6 minutes.
You get off at "Fushimi Inari" Station.
Fushimi Inari Taisha is in front of "Fushimi Inari" Station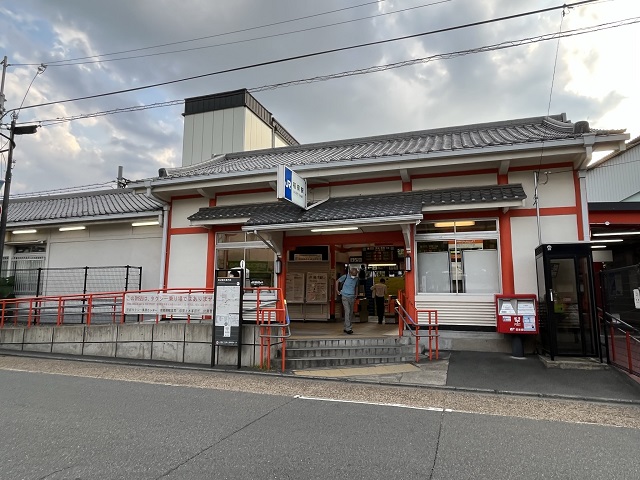 This is the Fushimi Inari Sation.
Fushimi Inari Station is a very cozy station.
There are 2 platforms, but it is very small.
The atomosphere of Fushimi Inari Station is similar to Fushimi Inari Taisha.
And this is the entrance of Fushimi Inari Taisha.
It is 0 minute walk from the station.
The last time I was here was about 15 years, but I didn't remember anything.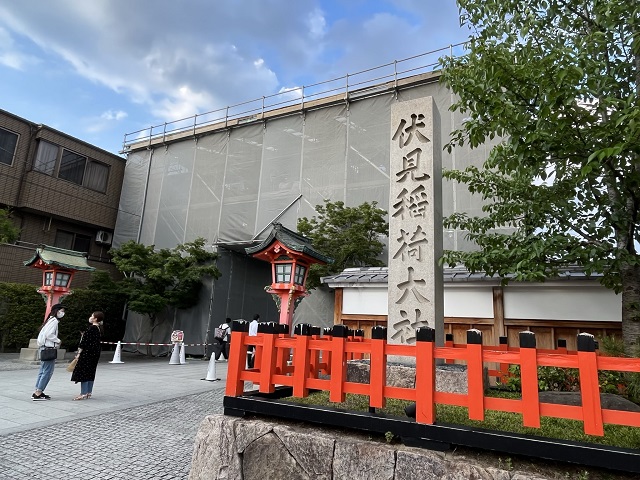 I was not the only person to visit Fushimi Inari Taishi from this early evening, but there were only a few people, so you feel relaxed.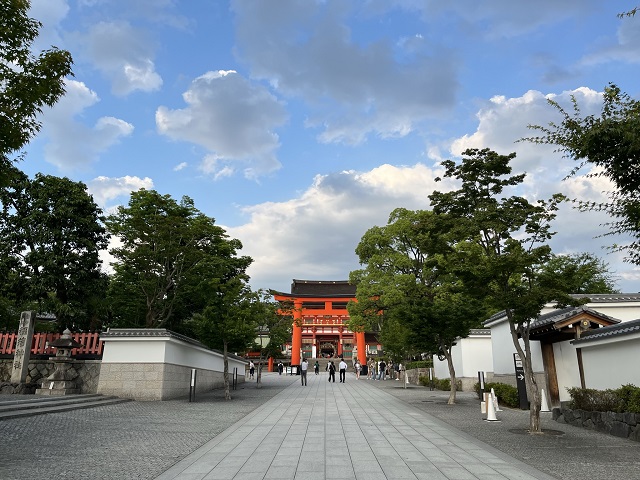 It seems that most of the people here are tourists.
A lot of people were taking picture of this arch.
Hmm, it looks beautiful!
When I went there, it was still under Covid-19 reguration to open a gate to foreigners.
So I was a little bit surprised to see some young foreigners there.
Maybe they are living in Japan.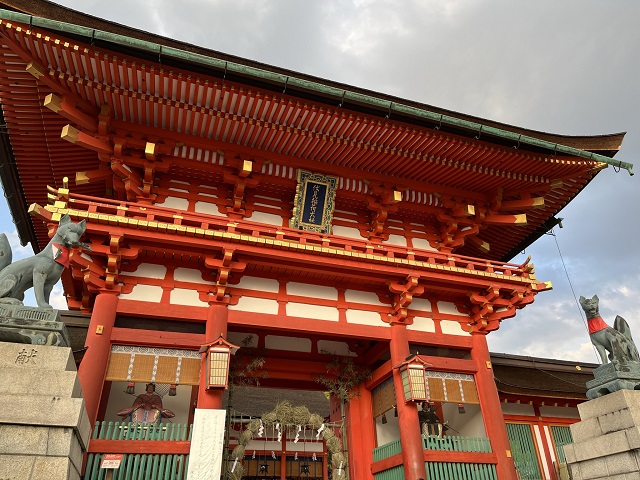 This is the first gate.
Guarding foxes are welcoming people.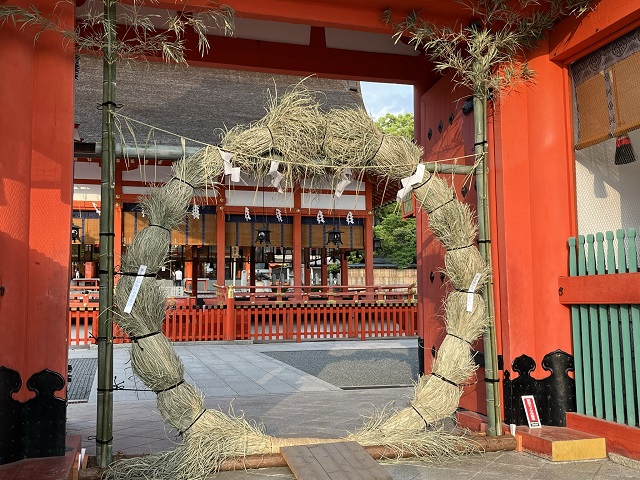 There is a big circle at the gate made with straws.
It means to let all bad fortunes from your body and keep good fortunes.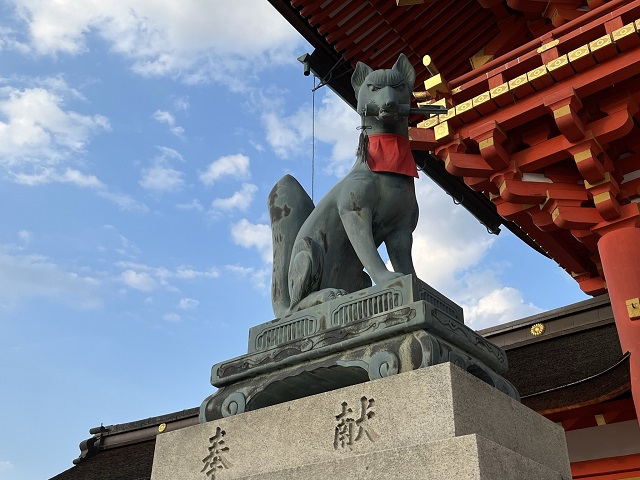 There is a building opened you can buy a fortune paper or fortune alumet during daytime.
If you want to buy those things, it is closed at this time, so I recommend you visit during daytime.
But it is very quite and calm to visit here at this time, so I really like it.
Just for your information, an Ema of Fushimi Inari is a shape of arch.
An ema is a wooden plaque that you write a wish or prayer on.
People buy one at a Shinto shrine, write a wish on it, and hang it up at the shrine so (that) the gods will find it.
It is called "Gankake Torii" in here.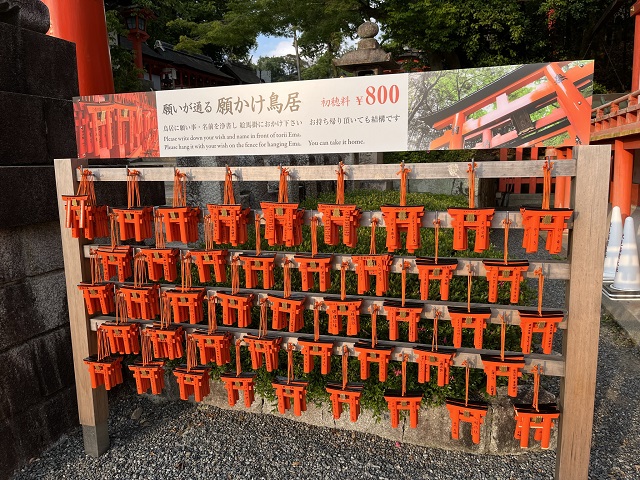 If you want to make a wish, you can come back during day time as well.
A thousand arches 千本鳥居へ
At first you should play at Fushimi Inari Taishia.
After that you walk ahead, there is a "thousand arches" called "Senbon Torii".
There is a small trail to lead you to a very small mountain, "Inari-yama" (Mount. Inari), and on the way, there are a thousand of red arches.
Here is the start.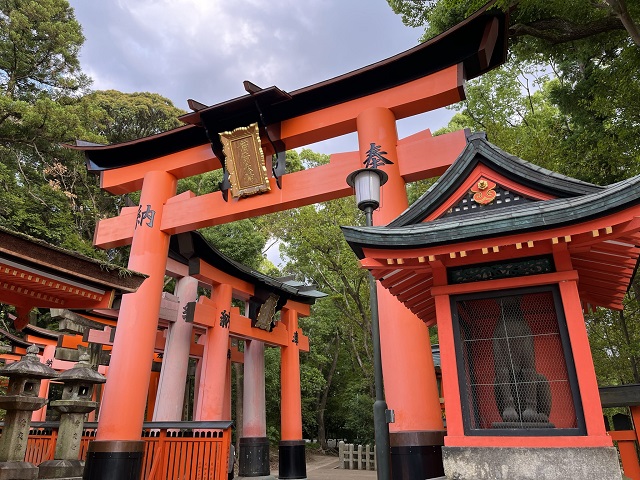 It's a big admirable arch!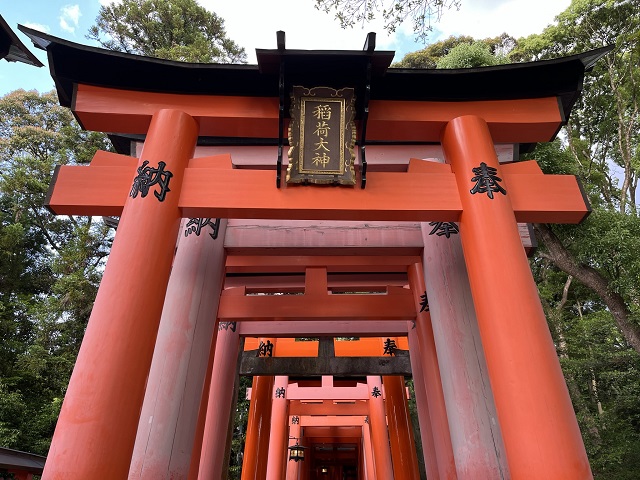 You go walk under these arches.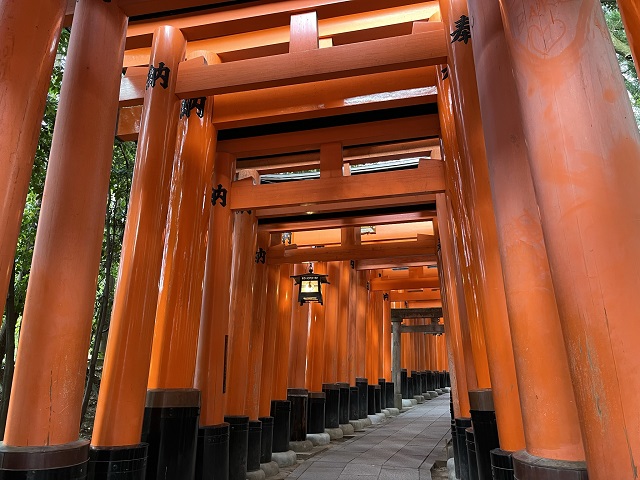 Every single arch is donated by local companes or local individuals.
Eevery arch is a simbol of pray.
A dim light is illuminating each arch.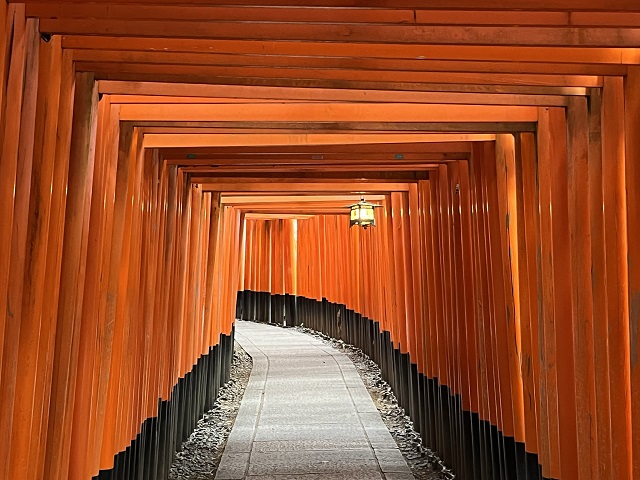 Arches are getting lower as you walk.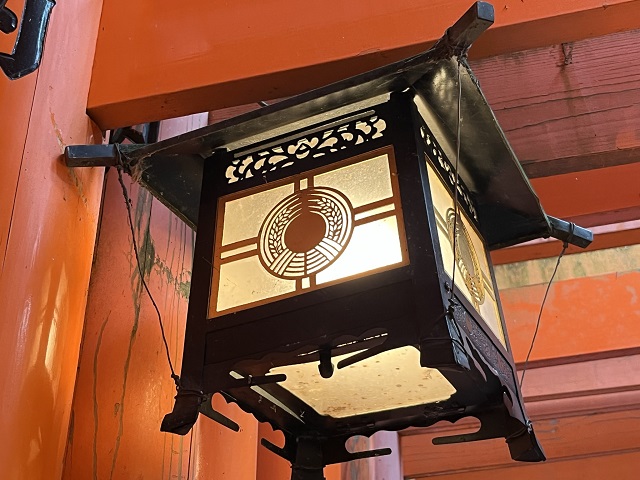 Before a perfect night comes, a light was turned on to the traditional lanthanum.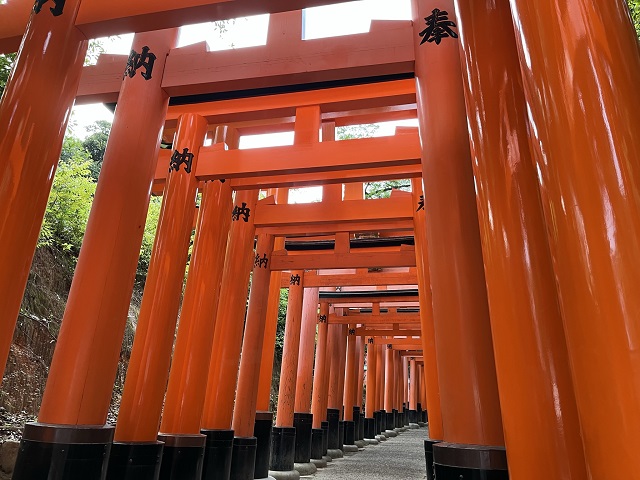 You may think "Oh there is nobody", but there actually people in front of me and behind me.
This walkway is slightly winding, so I could take a picture when people were behind arches. Haha.
After 10 or 15 minute walk, a thousand arches stops and there is a restroom.
You can continue your walk to the top of Inari Mount., but it gets a little bit hilly from here.
I think about my safety, and decided not to go further as I was alone.
So I stopped my journey here.
It will be a completely different atmosphere at night.
More misterious.
If you are visiting here with a group, you might want to try a night walk here.
Walk is one way. Way back is a different road.
On your way back, you cannot take the same way back.
A different way lead you to this nice bridge and a small garden.
I like the contrast of green trees and a red bridge.
You can feel a nature at a small garden.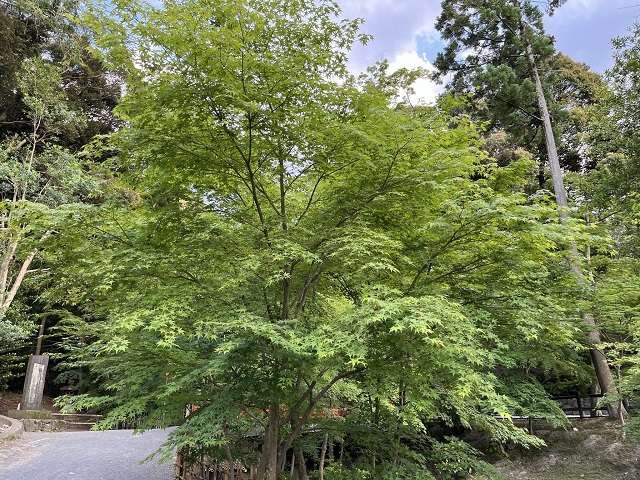 This small garden awakened my old memory.
That time, I remember I came here with a big group of friends.
We rented a bicycle and came here.
Maybe we climbed up to the top of Inari Mount.
Then on the way back, we stopped here and rest on a bench for a while.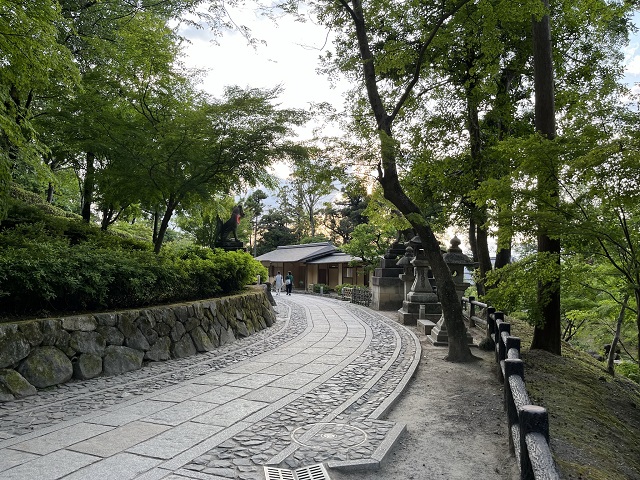 After a small garden, you can see this beautiful road.
Very beautiful Japanese garden.
In here, you can see another fox guard.
A small kitty was sleeping besides the fox guard.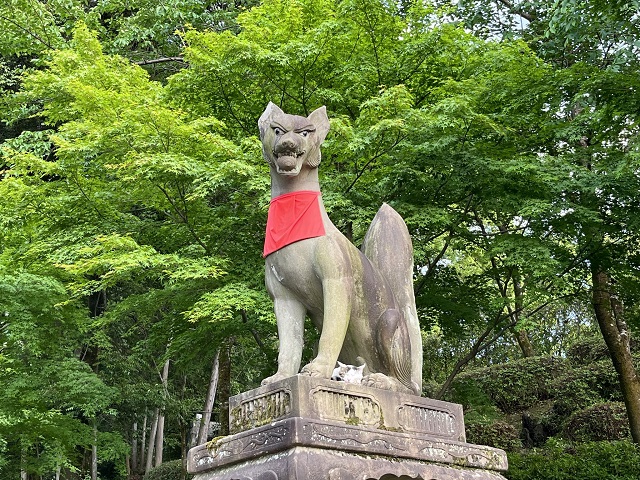 It was like the fox guard was protecting this little kitty so that he or she can sleep well.
OK, now I came back to the bottom.
The sun is almost setting.
Very calm.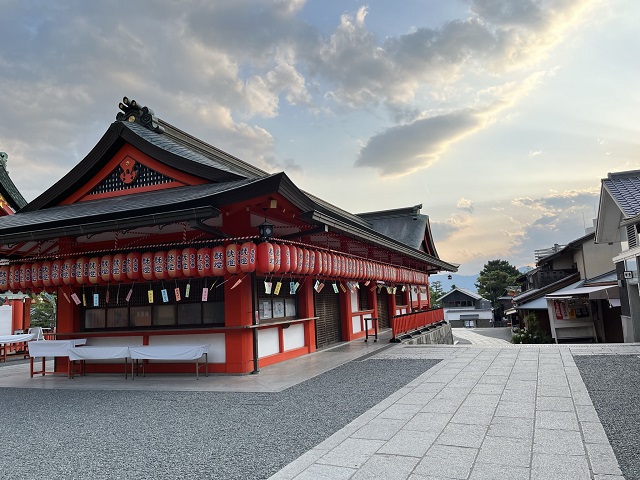 Before it gets dark, I decided to go back to my hotel.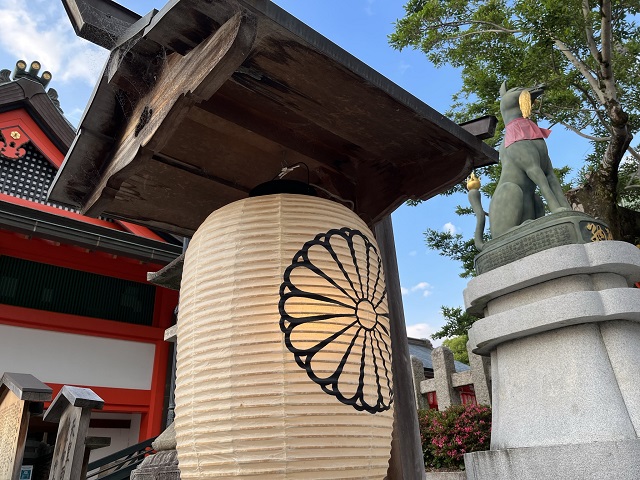 It was only a short explore of Fushimi Inari Taishia.
But I really enjoyed a cozy, calm atmosphere of this place.
Because there were not many people, I could appreciate details of this place.
I really recommend this cozy small tour in Kyoto.
I also write an article about the hotel I stayed.
It is a casual Onsen style hotel called Nono.
Related Articles:Casual Onsen Hotel "Kyoto Nono Kyoto 7jyou" with hotsprings!
There are lots of free service and natural hotsprings!
Fushimi Inari Taisha 伏見稲荷大社
Address:〒612-0882 京都府京都市伏見区深草藪之内町68
Station:Nara-line Fushimi Inari Station 奈良線 伏見稲荷駅
Open Hours:24 hours
Entrance Fee:Free. If you want to use Tea House, it will charge you 800 yen.
My recommended point:It is very close from Kyoto Station. You can visit here early morning, evening, or at night. If you want to visit as many sightseeing point as possible, I recommend you visit this Fushimi Inari Taishia.
But becaful at night, the light is very dim at some places, and keep away from any dangers.