Hello.
Recently, I have been increasing my chances of going to Okinawa for some reason.
I stayed at various hotels, but this time I stayed at Hotel Palm Royal Naha near Kokusai Dori, so I would like to write my impressions.
Hotel Palm Royal Naha near Kokusai Dori
This time was on weekdays, so it's about 7200 yen per night.
Breakfast included.
From Naha Airport, the Yui Rail monorail takes you to the nearest station in about 20 minutes.
The nearest station is Makishi station, and the hotel is about 5 minutes walk from Makishi station.
Although it does not face Kokusai Dori, it is almost Kokusai Dori because you can walk to Kokusai Dori in 10 seconds.
There is a hotel on the 1st street, so it may not be noisy in front of the hotel.
There was Family Mart and Lawson near the hotel, and Kokusai Dori was a downtown area of Naha Ichi, so there was everything.
At the hotel check-in, my sister at the reception gave me a snap.
The front staff told me that "Groups eat quite slowly from around 7 o'clock, so if you come to the cafeteria before 7 o'clock or after 8:30, it will be vacant".
Going to the room
After checking in, I went to my room.
Is it okay to say honestly about the room?
It was a semi-double room, but it was surprisingly small.
As soon as you open the door, you're in bed.
To be honest, I want a little more space to separate the room from the corridor.
There was no safety box and no closet.
It may be perfect for those who just sleep for one night, or those who just want to be near Kokusai Dori and cheap, but it may not be suitable for consecutive nights.
Later I looked at the reservation and it was 14 square meters.
No wonder it's narrow.
This is a "simple is best room".
However, the room was very clean as it seems to be undergoing renovation.
The thing I was happy about was the provision of waffle loungewear.
I'm not good at yukata type indoor wear, so I'm glad to have pajamas type indoor wear.
As for the amenities, as it is a Japanese hotel, there are a lot of amenities.
Toothbrush, shaving, shampoo, conditioner, body shampoo, etc.
Shampoo, conditioner and body shampoo are in bottles.
Since it was in the KOSE bottle tray, I wonder if the contents are KOSE.
I'm not sure, but maybe it is.
There is a coffee maker in the room but no water provided.
Water seems to use the water server in the elevator hall instead of mineral water.
However, there is nothing that draws water.
It feels a little sad.
Well, but if you leave the room and have a plastic bottle in front of the hotel, you can refill it with water before going out into the city.
Breakfast
This stay was with breakfast, so I had breakfast.
Breakfast is located on the ground floor, next to the lobby.
Half of the seats are indoors and half are terrace-style.
It's nice to be able to choose whether to eat indoors or outdoors depending on your mood.
Breakfast is not so many, but it is nice to have a continental breakfast as well as a local breakfast.
I had both continental and local food.
My favorite is yakisoba.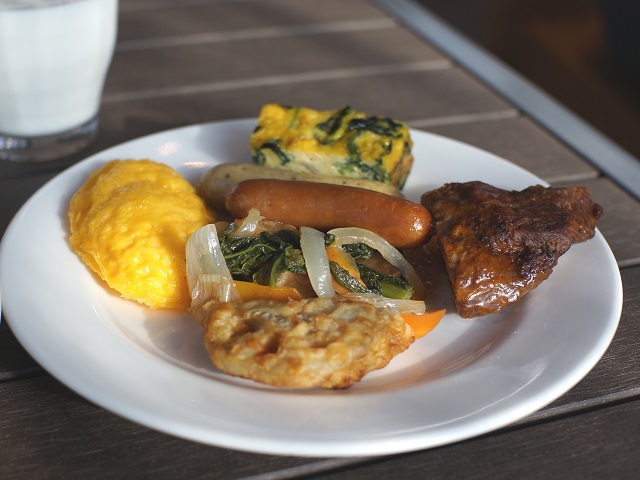 It was delicious!
There were several kinds of desserts, Sata Andagi (I don't know if this is a dessert) and some fruits.
I also got yogurt, so it's necessary and sufficient.
There is also a pool and bar next to the ground floor!
Hotel information and overall impressions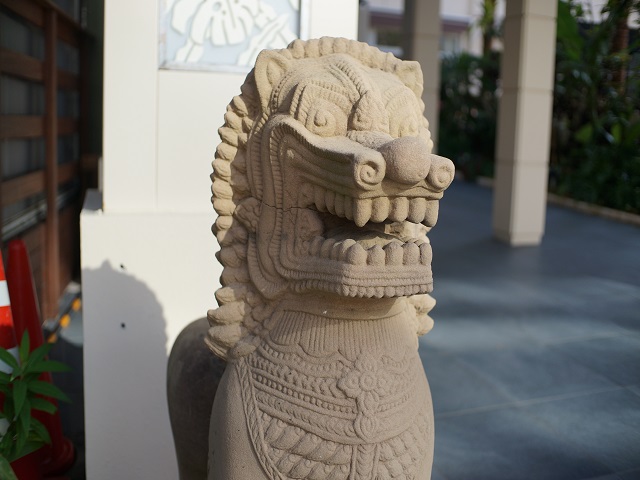 Hotel Name:
Hotel Palm Royal NAHA
Address: Makishi 3-9-10, Naha-city, Okinawa, Japan   (〒900-0013 沖縄県那覇市牧志3丁目9−10)
TEL:+81-98-865-5551
Closest Station:Makishi-station (4min walk from the station )     牧志駅から徒歩4分
My comment:Palm trees are also planted as the hotel name says PALM. You can feel the resort atmosphere at a reasonable hotel in the center of Naha. If you don't care about the size of the room, you may consider the cheap double room, but I think it was better to stay in a twin room. Since the building has just been refurbished, the point is that the building is beautiful overall.
I booked from Hotels.com.
Depending on the season, you can stay at 6000 yen (or cheaper?), So if you are a tourist-oriented person, please consider!