When I try to sleep in a different place than usual, I can't sleep easily.
At that time, I happened to find out that there is a sleep-only earphone that was acclaimed by the program personality on the radio program I was listening to. That is..
Sleep BudsⅡ by BOSE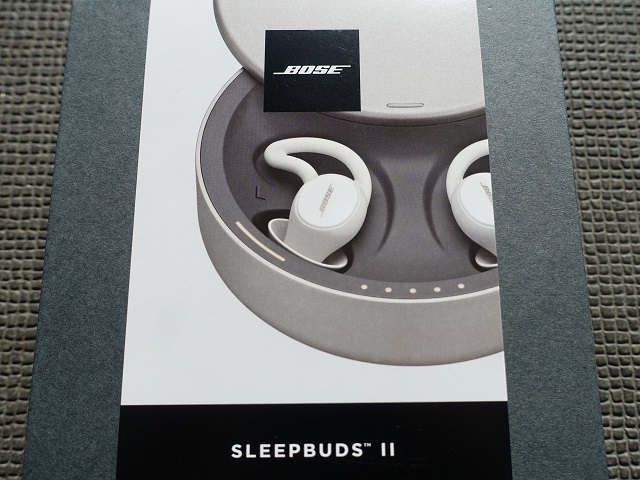 This Sleep Buds II is a cordless earphone, but its functions are narrowed down.
You can't listen to music at all.
The only function is to download the dedicated app to your mobile phone and hear the ripples and wind sounds.
You can set an alarm as a new function.
And the price is 33,000yen (It is about 300 USD)!!
I wouldn't buy it normally.
But, with this Sleep Buds II, it's great to be able to sleep without any hindrance when you want to sleep by eliminating all the noise in airplanes, trains and buses. So, I bought it on the BOSE homepage.
The item that arrived is nicely wrapped and comes with a special case for storing earphones.
The earphones and the special case with the BOSE logo are all cool!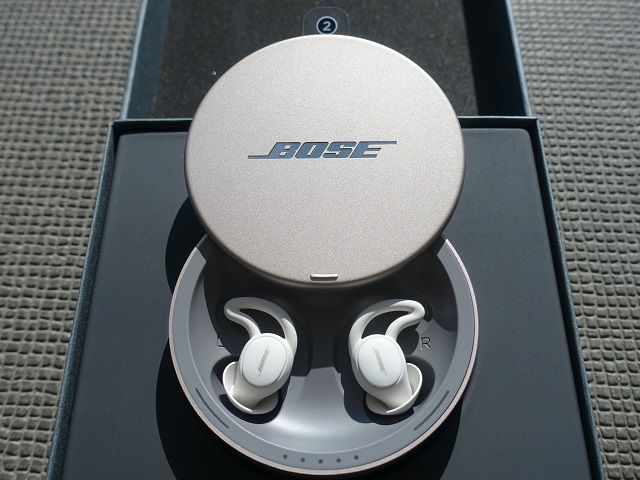 From the moment I put the Sleep Buds II on my ears, I thought "Wow !!".
First of all, I like the feeling that it fits my ears.
I also like the BOSE sound insulation that can fully feel the noise canceling function that other earphones have been equipped with.
This is called "noise masking technology".
I was impressed to be able to enter my own world just by wearing the earphones on my ears.
This BOSE Sleep Buds II is excellent in both software and hardware.
It's supposed to be used during sleep, so it's designed to fit snugly in your ear, and it doesn't get in the way when you sleep sideways.
And by using the dedicated app, you can sleep without worrying about the surrounding sounds when you fall asleep.
There are many sounds that interfere with a good night's sleep when you want to sleep.
You can download the dedicated app called "Bose Sleep", launch the app, and connect with Bluetooth to select the "sound" of sleep which flows through the earphones during your sleep.
I listened to the sound of the wind and tried to sleep.
The earphones I put on my ears did not spill out of my ears until morning, and I was able to sleep soundly until morning without being bothered by the noise around me.
I used to go to the Philippines for work, but I stayed at a condominium.
Because my room was facing the road, I was troubled by the sound of the horn of the car, the sound of the car passing through the road, and the sound of people talking on the sidewalk in the middle of the night.
At that time, I wanted this Sleep Buds II.
To be honest, I thought it was ridiculous to pay tens of thousands of yen for earphones that can't hear sound.
But, there was a night during my trips and a night when I definitely want to sleep because I had an important appointment the next day, and at that time it was very stressful to get annoyed by the noise around me and not be able to sleep.
If such nights can be reduced even a little, I thought that this amount would be completely useless even if it was really regarded as an "investment" in myself.
If you don't like that, you just have to buy it.
I bought it for traveling, but it seems that some people use it to sleep comfortably during the day because they live a life that is reversed day and night.
To explain more about this earphone, in order to use Sleep Buds II, first you need to charge the earphones in the special case with the attached charging cable.
The charging cable is Type-C, and the homepage says that you should use a genuine charging cable, but it is convenient because the charging cable is compatible with other electronic devices in case of emergency.
The case is charged in 3 hours, and it seems that you can charge the Sleepbuds earphones 3 times when it is fully charged.
For details, please check their own home page.
For a short trip, you can charge the case in full, so it's good that you don't have to carry a charging cable.
This time I bought it from the Bose homepage, which has a 90-day money-back guarantee.
Shipment will take about 4-5 days after purchase, so if you're not in a hurry, it might be better to buy directly from the Bose homepage.
However, Bose does not issue a receipt, so be careful.
If you want to use it immediately because you absolutely know that you will use it, and you do not need a guarantee, I recommend purchasing from Amazon
where the product will arrive the next day with Amazon Prime.
I want to use this as soon as possible on international flights and overseas travel destinations!