In Chiang Mai, I often saw scenes with relatively stalls.
Here are some delicious foods I ate during my stay in Chiang Mai, limited to the eastern part of Tha Phae Gate!
1.Porridge and fried bread
There is a food stall that opens only in the morning, just a few minutes' walk from the Moevenpick hotel.
Even if it's a stall, there are plenty of tables and chairs, so if you say fashionably, you can enjoy healthy Chinese breakfast on the terrace at a great price.
To get there, leave the Moevenpick hotel and turn left at the crossroad on your right towards the DusitD2 hotel.
Just across the street from the Dusit D2 Hotel.
The menu includes porridge, porridge, various pho, liver soup, and fried bread.
My recommendation is definitely a combination of porridge and fried bread.
I tried noodles and so on, but the scent of soup and fried garlic promotes chopsticks.
It's the best to eat crispy fried bread in the soup.
During my stay, I went to eat breakfast every day.
According to the waitress in the shop, it oepns from 3:00 in the morning.
Above all, fried bread is popular, so you must arrive at before 7:30. Otherwise, you will miss to get fried bread!!
Also, the liver soup was relatively ordered by the locals.
The lever is chopped at the storefront and boiled at the store each time an order is placed. When boiled, soup is served.
I don't know if it comes with a small rice or whether it can be added, but I often see people eating liver soup with a set of rice.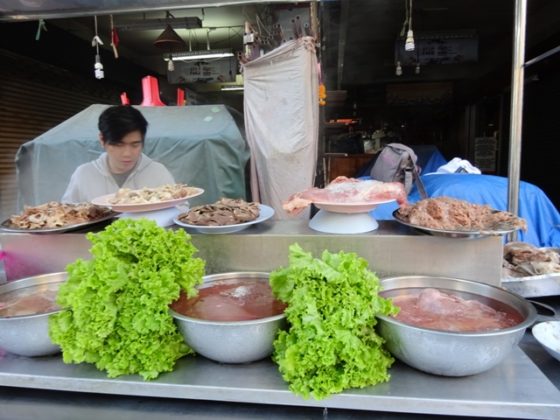 The price depends on the size, but about 50 baht per plate. About 4 slices of fried bread were 20 or 30 baht.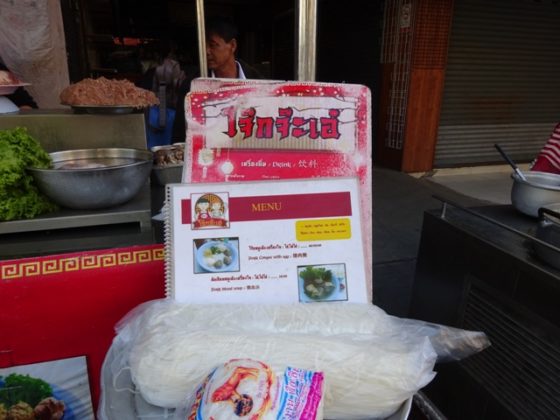 2. Local thai restaurant locals love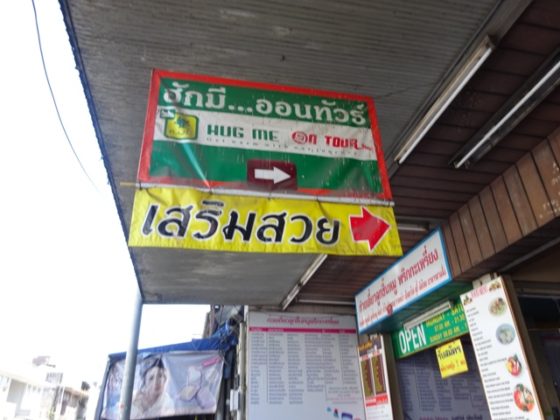 I don't know the name of the shop because it is written in Thai only. The landmark is the green signboard at the entrance and the table with a blue tablecloth.
Please copy and paste the below address on Google Map and search.
With the Thapae Gate in the back, proceed straight toward the east of the station. It's just past a small supermarket called tops daily mini on your right.
There seems to be a hotel called MY Home Hotel nearby.
It was a 7.8 minute walk from the Movenpick where I was staying.
It seems to open from 7am.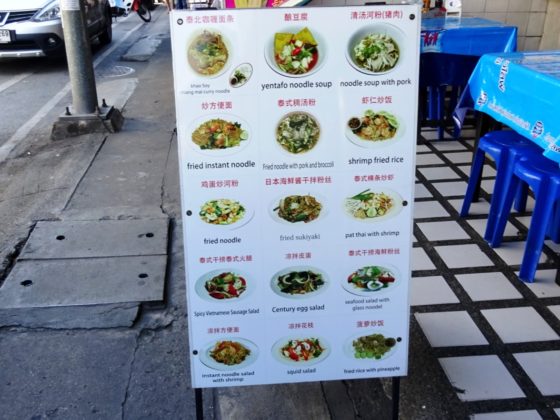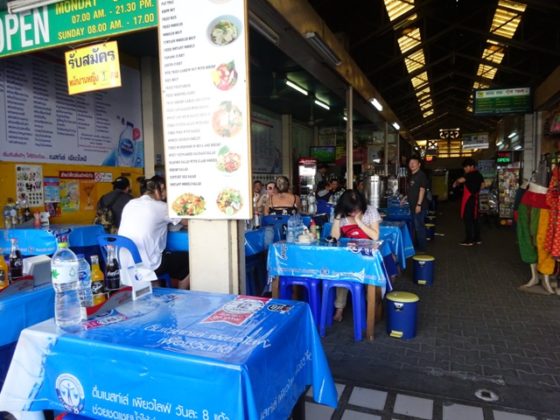 I went there for lunch.
Khaosoi is recommended here.
It is a coconut curry soup with two types of noodles, boiled noodles and fried noodles.
Here in Chiang Mai, Khao Soi is famous.
The right coconut richness and curry spice scents appetite.
You can enjoy the difference in texture between the two types of noodles.
The fried noodles are good to eat as crispy noodles, but it's also fun to eat fried noodles soaked in soup and sucked a little soup.
After that, I ordered Gapa Rice. Season with oyster sauce.
It was a little salty, but when you ate it with rice, it was just right.
At the time of ordering, the clerk asked me if I would like to eat rice, so I realized that I was trying to order a single item of Gapao.
Thank you for listening.
I asked him to reduce the spiciness, but it was still spicy!
After all, the feeling that Thai people do not feel different from the feeling that Japanese people do not feel difficult.
There were also various menus such as fried rice and rice noodles.
I think about 260-300 baht for 2 meals plus alcohol and water.
After all, it seems that the price is around 50 baht per dish.
Name of restaurant: Thai food restaurant
Address:  ร้านก๋วยเตี๋ยวลูกชิ้นหมูพริกกะเหรี่ยงท่าแพ Tambon Chang Moi, Amphoe Mueang Chiang Mai, Chang Wat Chiang Mai 50300 Thailand
3.Stalls near the night market
Since there is no name of the shop, I can only say that you should go around the hotel of Moevenpick and the night market, but there is a stall selling Pad Thai and Burrito.
I went there around 20:00, but a young man was running the shop by himself.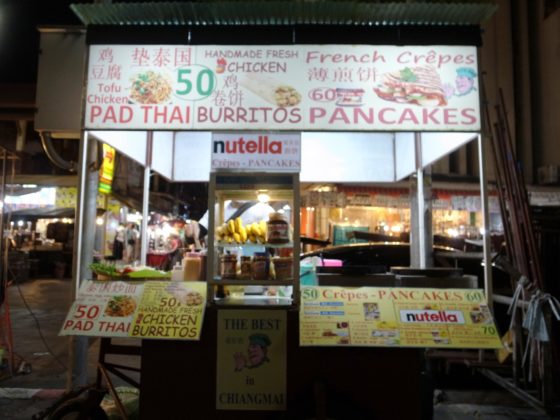 I bought both Pad Thai and Burrito here, but they tasted better than the quality of the stalls.
Burrito was especially impressed.
I was imagining a Mexican burrito, but it's an Asian taste with paksi.
Rice is also seasoned with Asian seasonings and it is wonderfully delicious!
I think it's probably only open at night, but if you find a store that sells Pad Thai and Burrito, please try it. Pad Thai was 50 baht per plate and yellowtail was 60 baht per plate!
4.Pavilion night market
The night market is opposite Starbucks on the corner of the Moevenpick hotel.
There are various stalls open until 1 pm.
We recommend the skewers of meat and Asian omelets.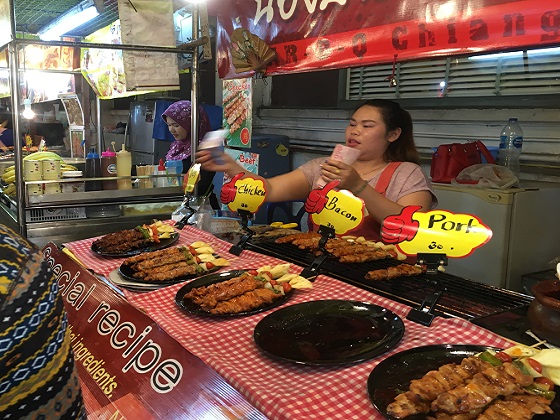 The omelet can be selected from mussels, oysters and octopus.
The omelet will add a sauce like sweet ketchup at the end.
There are also fried scorpions… 100 baht! too expensive!
As a dinner dessert, there was ice cream that spreads ice thinly on a cold plate and scoops it with a spatula to make a roll.
It's the one who has a great procession in Harajuku.
If you come to Chiang Mai, you can eat without waiting in line!