I stayed at Six Senses Samui, a 5-star hotel on Koh Samui in the south of Thailand.
This time, I stayed there for 2 nights and 3 days.
I Booked an Ocean View Villa with a Private Pool!!
I was looking forward to enjoying the resort so I couldn't wait to come here.
I booked a 160 sq meters room at Hotels.com about 1.5 months before my stay.
It is a luxurious stay.
Since it is a non-refundable reservation, I pressed the reservation button with excitement.
I stayed in the latter half of January 2019, so it was at the end of rainy season.
I arrived at the hotel around 12:00, so it was a little too early for check-in at 14:00.
I had to spend time with the check-out guest, so I decided to wait a little away from the reception. Then, a person called GEM (Guest Experience Maker) will bring you a cold towel and water.
This time we booked a 160 sq meter room at the Private Pool Ocean Front Pool Villa , and the hotel upgraded to the Grand Villa Private Pool Ocean Front Pool!
At a fixed price, it costs 130,000 yen (about 1,100 USD) per night. .. I'm lucky! haha.
I could check in early so I'll explore the room first.
The room had a simple and calm design with a wooden grain overall.
A plenty of bamboo is also used as an accent for furniture.
The combination of the brown color from wood grain and the green sofa are very nice and relaxing.
Look at the Large living room and large bed.
And you can see the ocean view from anywhere in the room! That's a wonderful and amazing!
There are two walk-in closets, a mirror stand, a toilet and a shower. So spacious.
Down the deck of the outer stairs you will find a private pool with a large couch sofa.
Of course, this is also an ocean view.
And the Infinity Pool!
That's fantastic.
I can live here. Haha.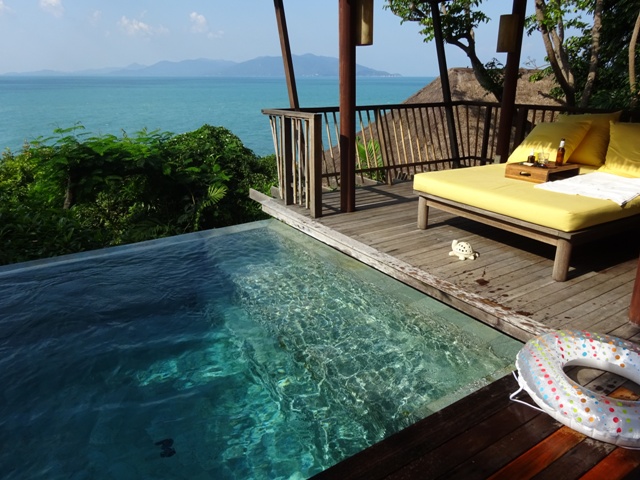 This hotel also has its own infinity pool and private beach.
The Infinity Pool is right in front of the restaurant, and the view from both the restaurant and the pool is incredible.
Especially, at the evening pool, you can just sit and see the sun setting, and you can feel and see the sun gradually change and the color of the sky changes.
The atmosphere of the sky really changes in a few minutes.
I took these pictures in just 10 minutes, but the color of the sky and lighting are completely different.
Just looking at this scenary is well worth staying at this hotel.
Here, of course, there is not only a pool but also a beach!
You can reach the hotel's private beach by going down the stairs by the side of the hotel restaurant.
Beach chairs and towels are provided, so you can go there without carrying anything.
Water and a little fruit will be served.
There is a bar on the way to the beach.
Everywhere you go, you can see a perfect ocean view.
For some reason there is no toilet here.
According to the manager, he plans to build a toilet and cafe on the side of the beach, but since it is not possible to make a loud noise in front of the guests, the construction must be done slowly.
He said, the construction target is for 2019.
There was plenty of shade on the beach, but it was so hot that my skin seemed to burn when I was lying in the sun for 10 minutes.
Aloe gel was also provided in the hotel's toilet and room for care after sunburn.
This is thankful.
For the meal at the hotel, I had breakfast, lunch once, and dinner every morning.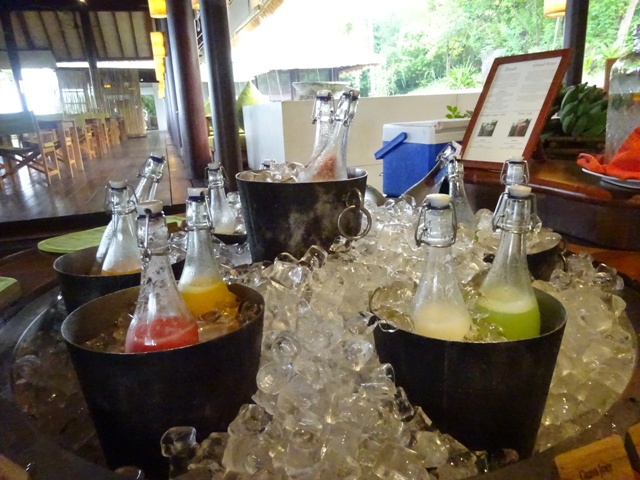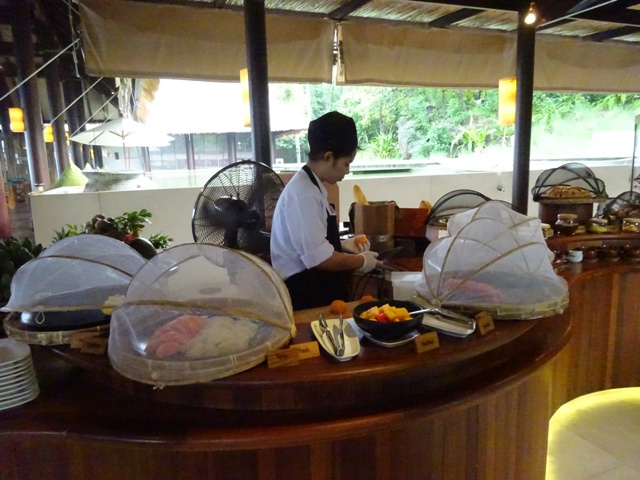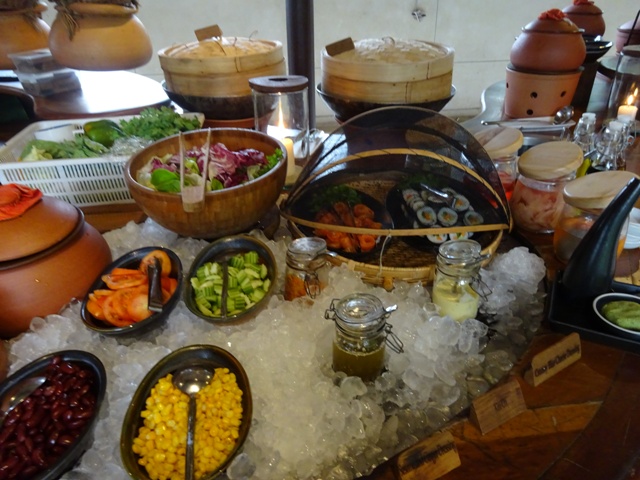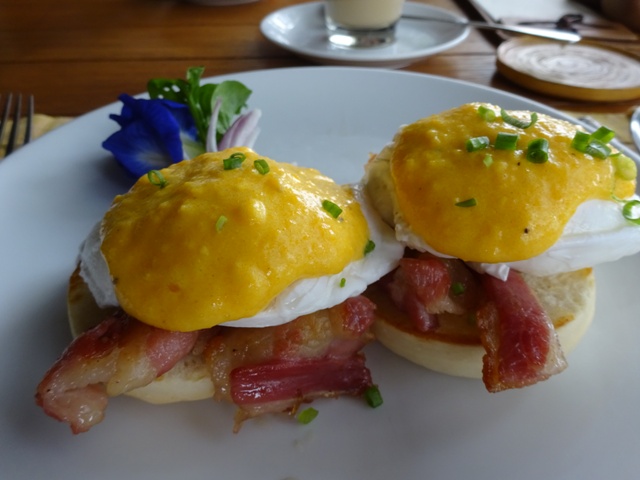 In addition to the buffet, there is also a menu where you can order breakfast separately. The above is an egg Benedict one day, and the menu changes every day!
It is good to enjoy the menu only served on that day.
As I wrote earlier, it seems that this hotel is strongly aware of the fusion with nature and is operating a hotel that is kind to nature.
It is said that it is shining at the award of the world, and the bottle of water uses the bottle, and the amenity uses the container of the pottery, and the effort was made to not generate the garbage.
So, there are no disposable plastic combs or shower caps.
But it's full of nature and I feel really good.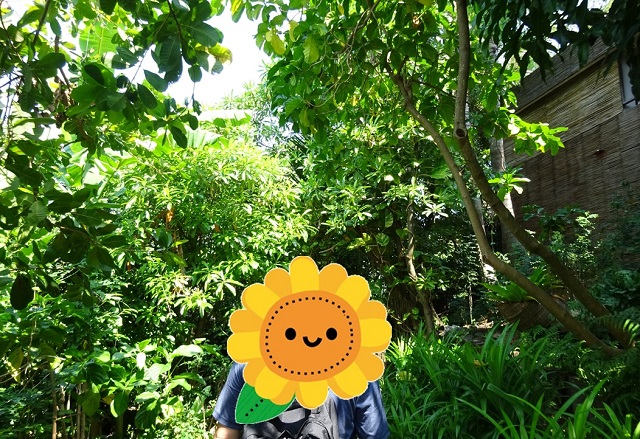 Since it is a facility in nature, there are insects and mosquitoes.
During my stay, I saw the snake twice and I was bitten by a mosquito, but I always cook mosquito coil incense, and if I ask for sewing sets and aroma balms, please try to provide small items. It was
Above all, all the employees greeted me smilingly when they met me by passing by, and I was able to stay in a very homely atmosphere, so I felt as if I was in a resort, and I felt very relaxed. I was able to.
Inconvenience is inconvenient because you have to take a taxi (500 Baht) or a 20 minute walk to rent a motorcycle to get out in the city.
The meal is either the meal at the hotel or the restaurant which is about 15 minutes on foot.
But you can watch the starry sky at night, watch a movie outdoors listening to the sound of the waves, enter the private pool at night, do a lot of things you can't do everyday, so stay at the hotel during your stay. I want you to spend a good time.
Moreover, I definitely want to come back to spend some time!
A blog about Dinning On the Rocks is here (Under translation. sorry)
Available amenities
Shampoo, conditioner, body soap, soap, body lotion, mosquito repellent lotion, aloe lotion, bath salt, slippers, mosquito coil, incense, espresso machine, yoga mat, gown, dryer, etc.
What can be prepared upon request
Tiger balm with a scent of your choice, sewing set, complementary coffee, coffee pot, etc.
Amenity not prepared
Toothbrush, shower cap, comb, plastic bottle of water
Others
On the first day, there is a paper requesting the turndown service time and what you need, so you can write it down.
Every morning you can take free lessons such as yoga and Pilates every day. Although there are other charges, there are many events such as a tour to the morning market and Thai cooking lessons.
The spa provided a service for one person for two people.
Taxi to the airport (800 baht)
Hotel Information
Hotel name:Six Senses Samui
Address: 9/10 Moo 5 Baan Plaileam Bophut KoH Samui Amphoe Ko Samui, Chang Wat Surat Thani 84320 Thailand
TEL:+66 77 245 678  or 0120-92-1324 (Japanese)
Hotel Homepage: sixsenses.com
Mail in Japanese: japan@sixsenses.com