Do you know "Bohol Island" in Philippines?
It is located at the center of Philippines, and it is next to Cebu Island.
Bohol Island is 1 hour away by ferry.
Bohol Island is popular for Tarsier, the smallest monkey in the world.
Fly from Manila to Bohol Island
I was in Manila that time, so I took a domestic flight from Manila to Bohol Island.
There is Air Asia Zest
in Manila.
It is the cheapest flight I found and it departs from the 4th terminal in Manila.
The 4th terminal is isolated from other terminals, so be careful.
I took the early morning flight as my plan is only 1 night and 2 days.
At the food court inside of the domestic lounge, I ate a noodle.
My flight departed at 7:20am from Manila and arrived at Bohol Island at 9:00am.
The airport at Bohol Island is called Tagbilaran Airport (TAG), it was weekend when I flew, so it cost me about 5,000yen one way.
If it is weekday, you can find cheaper flight.
The cheap flight I found was only 2,652yen one way.
Note: As of Jan 2023, Tagbilaran Airport (TAG) is already closed. Instead, Bohol–Panglao International Airport is now open. It is closer to the central Bohol, so it got more convenient.
This is the AirAsia Zest.
We will use stairs to get into the airplane.
AirAsia Zest costs you everything; luggage, drinks, and foods.
If you are hungry, I recommend you finish eating before your flight.
It was only 1.5 hour flight, so I felt that we arrived at Bohol Island soon after we sat on the seat.
This is the Tagbilaran Airport.
It is a very good weather!
Joined Local Optional Tour
Since I used my weekend at Bohol Island, I wanted to make use of my stay there.
So, I found a local optional tour where they can pick us up at the airport, then sooner take us to the tour.
This time, I used "Bohol life tour".
I joined Bohol Day Tour, and it costs us 1,550 pesos per person.
It is the things included in the tour.
Inclusions:
Private Air conditioned transportation
Pick-up Tagbilaran Airport
Drop-off Amorita Resort Hotel
Driver will act a guide
River Cruise with Lunch (Loboc River)
All Entrance Fees
Sites Visited:
Blood Compact Site
Baclayon Church (Church Closed due to earthquake damage, picture taking only)
Tarsier Conservation Area
Loboc River Cruise with Lunch
Bamboo Hanging Bridge
Man Made Forest (Drive through forest, stopping for picture taking)
Simply Butterflies (Butterfly Garden)
Chocolate Hills (Chocolate Hills Complex Viewing Deck)
Aproniana Souvenir Shop
I was a bit worried if they would really come to the airport to pick us up, but I found a driver who has my name on the board.
The driver took us to the SUV he drove, and our tour had started.
The first sightseeing point is called Blood Compact Site.
There was a blonze statue, but I could not understand historical background of those people, so I just took a few pictures, and moved on.
The next is Baclayon Church.
We just stopped by here to take a picure.
It was under reconstruction due to earthquake or so.
During the drive, we could see rice fields.
It was a nice, relaxing scenary.
The most famous point, Chocoate Hills!
The next sightseeing point is Chocolate Hills.
It is famous sightseeing spot in Bohol Island.
There were some triangle mountains.
Those mountains turns in brown around September, so it looks like a chocolate.
By the time I was there was March, so it was still early for the real "Chocolate hills".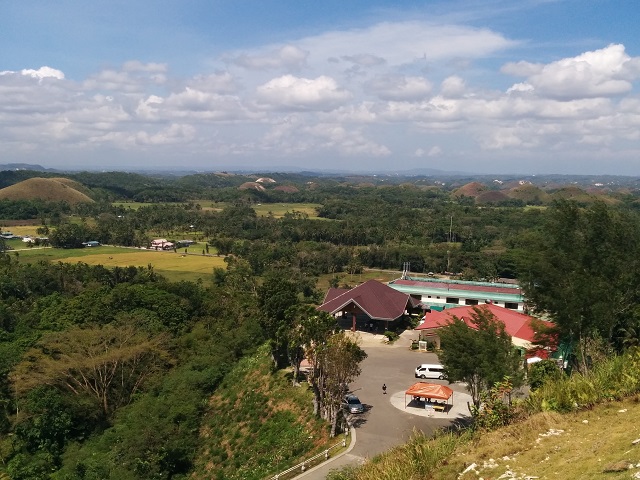 There is a viewpoint on top of the hill, so we climbed up stairs.
You need a lot of energy to go up to the top.
Then finally, we climbed up to the top.
Here is the scenary of Chocolate Hills!
There was no tall buildings around, so we could see 360 degree of Chocolate hills.
On top, there were only some spaces, so watch out your step.
As soon as we come back to the waiting area, the driver had came back!
I did not ask to the driver how we could meet again, so I was a bit worried.
Butterfly Garden
The next spot is Buterfly Garden.
I did not expect much to this signtseeing spot, but it was very enjoyable.
You can see a lot of specimen of butterflies.
Inside of the garden, there were a lot of living butterflies.
They were very friendly, so they will come to you and stay next to you.
There is a specimen with wings are opened.
If you stand ahead and take a picture from the front side, you can take a picture like this.
Jump higher!
Another photo of human butterfly.
It was more fun than I thought.
I really enjoyed taking pictures!
Forest where Tarsier lives
After Butterfly Garden, we move on to the next sightseeing spot.
We finally arrived at the forest where Tarsier lives.
Tarsier are living in protected forest.
Tarsier is only 10cm in body, and you used be able to touch them and take picures, but now you can only see them quietly from a distance.
They are very sensitve, so if they feel stressed, they could kill themselves.
Thus, we need to walk inside the forest quietly.
Can you see tarsier staying on the tree?
They have a very big eyes, and they look like an alien baby.
I was looking at them for a while.
Their eyes were open at first, but they sooner closed their eyes and slept.
The main purpose of visting Bohol Island was to see tarsier, so I was very satisified.
After seeing tarsier, we will head to River cruise.
On the way, we stopped by a bamboo bridge, Bamboo Hanging Bridge.
As we walk on the bridge, it shaked hardly.
It was very exciting experience.
Loboc River Lunch Cruise
Our lunch is Loboc River Lunch Cruise.
Loboc River was very calm, and water was clear.
As it was a nice weather, we could see a bright green trees.
The Cruise ship was quite big, and there were many seats avaiable.
There was a buffet stand at the center, so we need to go take our lunch there.
There were a live music inside of the cruise ship.
Food is included,but if you need to drink something, you need to pay extra.
The seat is very narrow, so you feel very squeezed during your lunch.
The food was delicious.
I was very satisified.
But you are very close to the next person, so you bump into the next people for sure.
If you need more space, I recommend that you sign up for a premium plan.
You can sit on the indivudual table and enjoy your food and River cruise.
You will stop by an Island where "Native People are living".
They actually don't live there any more, but for sightseeing, they will come to this Island and wear their traditional clothes to entertain tourists.
That was the last point of the optional tour.
We could stop by many places and enjoyed alot.
Amorita Resort
The tour ended around 2pm, so it was about time to check in to the hotel.
The driver took us to the hotel, so it was very convenient.
The hotel we stayed this time was "Amorita Resort",  a 4-star hotel.
I saw a comment at Tripadvisor that foods here is very delicious though it take time to get served.
I wanted to enjoy a good food, so I chose this hotel.
I also liked the infinity pool they had.
I booked via Booking.com this time.
When I stayed, it was weekend. So, it costed me 8,105.73 pesos for 1 room.
It is about 150~160 USD.
It will be added about 13% for tax and breakfast, so it would be about 200 USD.
This is on the way of going to the hotel.
The road looked very local, so I could not imagine there is a hotel there.
At the hotel, there is a front desk as soon as we get of the car.
Very cozy, small hotel.
The room is located at the first floor, so you can walk to the pool from the room easily.
Inside of the room, there was no special decolation, but it looked very clean.
As soon as I checked in, I went to use their infinity pool.
Amorita Resort is located at the face of the cliff, so only hotel guests were there.
Very relaxing.
Infinity pool was not too big, but you can lay down by the pool and enjoy the sunset.
The dinner is at the dining room next to the pool.
It is Buffet dinner.
It seems that they offer buffet dinner only on weekend.
It cost you about 15 USD, so visitors can also enjoy the buffet.
When I ate dinner, it was very delicious.
The comment from tripadvisor.com was very true.
After dinner, you can enjoy the night view from the outside sofa, or you can walk to the beach.
Enjoy the pool and the beach before checkout
You will eat breakfast at the same dining as the dinner we had.
The dining is right next to the pool, and you can see the ocean in front of you, so it was very opened and relaxing.
The foods had some asians and some continental breakfast.
The hotel stuff will serve you the main food at your table.
Also, you can pickup salads and other menus by yourself from the buffet.
This is the pool in front of the brekfast dining.
You can lay down on the sofa and enjoy the sound of wave.
Even if you don't use the pool, there are a lot of chairs, so you can enjoy there, too.
You can also use the stairs to walk on the beach.
I did not realize it last night, but the beach was very beautiful and water was very clear.
The sand was also confortable.
Enjoy Lunch before flight
After I checked out, we still had some time, so we ate lunch at amorita resort.
The lunch was italian.
We ordered the menu and waiting for about 1 hour, but it was still delicous and enjoyable.
The hotel was not too big, so it was relaxing and cozy and enjoyable.
I would definitely come back!
(Amorita Resort)
Address:1 Ester A. Lim Drive, Barangay Tawala, Panglao, Bohol, Philippines
TEL:+63 2 318 3388
You can reserve via Agoda,
Agoda:Amorita Resort(Bohol Island) or 
Hotels.com : Amorita Resort