We would like to introduce the recommended restaurants we visited and wanted to visit in Taipei.
Zhongshan Area
As I mentioned in the travelogue in Taipei, the dim sum I ate at Ding Tai Feng was still delicious.
It's in Japan, but I still wanted to try it locally.
You can wait in line, but since you are given a number tag and wait, you can wait while waiting around.
Next time, I'd like to go to a Japanese shop and compare the tastes.
鼎泰豊三越店(Dingtai Fong Mitsukoshi Branch)
Address: No. 12號南京西路中山區台北市10491
Nearest Station: Zhongshan Station
Longshan Temple Area
There is a famous pepper mochi shop near Ryuzanji Temple. This is a super local pepper mochi shop in the back alley.
Next time I go there, I'd definitely try this restaurant, but if you feel hungry near here, I'd like you to try it!
福州元祖胡椒餅(Fuzhou Yuanzu Pepper Cake)
Address: 108台北市萬華區和平西路三段89巷2弄5號
Business Hours: From 10:00 to 18:30
周記肉粥店(Zhouji Meat Congee)
Address: 108台北市萬華區廣州街104號
It is a porridge shop (meat porridge) near Ryuji Temple. It seems that you are doing it from 6:00 to 16:30.
It's more like porridge rather than porridge.
It feels like a shop that locals go to.
The porridge on the signboard menu is 15 yuan, steamed chicken and red smoked meat are 50 yuan! cheap!
It's lightly porridge, so it's recommended for breakfast.
It was listed on Tabelog, Japanese restaurant site.
寧夏夜市(Ningxia Night Market) Area
冰讃 (Bing zan)
As I introduced in the Taipei travelogue, it is a fluffy ice shop that the flavor of mango spreads softly in your mouth.
旅行記(前半)はこちら!(translation in progress)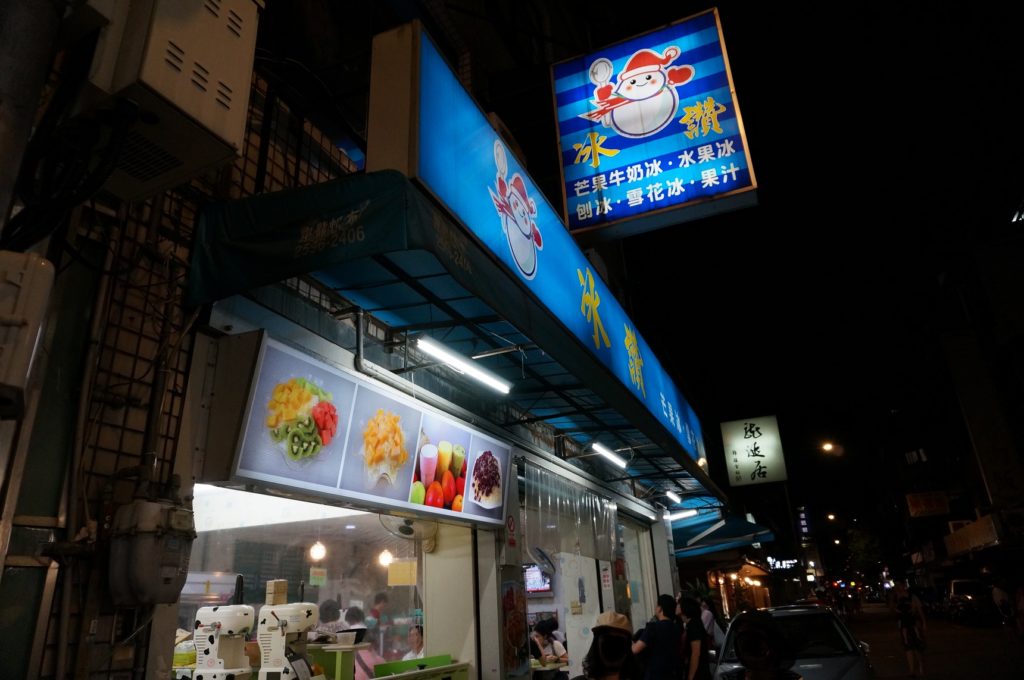 Address: 103台北市大同區雙連街2號
Business Hours:11:00~22:30
Location: Near 雙連駅(station) . Nearby 寧夏夜市(Near Ningxia Night Market)
行天宮周辺
喜多士早餐店(Hi toast breakfast shop)
It's a Taiwanese sandwich or hamburger shop. I was introduced to this by a Taiwanese friend, so I wanted to go eat breakfast, but I gave up because it was closed on Mondays.
Address: 10491 台湾 Taipei City, Zhongshan District, 民權東路二段71巷15號
Business hours: 6:00~11:00
Close: Monday
九份老街
There are many teahouses in Chiufen Old Street, but here is the one with a great view.
水心月茶坊(JiouFen TeaHouse)
Address:新北市瑞芳区軽便路308号
TEL:(02)2496-7767
Business hours:(Mon. to Fri.)12:30~20:30 (Sat. and Sun.)9:30~20:30
Shop Homepage: https://www.jioufen-teahouse.com.tw/jp/artist-teahouse?id=66
My comment: A friend who had visited before said that the terrace seats are the places where the sunset over Shenzhen Bay is the most beautiful and the view is outstanding. It seems that they also have meals.
Around Taipei Station (台北駅周辺)
福州元祖胡椒餅(Fuzhou Yuanzu Pepper Cake)
It seems to be the same series as the pepper mochi shop near Ryuzanji(龍山寺).
As I wrote in the other blog of Taipei, it is a few minutes walk from Taipei Main Station.
There is no space to eat because it is mainly take-out.
It was perfect snack for filling my stomach!
Please also refer to the travel notes of Taipei.
I am writing a blog about my taipei trip 台北の旅行記 (sorry it is under translation)
Name of restaurant: 福州元祖胡椒餅(Fuzhou Yuanzu Pepper Cake) It is better to use chinese character when you search location in google map.
Address:100台北市中正區重慶南路一段13號
TEL: +886 2 2308 3075
Business hours: 10:00~18:30