If you look around Japan, buying a ticket for a tour bus would be a good option for tourists.
From a major city like Tokyo, Osaka, Nagoya, etc, there are so many tour buses managed by many bus companies, so you can select the one you are the most interested in.
H.I.S. is one of the popular travel agency in Japan.
I decided to join a one-day bus tour departing from Shinjuku to Shizuoka.
It takes me to Mishima, Izu, etc.
Here is the overview of this trip.
At 8:50, departing Shinjuku station.
At Mishima Skywalk, I will try a suspension bridge.
Try seafood BBQ at Numazu Port.
Enjoy footbath and Autumn leaves at Shuzenji.
Night electric spectaculars at Izu Granpal Park.
Departing at 8:50 from Shinjuku Station
Everybody to join the tour will get together at a place nearby Shinjuku station at 8:50.
A tour conductor will check our name and gives us a HIS sticker to put on your clothes.
We will mainly drive to Shizuoka pref. , Mishima skywalk, seafood BBQ, footbath and autumn leaves at Shuzenji, and night electric spectaculars.
Today's forecast is sunny, so hopefully we can see the beautiful Mt. Fuji.
Mishima Skywalk
Mishima Skywalk is about 1~1.5 hours from Shinjuku.
We took an express highway and stopped by at a service station.
This is the Mt. Fuji I could see from the service station on the way.
Soon after we have left the service station, we got to Mishima Skywalk.
They opened 4-5 years ago, so it is still a new sightseeing spot.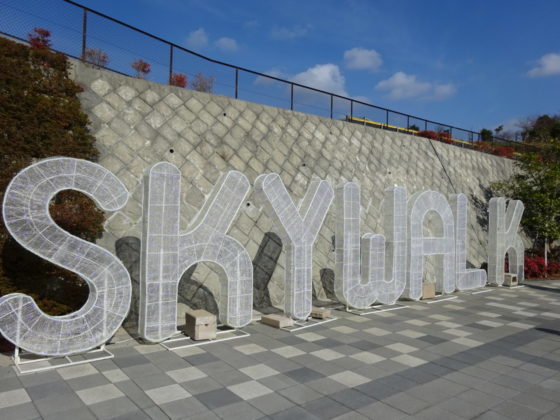 The suspension bridge is a quite big one.
This is the pole. So big!
There are some restaurants near by parking lot.
By the skywalk, you can try Zip Line.
I have never tried zip line in Japan, but some people were trying they seemed to be enjoying.
After you crossed the skywalk, there are some restaurants and a dog run.
If you want to take your dogs, be careful they won't slip from your arms.
This is a small botanical garden right next to the parking lot.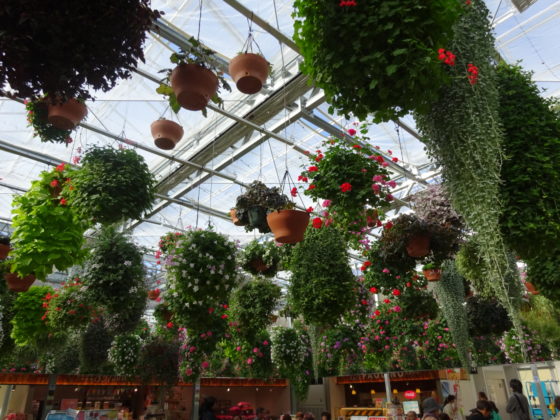 You can buy some drinks, so you can rest and enjoy watching green leaves and flowers.
Having seafood BBQ lunch at Numazu Port
We have a lunch at Numazu Port.
Numazu Port is popular for seafood.
This BBQ is all-you-can-eat.
The time is limited, but you can eat many kinds of seafood as much as you want!
This is the BBQ restaurant we went called "Ama goya".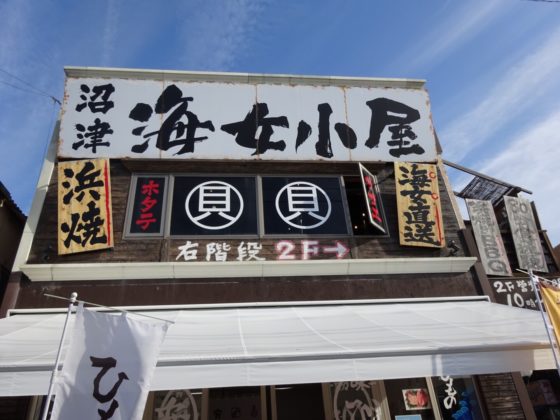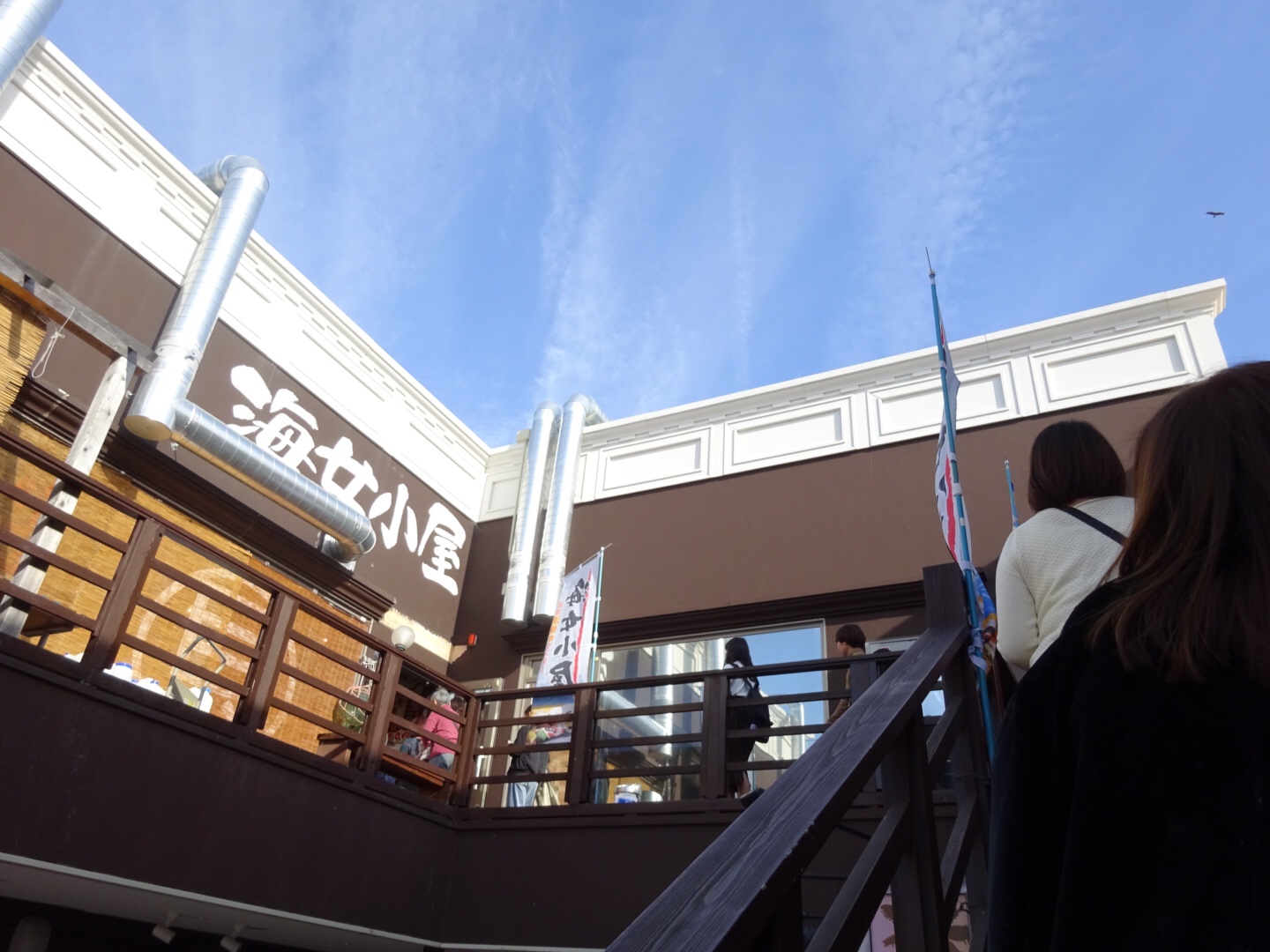 At the restaurant, everything was ready.
A shop staff explains how to cook a type of shell called Sazae.
The correct way of cooking is that you face down this flat white side first then after a few minutes, you turn it around to complete.
Besides seafood, there are other side menu like salad, curry rice, and miso soup, and assorted ingredient rice.
As we have joined the tour, our lunch was included.
If you try this seafood BBQ by yourself, it costs you 2980 yen for 80 minutes.
They also have a special dish of the day.
The day I have visited was a deep fried oyster.
In front of the restaurant, it was a sea front so I could see some boats.
You can also find a place where you can buy Souvenir.
In Japanese, it is called "Shinsen kan".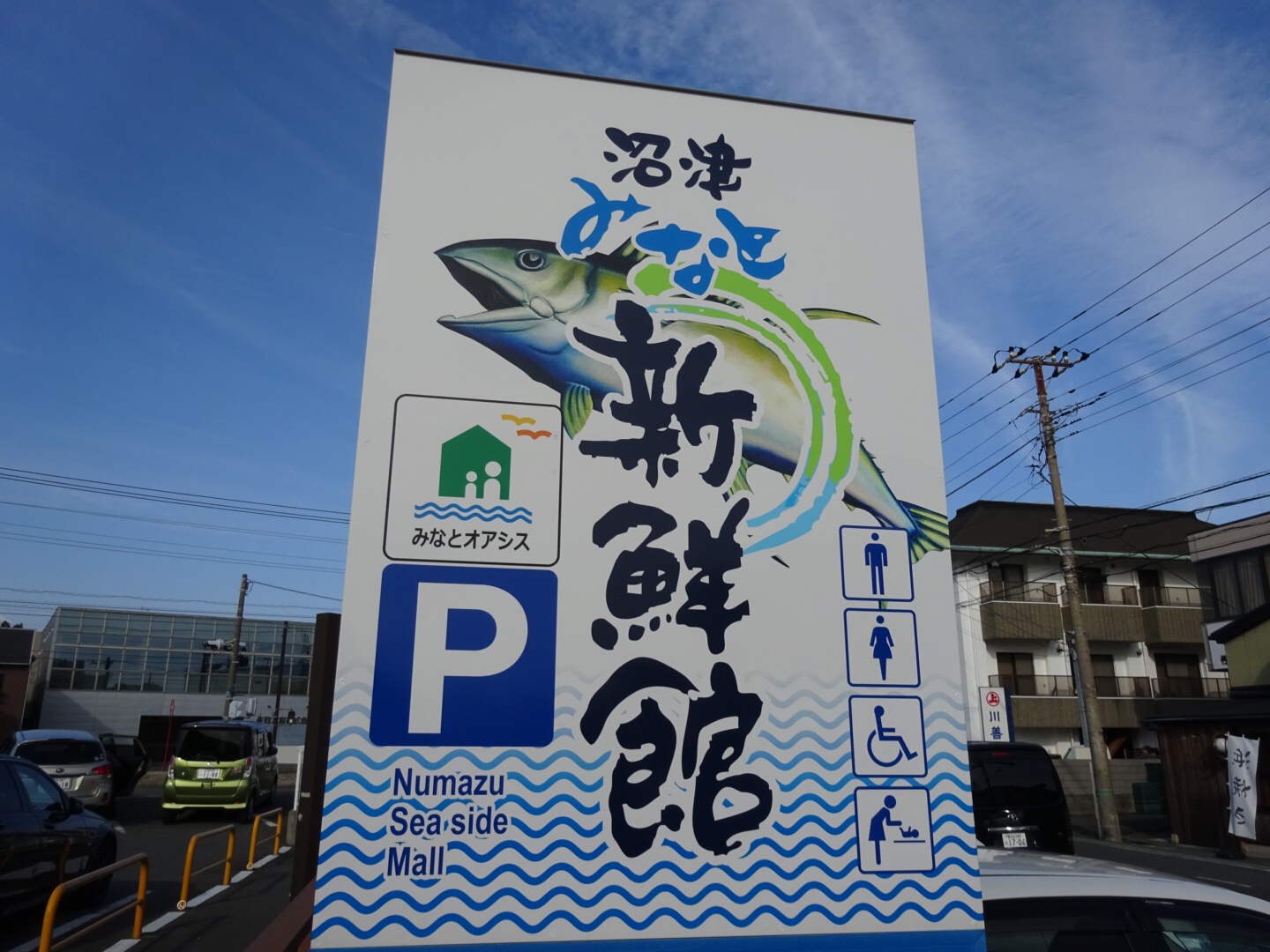 You can relex here until the bus will leave this place or you can buy an icecream inside of the building.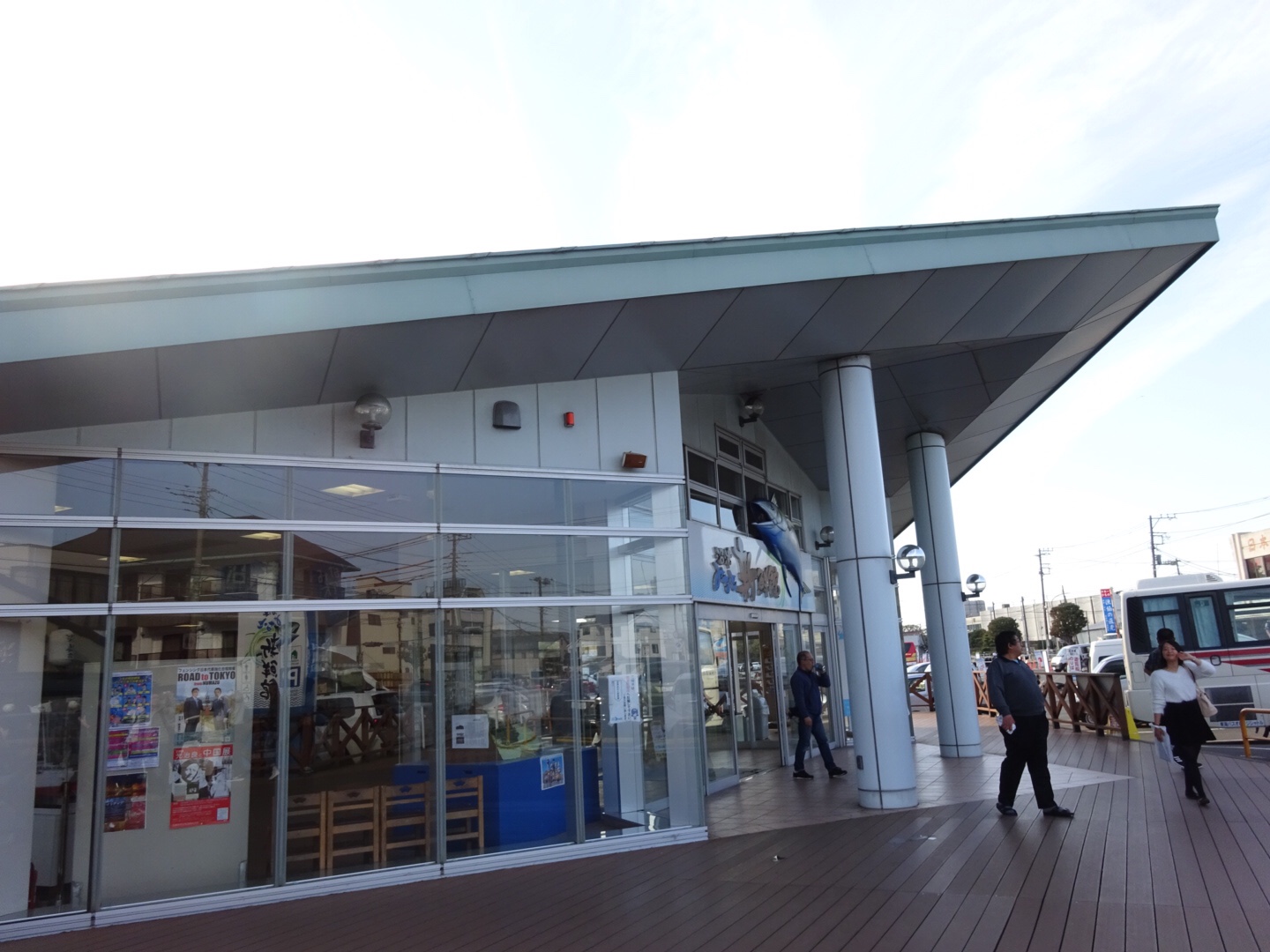 Footbath and Autumn leaves at Shuzenji
Our next destination is Shuzenji.
I had a big lunch, so as soon as I was on the bus, I felt asleep until I got to Shuzenji.
It is very short stay here.
We have only 35 minutes.
But I had tried a free bathtub on the street and enjoyed a classic street with autumn leaves.
It was the best season to see autumn leaves, so it was very colorful.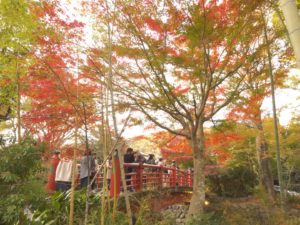 Here is the free bathtub we have tried. It was warm and nice.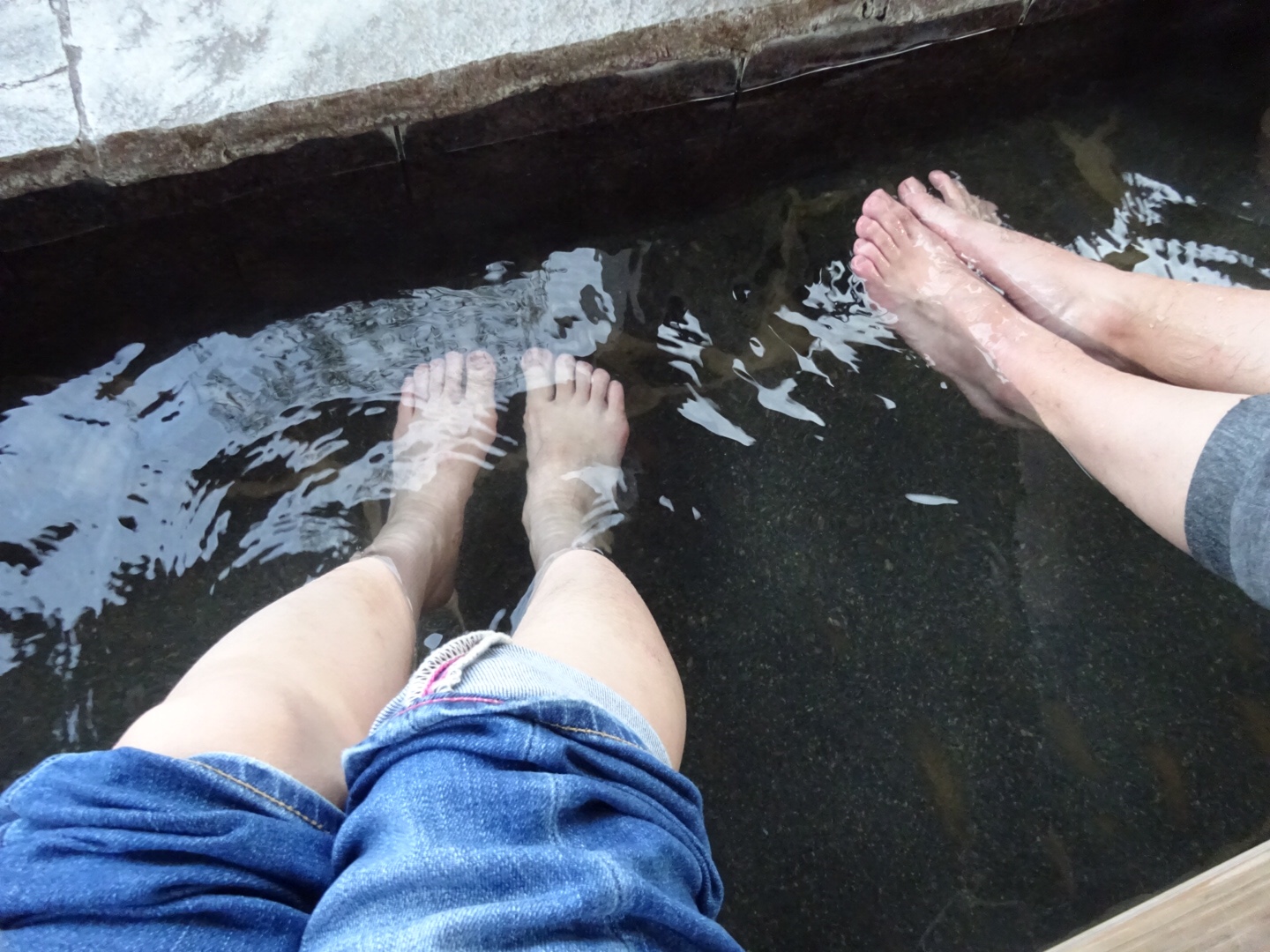 I was a bit tired, but when I took a bathtub, it refreshed my mind.
I felt good.
Shuzenji is popular for Onsen, too.
Next time I visit here, I would love to try Onsen.
Night electric spectaculars at Izu Granpal Park
The next sightseeing spot is called Izu Grandpal Park.
It took us about 30 minutes from Shuzenji.
We will stay till night and see Night electric spectaculars for about 1 hour.
It was a huge park, and night illumination was everywhere.
My best place is this rainbow tunnel.
You'd better see it with your eyes.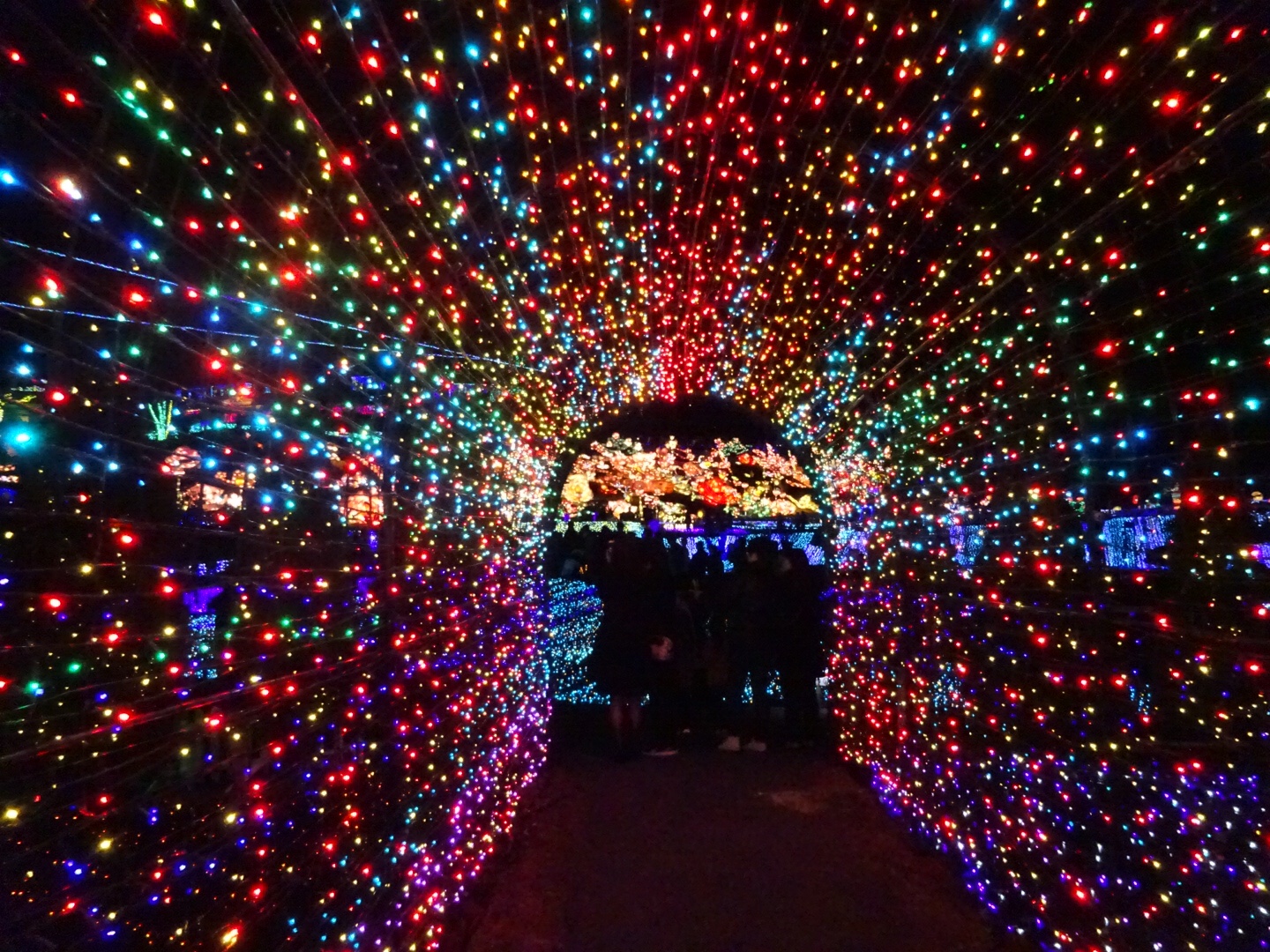 They have some activities, so if you are traveling on your own, you can enjoy staying here minimum 2 hours.
The nearest train station would be Izu Kougen station. From there, you can take a bus for 15 minutes or take a taxi.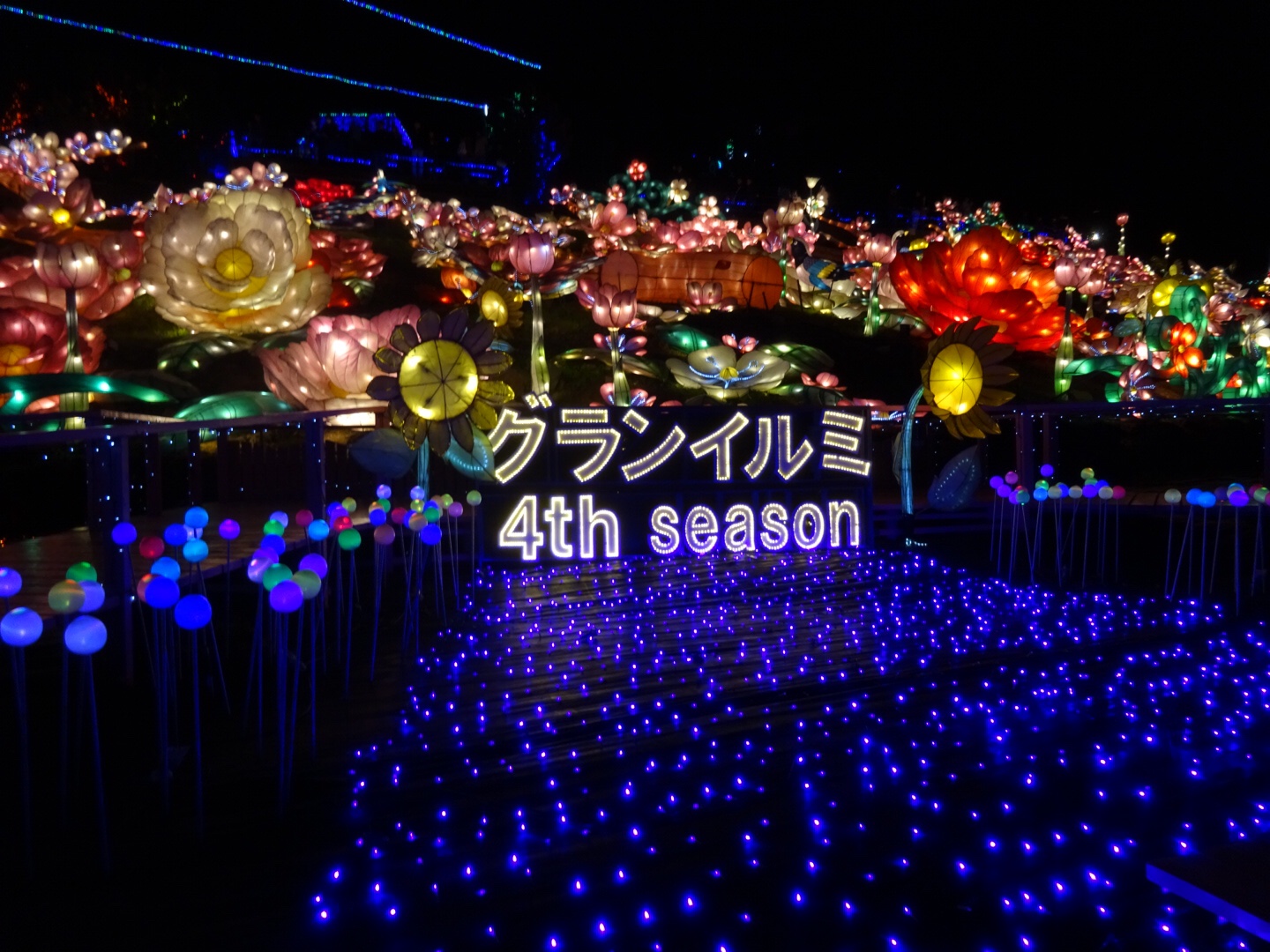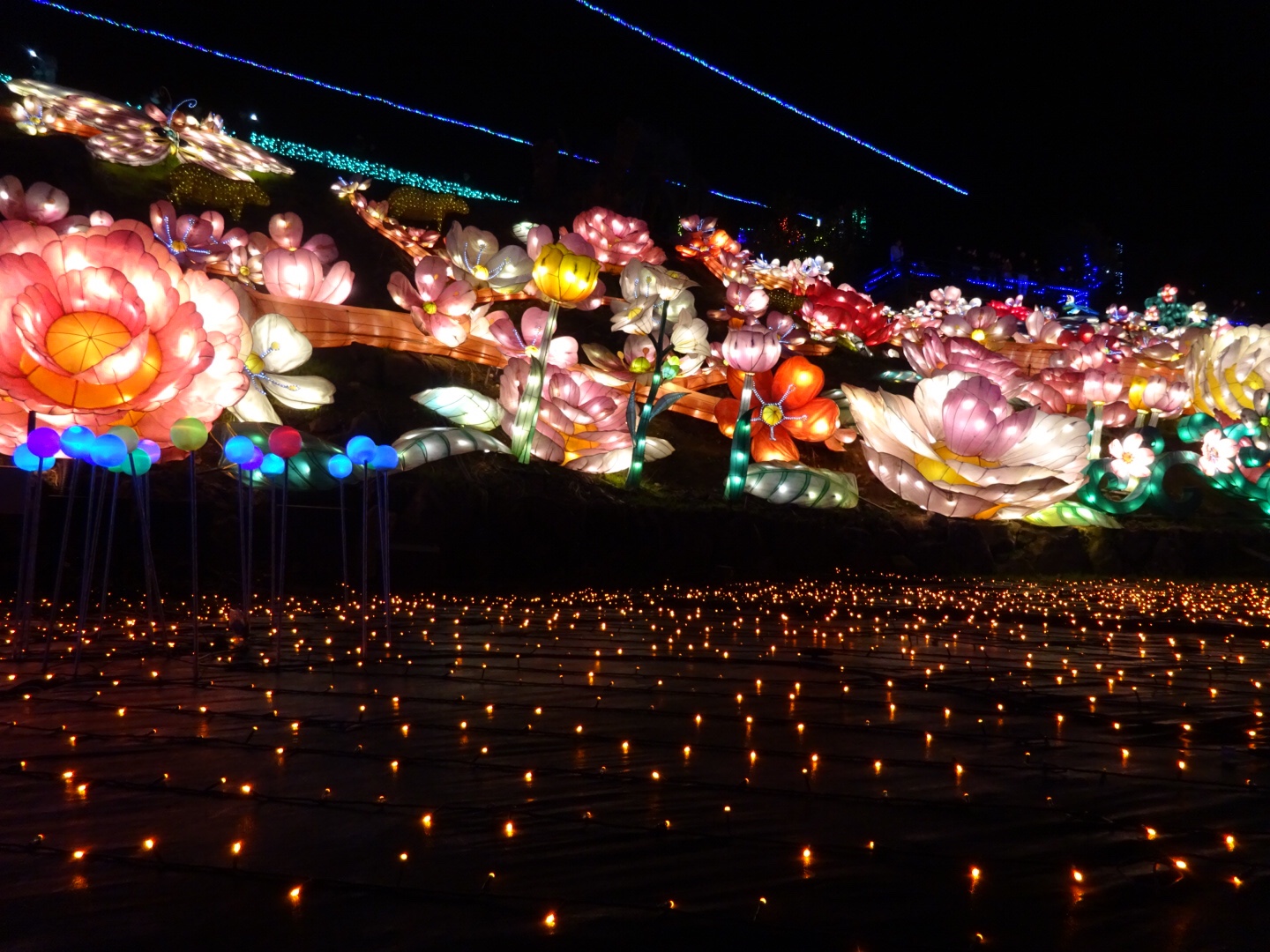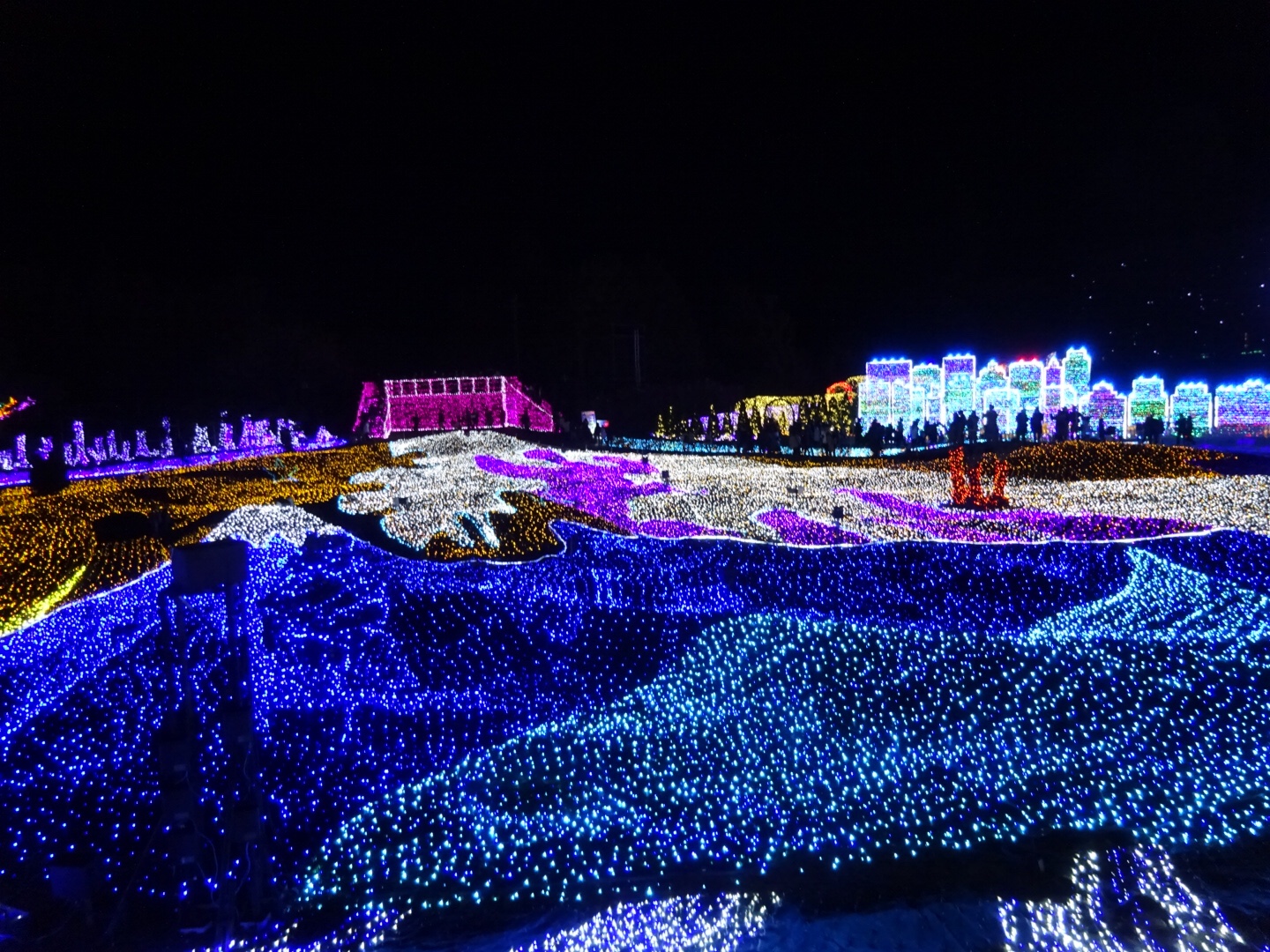 The light is turned on and off along with music.
They have a small show, so it is worth watching.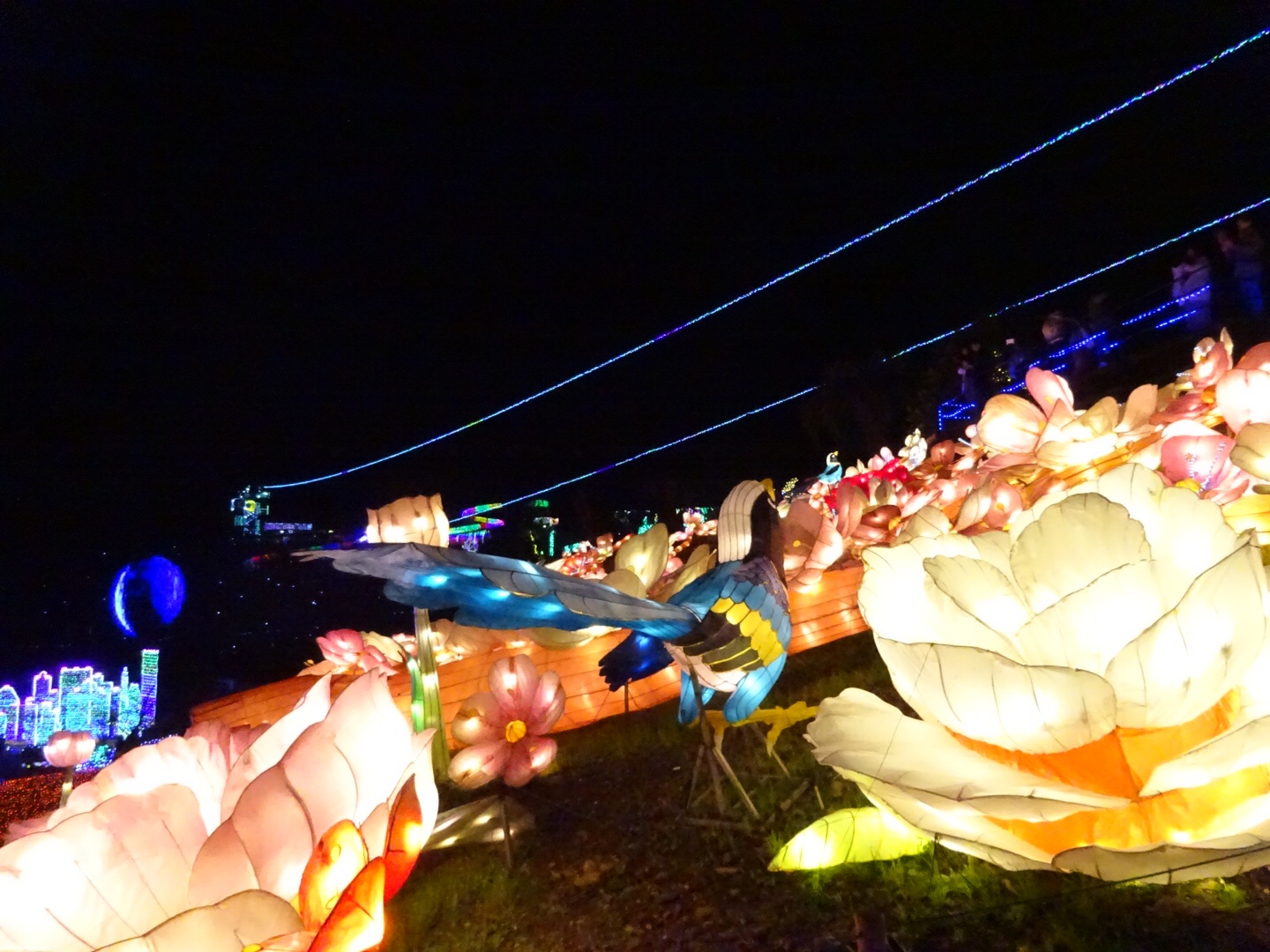 We had only 1 hour to stay here, so it was a little bit rushing.
But it was a nice tour to explore a new place at a daytime and a night time.
We went to so many places and had a big delicous BBQ lunch, and the total was less than 10,000 yen.
Maybe next time, I will check other bus tour run by H.I.S. and explore another new places.
Related Links:
Explore bus tours by H.I.S.