"Tao Island" is the local word for Turtle Island
Do you all know Koh Tao?
Koh Tao is a small island just two hours north from Koh Samui by ferry.
It's not very well known in Japan because the transportation from Japan is not so good as there is no direct flight.
However, the transparency of the sea is outstanding and it is a dive spot among divers.
Tao seems to mean a turtle in Thai language, and the island shape is like a turtle, so it seems that there are various origins for the name, such as being able to see a turtle in the water.
Koh Tao is a small island with little flat land, and the island is only 24 kilometers around.
However, moving to the next beach requires a V-shaped movement around the middle of the island on a rugged road, so moving around the island is surprisingly inconvenient.
Therefore, the most popular streets extend north and south around the ferry terminal.
On this street you can sign up for restaurants, bars, cafes, bike rental shops and snorkels for optional tours.
You will notice that you are walking in a moving ferry or in the city, but there are many Westerners on this island.
The season on Tao Island seems to be from March to October. During this period, the sea is calm and the sea is beautiful.
The time I stayed was still before the season.
I stayed at Jama Kiri Resort & Spa
I stayed at Jamah kiri Resort & Spa on Koh Tao.
I chose this because it was a 50% off promotion on a travel site about 2 months before my stay.
We ranked 7th in the hotel with a TripAdvisor rating of more than 50, so we booked the hotel after seeing it there.
I booked less than 15,000 yen per night (about 120USD).
It's very reasonable price.
I don't know if the hotel has 5 stars or 4 stars, but if it is 4 stars, it is a very highly rated hotel.
I wrote here how to get to Koh Tao, but it is about 2 hours by ferry from Koh Samui.
Related Article:【2019年1月】サムイ島からタオ島への行き方  (under translation. sorry!)
The hotel's free shuttle picked me up from the ferry terminal to the hotel.
With a 4WD pick-up truck, I swayed up the hill like an off-road and arrived at the hotel.
It should probably be quite high above sea level.
Check-in was late at night, so I had dinner at the hotel restaurant.
After check-in, they will take you to the hotel room.
There are many stairs on the premises.
Room of hotel was room based on red and was quite large.
There was a large window in the front and a veranda.
The bathroom was also a type with a separate shower and bathtub.
Amenity is probably the hotel's own brand.
I have never seen it.
Ocean view room
The next morning, I woke up and opened the curtain and was surprised at the scenery.
This is exactly "the ocean view" I have ever imagined.
The sea is clear and really beautiful.
The view from the room is great as everyone says. It's really good.
There is no place where you can get a 180 degree panoramic view for less than 15,000 yen per night (about 120USD).
It's a great location with breakfast and a view of the sea from the dining venue.
However, I was aware on the way to breakfast that this hotel is built facing the slope of a cliff, so there is a considerable difference in elevation.
In order to have breakfast, I have to go to the restaurant next to the pool, but first I have to climb quite a few steps to get out of the room.
When you get out to the pool, this time you climb the stairs to the restaurant, and there are stairs inside the restaurant.
Basically, going up and down stairs is a must-locate wherever you go.
Here is the breakfast
When you arrive at the restaurant, the clerk will immediately come and prepare your seat.
At least 1 person was native english speaker.
You will eat breakfast at a small restaurant, but the menu was fairly good for its scale.
There were vegetables, ham and cheese, or you can order warm items from the menu.
Of course the view from the restaurant is wonderful.
Let's go check hotel pool
The hotel pool is not very large, but you can spend a quiet time.
There was a fairly large rock next to the pool, making it a pool made of natural rock.
I thought that the chairs around the pool were prepared enough for guests.
So I didn't sit in a chair and use the pool with care next to me.
I was grateful if you could create a little more shade.
You can also order drinks and food at the pool side.
Boat station at the side of Hotel residence area
When you get off at the bottom of the hotel, there is a dock for small boats.
Here too, big rocks are rolling along the coast.
At the end of the road you will find a small boat that will take you to the beach of the hotel next door.
The front desk said that if you want to go to the beach, please contact me and they will ship to the beach.
I have forgotten the time, but I think it was about 10 to 4 o'clock.
However, it is necessary to be careful because there may be days when the ship cannot reach the dock due to the height of the waves.
The day I was going to ask the hotel to take me to the beach was very windy day and I couldn't take the boat. .
Going to the city
I took the hotel's free shuttle to the center of Koh Tao.
However, since Tao Island is quite small, it feels like we're back near the ferry terminal.
I think that is the case with other islands, but prices are higher on Koh Tao compared to Bangkok.
A typical restaurant costs between 110 and 120 baht per plate.
It's about twice that of Bangkok.
If your beach sandals cost less than 100 baht in the city of Bangkok, you should get one.
Be prepared for at least 200 baht in Koh Tao.
I felt like crying when I had to buy a cheaper version than Bangkok one, although there was little choices.
I could have bought it at half price in Bangkok!
So sad..
Everyone, get what you need on the beach as much as possible before going to the island, and then try to cross the island.
The return shuttle took 6 hours to arrive, so I paid 500 Baht to the hotel where it took less than 5 minutes to reach the hotel.
Hotel's Timetable for the shuttle is not good…
Enjoy Sunset
The sunset from the hotel was the most beautiful!!
It's such a luxurious view that you can see it from the balcony.
Let's go check Hotel restaurant
The restaurant of the hotel was ranked as a famous restaurant on the island, so it was a stylish arrangement and taste though the price is quite high.
Since the hotel itself is quite deep inside of the island, the number of meals we had at the hotel will inevitably increase.
Besides the price, I got tired of eating many meals because I ate at this restaurant too many times..
Walk around the hotel
Actually, I was thinking of hiring a motorcycle before I stayed at a hotel.
Let's go around the island using a motorcycle! That's what I was thinking.
However, I was scared of the rough road with less undulations than I expected, so I gave up the plan to rent a motorcycle and walk around the island.
I'm really sorry for my companion who was looking forward to renting a bike and exploring the island, and just regretted that I should have chosen a hotel that suits my aptitude and purpose a little more.
I felt sorry..
The slope in front of the hotel was so steep that the slope was about 15 degrees, so I couldn't walk straight down. (So scary!!)
If you see such a slope, you will be scared.
There really isn't anything around the hotel.
One day, I went to a local restaurant called Bella Thai Food, which was about a 30-minute walk, to try a nearby restaurant.
You have to climb up and down the scenic slope to get here.
In a sense, it was a tourture, so I walked silently like a monk.
I ordered Pad Thai and fried rice at the restaurant.
There are no other restaurants around here, so it's different from the ones that compete in taste, but it was usually delicious.
After the meal, I remember that the front desk said that there was a beach at the next hotel, so I went down the stairs to go to the next hotel, Hardien Beach Resort.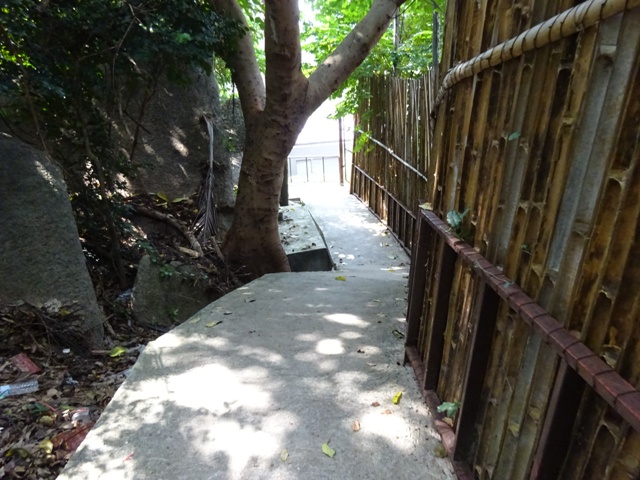 However, we arrived at the bar that says Rocky Resort.
And the tragedy was that the beach of the hotel next door was just in front of me, but today it was high waves and I couldn't get on the boat…
Yes, this confirmed that we never came to Koh Tao and never entered the beach…
Oh my god…
All I have to do is return to the hotel and leave the boat from the dock! I hurried back home, but this is also high tide, so we couldn't get on the boat to the beach…
Hotel accommodation impressions
You should be prepared to climb up and down the stairs topographically.
The view from the Jama Kiri Hotel was wonderful.
Dozens of steps to go to restaurants, dozens of steps to go to the pool, dozens of steps to go to the boat landing, and if you want to get to the front from there, maybe you should be prepared to climb near 100 steps…
But this is not a hotel issue, so I can only think of it as a good exercise.
However, if it is a five-star, I wanted to feel the hospitality of the employees a little bit more.
At the time of check-in, I was happy that I received a welcome drink and a hand towel, and I was grateful to have been able to explain the usage time of the room and facilities.
But, I wish I could hear something like "Hello, How about your stay?" or "Is not something inconvenient?" from the stuff to feel their hospitality.
Is it a language problem?
Cultural issues?
I couldn't feel that.
They said that the hotel has a free boat service that will take you to the beach next door.
However, they just explained the opening hours and how to get there, so I wish that they could give me a more detailed explanation such as whether I can lend towels when I actually can go to the beach, whether you can use a shower, what to do if you want to go home, etc.
(Well, I eventually couldn't enjoy the beach…)
The free shuttle buses that can get out in the town are 13:30, 18:30, and 21:30, but I think that I wanted to make 15:30.
As for amenities, I was quite surprised to see a shampoo including conditioner.
In my experience, 5 star hotels usually provide a high quality amenities.
So, I am looking forward to seeing and using the amenities they offer, but I was very disappointed with the amenities this hotel had offered, to be hornest.
Even another 4 star hotel had prepared a comb, but they didn't provide it…
And we were staying with a couple, but they only prepared 1 pair of toothbrush and bathrobe..
What should we do with 1 pair of those??
I felt that there were few towels.
Only one set of hair towel and bath towel without hand towel.
If you take a shower after going to the pool in the daytime and then take a shower at night, you will end up using the same towel, and it would be nice to leave one set aside for a 5-star hotel.
That way, you don't have to call the front desk one by one.
The most disappointing thing was that during my stay, I wanted to do something surprise to my partner, so I emailed the hotel, but in the end there was no reply.
At the end, I could not do anything.
When I stayed at another 5 star hotel on the other day, I requested the hotel via email to help me celebrate my partner by doing something special. They responded me to accept it.
Then when I went to the hotel, they decorated the room with flowers and cute animal made by towels, prepared a cake, etc.
So I expected something similar, but it was sad that I didn't even receive an email from the hotel…
It made me suspect that is why this hotel is ranked below 9 points on tripadvisor even though the hotel claims themselves as a 5-star hotel and ranked top 10 on thier site.
(Some sites ranked this hotel as a 4-star hotel, so I don't know exactly how many star this hotel maintains..)
But I told myself that I would never buy a sale hotel on hotels.com….
Yea, I know I am just bitching, haha.
And this is my totally personal impression to this hotel. No offense..
Looking back on my stay in Koh Tao
To be honest, I could not enjoy my stay at Koh Tao this time as you can imagine.
The reason was that I didn't have enough research to find out what Tao Island is like.
I knew that there were a lot of slopes, but I didn't know that it was an island with a lot of slopes with a slope like touture.
I jumped into a time-sale hotel, but I had to think carefully about my personality and the objective of my trip when choosing a hotel.
Actually I wanted to write a lot of fun feelings of Koh Tao, but I can't lie.
This time was especially the first time on Koh Tao, so I think that if you stay at a hotel near the ferry platform on a flatland, then the way you spend time on Koh Tao may change.
Also, since it is a diving island, I should have looked for snorkeling tours.
What I learned this time is that staying at a hilltop hotel tends to be isolated if there is no car on Koh Tao.
And it also tends to cost money.
Of course, if you want to relax, this hotel is the best!
There are a lot of stairs.
However, we were greedy people who wanted to relax and go out!!
So this hotel may not have been the hotel for us on this island.
There was also the tragedy of hitting a high wave when I wanted to go to the beach.
For beginners of Koh Tao, when you staying in Koh Tao, be sure to stay at or near the ferry platform.
And enjoy snorkeling, diving and more!
If you want to stay on Tao Island, which has a heavy-slope, here are the hotels to choose!
Koh Tao Heights Pool Villas
Address:49/3 Moo 1, Sairee Village, Koh Tao, Koh Phangan, Surat Thani 84360 Thailand
TEL:+66 89 588 0942
Hotel homepage :http://www.theplacekohtao.com/
My comment: Probably a 4 star hotel, although rated 3 stars by the site. It's on a hill a little north of the ferry terminal.
It seems that there is a car coming to the ferry (Unknown if it's free).
There is a dedicated infinity pool!!
The TripAdvisor ranking is 2nd.
There is a steep hill from the hotel gate to the reception, but it is 15 to 20 minutes walk to the ferry terminal (this is very important in Koh Tao) on Sairee Beach.
Being able to walk on Tao Island, which has many hills, is quite a high point.
This hotel is recommended if you want to enjoy the combination of the lower hill and the luxury hotel.
A room with a private pool is attractive from 16,000 yen to 17,000 yen per night (about 150USD).
There are bike rentals and taxi arrangements. Local food delivery is also available.
They also handle the purchase of ferry tickets.
Koh Tao Heights Pool Villas availability
Haadtien Beach Resort
Address:19/9 หมู่ที่ 3 Tambon Ko Tao, Amphoe Ko Pha-ngan, Chang Wat Surat Thani 84360 タイ
TEL:+66 77 456 580
Hotel homepage:http://haadtien-beach-resort.kohtao-hotels.net/ja/
This is a 4-star hotel, which is located next to Jamakiri Spa & Resort Hotel.
(Depending on the site, it is ranked at 3.5 stars, so it may be better to think of it as a slightly better hotel of 3 star hotels.)
The price starts from 10600 yen (about 90USD).
Although it is not a private beach, there is a sandy beach in front of the hotel, which is rare on Koh Tao.
The picture below is from TripAdvisor.
There is also an infinity pool in front of the beach, and being able to go out to the beach when you want to swim on the beach may be less stressful.
I think that hotels with a private beach on Tao Island are quite rare, so it is better to see them as a hotel with a private beach without making excessive expectations.
Recommended for those who want to use the private beach while enjoying the pool while relaxing.