Sunflower's 50th anniversary banquet
This year marks the 50th anniversary of Sunflower's launch, and for a limited time from August 10th to September 10th, a special flight will be launched where you can experience decorations and events in collaboration with the One Piece manga throughout the hull and interior. I am.
I was lucky enough to be able to board the ship this time.
Reservations were almost full because it coincided with the Obon period.
It was worth checking the homepage every day, and I was able to get a boarding ticket.
Due to a typhoon approaching, I had booked a flight for the evening, but the flight was scheduled to depart earlier than usual, so I was advised on the website to arrive early.
Just in case, I arrived at Oarai around noon with plenty of time to spare.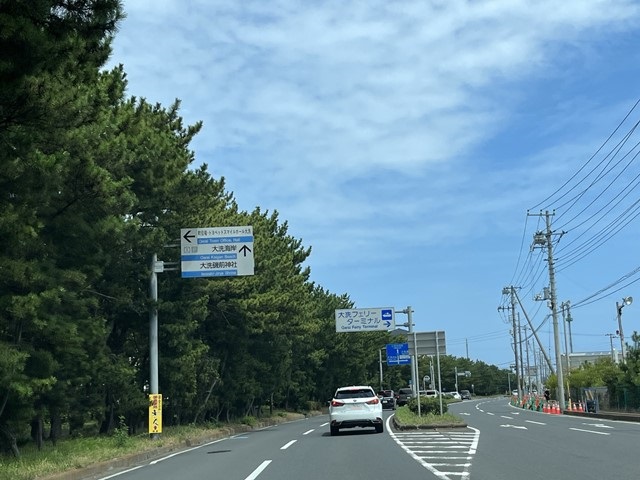 This time I will be boarding the ship with my car, so I will complete the formalities early.
The check-in gate wasn't empty yet, but quite a few people were gathering.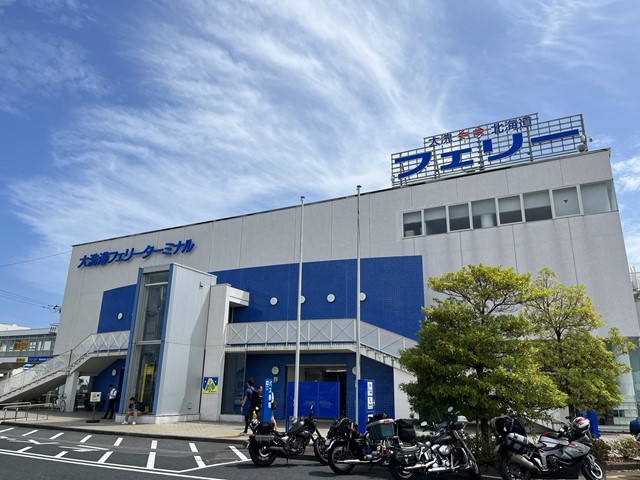 Bus users are also arriving one after another from Mito Station and Oarai Station.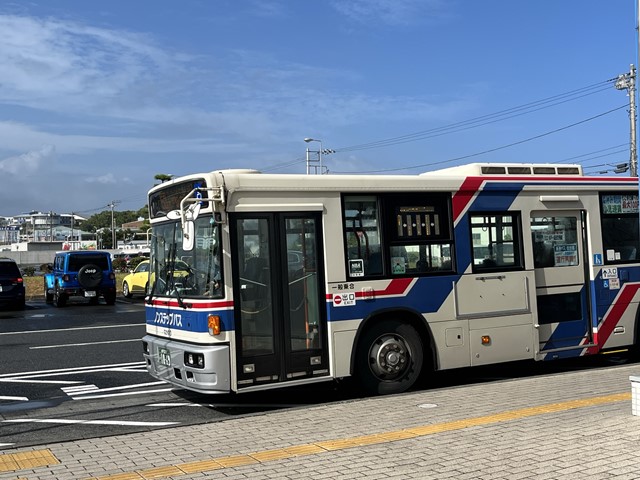 I've been on the Sunflower Oarai-Tomakomai service before, but this time I'm nervous because I'll be on board with my car.
If you are traveling with a car, please do not forget to show your vehicle registration certificate.
After check-in, passengers using a private room will be given an electronic card that doubles as a room card key and a boarding ticket.
This time, I booked the same room as the last time I boarded the ship.
It also has a balcony, so I'm looking forward to it.
Click here for an article about when I boarded the ship on foot.
Related Articles:~商船三井フェリー~大洗から苫小牧まで【GoTo補足あり】
Since we had already checked in, we had lunch while taking a walk nearby until boarding time.
I found some restaurants where you can eat lunch, so please refer to them before you leave.
Related Articles:Recommended lunch around Arai Ferry Terminal
First car ride
If boarding by car, the driver will move the car to the car waiting area and wait for boarding.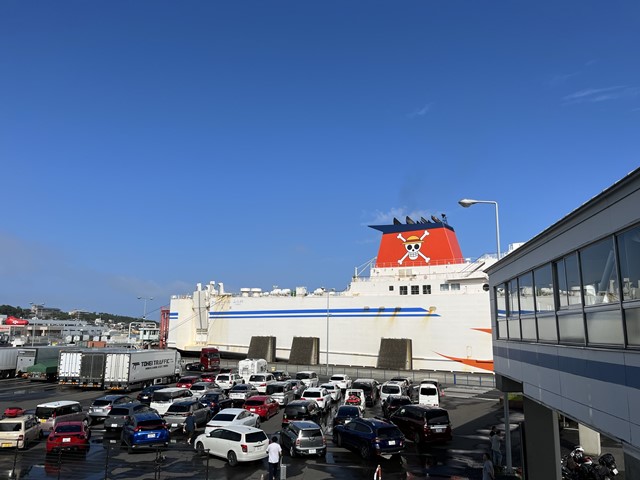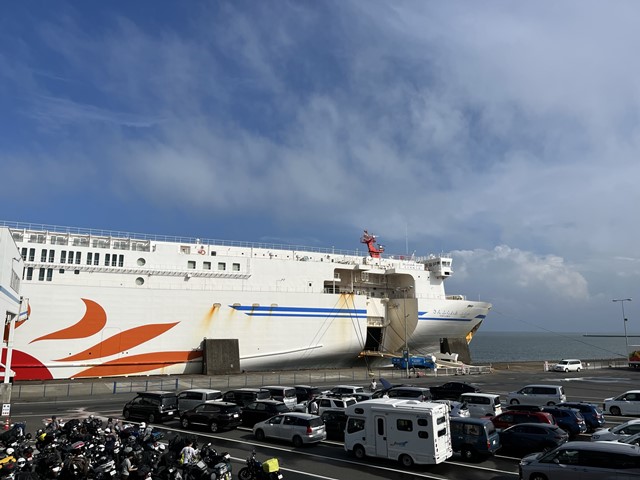 Passengers will board the ship on foot with the passengers boarding on foot.
From the car, you can see the moment when the gangway for boarding on foot is being hung on the ship, which is a bit refreshing.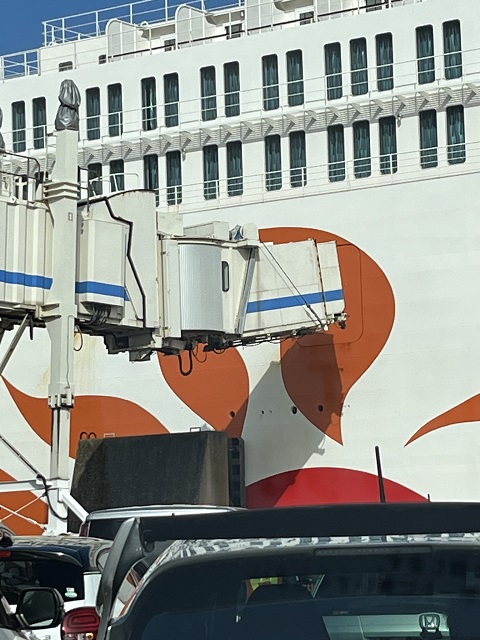 When it is time to board the ship, the guides guide the cars and motorbikes onto the ship in the order of large trucks, passenger cars, and motorbikes.
Cars will be guided in an orderly manner to a parking space on the ship and securely locked with a car stop.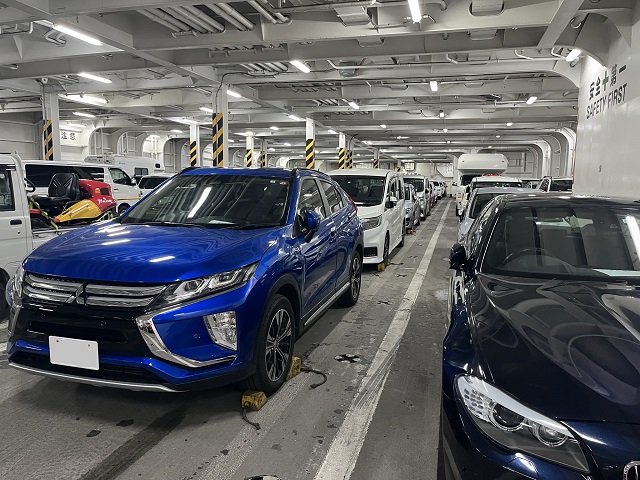 Alcohol is sold on the ship, but for dads who want a quick drink after boarding, there are beer and soft drink vending machines on the second floor of the boarding terminal.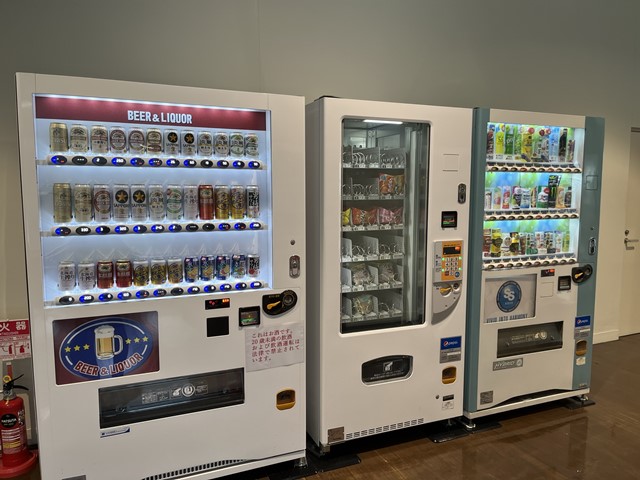 Passengers on foot board the ship through a gangway similar to the boarding gate of an airplane.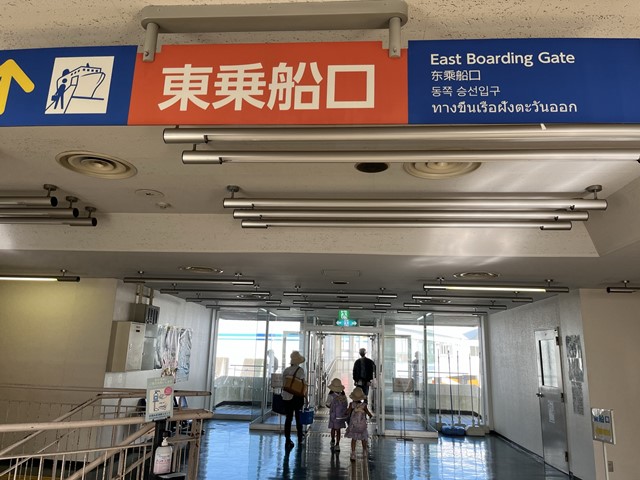 I was surprised that there was an elevator on board.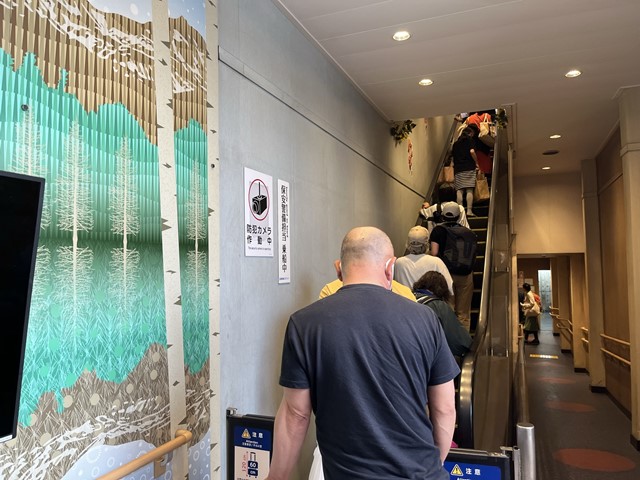 Premium room with private balcony
Today's room is a premium room with a balcony.
There aren't many rooms with balconies, so I'm looking forward to being able to step out onto the balcony and feel the sea breeze.
Now let's go to today's room.
Suites and premium rooms are located on the 7th floor.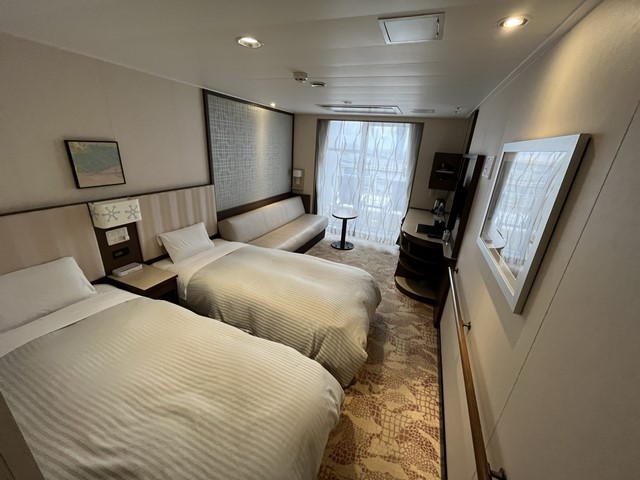 There are two double beds and one sofa that converts into a sofa bed. Maximum capacity is 3 people.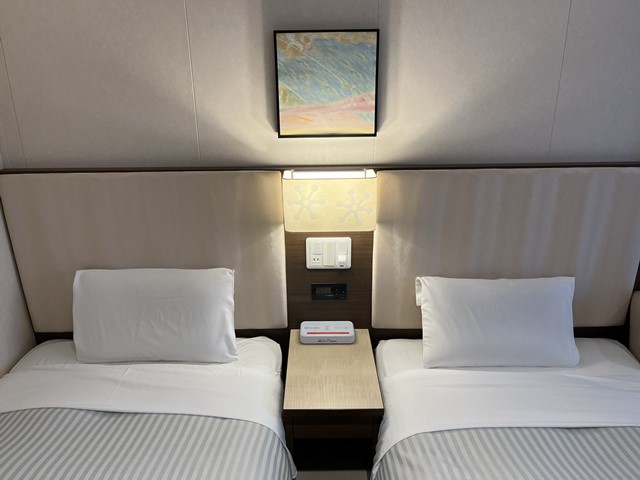 Looking at it like this, it is as spacious as an ordinary hotel room.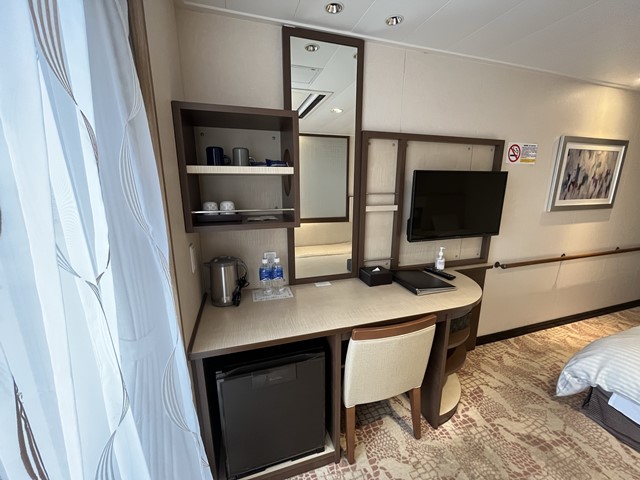 There are some ship-specific parts, and the cupboard is equipped with a pole for sliding down and the table is fixed.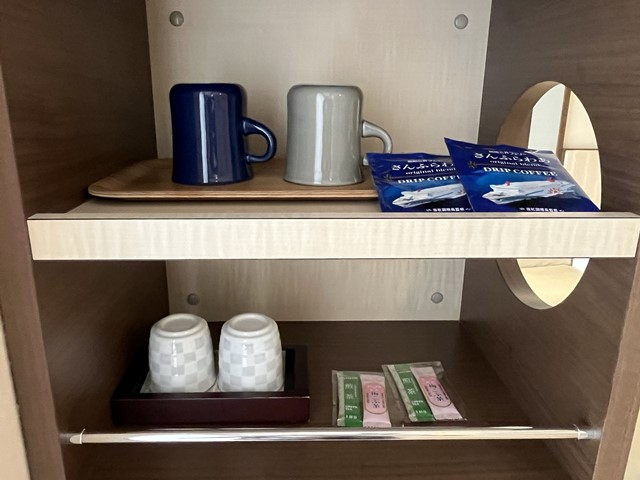 Slippers, bath towels, and indoor wear were provided.
Sunflower's original towels and shampoos are provided in a special pouch.
Indoor wear is a coverall type. The fabric is thick, so it looks like you can wear it alone even in winter.
Convenient when using the public bath.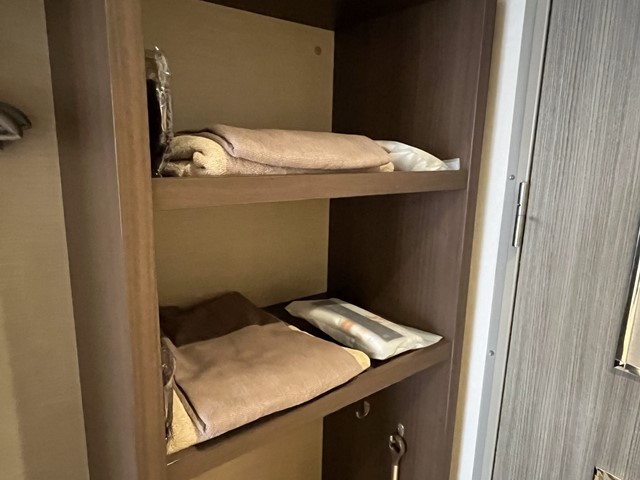 Sunflower's original towel and large shampoo, conditioner, and body soap are a little large.
Shampoo, conditioner, and body soap are provided in the public bath, so it may be a good idea to bring your own body towel.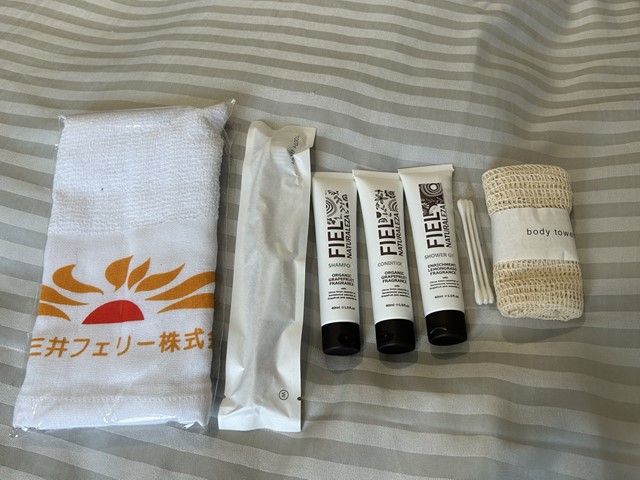 There is a bathtub and shower in the room, but I didn't use it this time because there is a large communal bath.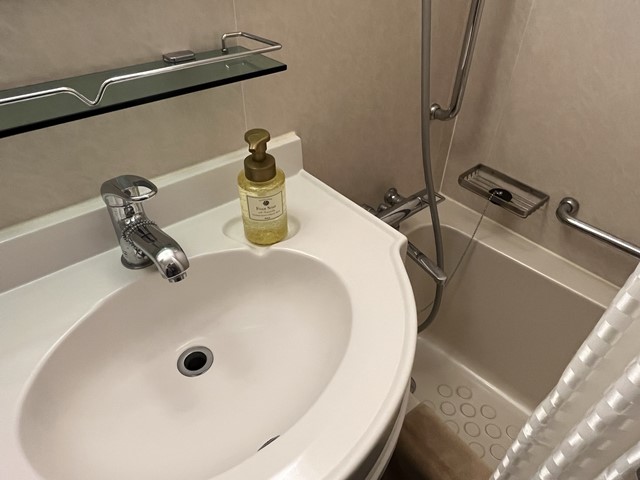 And this is one of the pleasures of this cruise.
The view from the balcony and balcony is the best.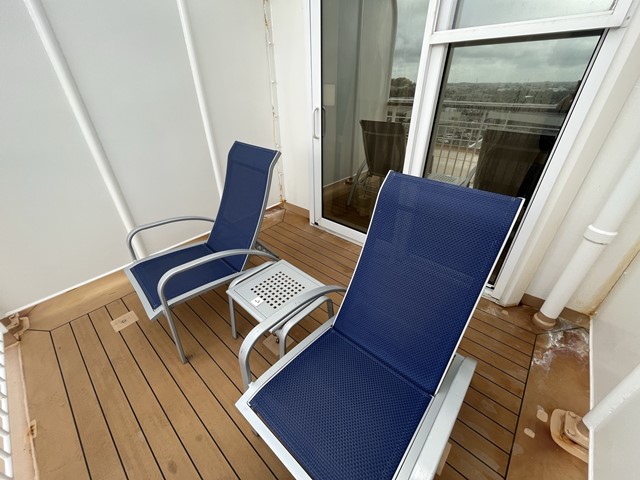 This space is quite luxurious.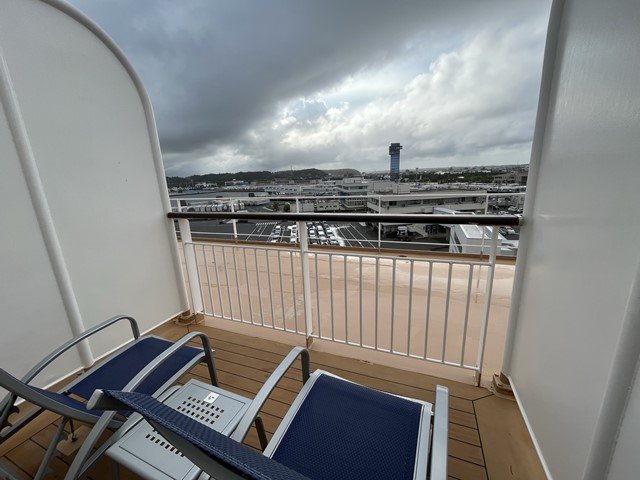 The front of the balcony is located slightly inside the hull for safety reasons.
The weather was on the verge of a storm, so the sky looked quite manly, but it still felt good to feel the sea breeze.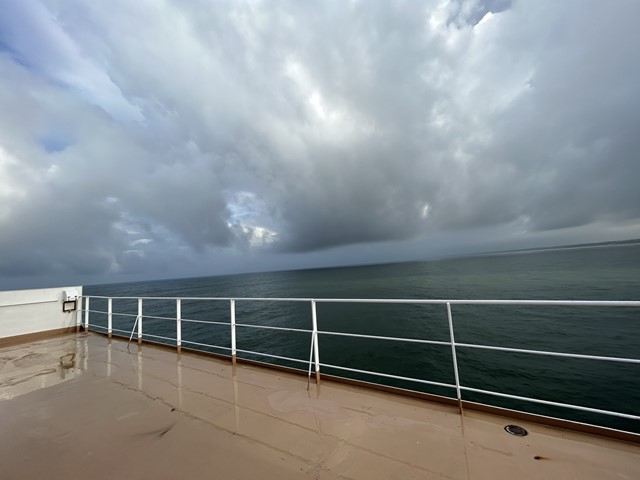 Walk around the ship
After settling down inside, I went out for a walk around the ship, which everyone would do.
There are many chairs and tables in the corridor, so many people enjoyed eating and drinking while sailing.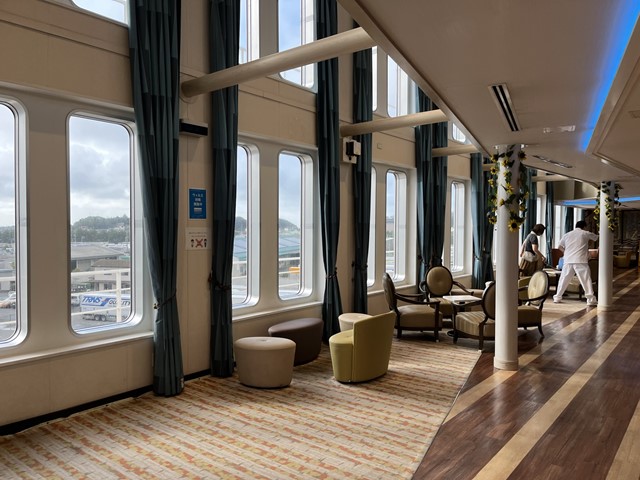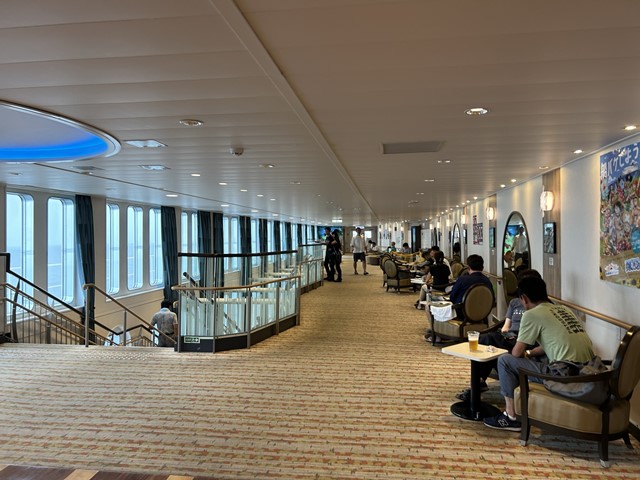 Panels and murals created in collaboration with One Piece were set up throughout the facility.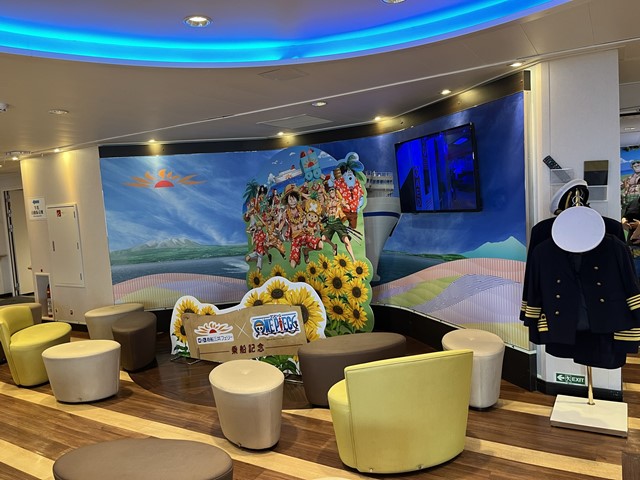 The MOL Ferry logo was specially drawn, and the inside of the building had a lively atmosphere.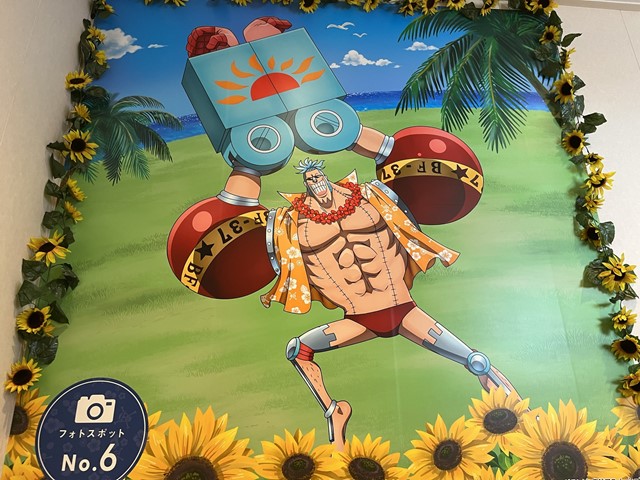 Then, when I went out on deck, I saw a rainbow.
This view was only possible because of the strange weather.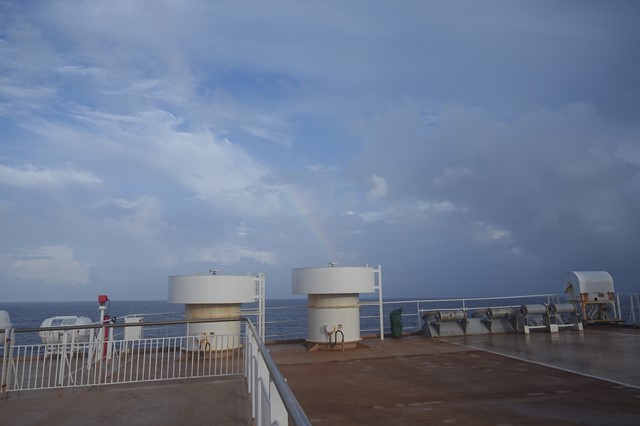 船が大きいだけあって、甲板もめちゃくちゃ広い!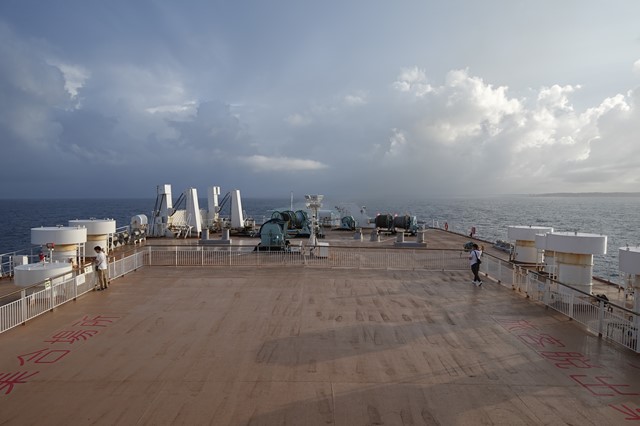 The illustration of the skull drawn on the hull for a limited time was also conspicuous.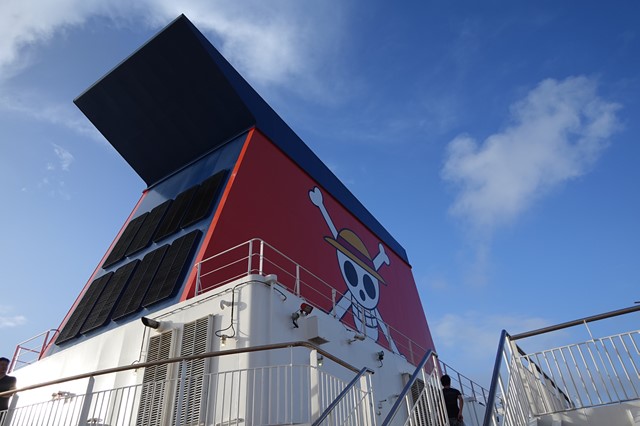 The Sunflower logo also stands out.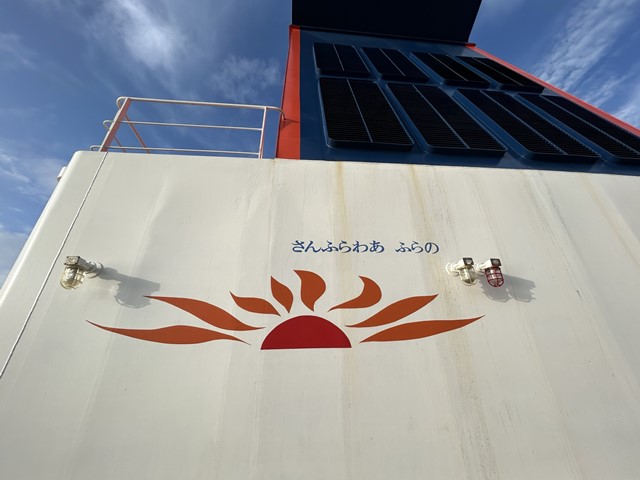 The wind was quite strong so we couldn't stay outside for too long, but the view from the sea was amazing.
Introduction of equipment
The ship had various facilities such as a shop and a large public bath.
Shops
First, let me introduce the store.
The shop sells snacks such as sandwiches and alcoholic beverages,
Drinks such as alcohol and beer and souvenirs were also available.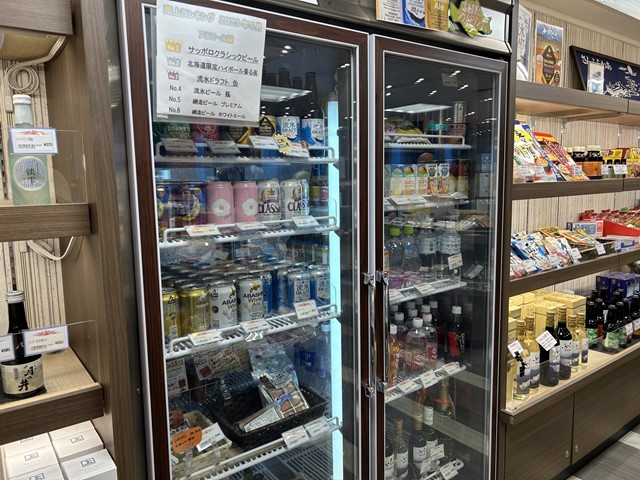 They also have ice cream.
The shaking was quite strong that day, and I thought about buying the motion sickness medicine next to the cash register, but decided against it.
Pet Room
And a room for pets.
The room in front of the deck is a pet room, and individual cages are provided.
その隣は甲板の一部をドッグランとして使えるように用意されています。
There are some rooms where you can stay with your pet, but the number is quite small, so if you can't get a room where you can stay with your pet, you'll likely have to use the pet room.
The rules for pet rooms and rooms where pets can stay seem to be getting stricter year by year, so you need to be careful.
Information Section
There is an information counter in the center of the ship.
There is a tourist information about Tomakomai made by the captain, so please stop by once.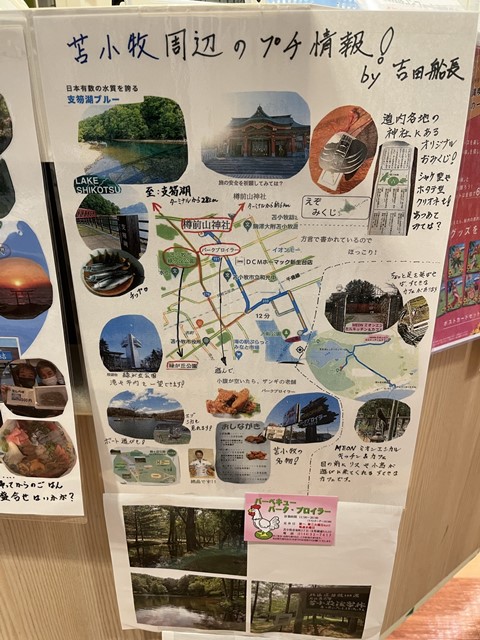 Public Locker
There was a locker near the tourist room in the so-called sleeping space where you can store refrigerated items and a coin locker where you can store valuables.
Refrigerated storage lockers can be surprisingly useful.
Female tourist room
If you are a solo female traveler, you might be a little worried about using a mixed-gender tourist room.
However, there were places where tourist rooms were set up for women.
Although it is not a private room, it seemed convenient for a cheap and safe voyage.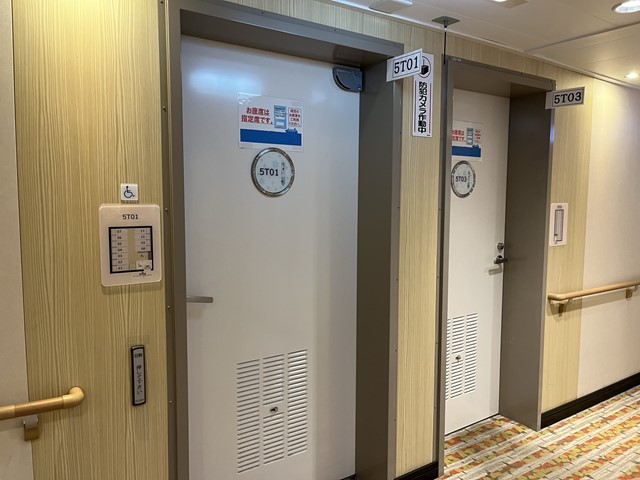 Coin Laundry
The coin laundry was quite popular on the ship.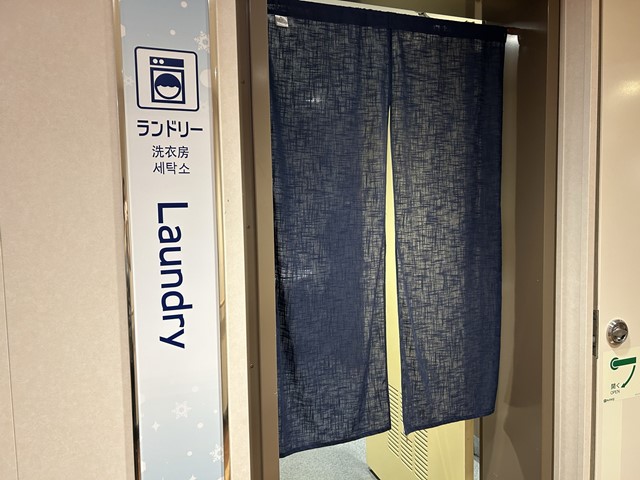 It seems that many people start using the washing machines right after boarding the ship, and when I looked around shortly after boarding the ship, all the washing machines were occupied.
When I looked in again after dinner, there was one vacant spot, so I recommend checking back frequently.
The washing machine charges 300 yen for automatic detergent, and the dryer costs 100 yen for 30 minutes.
Drying for 30 minutes is enough for one person, but if you have a washing machine for two people, it is safer to dry for 60 minutes.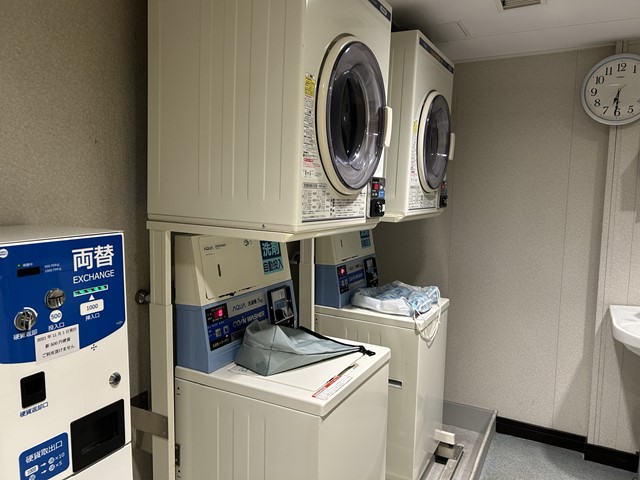 Public Bath
Large public baths are available for both men and women.
Shampoo and other items are provided, so bring your own towels from your room.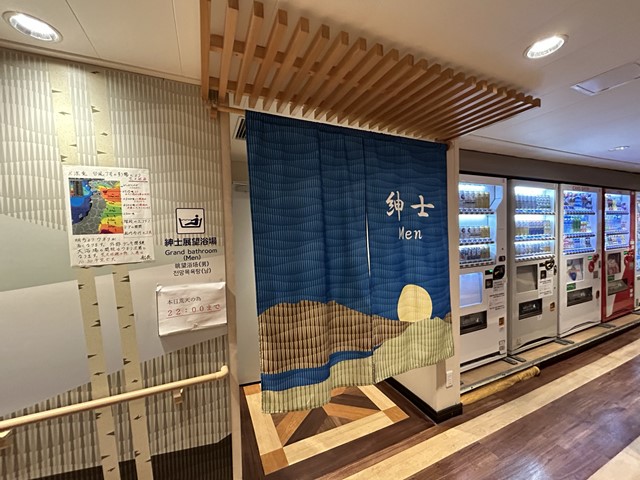 Due to bad weather on this day, the usage time was until 22:00.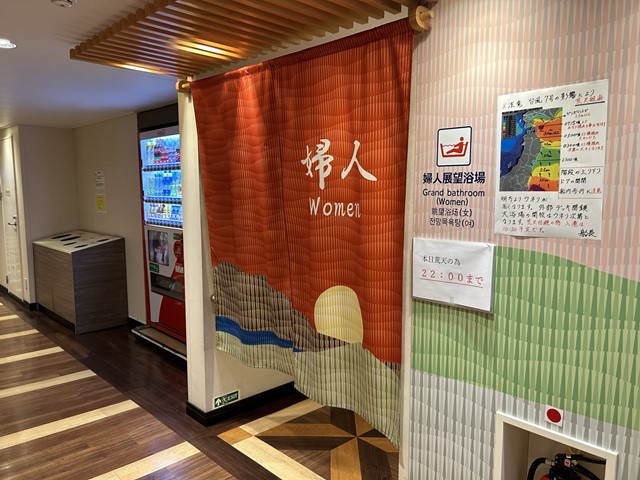 You can't take pictures inside, but there are about 8 washing areas and 2 baths.
I thought it was quite spacious considering it was a bath on a ship.
It was dark, but I could see the ocean and a small light on the other side from the bathtub.
It's like this if you just tell me the image.
For more information, please refer to the website of Mitsui O.S.K. Lines Ferry.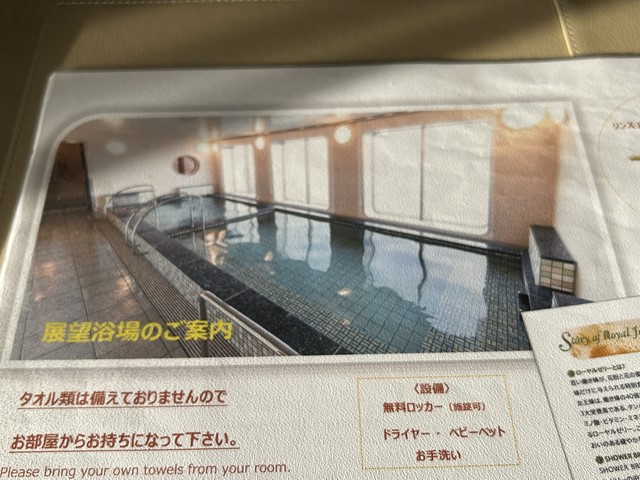 Masage Chair
A massage chair was prepared outside the public bath.
I thought there were a lot of people using it, but surprisingly no one was using it.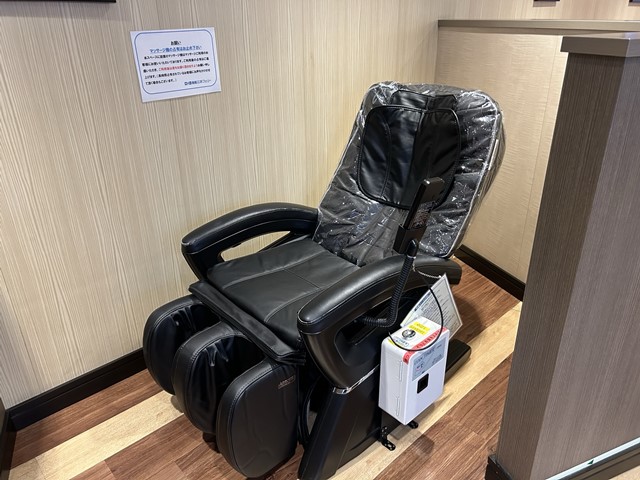 There is a vending machine in front, so it seemed like a good idea to relax while drinking soft drinks or Hokkaido milk.
Dinner is a regular buffet and a one-piece collaboration menu
For dinner, some people bring their own lunch boxes and eat at a table in the lobby, while others eat light meals.
This time, although it was a bit expensive, I used the standard on-board buffet.
Since it was in collaboration with One Piece, there was a regular dinner buffet menu and a One Piece collaboration menu.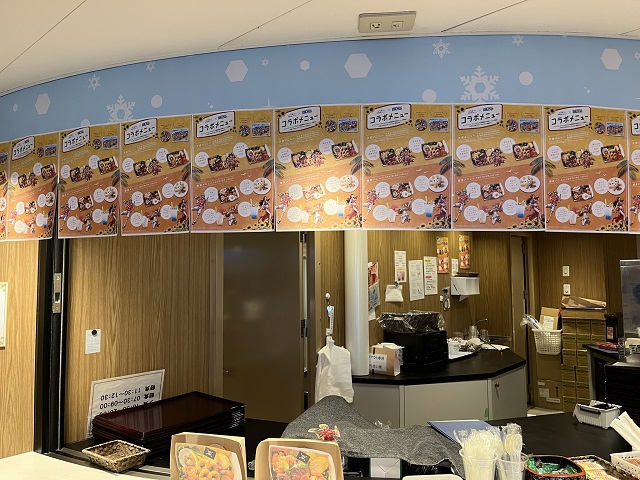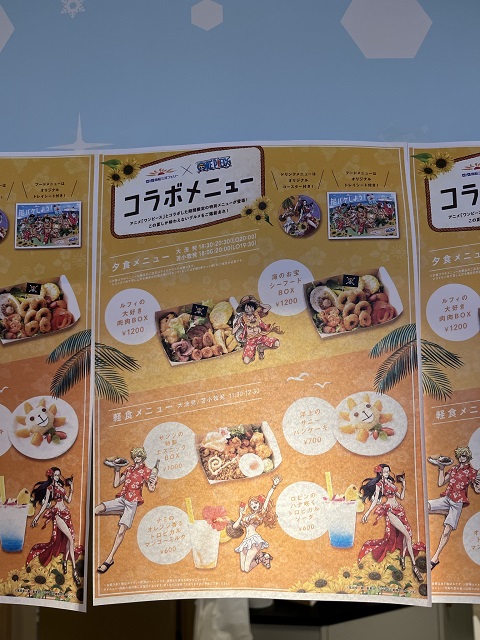 Dinner is a system that buys meal tickets in advance with a ticket vending machine.
There is a small discount if you purchase breakfast for the next day as well.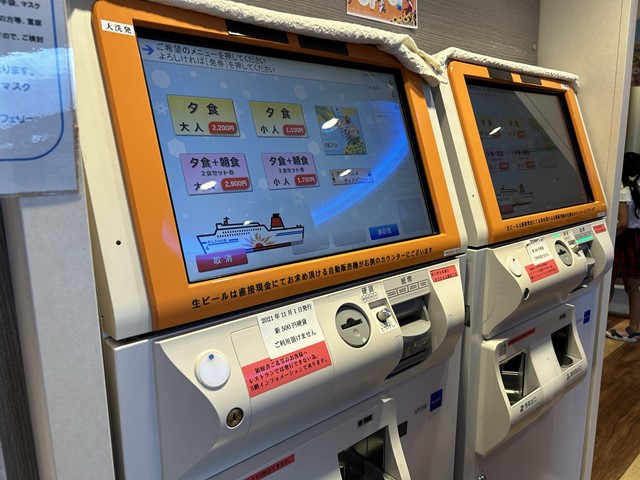 It is cash only.
You will receive a meal ticket, so hand it to the person in charge.
There is a buffet corner and dining space inside the hotel.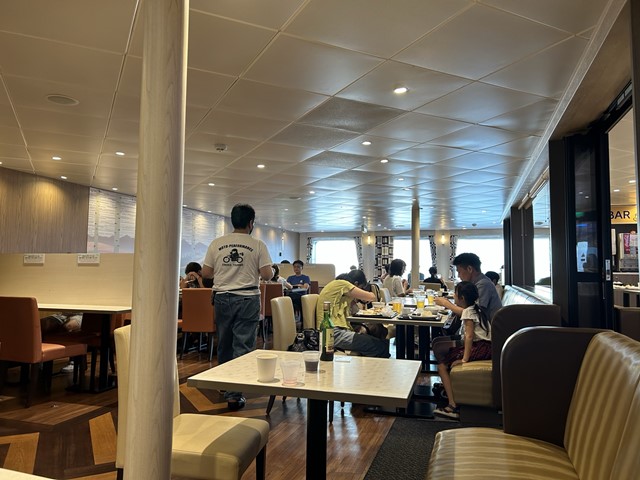 Seats by the window are always popular, and if you're lucky you can get a seat by the window if you arrive as soon as the restaurant opens for dinner, or if you arrive just in time for the first group to finish eating around 6:30 pm, it's quite competitive. A battle for the window seats will take place.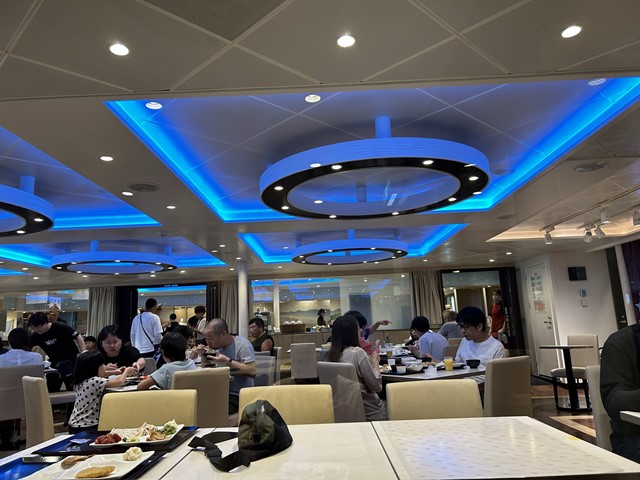 We were on the fence from the start and didn't choose a window seat.
For dinner, there was a wide variety of menus, from Chinese and Japanese food to sashimi and tortillas.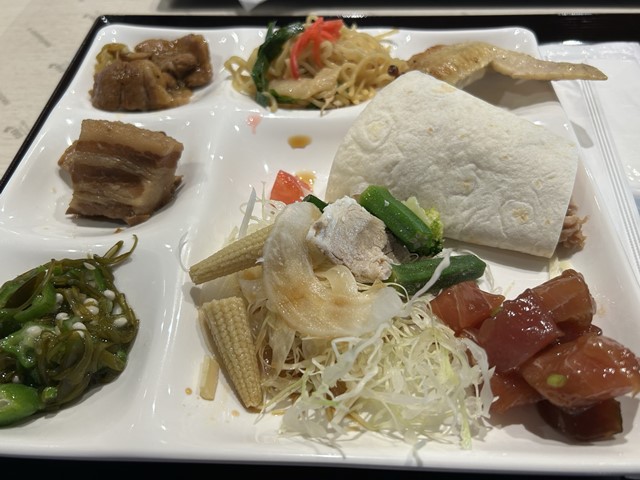 For hygiene reasons, masks and gloves are required when taking food from the buffet corner.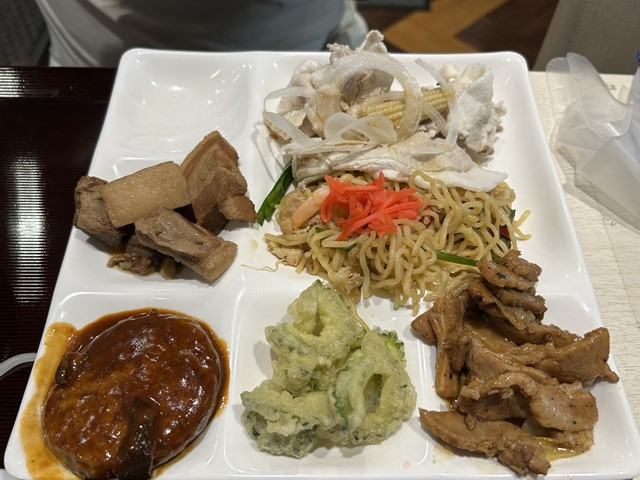 People who eat a lot seem to get their money's worth, but we probably couldn't.
The taste was good enough to have it on the ship.
It seems that a late-night rice bowl will be served after dinner, and it was announced on board.
If you are okay with a late dinner, it may be a good idea to have a late night snack.
Normal dinner time is 18:30-20:30 (LO/20:00).
After dinner, a rare astronomical show in the summer night sky
After dinner, I took a bath in the large communal bath and was lounging around in my room when the captain announced, "The stars are so beautiful today," so I went out to the balcony of my room and looked at the night sky.
Even with my poor eyesight, I could see the sky full of stars and the Milky Way faintly.
I don't know what it is when I take a picture with my cell phone, but it's a summer triangle.
I was able to see a shooting star for the first time in a long time, and it was a very valuable experience.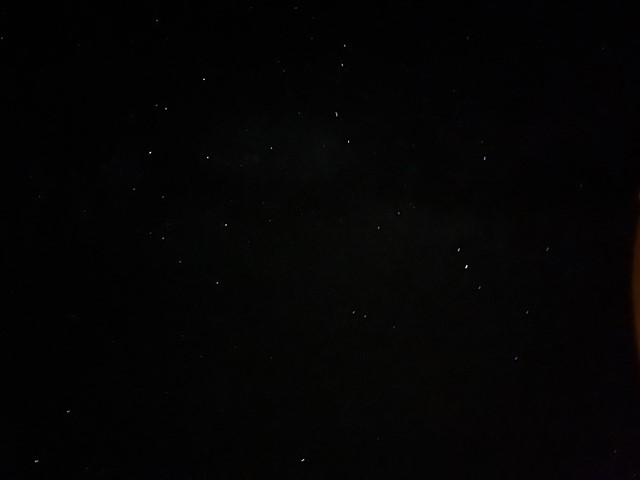 I go out for an early morning walk in the midst of violent shaking.
Good morning.
As we had been informed in advance by the onboard announcement, the ship was shaking quite a bit during the night.
However, humans get used to it, and although the wind was quite strong and the shaking was severe, I managed to sleep until morning.
Breakfast is normally open from 7:30.
This flight departed early, so breakfast started a little early.
Before breakfast, I went for a morning walk on the deck.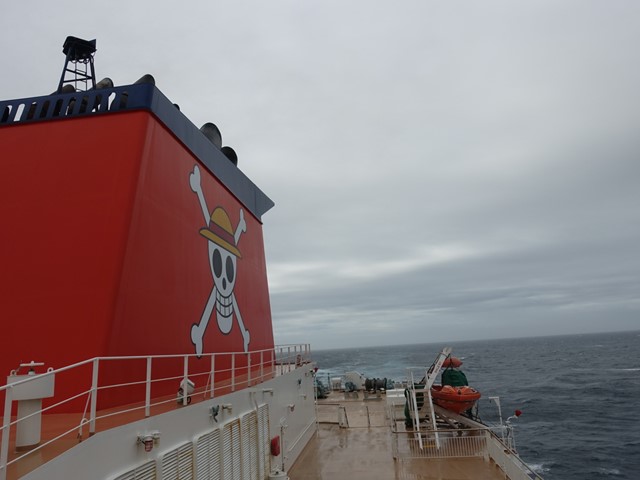 It was a pity that the weather was not good, but I was glad to be able to welcome the morning because it seems that there was concern about whether the sailing this time would be able to sail safely.
No one in the morning yet.
It's a good time to take a commemorative photo.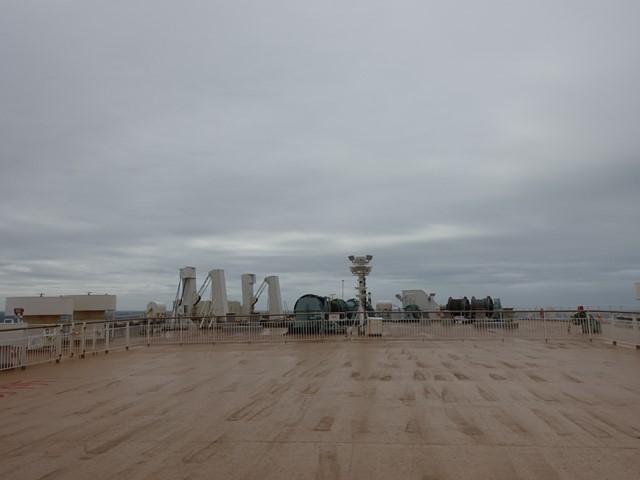 The ground is shaking and wet, so walk carefully to avoid slipping.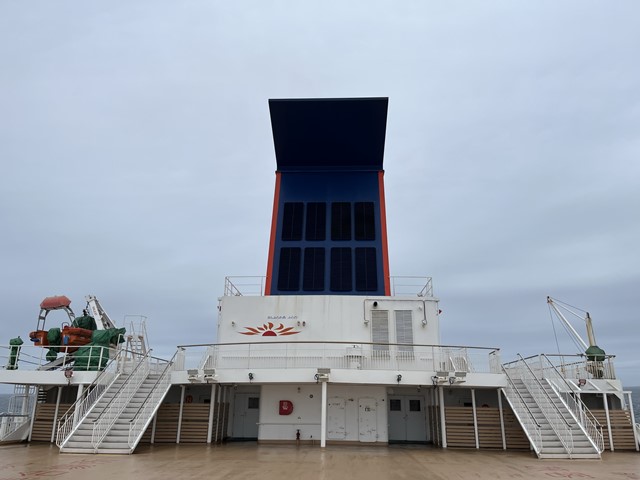 Breakfast
Well, it's time for breakfast, so I decided to eat breakfast at the same dining hall as yesterday.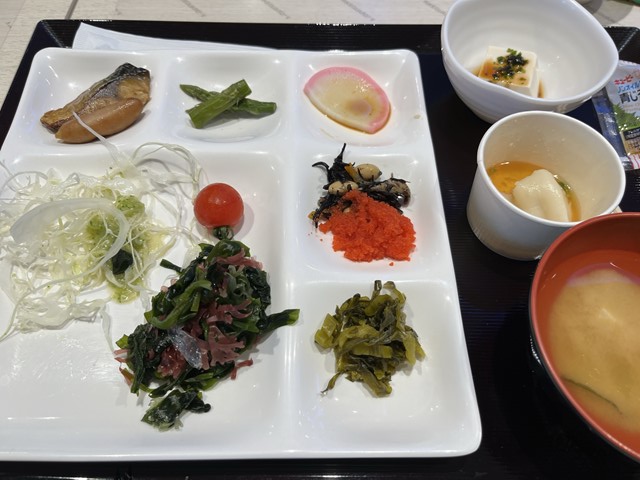 Perhaps because I went there first thing in the morning, it seemed less crowded than it was during dinner time last night.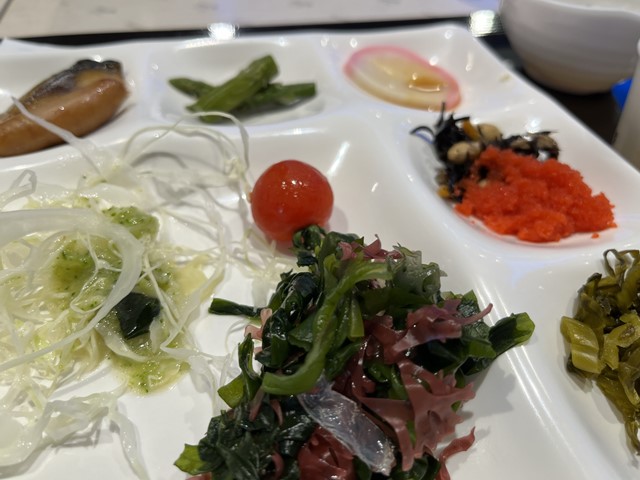 For breakfast, if you take the items prepared in the buffet corner little by little, the plate will fill up nicely.
I had kamaboko, hijiki, mentaiko, mustard greens, stir-fried asparagus, grilled fish, sausage, boiled gyoza, seaweed salad, rice and miso soup.
There were fried eggs and raw eggs, but this time I didn't get any eggs.
There were other curries available, so many people ate them with curry and rice.
By the way, if you know at the time of dinner that you will be eating both dinner and breakfast at the buffet, you can save a little money by purchasing a 2-meal ticket.
We bought a 2-meal ticket, so we were able to eat a little cheaper.

Arrival at Tomakomai
After breakfast, as we prepared to disembark, we soon saw land in the distance.
Entering Tomakomai Port.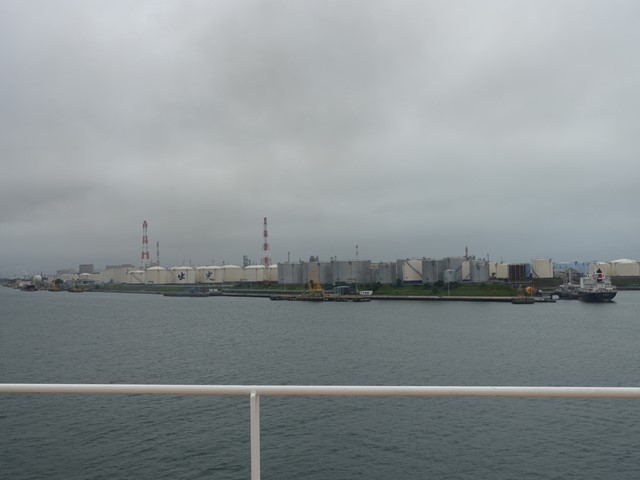 At Tomakomai Port, there were many trucks with cargo beds waiting to board the next ship.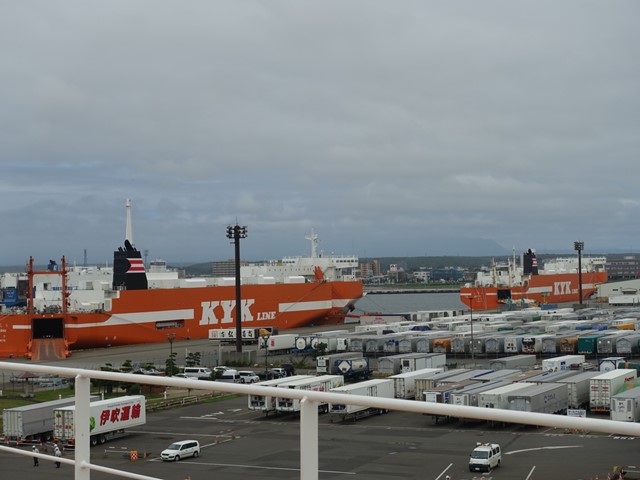 As soon as we entered the port, we were on shore.
After being guided through the ship, large trucks, cars, motorcycles, and passengers on foot from the upper floors began disembarking in that order.
Since we will be traveling with a car this time, we will get into the car as soon as we dock and wait for our turn to disembark.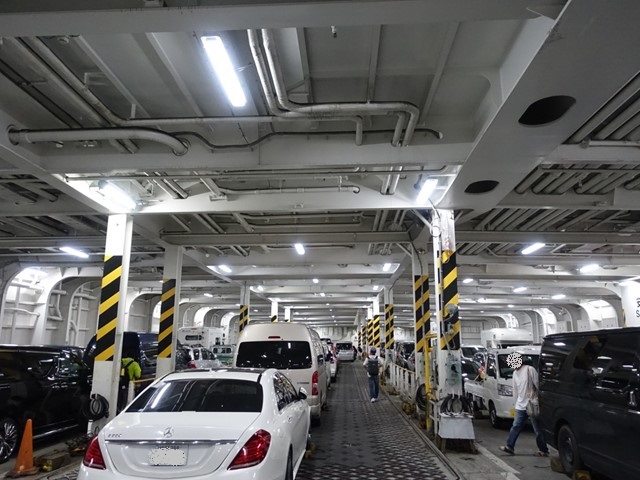 In no time, the car disembarkation was completed and we arrived safely at Tomakomai Port.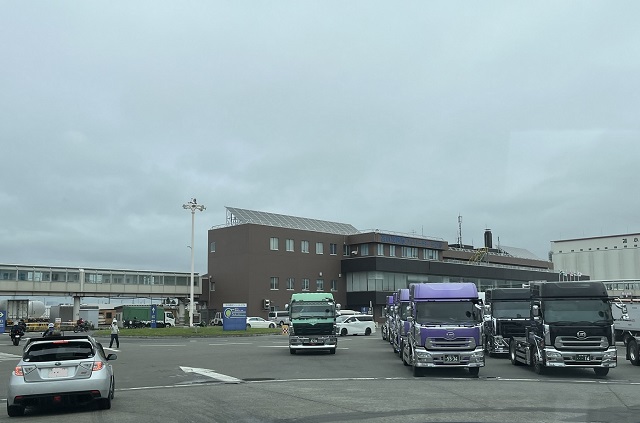 Thank you for the precious time!
Impressions of riding the Mitsui O.S.K. Lines Ferry Sunflower with a car
It was my first time on board with a car, and it was quite comfortable.
I was able to drive to Oarai in my own car, and I was transported to Hokkaido by boat.
This time, I reserved a premium room for 1 car and 2 adults, so the total amount is so much that I don't want to add it up.
Honestly, it would be cheaper to travel by plane or Shinkansen and rent a car.
However, the time I spent on the cruise, just looking at the horizon from my room while being swayed by the waves, watching the birds, and at night looking at the starry sky, was a great time that cannot be replaced with money.
Also, I was fortunate enough to be able to ride a special ship that was a collaboration ship with One Piece.
As you would expect from a premium room, the washroom attached to the room didn't have enough ventilation, so I was a little concerned about the smell of half-dried food, but the large communal bath felt great.
In addition, the shop had a wide variety of items, and the buffet was sufficient.
However, I was disappointed that the coffee after the meal was not good.
I'm not sure whether to choose the buffet next time.
We recommend that you take the plunge and book a room with a balcony.
It was so nice to open the window and smell the sea breeze.
It's a good idea to take a trip with your family to remember your summer vacation.