1.Colosseum
Speaking of Rome, you can't miss this place.
The Colosseum is a famous ancient Roman amphitheater.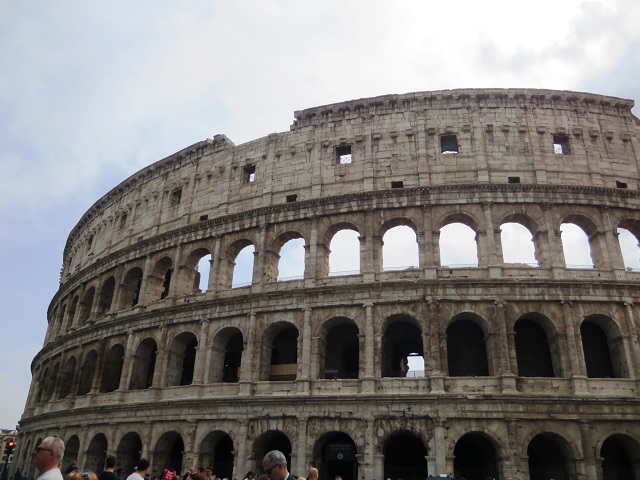 The structure was built in 80 BC, and at that time, people and wild animals fought to the death, filled the Colosseum with water, and the people of Rome were excited to watch the process of dividing the condemned prisoners into two groups and fighting them in a simulated naval battle. Now that I think about it, I think the people of ancient Rome enjoyed a pretty shocking pastime.
It is said to be the second most visited tourist spot in the world.
I arrived at the Colosseum just before 9:00 in the morning.
It took about 15 minutes by bus from Hotel Stendhal where I was staying.
The admission ticket to enter the Colosseum is a common admission ticket (valid for 2 days) that allows you to visit two places: the Colosseum and the adjacent Roman Forum/Palatine Hill.
The Roman Forum and the Palatine Hill are considered one facility, so in reality, it is a common admission ticket for either the Colosseum and either the Roman Forum or the Palatine Hill, and 1 Please note that you cannot re-enter one facility.
There was a ticket booth right next to the front entrance of the Colosseum for admission tickets.
There were few people in line at the ticket booth, probably because I went first thing in the morning, so I changed the admission ticket without waiting.
Also, you can buy ticket at
Entrance of the Roman Forum (Via Fori Imperiali side)
Near the Basilica of Santi Cosma e Damiano)
Inside the Colosseum
Front of the Colosseum (West side -> maybe I bought it here)
Palatine Hill entrance
I think it was 14 euros per adult when I bought it.
I went in March and waited in line for about 50 minutes to enter the Colosseum.
There is a security check for toilets and luggage just before entering.
I happened to be able to line up in the corridor inside the Colosseum, so it wasn't that hot, but it seems that there will be a line outside the Colosseum, so it's also ant to line up properly against the heat.
Alternatively, if the Roman Forum or the Palatine Hill seem to be vacant, you can visit them first.
The inside of the actual Colosseum was a masterpiece!
Here is the inside of the Colosseum.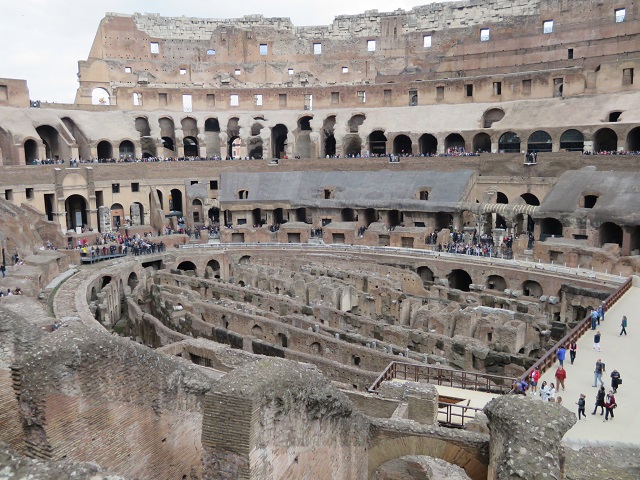 I don't really know how to use it, but it's a great sight to see the passages like high walls intricate here and there in the middle of the Colosseum.
I am also surprised that this has been left for 2000 years.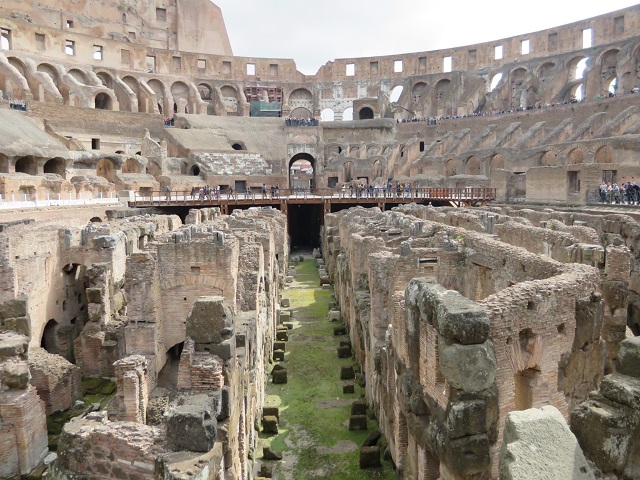 Looking at the small gaps between the stone walls and the intricate stone walls from a distance, I feel like I've wandered into an ant's nest.
It's favurous that everything is made of stone.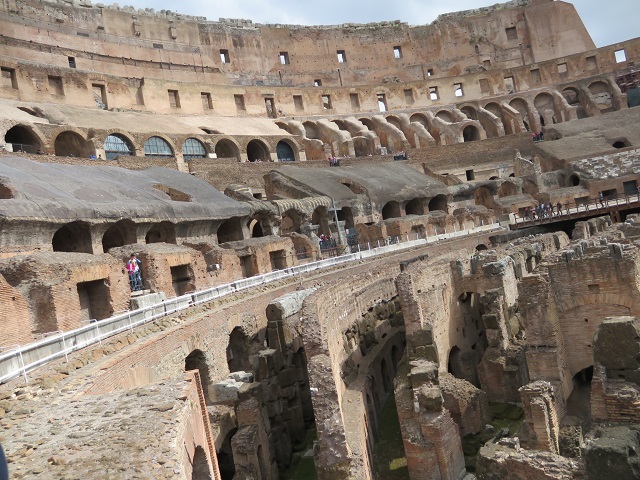 You will be amazed at the advanced technology of the ancient Romans who were able to build such a structure 2000 years ago.
The rough feeling of each pillar also makes you feel the history.
Tickets for the Colosseum, Roman Forum and Palatine Hill can be booked in advance on the Official Site.
I didn't know . If you wish, I will write a detailed article on how to buy, but other people have more detailed articles, so you should refer to them.
At the bottom of the Colosseum, there is an open observation space, but if you buy a special ticket, it seems that you can go to the space where you can see the buildings inside the Colosseum from a closer distance. was.
However, I am very satisfied with just the range that can be entered with a normal admission ticket.
If you want to go sightseeing while listening to detailed explanations in Japanese, there are a number of optional local tours available, so it might be a good idea to take advantage of them.
I always use Veltra, and they have a half day tour including Colosseum, Roman Forum, and Palatine Hill.
It is 68 Euros (including tax).
At the end of the tour, they took me to the Mouth of Truth and said they were disbanding, so it's convenient.
2.Roman Forum
It is next to the Colosseum, and it is a short walk from the Colosseum, so it is recommended to visit it as a pair.
The Roman Forum is a place where the ruins of ancient temples and townscapes are left as they are. There is, but somehow I was convinced.
I like the contrast between the ancient building and the green trees that surround it.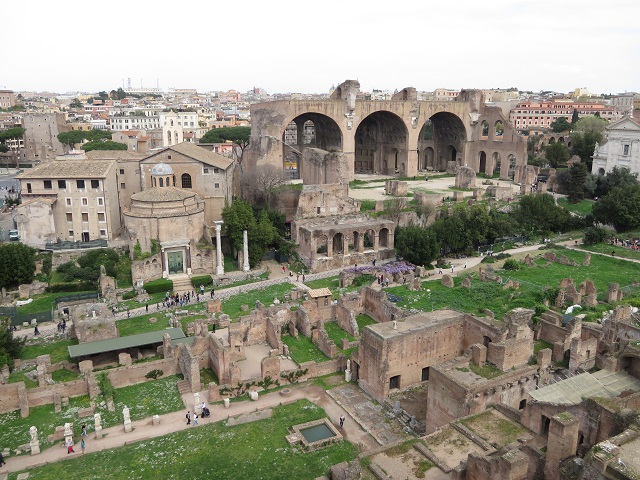 This Roman Forum is also quite large, so it is better to see this sightseeing for at least two hours.
It is really full of highlights, such as stone pillars that would have been the pillars (?) of ancient temples,
There is something like the Arc de Triomphe.
This temple is called "Temple of Antoninus Pius and Faustina".
A bit like the Arc de Triomphe in Paris.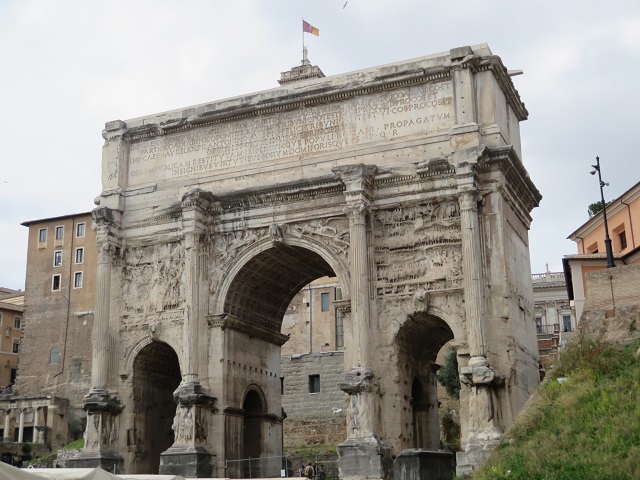 There are stone statues that remain in a tragic shape, other things that look like waterways, and the foundations where buildings used to be. .
The Roman Forum doesn't have much shade, so it's a good idea to bring an umbrella or a hat on rainy days or when the sun is shining.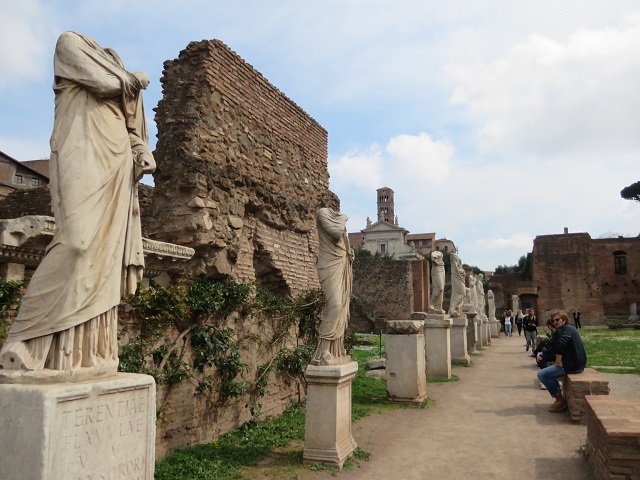 I forgot if it was in the Roman Forum, but there was also a place like an old field track.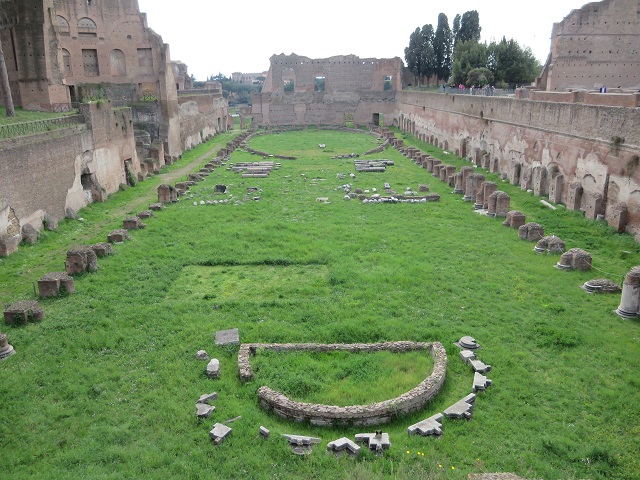 I went around before noon, but it seems to be a good time to go when the sun starts to set.
In addition, it is a recommended sightseeing spot that you can enjoy many times in a day because it is lit up at night.
As expected, I was a little tired after visiting two major tourist spots.
There was a food stand near the Roman Forum, so I bought a hot dog, beer and ice cream and took a break.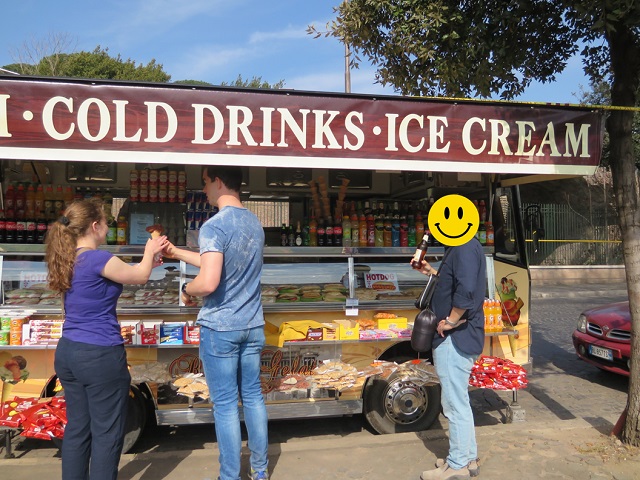 3.Mouth of truth
After enjoying the Colosseum and Roman Forum, visit the Mouth of Truth.
Positionally, it looks like this.
Everything is within walking distance.
I often see the "that" of the mouth of truth in photos and images, but I can't really imagine what it looks like.
If you go there, it will suddenly appear at the corner of the street.
Moreover, there is a Mouth of Truth behind the iron bars, so if you walk normally, you might miss it, so let's walk with Google Maps.
As soon as you enter the building, there is a line of tourists waiting for the mouth of truth.
Wait in line for about 15-20 minutes.
The line moves surprisingly fast.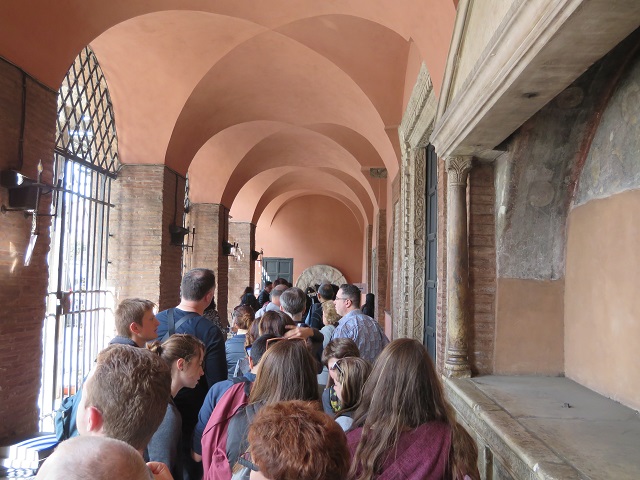 As Mouth of Truth approached, there was an uncle serving tourists next to Mouth of Truth.
Here you pay some money in the form of an offering.
I think I paid about 2 euros, but it's up to you.
When you get close, turn on your camera and be ready to take a picture.
I can't shoot for a long time because a guy next to me is pestering me.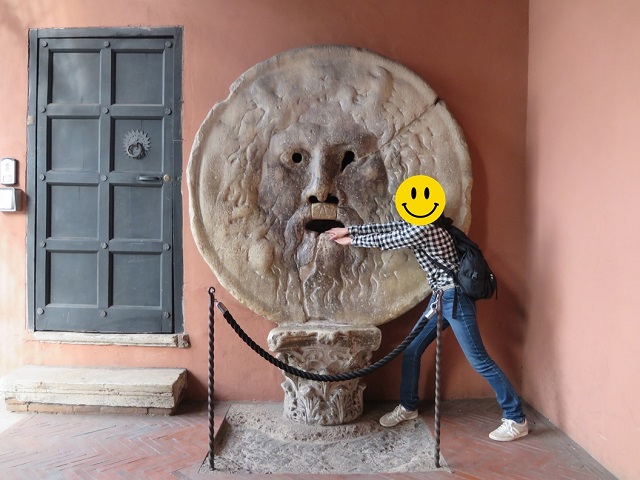 And probably the camera angle is probably the same no matter who takes it.
Like this.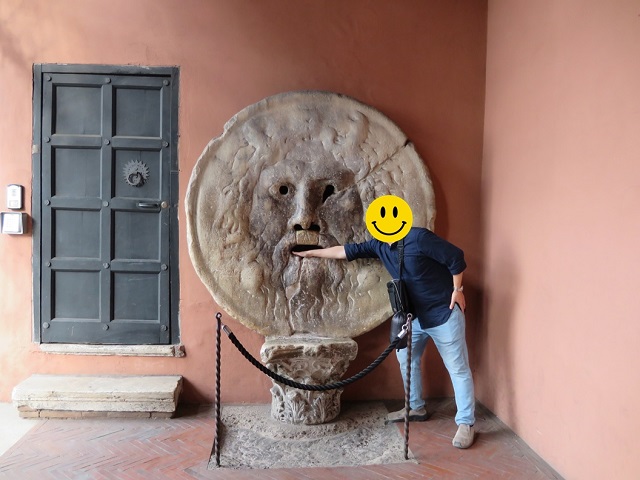 Originally, the Mouth of Truth was a manhole with a man's face carved into it.
It became famous after being used in a scene from the movie "Roman Holiday".
It's a cliché, but if you go to Rome, you can't help but go there.
It is a tourist spot that you should visit at least once.
This building itself is a church, and after taking a commemorative photo with Mouth of Truth, the route goes through the church.
There is also a gift shop just before the exit.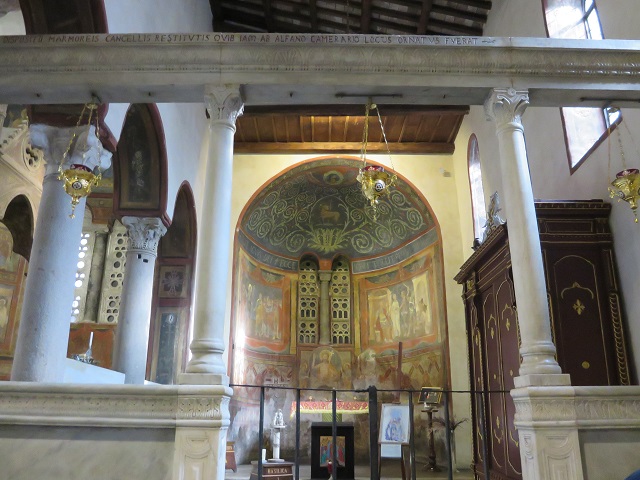 They were selling Mouth of Truth magnets.
Thinking about it now, I should have bought it.
4.Vatican City
Walk to Vatican City.
It took me about an hour as I walked around looking around.
After walking along the wide cobblestone road, you will see a large open space at the end of the road.
After passing through something like a wooden guardrail, there is already Vatican City.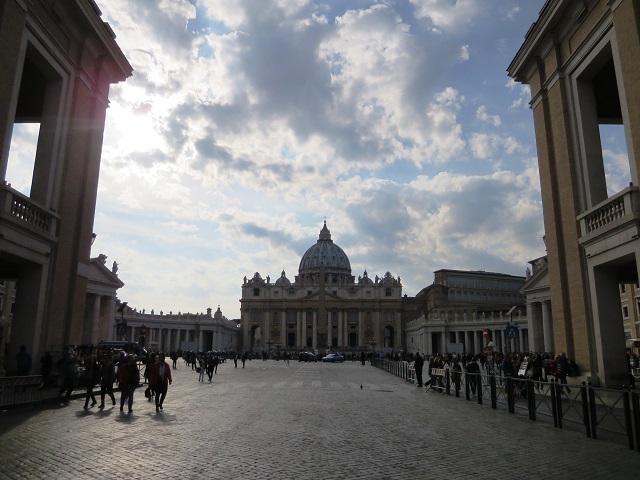 The entire Vatican City is designated as a UNESCO World Heritage Site.
It seems that there are a lot of sightseeing spots in this narrow site.
St. Peter's Square, Vatican Palace, Peter's Basilica, Sistine Chapel, etc.
Piazza San Pietro is a large square paved with cobblestones.
In front of you is the Vatican Palace.
The procession to enter the building of "Peter's Basilica" in Vatican City was staggering.
This line seems to be like this at any time of the day, and one person's blog says it's good to line up at 8am.
It seems that the waiting time was 50 minutes at 8:20 in the morning.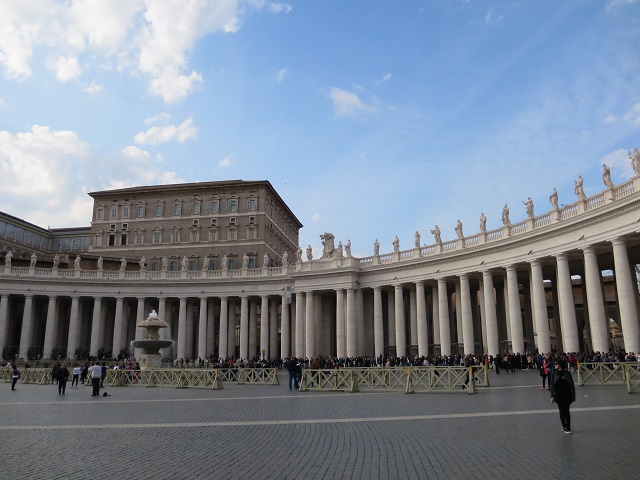 It seems that it is possible to make a reservation online in advance to enter the cathedral, so if you have a well-defined itinerary for sightseeing in Rome, it is better to make a reservation in advance so that you can see the sights more efficiently.
And it's a good idea to carry a drink and a hat with you in any season.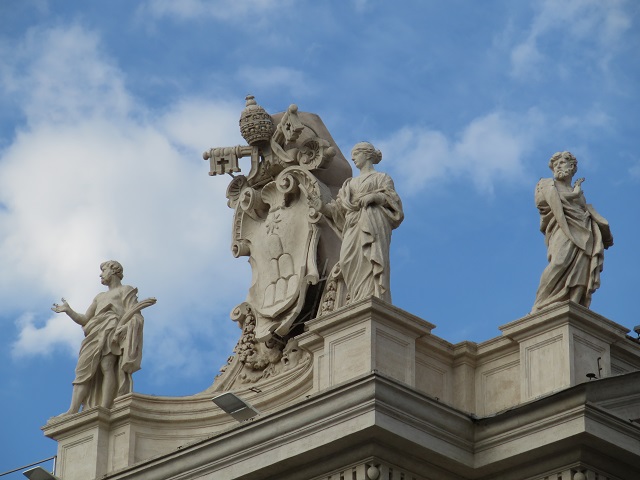 5.Castel Sant'Angelo and Ponte Sant'Angelo
Leave Vatican City and walk to Castel Sant'Angelo.
As for the location, it looks like this.
It was dusk when we arrived at Castel Sant'Angelo.
It looks like it will be dark soon.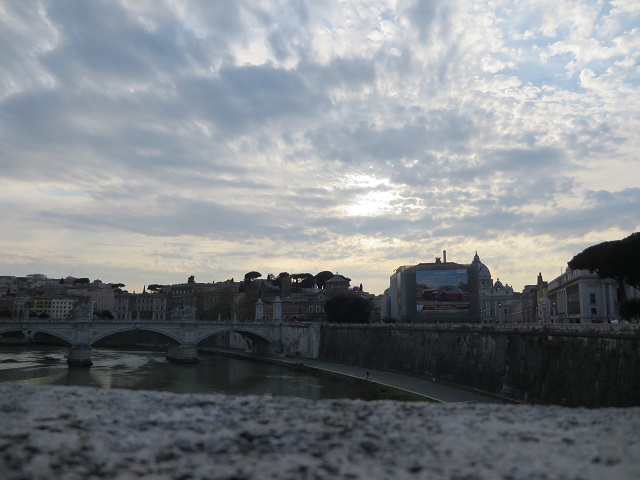 I thought that Castel Sant'Angelo was shaped like a cone and didn't look like a castle. yes.
It is said that it was used as a prison and a shelter depending on the times.
Hmm, seems something strong.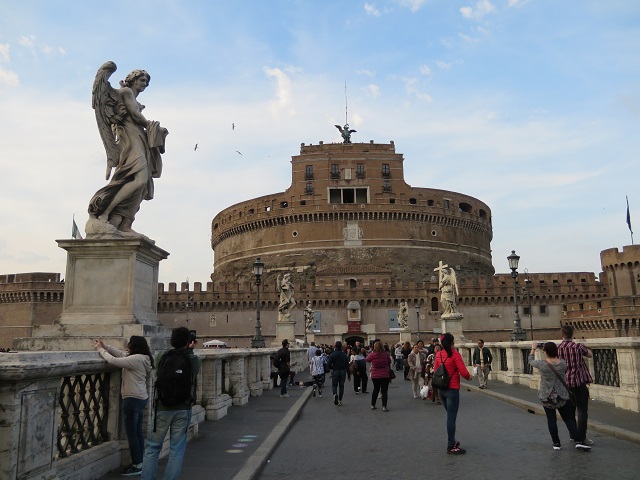 Castel Sant'Angelo is crossed by the Ponte Sant'Angelo.
Both sides of the bridge are carved with 10 angels, and each one is exquisite.
6.Alimentari Coronari
I found a delicious Italian restaurant near Castel Sant'Angelo.
Strictly speaking, it's not a restaurant, it's probably a cafe, but I went there many times during my stay until I got hooked on the tomato sauce.
I wrote a review of the restaurant in another article, so please refer to it.
Related Article:Good local restaurants in Rome
7.Temple of Pantheon (night version)
On my way home after dinner, I passed Piazza Navona and the Pantheon, so I took a picture of the Pantheon at night.
There is a different goodness from the daytime atmosphere.
The illuminated fountain in front is also nice.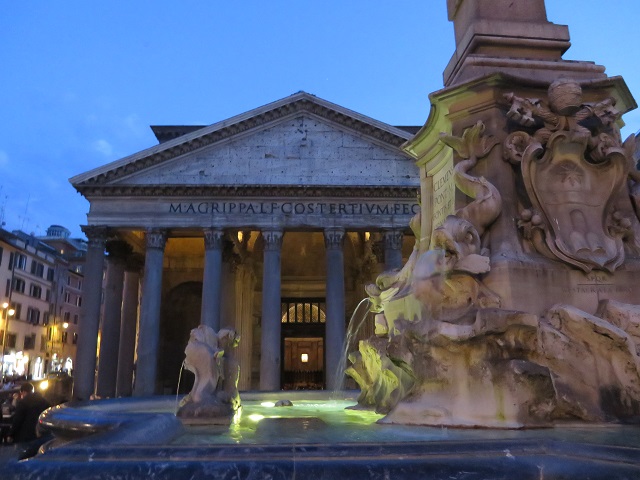 I think it was probably the square in front of the Pantheon, but at night, the restaurants around the square started to open for dinner.
Dinner on the terrace with a view of the Pantheon. . It would be nice if I could.
It seems expensive.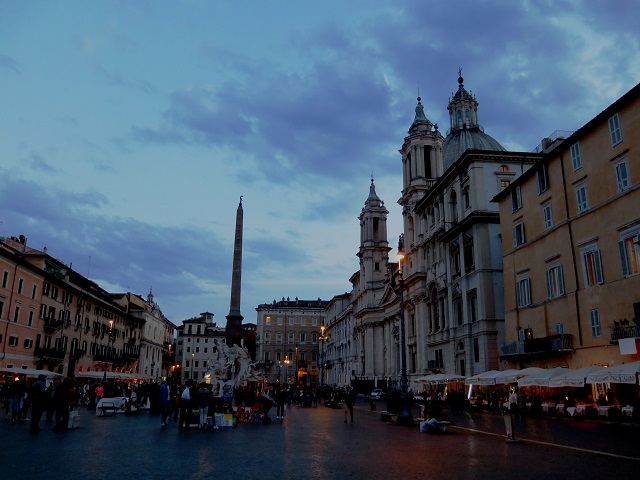 That concludes our second day in Rome.