Almost my own memorandum, but I would like to introduce the delicious restaurants I visited while exploring the city of Paris.
Aux PTT
I was taken care of by breakfast when I stayed at a hotel near the Eiffel Tower.
The price was reasonable and the croissants and cafe latte I chose for breakfast were delicious.
Address:54 Rue Cler, 75007 Paris, France
TEL:+33 1 45 51 94 96
Business hours:
Mon. to Sat. 7:00~23:00
Sun. 8:00~16:00
Léon De Bruxelles – Champs-Elysees
Leon de Brussels is a store specializing in mussels.
This shop originated in Belgium.
It's not French food, but my friends praised it so I definitely want you to try it.
I looked forward to the restaurant's homepage as it looked delicious.
I went to the Champs Elysees store.
I was able to arrive at the store immediately after I arrived, probably because I arrived around 13:30 and was off the peak of lunch.
It seems that there are several chain stores in Paris other than the Champs Elysees.
There were various taste choices, but I ordered the standard mussel garlic butter flavor.
I'm very satisfied with eating just enough salt and plenty of mussels in a bucket.
Address:63 Av. des Champs-Élysées, 75008 Paris, France
TEL:+33 1 42 25 96 16
Store homepage:https://www.leon-de-bruxelles.fr/en/
(Homepage is written only in French and English)
My Comment:
I am not sure about the congestion during lunch time, but the restaurant was crowded at 13:30 when I visited, but I didn't need to wait to be seated.
A lot of mussels come in a bucket. I think it came with fried potatoes and a small salad of just the right size.
It comes with bread so you can be hungry just by asking for a mussel basket.
Cafe des Deux Moulins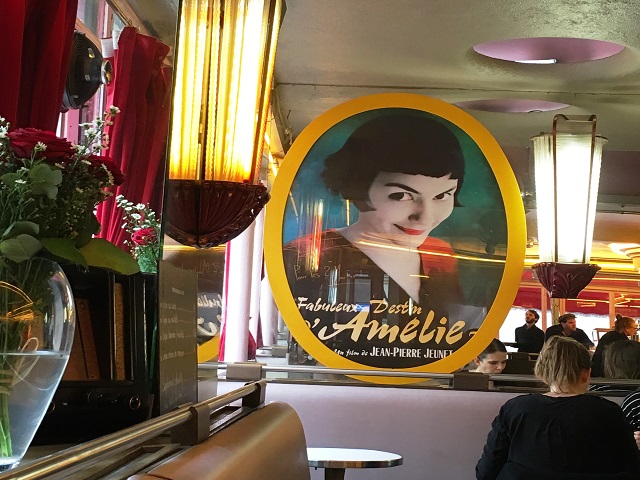 I stopped by on my way home from the Sacre Coeur Temple.
This is the cafe where the main character, Amelie, worked in the movie Amelie, where the oversized photograph of Amelie was displayed.
All the tourists who visited the cafe seemed to be famous for Cream Brulee.
Address:15 Rue Lepic, 75018 Paris, France
TEL:+33 1 42 54 90 50
Store homepage:cafedesdeuxmoulins.fr
In here, the shops I wanted to go but I couldn't.
Pho21
Located slightly south of Montparnasse Tower. Unfortunately, I gave up this time because there were no tourist attractions on this side. Perhaps because of the large number of immigrants from Vietnam, there were shops around here called Pho.
Please refer to the website of TripAdvisor. The evaluation was also high.
Recommended for long trips to Europe and missed Asian food.
Address:21 rue de la Gaite, 75014 Paris, France
TEL:+33 1 43 27 19 55
Business hours:10:30~21:00
Close:Tuesday
Store homepage:http://pho21canoga.com/
L'Escargot Montorgueil
Escargot seems to be a famous store.
It seems that other varieties of menu such as raw oysters and ham.
A few minutes from the Louvre and a 10 minute walk from Notre Dame Cathedral. It feels good to go while sightseeing.
The TripAdvisor reviews were also good, so I'd like to try it next time.
Address:38 rue Montorgueil, 75001 Paris, France
TEL:+33 1 42 36 83 51
Business hours: 12:00~23:00
お店のホームページ:http://escargotmontorgueil.com/
Le Vaudeville Brasserie
Close to Opera Ganiel.
There was also a Japanese HP.
The fresh oyster on the website looks delicious.
I wanted to go because it's a nice place to have a cafe on the terrace. I wanted to eat oysters and shrimp on the HP.
Address:29 rue Vivienne 75002 Paris
TEL:+33 01 40 20 04 62
Store homepage:http://www.vaudevilleparis.com/