I stayed at Starhotels Sprendid Venice
In Venice, I stayed at a hotel called Starhotels Sprendid Venice Hotel near the Riator Bridge in the center of the island.
It seems that it is a chain hotel in Florence, a convenient hotel in the center of the island.
It was relatively easy to get on the water bus right in front of Santa Lucia station, and a 3 or 4 minute walk from the ferry terminal called Rialto bridge, so it was easy to find.
The check-in time was from 14:00, but I arrived at the hotel after 9 o'clock because I came to Venice in the early morning by a sleeping train.
I thought that it would be nice if I could put only my luggage in the room, but it was very helpful because the room was vacant and I could check in if I paid an additional fee.
The room we checked in was a room with a clean and luxurious feel based on white and silver.
The size of the room and the size of the washbasin are perfect.
I took this room from a site that I'm not familiar with in Japan called Getaroom.com.
It was $ 170 in dollars. I didn't include breakfast.
I assume that it was cheap because it was not cancelable.
I booked a superior room, but it's OK for a 4-star hotel in Venice with good convenience.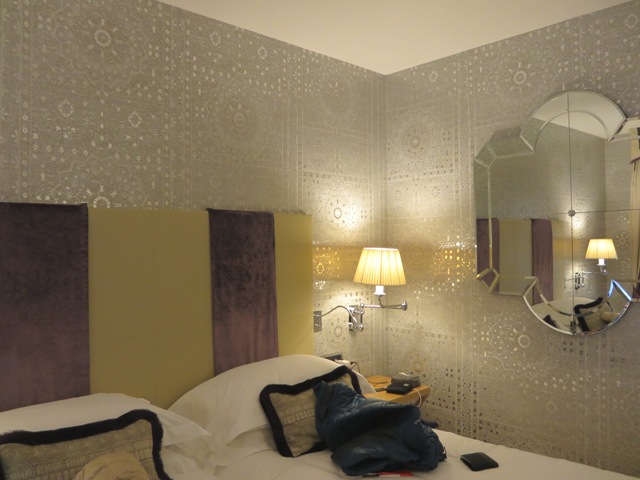 I could see the waterway of the water gondola from the window of the room.
The bathroom was large and there was a deep soaking bathtub that I requested!
I am grateful that there were not many rooms with a bathtub in the superior rooms.
Since I only stayed one night, I forgot to take a lot of photos because it was so busy, but I was able to check out smoothly and had no complaints.
And here, unlike other 4 star hotel, they served chocolate as a night snack at night.
I was happy with this thought because I didn't expect it.
It was really helpful to have the check-in time flexible.
This is a hotel I would recommend.
Starhotels Splendid Venice
Address:San Marco Mercerie, 760, 30124 Venezia VE, Italy
TEL:+39 041 520 0755
Hotel homepage:https://www.starhotelscollezione.com/en/our-hotels/splendid-venice-venice/
My comment:It is conveniently located in the center of Venice. As it is a 4 star hotel, the price is reasonable and the rooms are clean. I was glad that the bathtub was attached. I'm glad to have a good night snack at night.
You can check room availability on Agoda.com.