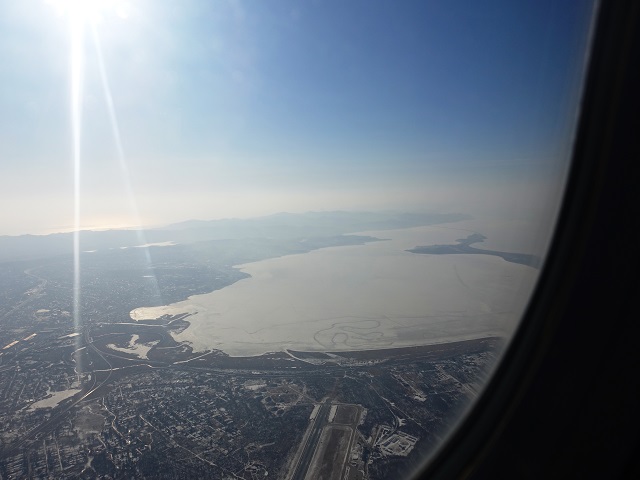 JAL on February 28, 2020 and ANA on March 16, 2020 will start direct flights from Tokyo (Narita) to Vladivostok, Russia!
After all, the main attraction is that it is closer to go to Okinawa, and it is easier to go to a foreign country in only two and a half hours from Narita!!
At this time, I flew to Vladivostok a little earlier before JAL and ANA started direct flights.
Russia is very close to Japan, but one of the reasons I was not able to go easily was visa issue.
Japanese people need to get a visa to go to Russia.
In earlier time, we needed to submit a request to Russian embassy to issue a visit visa.
Since, August 2017, however, e-visa got made possible only to visit Vladivostok and nearby its area.
We don't need to go to Russian embassy anymore, so this e-visa is very useful and will attract many Japnese tourists.
I also got a visit visa to go to Vladivostok via e-visa.
Here below, I have made a blog about how to get a e-visa by oneself.
(It will cost you about $100 if you use travel agency)
Please refer to below related articles.
Related Articles:【自分でできる】ウラジオストクに行く前に電子ビザを申請しよう (Under translation)
When I went to Vladivostok at the end of 2019, there was not direct flights been operated by Japanese airlines, I could choose airline from only 2 airline companies, Aurora airlines, or S7 airlines.
At this time I purchased the airline tickets from S7 airlines, which is managed by a Russian company.
Since I directly purchased the airline ticket from S7 website, it costs me 53,000yen (about $490) for the round trip.
And also it costs me 9,000 yen ($75) for the hotel per night.
This time I booked an apartment hotel which is nearby Fountain street.
At this time, I wanted to stay at the hotel I chose, so I didn't choose a tour package trip.
It costs me a bit more compared to a package tour like HIS provides.
If you prefer a valued package tour, I saw a 2 days and 3 night our for 59,800 yen ($550) by HIS, so you can also make use of those services.
When I plan a trip to Vladivostok, I had a trouble finding a guide book written in Japanese.
And I finally found a book called "Plat Vladivostok".
If you are interested in "Plat Vladivostok", click on here!
Let's check out "must-go" places in Vladivostok!
1 Vladivostok Station and Lenin statue
First of all, we headed to Vladivostok station.
We by-passed Fountain street from the hotel, West to East direction from the hotel, we go down to South toward Vladivostok station.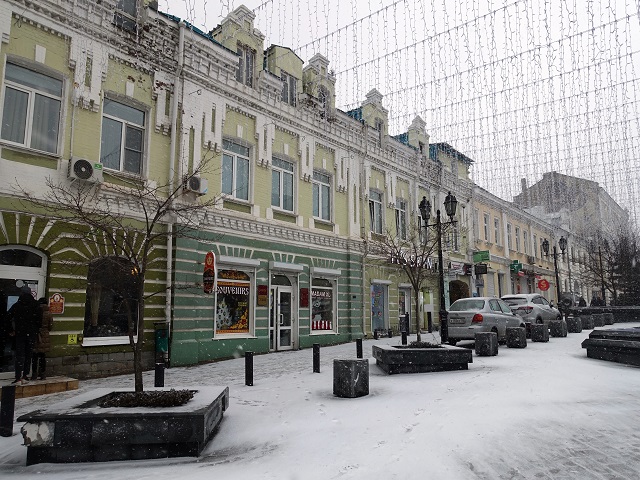 During our walk to Vladivostok station, we found a Piroshki shop pronounced as "Pirajo Chinitsa".
It is opened 24-hours, and it is cheap.
I recommend you try it if you have time.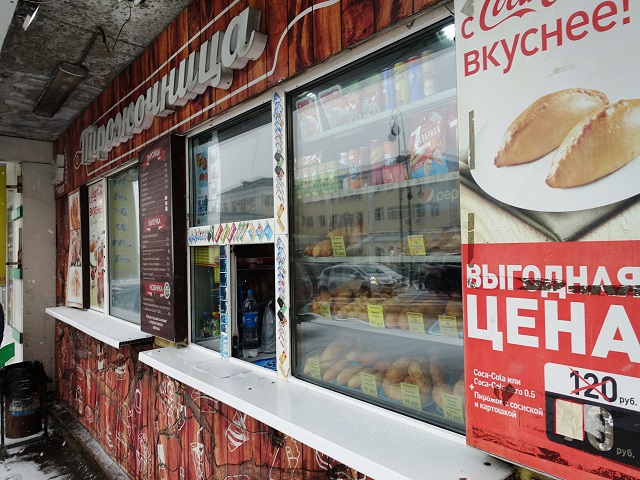 Vladivostok station is popular as the first station of the and this building was built more than 100 years ago.
To go inside of Vladivostok station, we needed to pass security check.
After entering to the station, you should look up the ceiling.
There is a gourgeous drawing all over the ceiling, and it is worth watching it!
At the time we visited, it was a Christmas season, so we saw a cristmas tree at the station.
At the station, you will notice that 2 clocks with different time is displayed.
Since Russia is huge, timetable for the Siberian train is managed and displayed in Moscow time.
So, there are 2 clocks displayed at a train station, one is Moscow time, the other is local time.
We went to downstairs to see a platform.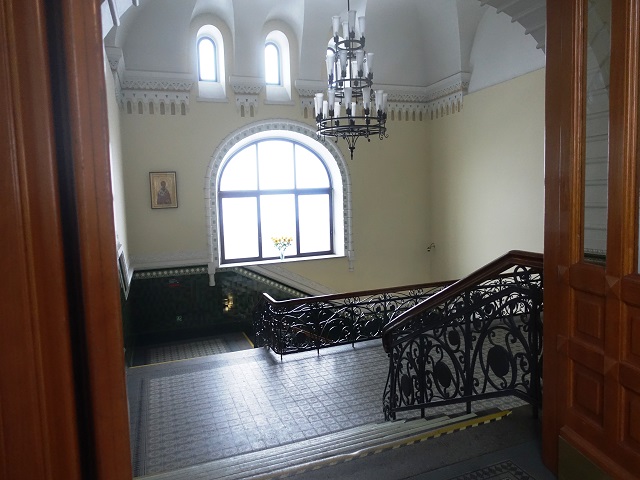 It made me feel excited if I imagine that the Siberian train departs from this station, and it goes all the way to Moscow.
I wanted to get on the Siberian train, but I found that it will take a night to go to Vladivostok station to the next station, Khabarovsk station.
Since we didn't have enough time, we told ourselves that we would try it next time!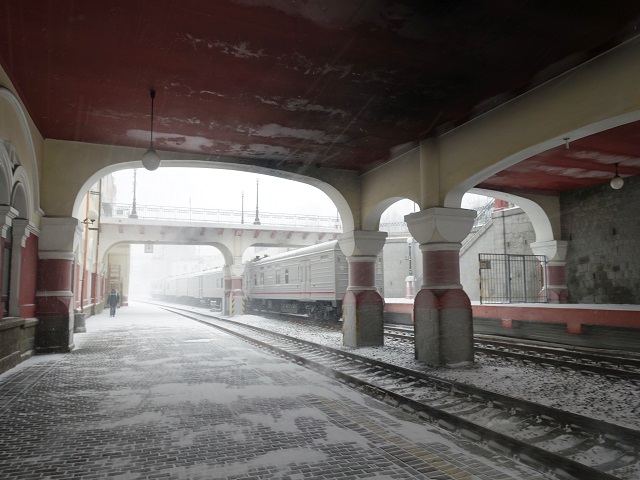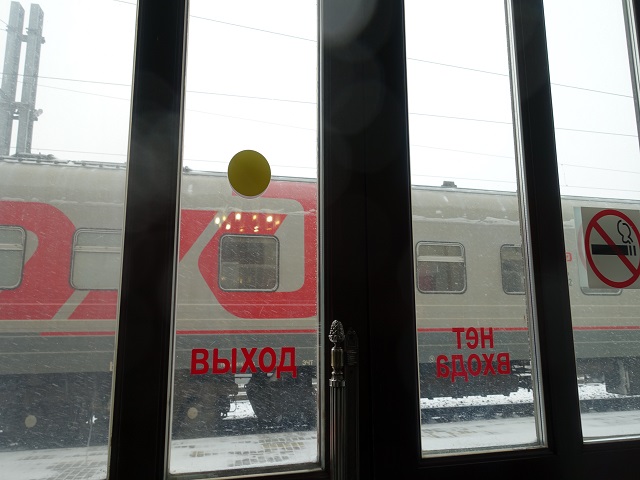 There is a ticketing counter and cafe inside of the station.
You can take a rest at the cafe.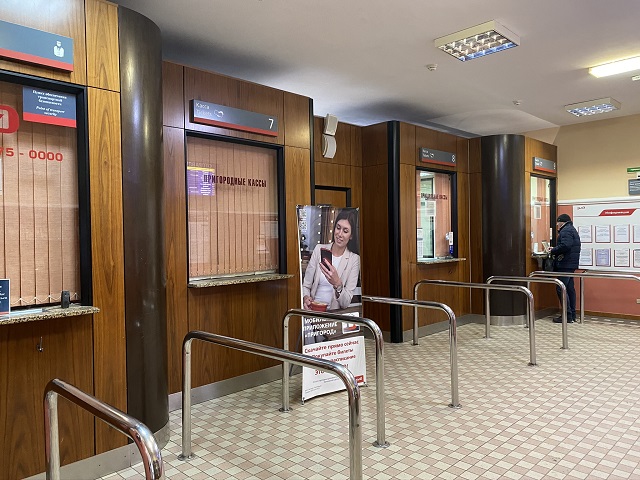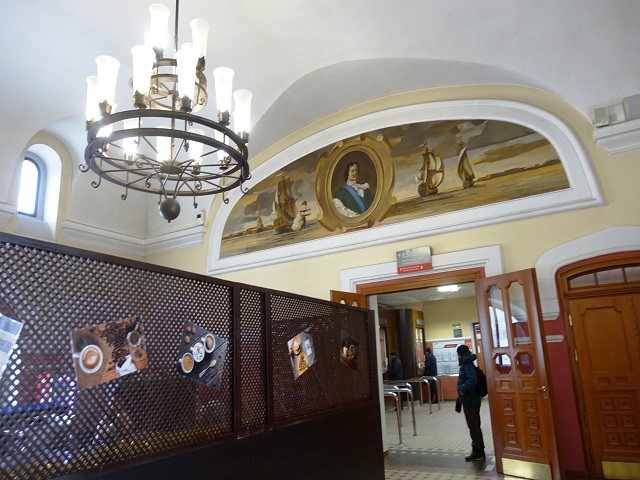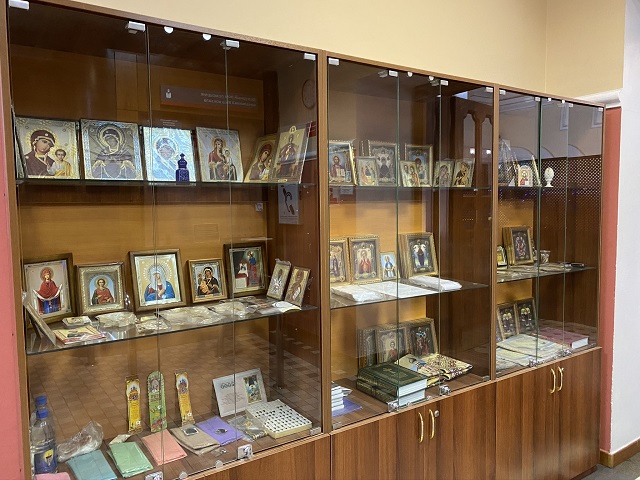 Across the Vladivostok station, there is Lenin stature.
It is a kind of rare shot if we see Lenin from his back.
From the back side, it looked like Lenin is covered by snow.
Very nice.
After we went out of the station, there was a steam locomotive.
It is very unusual to see a steam locomotive, so I felt lucky to see it.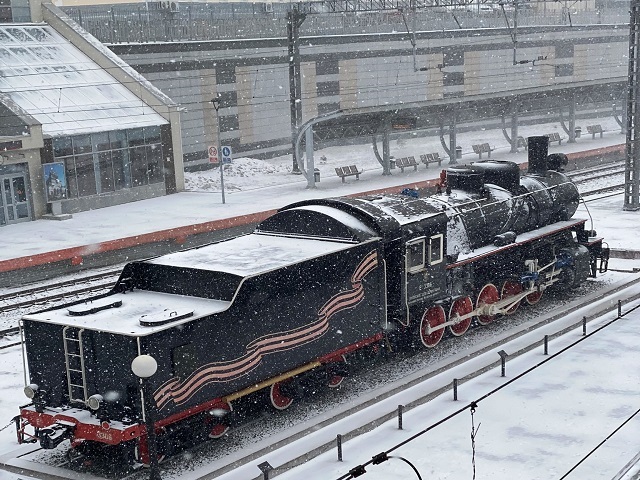 2 Submarine C-56 Museum
If you head to North from Vladivostok station then turn right, about 10min walk, a big submarine will suddenly appears!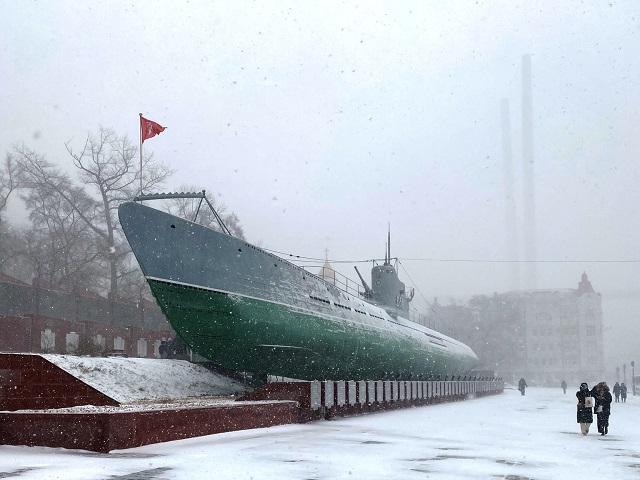 It was not mentioned much in the guide book, I personally enjoyed looking inside of this submarine.
It's only 100 rubels, and you can enter the real submarine which used be used by Russian Navy (maybe).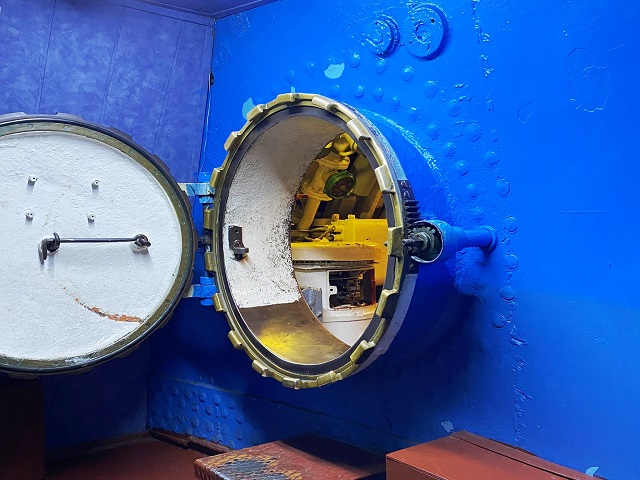 There is a display of the real diving suit and submarine figure inside of it.
At one room, there is a place it seems it used to be a cafeteria, and there is so many meters in the other room that you can really touch and try!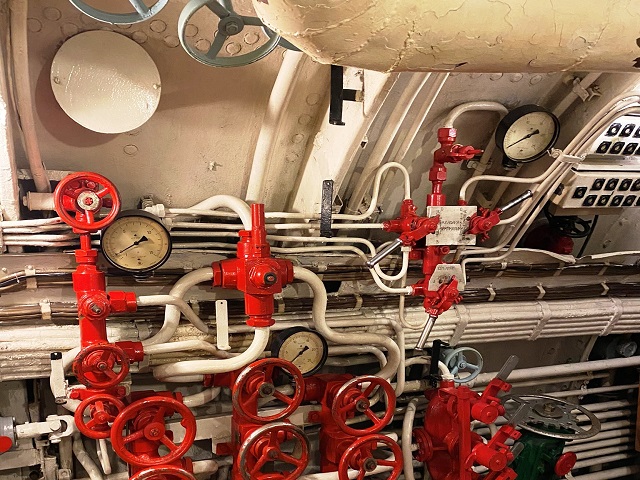 As you go on, you can find a bedroom for the divers, and deeper inside, you can see a missiles (I hope it is a fake) and Missile launch pad!!
I had never been inside of submarine, so it was such an exciting experience to go inside of C56 Submarine.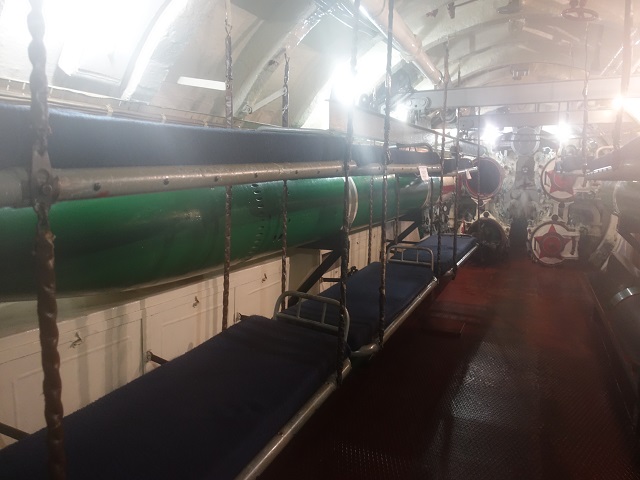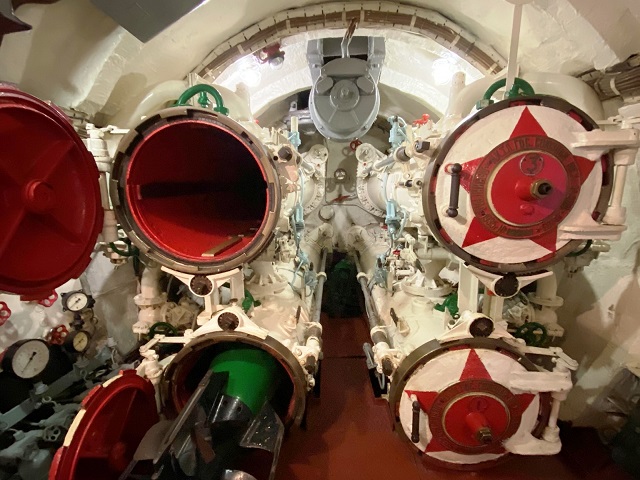 You can experience all only with 100 rubles!!
If you have checked C56, you can see Triumphal Arch of Nikolai II.
You should take a photo of it!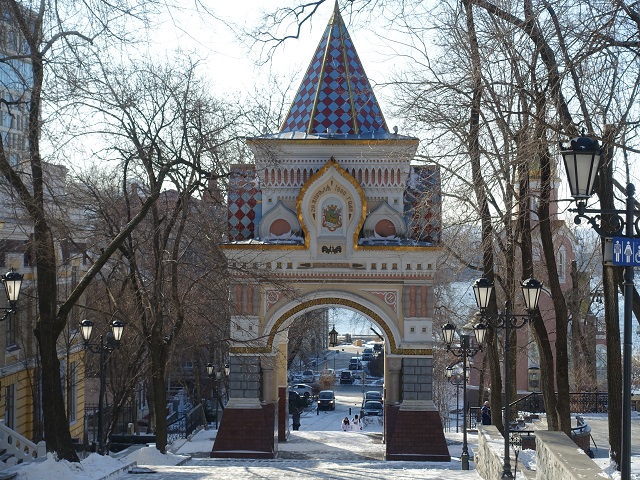 3 Backside of GUM Department store
After Triumphal Arch of Nikolai II., there is GUM Department store.
This store was built about 100 years ago.
Architecture and outside decoration is so beautiful.
This building reminded me of a building in Paris, Spain, Italy, etc.
No wonder Vladivostok is called "the nearest European city from Japan".
The only thing I was not sure about was that I thought that I could buy anything like Souvenir shop, T-shirt shop, glocery stores…but..?
I couldn't find those stores I was looking forward to visit…
Since I saw many cute shops in my guidebook, I was sad that I couldn't find those shops..
I still don't know what I did wrong.
But I found very fashionable block fence street.
There is many tempting restaurants and bars.
It looks beautiful with snow, I think.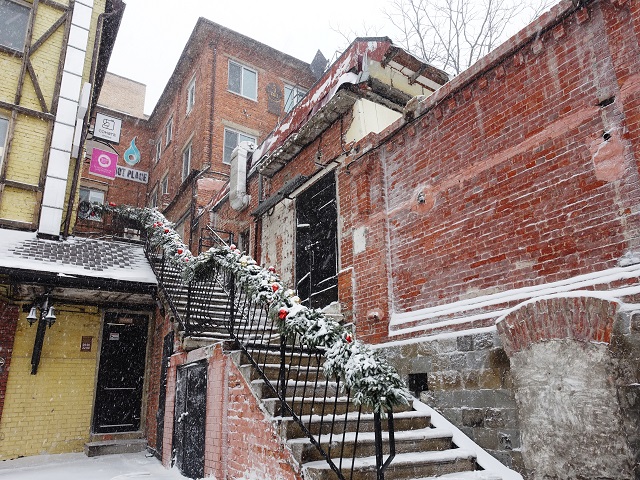 4 Hawk's nest observation deck
Hawk's nest observation deck is about 20 min. away from GUM Department store on foot.
There is a ropeway platform beneath the observatory, so take the ropeway from there to get to the ropeway exit beside the observatory in about 1 minute.
If you go there by bus, there is a bus going for 16st that leaves Vladivostok station and passes through the Lotte Hotel to the observation deck.
This time, I went to the ropeway platform while walking around the city, and took the ropeway to the Hawk's Nest Observation Deck.
You will only need to pay 20 rubles, but the ropeway will reach to the top in 1min or so, so be sure to prepare a camera!
You can climb the stairs through the tunnel to the observatory, where you can climb to the hill where you can overlook the city of Vladivostok.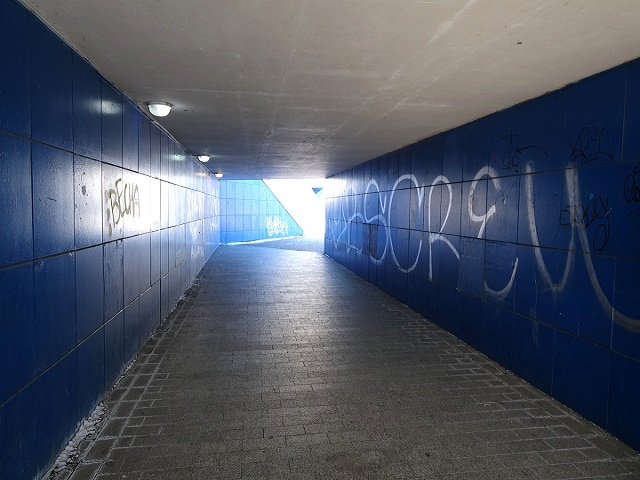 Vladivostok in winter is extremely cold, but the sky is so clear and it's good to work hard in the cold and climb to the observatory!
I was able to take as many pictures.
This is a big bonus for a tourist who comes to Vladivostok in winter.
Here is the winter view of Vladivostok from Hawk's nest observation deck!
Warships are also anchored in the sea.
The sky is clear and beautiful.
There were few people at the top, so I could take a picture as any angles as I wanted.
It seemed that this area is still developing, and I feel that tourist facilities will be more improved as the number of tourists increases.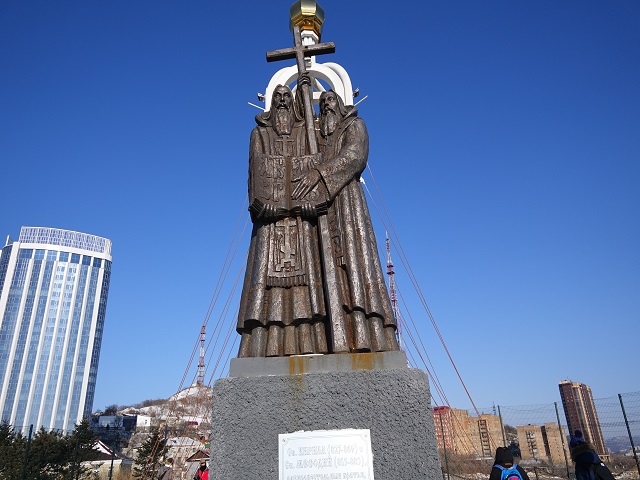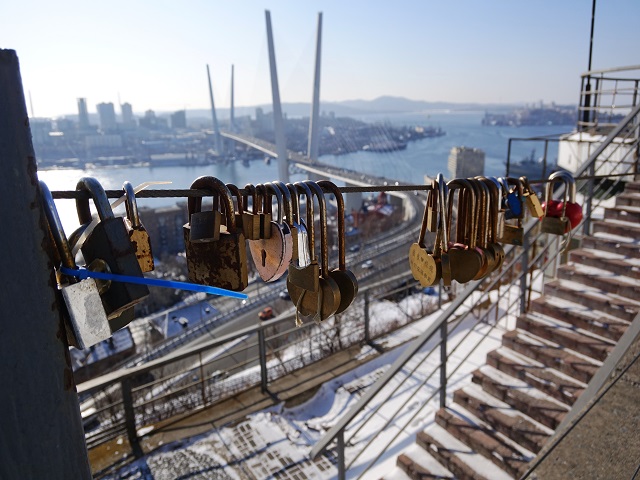 On the way back to the city, I took 15S bus.
If you take 15S bus, you notice that bus is going away from the city.
But don't worry. The bus will turn around after some stops.
So I could go to Paklovsky Church where I was debating if I could go or not due to the distance from the city.
Here is the pic I took at the church.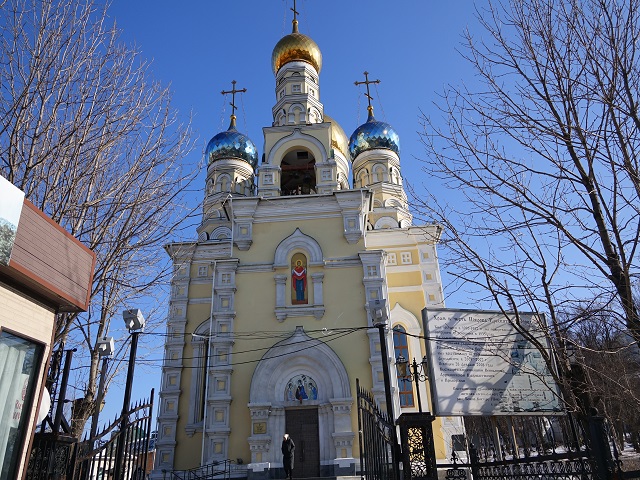 Since I reserved a hotel nearby Fountain street, I could go back to the hotel from the church by walking.
5 Sports Bay
If you walk toward to the sea from the Fountain station, there is a seaside just next to the amusement park.
This is Sports Bay, and I heard that you can do swimming in summer, but at the time I went there in winter, sea water was flozen!!
I went to the seaside, and I could continue to walk on the water!
I have walked on the snow before, but I never imagined that I would be walking on the iced sea water!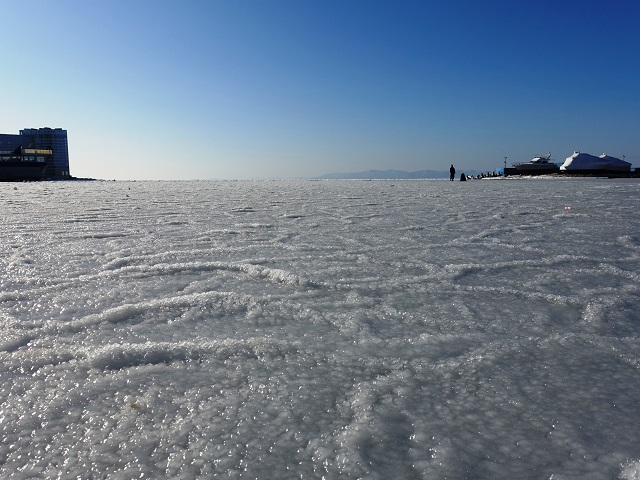 It was freezing. I felt that the cold was climbing my foot from the ground, but the weather was so nice, and I felt really good.
You can only experience "Walking on the Iced Water" at this season.
I really like it!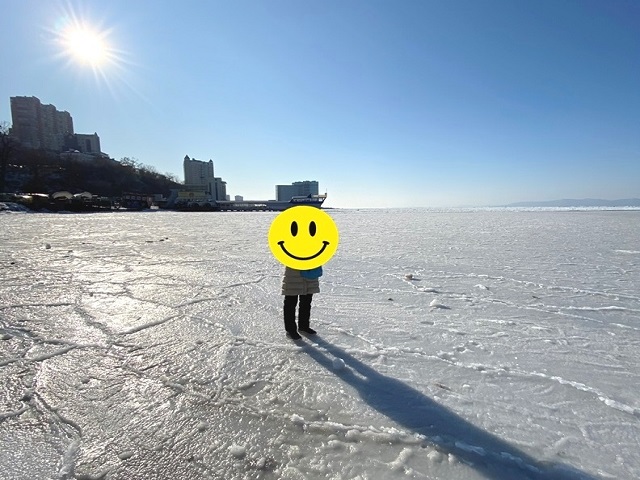 I saw a guy who was doing fishing on iced water.
If there is more and more tourists in the future, I may want to join an optional tour to do fishing on ice!
6 Central Square
Across the street from the GUM Department store, there is a broad area, called Central Square.
Usually, there is Farmer's Market on weekends, but at the time I visited, it was a Christmas season, so I saw many Christmas trees and so many Christmas decoration.
There was a skating link as well.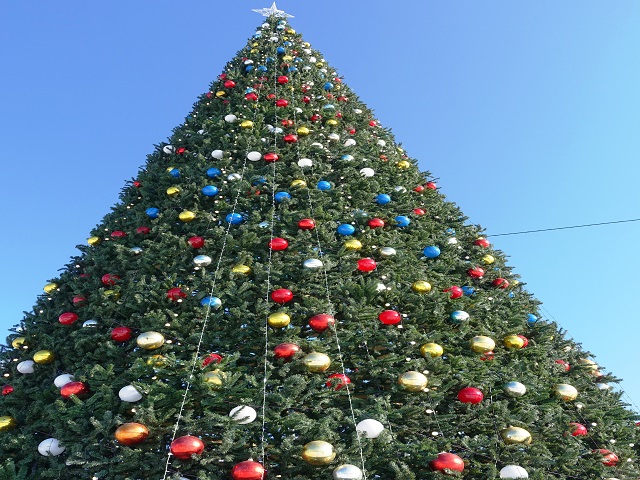 I saw many signs with "2020", which made me feel that a new year will come soon.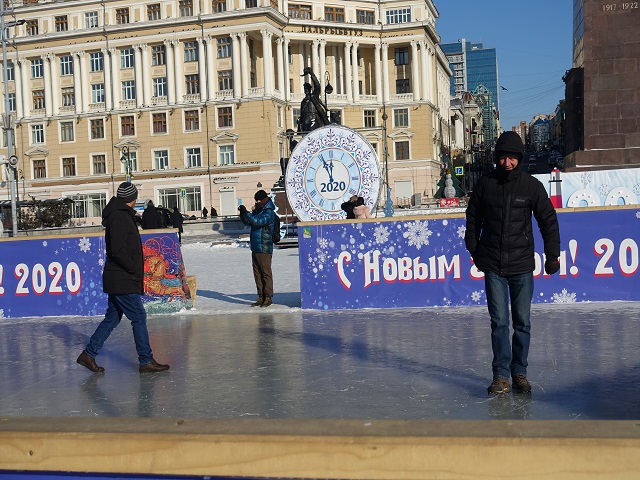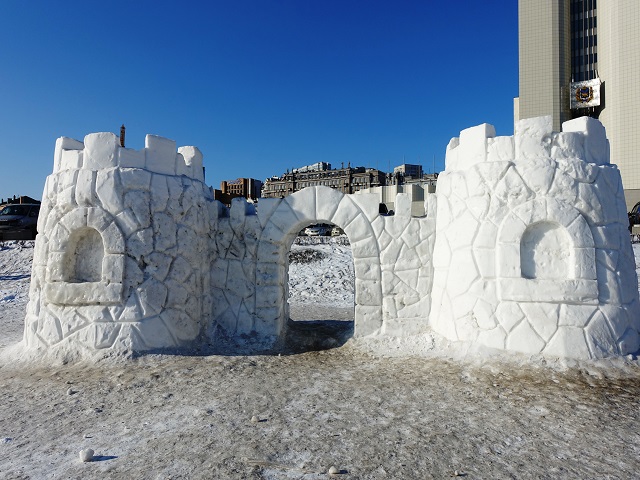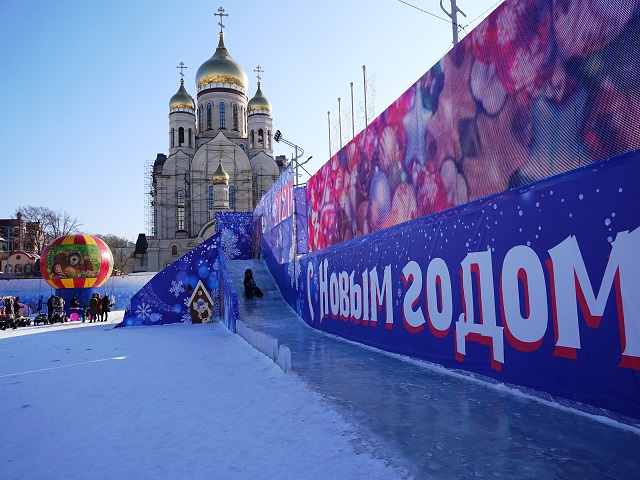 I am sure that you will enjoy the stay here in Summer, but there is a scenary you can only enjoy in Winter, so I recommend that you visit here in Winter as well.
Here is the photo of the night event at the same place.
There was a big event going on.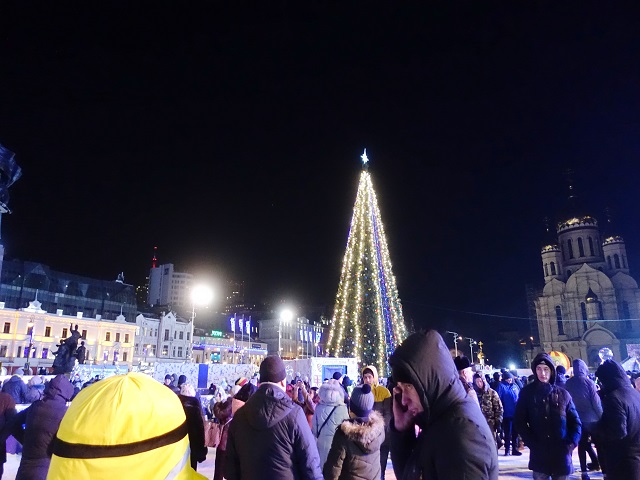 There was a free food for the local people and concert was adding excitement to have a new year, 2020.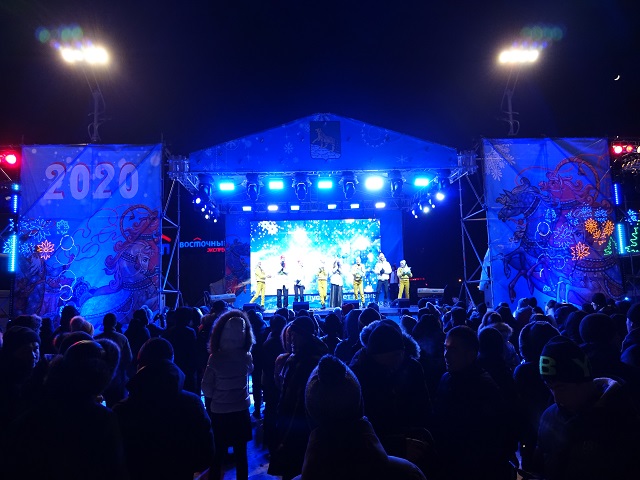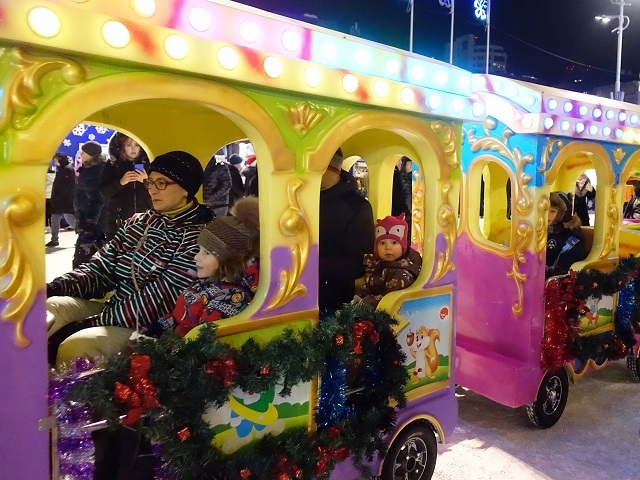 There is the fireworks here on New Year's Eve.
It seems to be fun to enjoy the New Year in Vladivostok while watching the fireworks.
7 Fountain Street
Only 3 min away from the Central Square, there is the Fountain Street.
There is a beautiful fountain in Summer, but fountain was all closed in winter.
But night illumination at the Fountain street was so beautiful.
When I went there, fountain street was filled with blue illumination to celebrate new year.
This is like a world of Ana.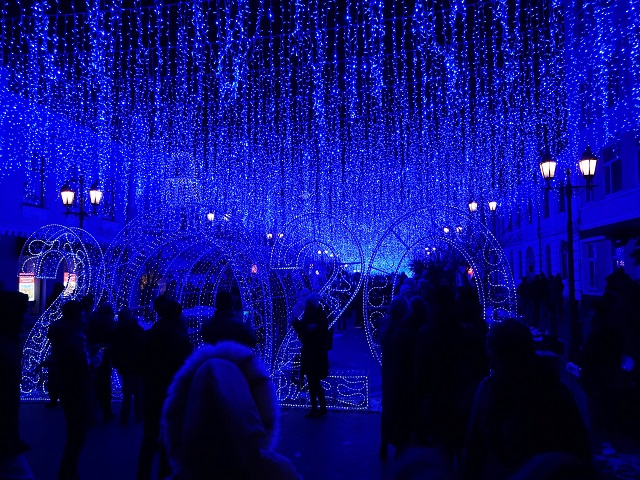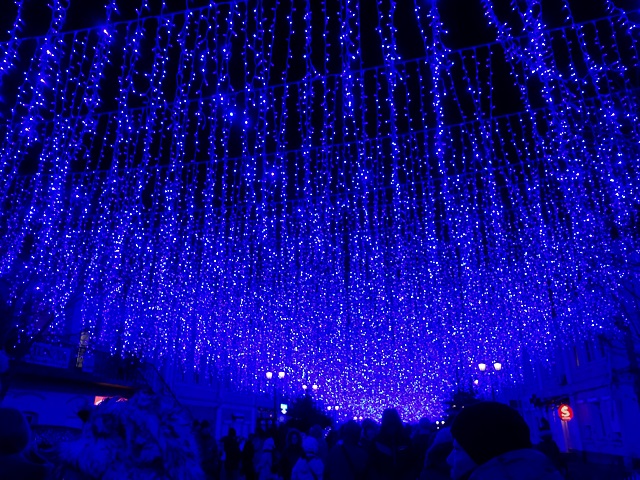 2 Popular restaurants in Vladivostok
In Vladivostok, you can definitely enjoy so many kinds of seafood.
Here below is the 2 cheap and popular restaurants I want to recommend.
It is very reasonable price, so you should try.
8 Minut Stolovaya
This is a chain store, and you can find sister store near Foutain street, Vladivostok station, etc.
You can find the restaurant by remembering this orange store sign.
The restaurant I tried is the one near Fountain street. Only 1 min walk from the fountain street.
Inside of the restaurant was like a cafeteria, so you should take a tray and you need to point at the menu you want.
Then the restaurant staff will put those foods to your dish.
There are so many menus and you can pick breads you like and drinks.
Of course, there is Russian soup, home made Borscht.
After you pick all menus you want, put the tray in front of a casher.
She will calculate the amount, and you can pay by cash or credit card.
I picked Salad, Smoked Chicken, Borscht soup, Honey fruit juice, and Tabotto picked potato gratin.
We picked so much food..maybe too much.
But the price was about $10 for each.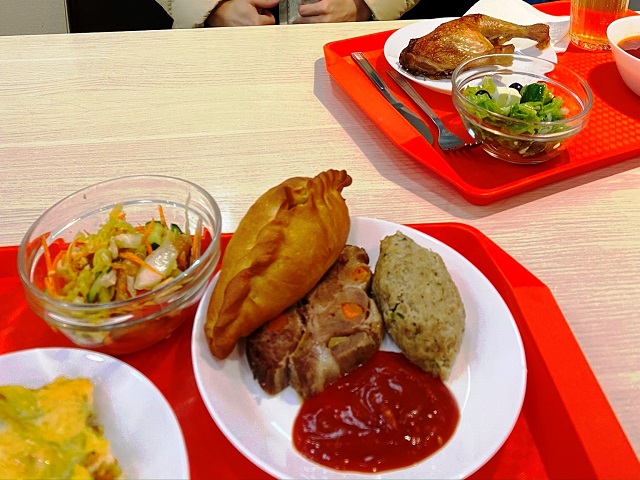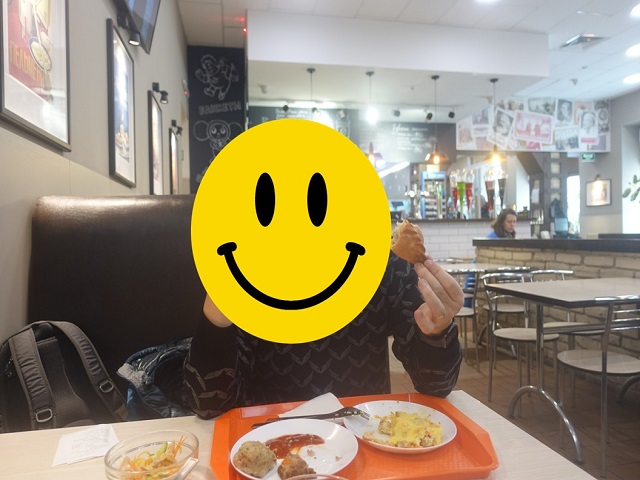 Name of the restaurant:8 Minut Stolovaya (8 МИНУТ столовая)
Address:Svetlanskaya St, 1, Vladivostok, Primorsky Krai, Russia 690091
Business Hours:8:00~22:00 (It may be changed, and they don't have website, so please check with your eyes..).
Nilidai
This is also a reasonable restaurant nearby Fountain street.
(Spelling of the restaurant in English may not be correct.. sorry).
This is located across the restaurant above. It is also located right next to the Elizabeth Hotel.
It looks like this from outside.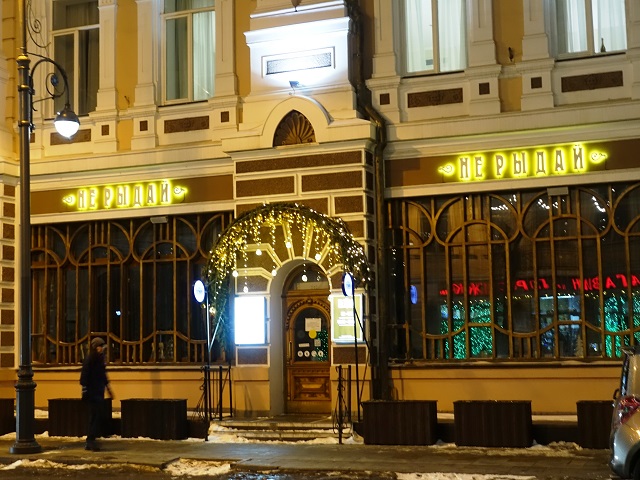 How you order and pay is same as 8 Minut Stolovaya.
I ordered galic bread, Shroom butter sauté and salmon gratin, Borscht Tomato Soup and Honey Fruit Juice.
It was a little bit cheaper than Minut Stolovaya, so I only paid $6.50 for my dish.
You can also pay by cash or credit card.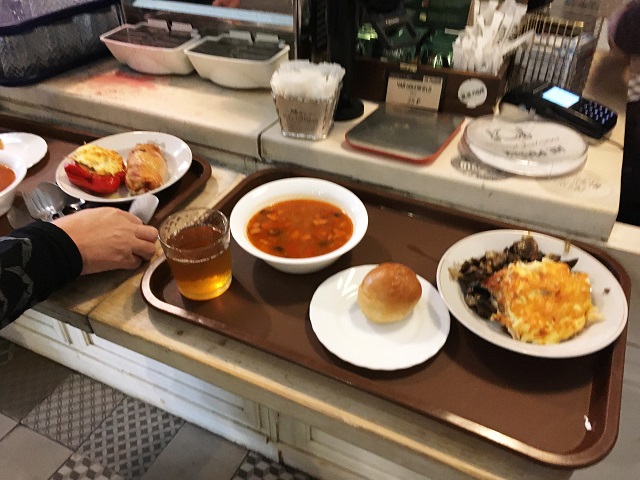 You will be very full with only $6.50!
And everything was very delicious.
I was so happy and satisfied.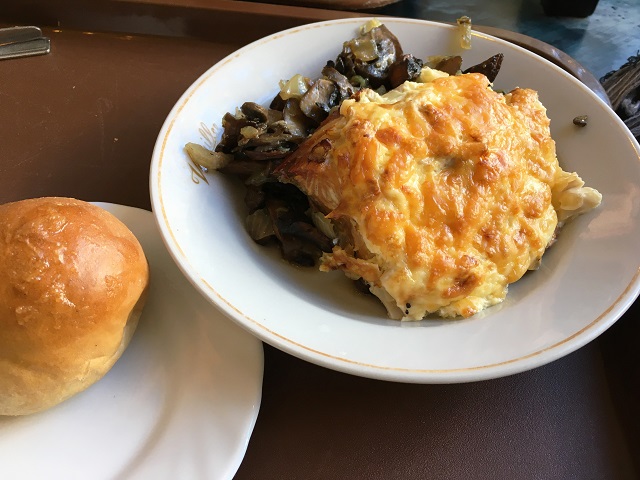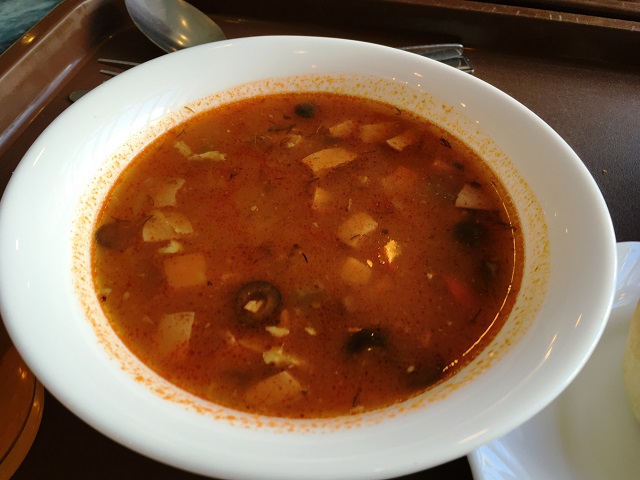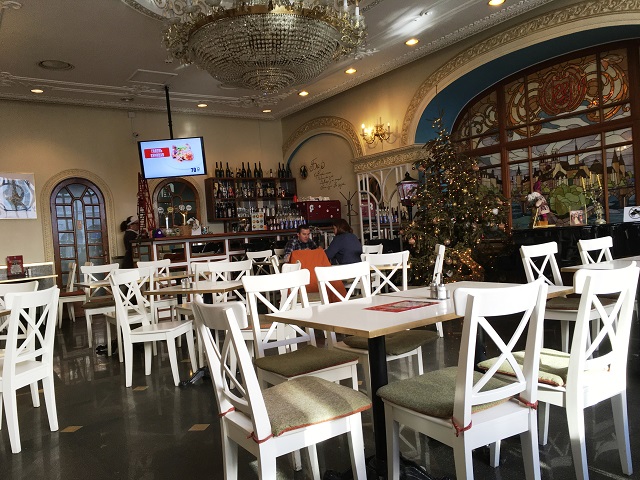 Name of the restaurant:ニルィダイ
Address:Svetlanskaya St, 10, Vladivostok, Primorsky Krai, Russia 690091
Business Hours:8:00~22:00 (It seems it is opened everyday, but it may be changed)
Zuma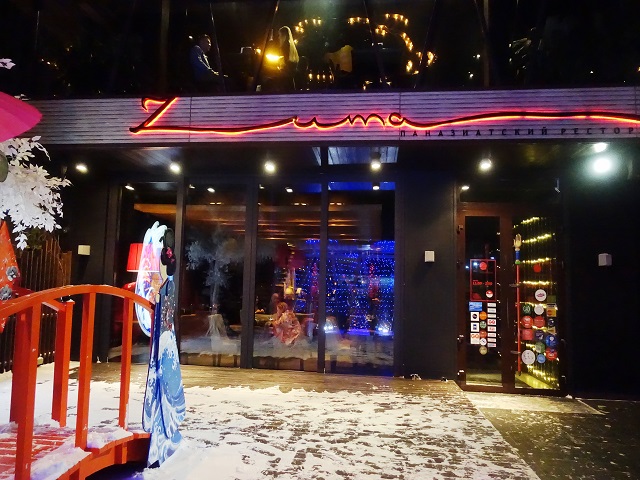 It takes about 7min from the fountain street.
This restaurant seems to be a luxury asian resutanrant, so the restaurants are almost full with not only tourists but also local people who celebrate their special occasions.
Tsupotto and Tabott ordered 1.0kg King crab ate it all!
It was very big, but this was the smaller size that this restaurant had.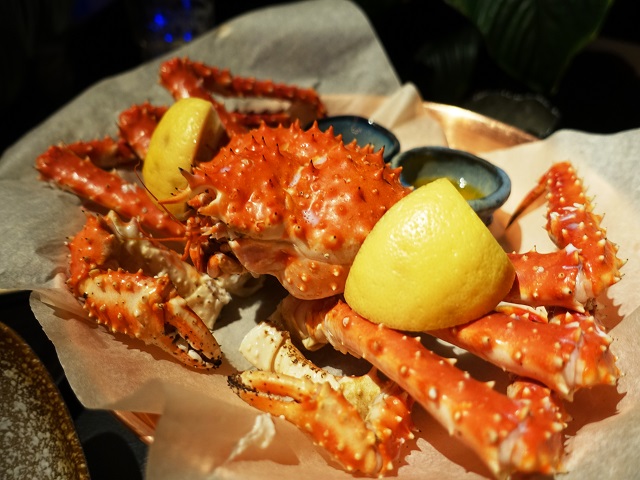 I have seen a Japanese Youtuber (Mr. Onoda) who traveled Vladivostok and he was eating a big big crab at this restaurant.
The crab looked big and fresh.
I was so attracted to go visit Vladivostok and visit this restaurant to eat crabs!
I didn't check the price at the other restaurants.
I would say that this restaurant is above average among local restaurants.
Still I think it is way much cheaper than what you eat in Japan.
In Japan, we usually boil crabs to eat, but the crab I ordered was steamed.
I think this is the normal way of cooking crabs in here.
They cut all legs and gave me a rubber globe and waste box, so it was easier to eat.
I didn't need to fight with every single leg to dig out the meat.
Other than crabs, this restaurant has a variety of menus such as scallops, mussels, shrimps, etc, so I can guarantee that you can enjoy it.
I also ordered their special appetizer and original Cocktails. It was very tasty!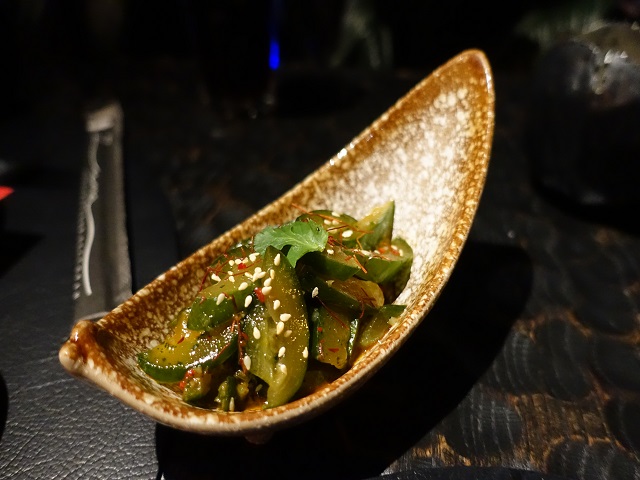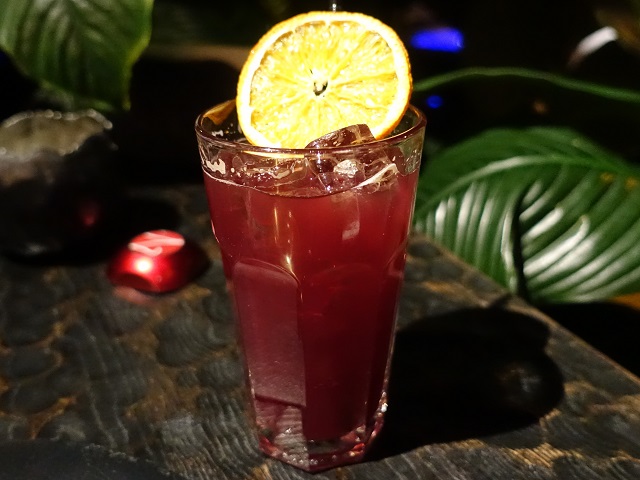 When we get a check, the crab was priced as 3,000 rubles.
If you go with a couple or with a group, I recommend that you order other seafood menus along with King crab because they looked good, too!
Name of the restaurnant:Zuma
Address:Fontannaya Ulitsa, 2, Vladivostok, Primorsky Krai, Russia 690091
Business Hours:11:00~2:00
In other articles, I have listed some restaurants I recommend and I wanted to go.
Related Articles:ウラジオストクで試してほしい大衆食堂2選と気になるお店  (Under translation)
My Tips to go sightseeing to Vladivostok
From Vladivostok airport to the central city, it takes about 40-45min, so you should give enough time to get to your destination from the airport.
But the city is very cozy and many sightseeing spots are walking distance, so as a tourist, Vladivostok is very convenient place to look around.
I visited Vladivostok for 3 days. It was enough schedule to look around the city of Vladivostok.
I like beautiful buildings and delicious food!
I noticed that Vladivostok has many hilly streets, and I agree that Vladivostok is called "San Francisco in Russia".
Sometimes it snows in Vladivostok, but its snow is very light and it is like a silky powder, so I am sure you can enjoy walking on the street even in snow.
But please don't forget you bring lots of warm clothes and anything to help you to protect from the cold wind.
This time I booked the apartment hotel near by Fountain street, and my choice was right.
There were many restaurnats and mini market, so it was very convenient.
I also write an article about the apartment hotel I stayed.
Related Articles:ウラジオストクでは噴水通り近くのアルバートホテルがめちゃくちゃ便利 (Under translation)
JAL and ANA will start their own direct flight from Tokyo to Vladivostok, and why don't you try it out now?
This is the guidebook I referred to. There is so many pictures, and looks very colorful and easy to follow.
AmazonでPlatウラジオストクを購入する(Purchase Plat Vladivostok from Amazon)
(but you probably don't need it since it is written in Japanese..)